The Warren Haynes Christmas Jam, an annual event to benefit Habitat for Humanity, brings some of the top musical talent in the world to the beautiful mountain city of Asheville, NC. This year the lineup stretched further beyond its traditional jam band focused roster to include such musical greats as Jackson Browne and Peter Frampton. Additionally, Dead veteran Bruce Hornsby as well as Stockholm Syndrome, Grace Potter & the Nocturnals, G. Love, and the headliner Gov't Mule kept the masses entertained for nearly nine hours.
The show started off with Warren Haynes joined by Bruce Hornsby and a Gospel Choir singing Soulshine before they were joined by Mike Farris for Trouble of the World. After a brief intermission Grace Potter and the Nocturnals came out to open the show proper. A relative newcomer to scene, Grace and her band have been opening for Gov't Mule for the past few months on tour and clearly are doing something right. This is a band that knows how to rock, has a great stage presence, and writes fantastic songs. They are an absolute must see band.
After the Nocturnals set came one of the most anticipated appearances of the night for myself and many other fans in the building. Stockholm Syndrome, the all star outfit comprised of Dave Schools (Widespread Panic), Jerry Joseph (Jerry Joseph and the Jackmormons), Eric McFadden (P-Funk, Keb Mo', Les Claypool's All Stars), and Wally Ingram, who were joined by Danny Louis (Gov't Mule) on keys and Machan Louis on backup vocals took the stage to perform. Their four song set was much too short and left the audience demanding more. Stockholm Syndrome belted out a set comprised of Belt, Empire One, Bouncing Very Well, and Couldn't Get it Right with Warren Haynes guesting on guitar. Arguably they provided the most high energy set of the night, and rivaled Peter Frampton for the best performance of the evening. Everyone should seek out the recording of this, it'll be sure to please fans of any of these musicians and convert those who aren't yet. This is one band which many would like to see tour more often.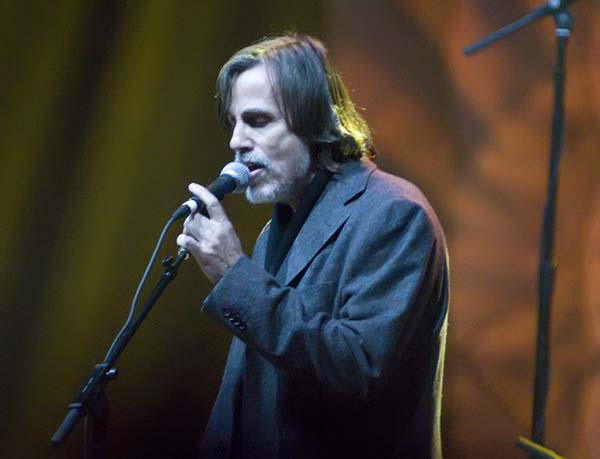 Next up for the evening was musical legend Jackson Browne. Many in the audience were very excited to see him, somewhat of a stand out in this heavily electric bunch. An excellent songwriter, Browne played a great set, joined throughout by many of the stars of the night. However, I couldn't help but feel his set was ill-placed; such a quiet group of songs shouldn't have been placed after one of the hardest rocking groups of the night. Browne has one of the most expansive catalogs of songs to choose from, but he chose for this event to play many quiet and politically motivated songs. Perhaps if his set had been located before Stockholm Syndrome or after Hornsby then the audience might have been more focused.
Following Browne was fan favorite Bruce Hornsby. In a short set full of all-star guests, notably Warren Haynes and Jackson Browne, he played many of his radio hits. He also surprised the crowd with the tune he played with The Other Ones, White Wheeled Limousine. That song was easily the best of his set and one of the best songs of the night.
Anyone who takes the stage after Bruce Hornsby always has a tough act to follow. The artist unlucky enough to receive that distinction on Saturday was G. Love. G. Love is very much the type of artist you either love or hate, and it seemed that many in the audience fell into the latter category. He really tried his best to get the crowd going with his rap/rock songs, but they fell short largely due to the demographic of the crowd. A highlight of his set though was Jason Isbell, who formerly was of the Drive-by Truckers and now tours with his fantastic band the 400 Unit, coming out to lend his wonderful guitar work to the songs. At this point G. Love should have ceded the microphone over to Jason and let him sing some of his songs from his new album, Sirens of the Ditch.
Finally it was time for the artist many people in the audience were dying to hear, Peter Frampton. This is one artist who can still rock and blow the minds of anybody. Frampton played an absolutely amazing six song set, stealing the show. Starting off with Four Day Creep with Mike Farris on vocals and Robert Kearns on bass, he got the crowd back "on it's feet" quite quickly. Afterwards Andy Hess, arguably the hardest working musician of the night came out to join him along with Ron Holloway and Bernie Worrell to play Shotgun. Then the set powered through favorites such as Blooze, I Don't Need No Doctor (both with Warren Haynes & Andy Hess), Do You Feel Like We Do, and While My Guitar Gently Weeps. Frampton absolutely stole the show and was the highlight of my evening.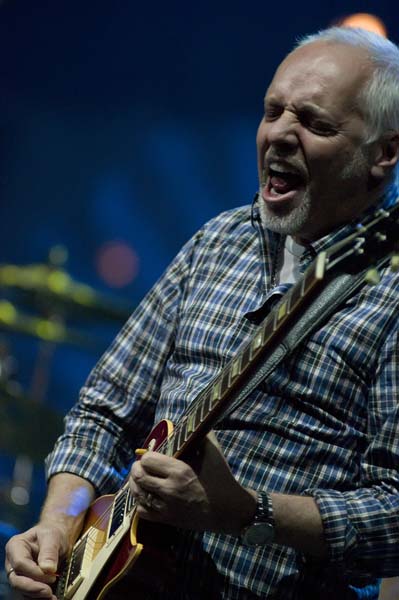 Peter Frampton then stayed out to introduce the evening's hosts, Warren Haynes and Gov't Mule (Andy Hess, Matt Abts, and Danny Louis) came out and played a set very heavy on their new material, but graciously working guests in through their set. By this point in the night after seven or more hours of standing for many, people were drained, but Mule seemed to re-energize the audience. Opening with Beautifully Broken, and then moving into their new reggae themed I'm A Ram, Mule showed their diverse musical styles. After that they segued into Streamline Women and Mr. High and Mighty, the title track from their new album. For the next song, Fixin' to Die, Col. Bruce Hampton, Jason Isbell, Bernie Worrell & Ron Holloway came out to join and trade licks and vocals throughout the song. Then Peter Frampton came out and joined Warren and the boys for I Believe to My Soul. Closing out Mule's set was a fantastic version of 32/20 Blues, and Going Out West to close the show. You could hear fans from the show repeating the chorus from Going Out West for hours after the show. Those are just the type of shows that Warren and Co. put on every year.
This year's show was a bit different than past years but still very well received. It would have been nice to see Jason Isbell and the 400 Unit play after their smoking pre-jam set and set on Saturday. Also I believe that it would have been fantastic to see Mule play a bit longer since they are the hosts. Next year the Jam will be expanded to two nights for the 20th anniversary. Anyone who can make the trek should be encouraged to go. The combination of music, the beauty of the Asheville area, and the fact that it is for a good cause cannot be beat for a December weekend trip.