In this 50th year of Pink Floyd's certifiably mad 1973 masterpiece The Dark Side of the Moon, and with every Floyd-themed band known to Man going all out to honor its Golden Anniversary, you could conceivably be able to hear the album played live all year long. And, thanks to an endless supply of PF tribute bands, you can bet it will be played again and again and again, well into the distant future.
But one band in particular – the all-star, decidedly non-tribute line-up of The Gilmour Project – takes a different route to the Dark Side. And once they get there, they take listeners on numerous surprising side and 'after' trips.
At a recent performance in Greater Cleveland – at the MGM Northfield Park in Northfield, Ohio – this five-member band of acclaimed music industry veterans wasted no time in going Dark. Launching into the main attraction right at the beginning of a sprawling, two-set show, TGP literally delivered a truly jam-packed version of the highly composed and structured Floyd classic. And that wasn't all. In the second half, TGP both came forward in time and went way back in the Wayback Machine to share their updates of other landmark PF songs, too. They also included a number of non-Floyd songs and elements that band leader and lead guitarist Jeff Pevar has slyly referred to in interviews as 'taste treats'.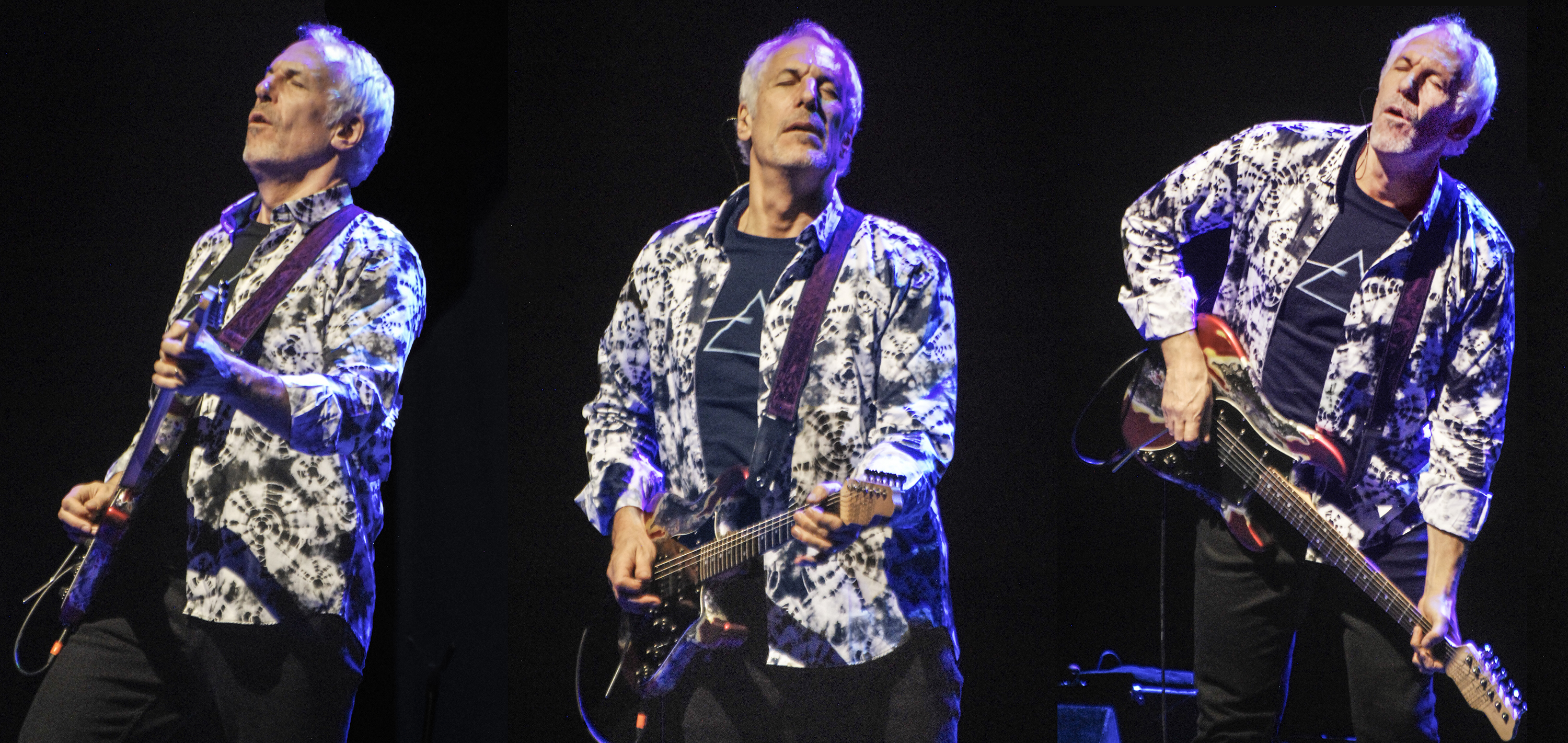 Starting off reliably enough with the cribbed-from-the-album sound montage of heartbeats, cash registers and paranoid ramblings intermingled with their own techno-ambient sound effects, TGP initially bathed the audience in a rich atmosphere of floating slide guitar fills over the droning, minor-key progression of the opening song, "Breathe". Then it was off to the races as the band blasted off deeply into jam-band space.
First up, keyboardist Scott Guberman slipped into a much-shortened replication of PF's synth-heavy techno DSotM track, "On the Run", a passage meant to represent a harrowing journey through the spirals of life. In fact, TGP's rendition of it was so breathtakingly short that it seemed barely more than a hat-tip to the original booming and clanging industrial noise-scape. However, with this section telescoped into place, the band could then stretch out with their first lengthy melodic passage of the night during the song "Time".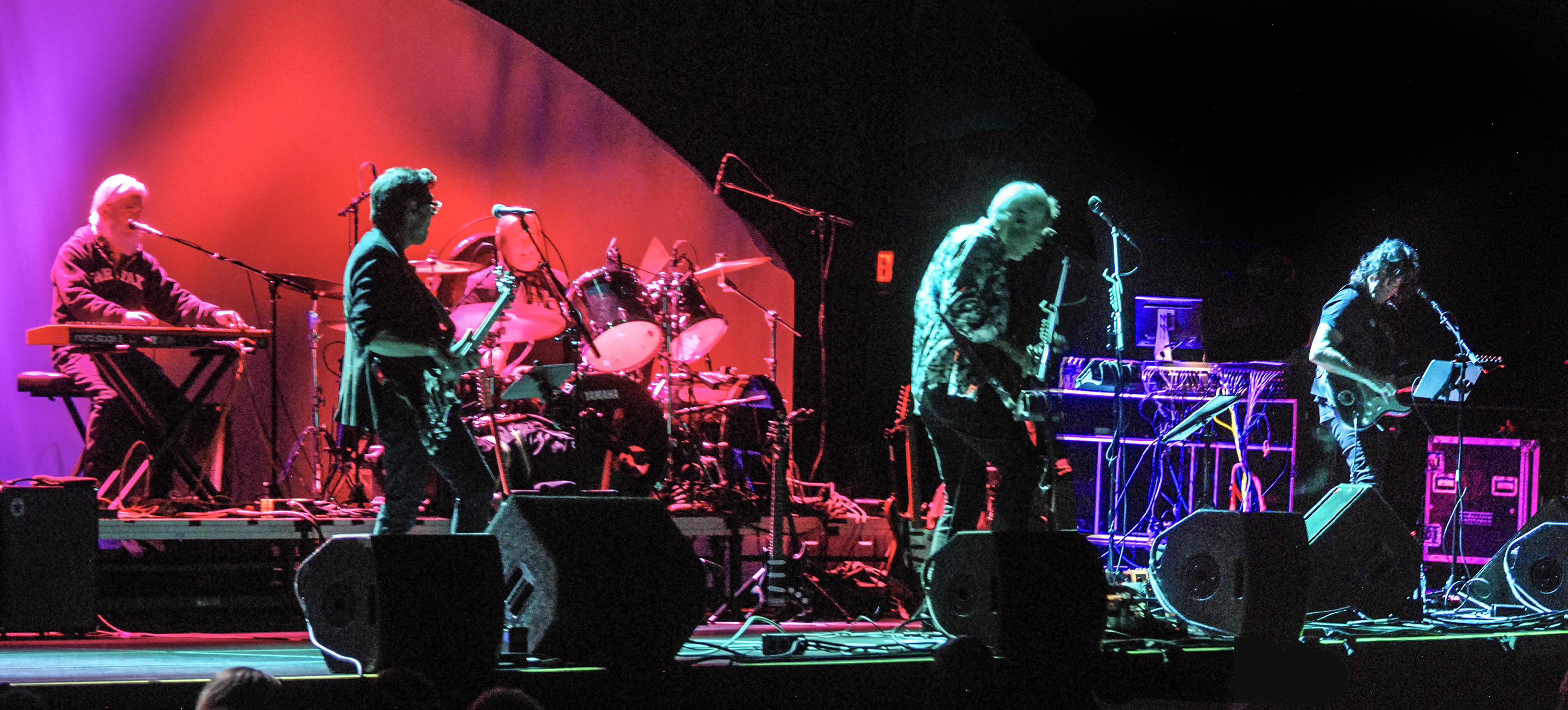 In PF's original arrangement, there's the immortal, soaring mid-song guitar solo over the melancholy verse progression and bridge interval before returning to the final vocal section. However, TGP's two guitarists – Mark Karan and Pevar – each flexed their lead muscles with full, interpretive solos of their own. Notably, when his turn came, Pevar reached deep into his blues bag to inject new, raw emotion into Gilmour's well-known, Jimi-flavored, upper-register leads, and then the song resolved with the usual key change into "Breathe Reprise".
Following the key lyrical line about a "softly-spoken magic spell" at the end of "Reprise", keyboardist Scott Guberman momentarily returned from the backline with a fittingly spare piano intro on "The Great Gig in the Sky". Then, Pevar took center stage with his compact, headless Steinberger guitar that calls to mind a sawed-off shotgun, playing the climactic, topline vocal phrases in a wailing slide style, highly suggestive of the Allman Brothers' slide guitar phenomenon Derek Trucks. Since PF's version of "Gig" had already injected a strong Gospel flavor to the Floyd's more typically bleak and liminal soundscapes back in the day, Pevar's innovation of using slide to emulate the deeply soulful vocals of the original studio recording gave the section an even rootsier, Americanized, deep-South flavor. Somewhat shorter than the full album version that has been burned into every Floyd fan's memory, this interpretation rivaled the original Clare Torry vocal for its searing intensity.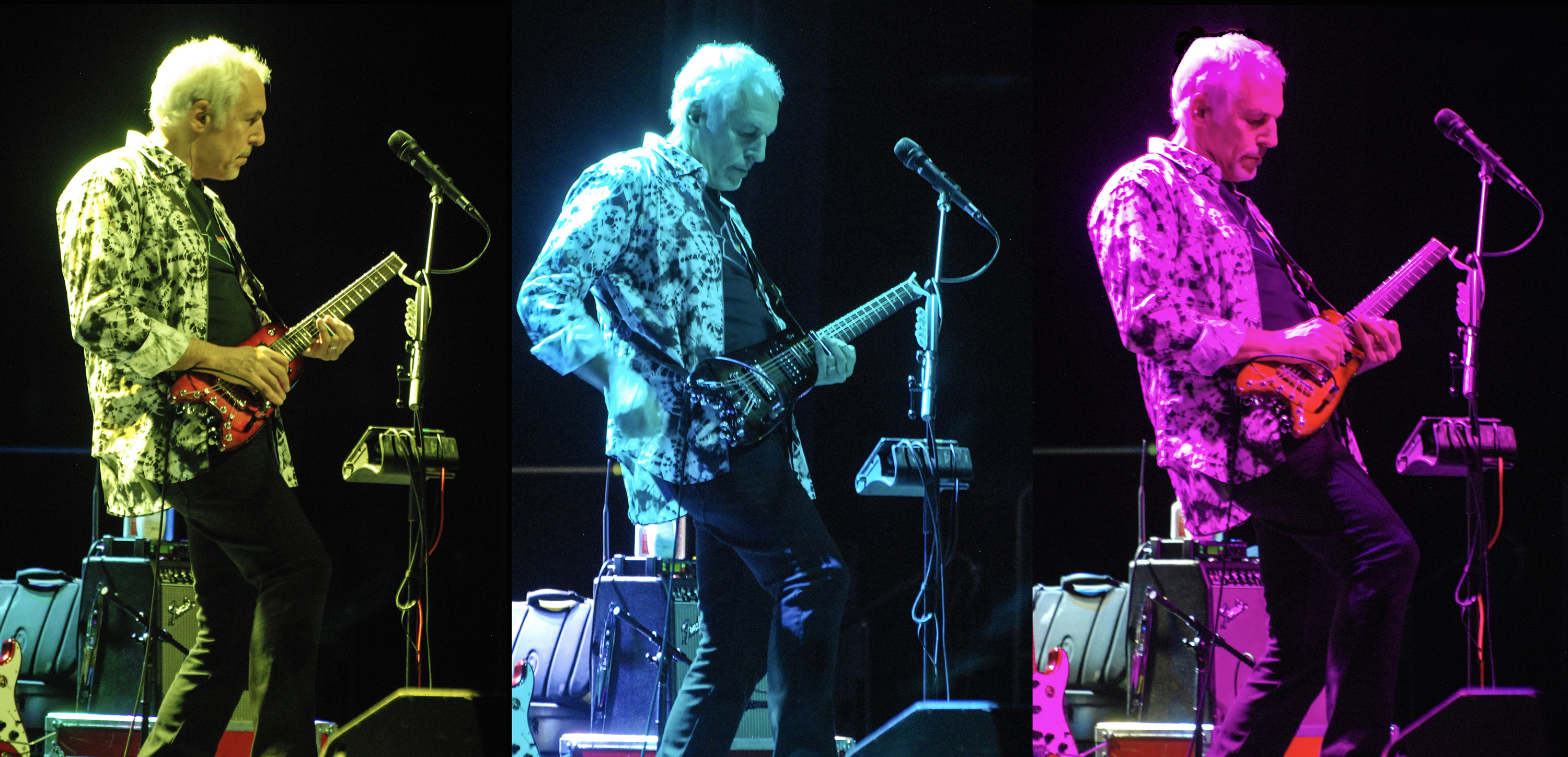 Beginning with the next song, "Money", and well through the second half of the set, things got seriously jammy. Easily the most popular and successful song from Dark Side, the first track of DSotM's second half, "Money", has always offered any band playing it a chance to open up and have a 'blow', as the Floyd themselves had done as far back as early 1972.
Both in the verse sections over 7/4 time and in the 2/4 middle jam, TGP's members took the song back to its grittier blues origins of its pre-1973 form. For example, Guberman took a strutting organ solo in the first instrumental break where fans who only know the original studio version would expect to hear a saxophone. But that's the way PF's own keyboardist Rick Wright used to play it all those years ago, when PF was still hustling as a four-piece unit. And again, in the middle section, Karan and Pevar swapped extended rave-up solos over a slowed down, Frank Zappaesque-'Merely a blues in B' skank before a sudden wake-up and roar back into the final verse.
Ending "Money" less quietly than we remember in other bands' versions with some power chords, the band then plunged into a more swirling, psychedelic section that TGP calls "The New Travel Sequence", as we later confirmed. True, this exploratory interval, which broke into an eager drum solo by Prairie Prince, was 'new' in the overall scheme of the long-locked-in arrangement of Dark Side. But, actually, it was loosely derived from the original concept the Floyd themselves had used in the 1972 version of DSotM, so this was perhaps, an intentional little love note from TGP to longtime fans of the early Golden Age of Floyd.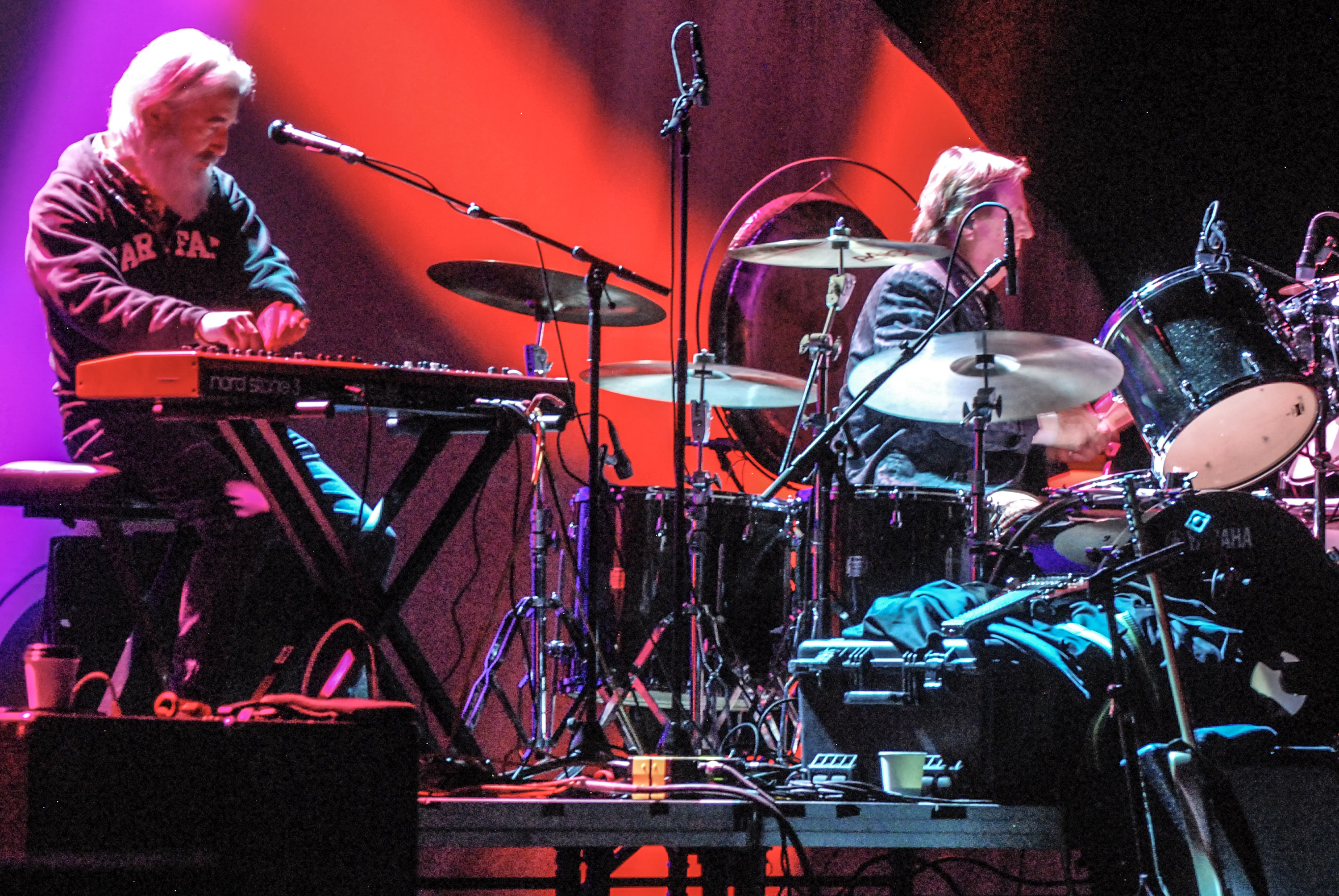 Harmonically and structurally, this "Travel Sequence" actually bore little resemblance to PF's original jazz-fusion instrumental from their 1972 tours. But it did share a similarly nervous, syncopated rhythm, built off a heavily-delayed rhythm guitar pattern. This driving jam effortlessly evolved into Prince's drum solo – another innovation, since soloing was something that PF's Nick Mason never did – which soon culminated in a percolating keyboard/drum volley between Guberman and Prince. (The animated stage lights were extra trippy during this section, too, which was a nice enhancement of this experimental side trip.)
In the afterglow of this percussive eruption between the keyboardist and drummer, the two guitarists and bassist Kasim Sulton returned to the stage to take the audience in a new sonic direction with a head-twisting cover of the non-Floyd track "Black Magic Woman".  Although written by Fleetwood Mac guitarist Peter Green in the late '60s, the song is better known via Carlos Santana's more famous 1970 cover. And the bewildering parts from the audiences' POV would, of course, not be so much that the band made a sudden switch to Latin grooves in the middle of Dark Side. But they might ask: Why would TGP plonk down an old, non-PF FM-radio hit between "Money" and "Us and Them", of all places in the show? Aside from the fact that Carlos Santana's guitar tone and expressive playing style were likely a direct influence on David Gilmour's still-developing style in the early '70s, this placement left more than a few tongues wagging in the audience during intermission.
Musical eclecticism seemed a better fit elsewhere in TGP's Dark Side set. There were, of course, the blues, Gospel and R&B moments earlier in the show. But, soon after a heartfelt, down-to-Earth reading of "Us and Them" with Pevar playing warm, sax-toned melody lines on his main axe, TGP took a brief breather before sketching out the instrumental groove, "Any Colour You Like", with scratchy chords over a bouncy island beat. This was easily the most fluid exchange of the evening so far, with the five members taking part in a call-and-response reggae pattern, bouncing licks and fills off each other, like friends good-naturedly one-upping each other's tall tales over another round of drinks.This spirited instrumental fill-in jam benefited from getting more air time than "On the Run" or "Great Gig in the Sky", but, still, it could have objectively been tricked out a little longer. Just as it felt as if the jam was ready to blow wide open, a sharp, sinking feeling hit with the key change signaling the transition to Dark Side's grand finale.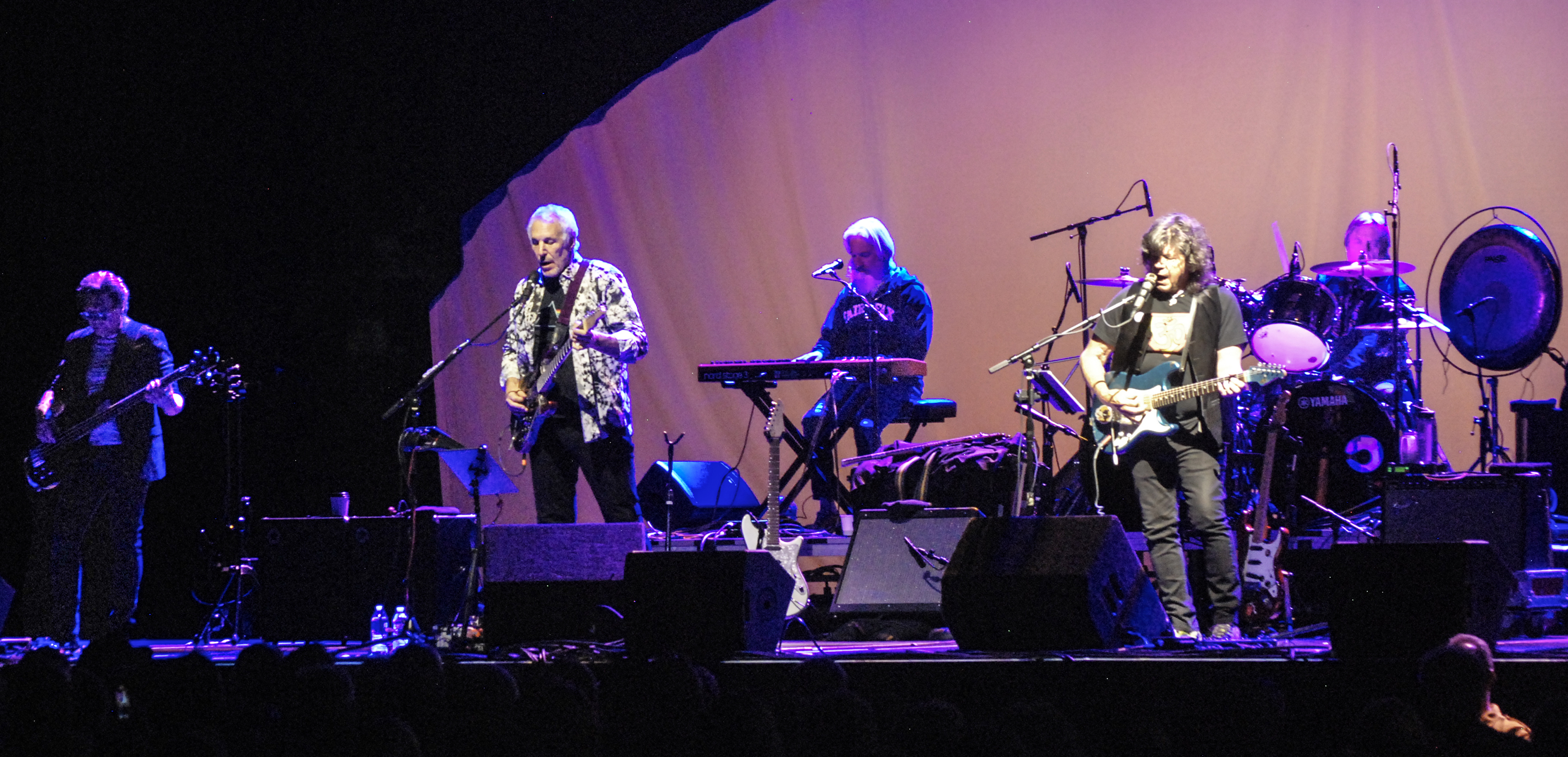 Watery tremolo guitar, multi-part harmonies and mad laughter from band members in real time (not recorded) were the key elements that remained faithful to the final two songs of the epic, Floydian song cycle. It's actually hard to think of "Brain Damage" and "Eclipse" as separate songs anyway, since they were joined at the hip so long ago by PF songwriter Roger Waters and meant to be played and sung as one. But, in any case, there were no more surprise inserts between songs or change-ups at this point, as TGP – against an animated backdrop of eclipses and other celestial phenomena – delivered the always-stirring finale. In the end, the Sun, the Moon and all the stars aligned, and TGP brought the audience safely back to Earth.
After a leisurely intermission, TGP returned to boil up an entirely different kettle of fish in the second half. It was, to these ears, overall less artful, and much more straight-ahead rock 'n' roll and blues for the masses than the Dark Side set. But, interestingly, it nearly covered the entire time spectrum of Floydian history in just about an hour. And there was no shortage of those tasty 'treats'.
Judging by the variety of song quotations that TGP referenced in the second set, you could say the theme was 'Spot the Influence'. The question, of course, is: Who was the 'influencer' and the 'influenced' – Pink Floyd or The Gilmour Project? Whether the pairings were PF-appropriate or not is up to the listener to decide, but they were numerous, very-well-spotted and cleverly used quotes. So hats off to TGP at least for the many unexpected pairings.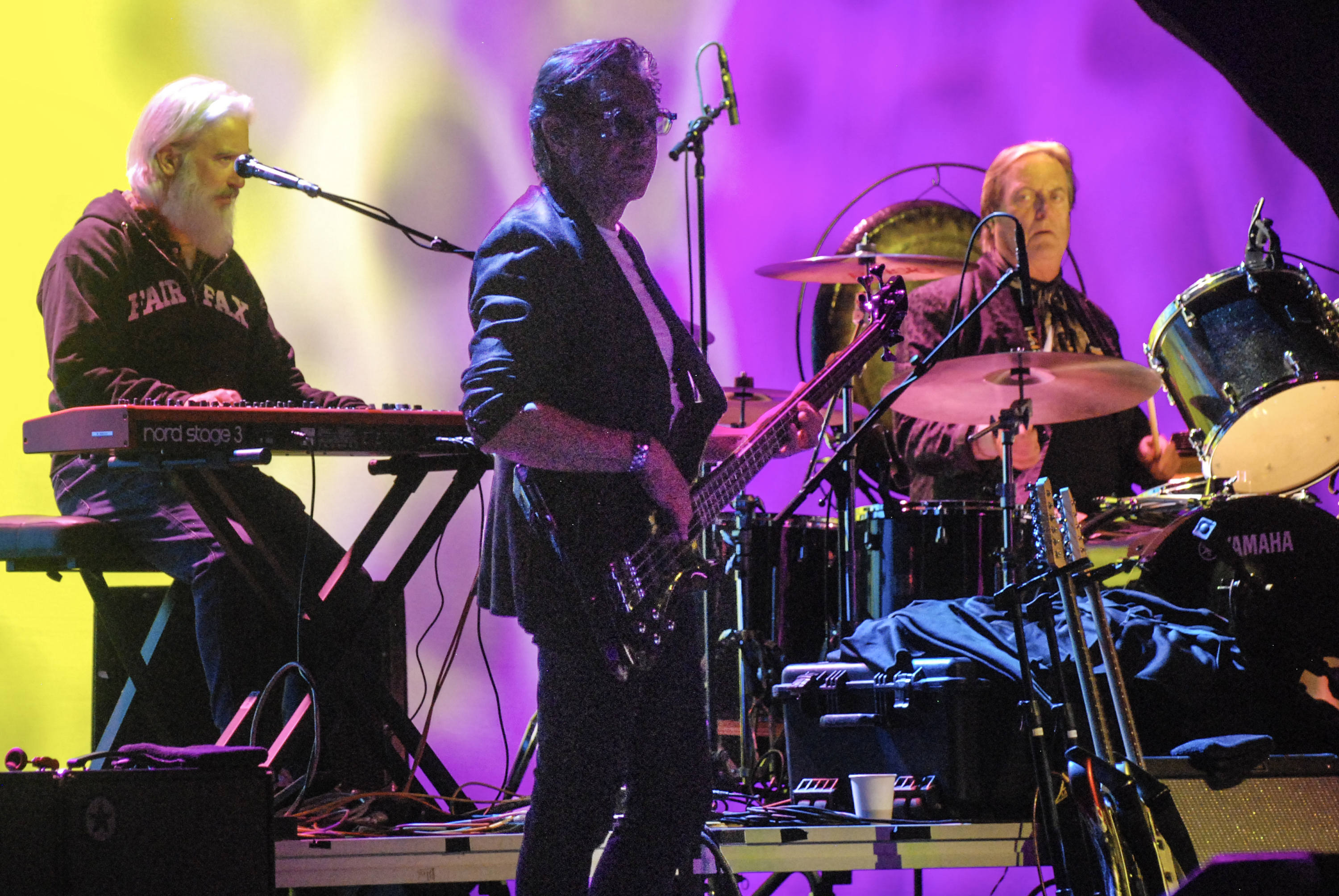 The leading song in the second set was "Another Brick in the Wall, Part 2," but you could have easily called it "Another Brick on Shakedown Street," as the band smartly interspersed the chords of "Shakedown" and alternated the song's "Nothing shakin'. . ." refrains with the closing refrains of "ABitW". Lots of fun for the audience, and a clever observation of how both bands had co-opted disco rhythms into their styles in the late 1970s.The beats and rhythm patterns of the two songs blended perfectly. Well done, TGP!
More impressive was their second heroic reference of the night, a flange-heavy lead-in of Jimi Hendrix's "Machine Gun" that brilliantly morphed into Roger Waters' snarky, anti-music industry screed, "Have a Cigar". But lead guitarist Pevar didn't just use "Gun" as a pace-setter to kick off the churning groove and leave it there – the band also requoted it several more times during the extended outro guitar solos.The interplay between the bitterness of the two sociopolitical commentary songs helped to sharpen the underlying vitriol of Waters' lyrics.
A third pairing that was at first a bit of a "Whuzzat doing there?" moment but quickly began to shine in my mind was the inclusion of The Who's "I Can See for Miles" within the middle jam of the extended psychedelic rave-up "Interstellar Overdrive". Not only was this the earliest song in PF history of the night (A Syd Barrett-penned song harking back to PF's 1967 debut The Piper at the Gates of Dawn), it was also the most non-David Gilmour PF song of the night, recorded by PF long before he was even a member.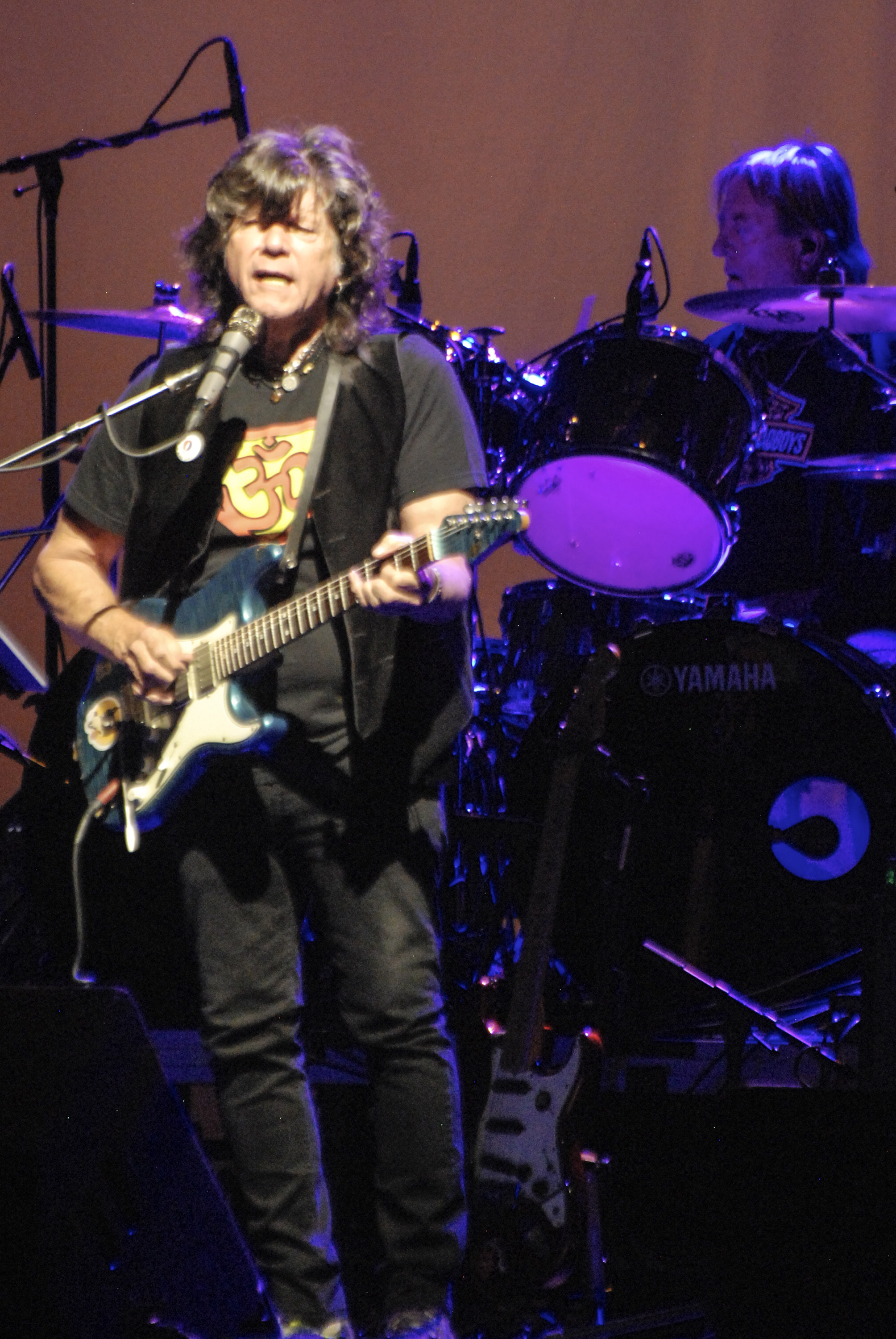 According to TGP's Facebook page within a day or two of the show, "Interstellar" was a certified breakout that had just made its first-ever appearance in a TGP show. From my POV, it was a contender for Peak Moment of the night. (Maybe the "Machine Gun/Cigar" mind meld actually took the 'cigar', but I'm also a major Who fan. So how could I ever scoff at "I Can See for Miles"?) Combined with the vivid light show that accompanied it and the insertion of "Miles" in the middle, "Interstellar" did something that many of the overly-familiar Floyd tracks that night fell short of: It reached true escape velocity and took you somewhere else: Deep into the past! The real genius of this medley was that both songs vibrated on the same frequency of late-'60s English psych-power-pop. So for us older fans, it was another one of those heady transmissions from the Mists of Time.
Now, I'd be remiss if I were to not mention the other Floyd 'warhorses' that got their moments in the Sun in the second half. Among these were "Dogs" – that pre-Wall high-water mark of gloom and malaise from 1977's Animals – and the Floyd's more hopeful, big 1987 MTV-hit "Learning to Fly". And, of course, there was a fine version of "Shine On You Crazy Diamond, Parts I-V" with Karan, Pevar and Guberman all taking extended solo turns in the introductory, 18-bar blues section. Here was one of the moments when Pevar, in particular, dug deep into his personal history of being a guitar slinger to the stars and drew upon the deeper blues approach to PF that he employed when he played in Blue Floyd in the early 2000s.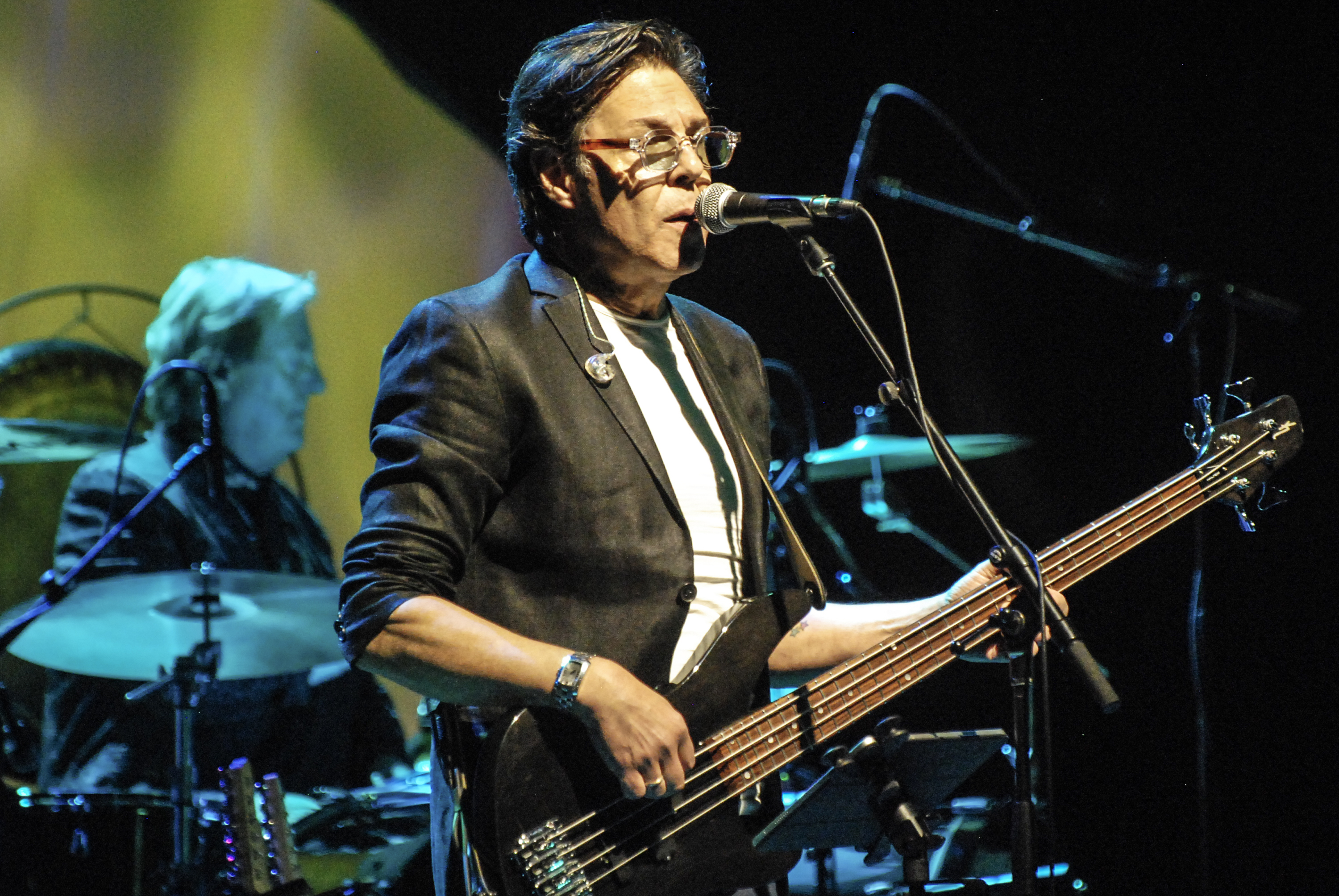 As you'd expect, there were also a few other key songs that included the encore selections "Wish You Were Here" and "Comfortably Numb". But the time went by so quickly, with TGP playing songs by a band known for its dramatic, long-form compositions that take up album sides and even whole albums.That makes it hard for anyone to give the PF repertoire fair representation. Some songs, such as "Dogs" and even "Interstellar", were carefully pruned to considerably shorter run times than their original epic lengths. Obviously, some concessions and adjustments are necessary when trying to make sure you can strike the right balance for a crowd-pleasing show. There are always 'must-play' songs, while others are only nice to have. So, unfortunately, with some new experiments being folded into the set, some tunes had to be held back.
Admittedly, as someone who has followed the Gilmour Project and reported on them several times over the last year, I had developed detailed knowledge of the songs in their working repertoire. Perhaps having that knowledge wasn't so good for me. I must admit to having felt some disappointment at some of those previously performed songs not making the cut for the Northfield show. In fact, it appears now that TGP's inventory of songs has grown to where they can now rotate songs into sets more from show to show. (Songs I had wanted to hear were, in fact, played again just days after Northfield. So, I can happily say they're not gone, just taking a little 'nap'.) So, variety is a great goal, not a bad thing. It's just disappointing when someone only has one chance to see a show and songs they really want to hear get benched for the night.
Also, please forgive me if this seems like too much 'trainspotting', but, for a band which sets out to call themselves The Gilmour Project, I believe they do have quite a sensitive Achilles Heel. The show that I saw did not have any songs that David Gilmour actually wrote on his own within Pink Floyd or any pieces from his post-PF solo albums, although last year's TGP shows certainly did. And though it's true that Gilmour did play on PF's live performances of "Interstellar Overdrive" for a year or two right after Syd Barrett left the band, that song had, in fact, nothing at all to do with Gilmour. He was just standing in on it the times he played it in the band. Regardless, I loved it anyway.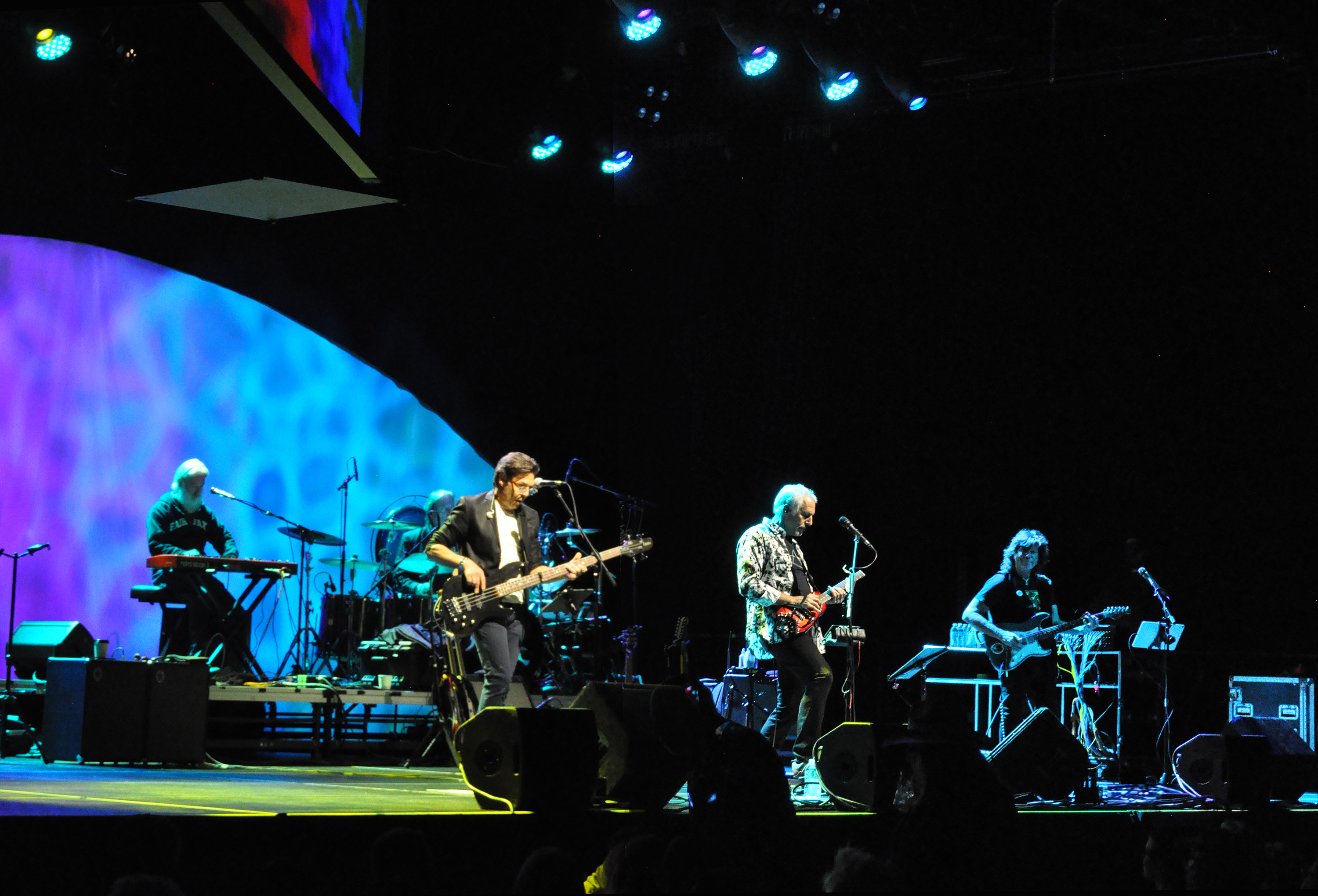 So, on an emotional level, a possessive, early Floyd adopter like me can have an initial gut reaction to hearing songs out of relation to the stated concept of the band. A momentary feeling comes and goes that something isn't right and that if I were curating the setlist, I'd do it a lot differently. But then, I relax and remember: It's not a competition. It's somebody else's jam, not my gig! It's music after all, and – as far as I'm concerned – music makes the world go round. So I close my eyes and just let the music carry me away. And then everything's right again.
Lastly, I'd like to say that the Gilmour Project has an interesting mission ahead of them if they continue to evolve beyond these early explorations of the guitarist's most obvious creations with the Floyd. David Gilmour has contributed so much to the art and history of modern music – from playing with such greats as Paul McCartney, B.B. King and Pete Townshend to discovering and producing artists such as Kate Bush and Dream Academy. And, of course, he has his own rich body of solo work to draw upon and to reinterpret. The biggest 'warhorse' of them all – Dark Side of the Moon – has always taken up so much room in a show that it never even allowed the Floyd themselves to play a deeper cross-section of their own work whenever they performed it in full. So, perhaps, once TGP gets through this 50th Anniversary year and audiences reach their saturation points with DSotM, they will have the freedom and confidence to dig down more deeply and deliver the real goods from the legacy of this master musician.
GILMOUR PROJECT SPRING 2023 TOUR DATES
May 20 – Des Plains Theatre, Des Plains IL
May 21 – The Fillmore - Detroit MI
May 23 – The Egyptian Room/Old National Centre, Indianapolis IN
May 24 – Memorial Hall, Cincinnati OH
May 27 – Sellersville Theatre, Sellersville PA