If you haven't heard the early reports yet, there's a new all-star psych/jam band making quite a stir with their exploratory shows and streaming events called The Gilmour Project. Yes, "Gilmour," as in guitarist David Gilmour of Pink Floyd. But nearly the only thing this "project" has in common with their namesake is the same deep well of cosmic-blues-based progressive rock first dug out by the original band. And though neither Gilmour nor other Floyd members are involved, the word is this new, five-man band of psychedelic jam slingers is seriously stirring up the ghosts of early-'70s Floyd with a brand new spoon.
Intending to hit the live circuit in early 2020, the Gilmour Project began to rev its engines but got waylaid by the same Covid roadblocks as all other touring acts did in this period. So this Floyd-themed band of elites, – consisting of veteran guitarist Jeff Pevar, keyboardist Scott Guberman, bassist Kasim Sultan, drummer Prairie Prince, and guitarist Mark Karan – went deep underground and came back up with "something extra."
In mid-2021, the band re-surfaced with a live-streaming event in which they introduced their update on those much-loved, Floydian spatial explorations. For this first special presentation – streamed from San Francisco's legendary Great American Music Hall on June 24, 2021 – the show's title namechecked the Floyd's original 1972 Dark Side work-in-progress, Pieces for Assorted Lunatics. Then, over Thanksgiving weekend in 2021, the band put on the stream again with the cleverly- titled holiday performance A Dark Slice. Both shows included airings of their highly re-interpreted version of Dark Side of the Moon, plus a lengthy second set of PF fan favorites.
Finally, before they could go live with a full 2022 tour, the Omicron variant threw the Project off track one more time, requiring January shows to be postponed. Nevertheless, the band persisted, with a small handful of U.S. warm-up shows through the late winter. And soon, in early May, they will be kicking off a 30- something-date tour in North America, capping it all with a date in Mexico City!
According to the band's manager, industry veteran Michael Gaiman, the band members have deep pedigrees in jam, jazz, progressive and alternative rock history. Notably, they have served with Phil Lesh & Friends, Todd Rundgren's Utopia, Talking Heads, RatDog and The Tubes, among others. And he explains how he himself played an instrumental role in bringing all these thoroughbred players together.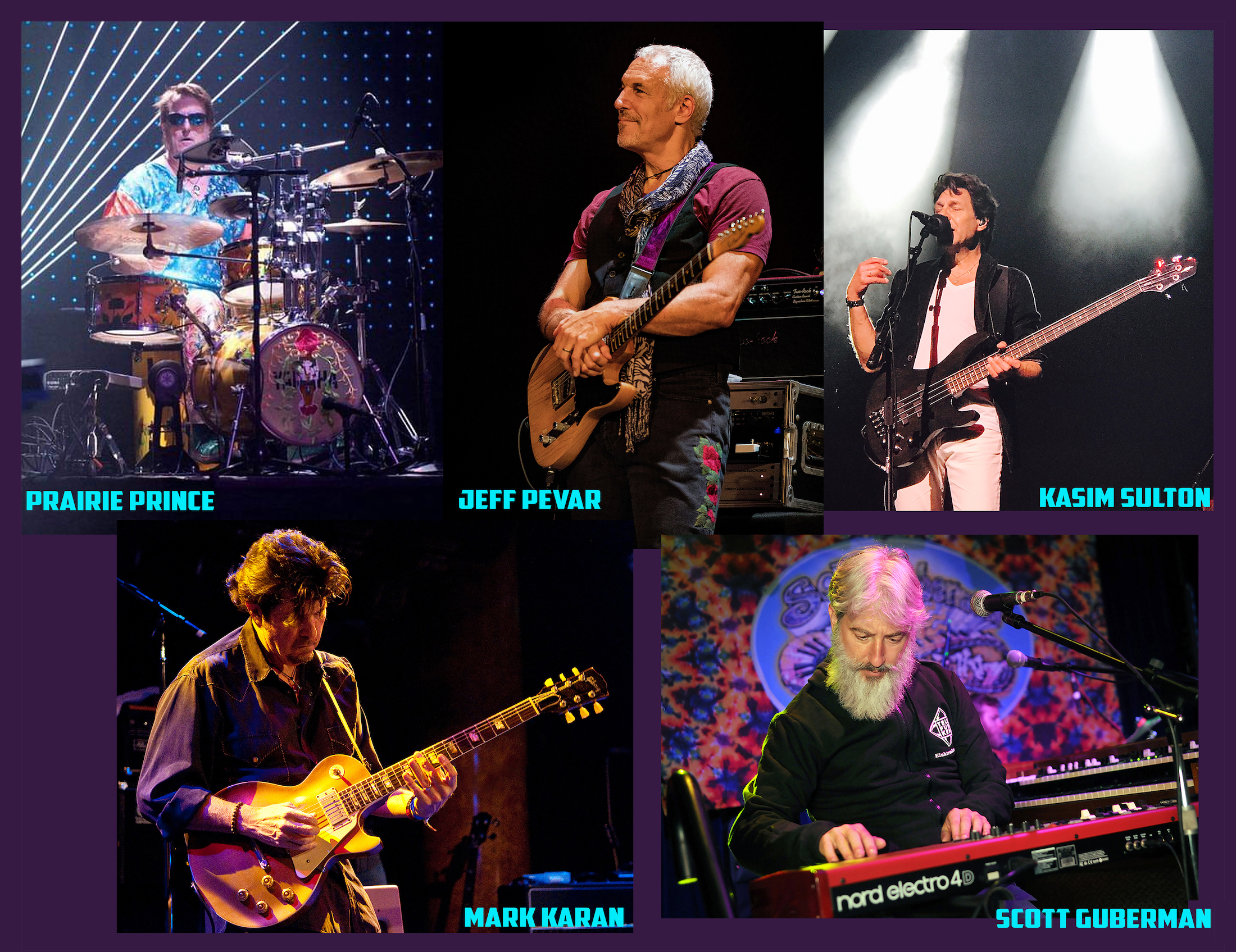 "It seemed like with all the active Floyd tribute bands out there, there'd be an opportunity to revisit this music from a new entry point," he said, noting how guitarist Jeff Pevar – with his previous stint in Phil Lesh's band and also in the trippy-blues Gov't Mule offshoot, Blue Floyd, in the early 2000's – was a natural fit.
Gaiman explains that he began discussions with Pevar and the others, with a strong belief that the time was right for a fresh approach to interpreting Floyd. "My feeling was 'y'know, this can't be a note-for-note tribute.' Plenty of other acts already do that, and this would have to be something different."
A big part of that difference, of course, he stresses, is the Project operating with the same kind of risk-taking spirit as Pink Floyd epitomized in their well-known "R&D" period, from 1968 to 1972. In those days the venerable psychedelic band would often play roughly the same set list from show to show but with wide-ranging variations and unexpected side excursions. It's how they honed their rough drafts of classic, mind-blowing tracks before committing them to tape. That is, until bootleggers came along and spoiled their fun. And the Project are all for taking chances, but with a few more down-to-Earth elements, including blues, jazz, and country.
"The Project starts from the basic point of doing this music as David Gilmour himself would often do it, in terms of improvisation, experimentation, and even sound design," Gaiman explains.
Or even as Jerry Garcia might have done it. Case in point: For one recent performance of the meditative Floyd space prayer, "Set the Controls for the Heart of the Sun," the band took it into a noticeably Latinesque rhythmic space. In addition, after the front-end verses and some thematic probing in the original's more familiar Arabic drone, the band brightened the harmony – Jerry-style – with distinctive Mixolydian mode, seamlessly slipping into "Dark Star." And before returning to the main theme of "Controls," the band also managed to spotcheck a bit of the Floyd's truly otherworldly sound tapestry "Echoes."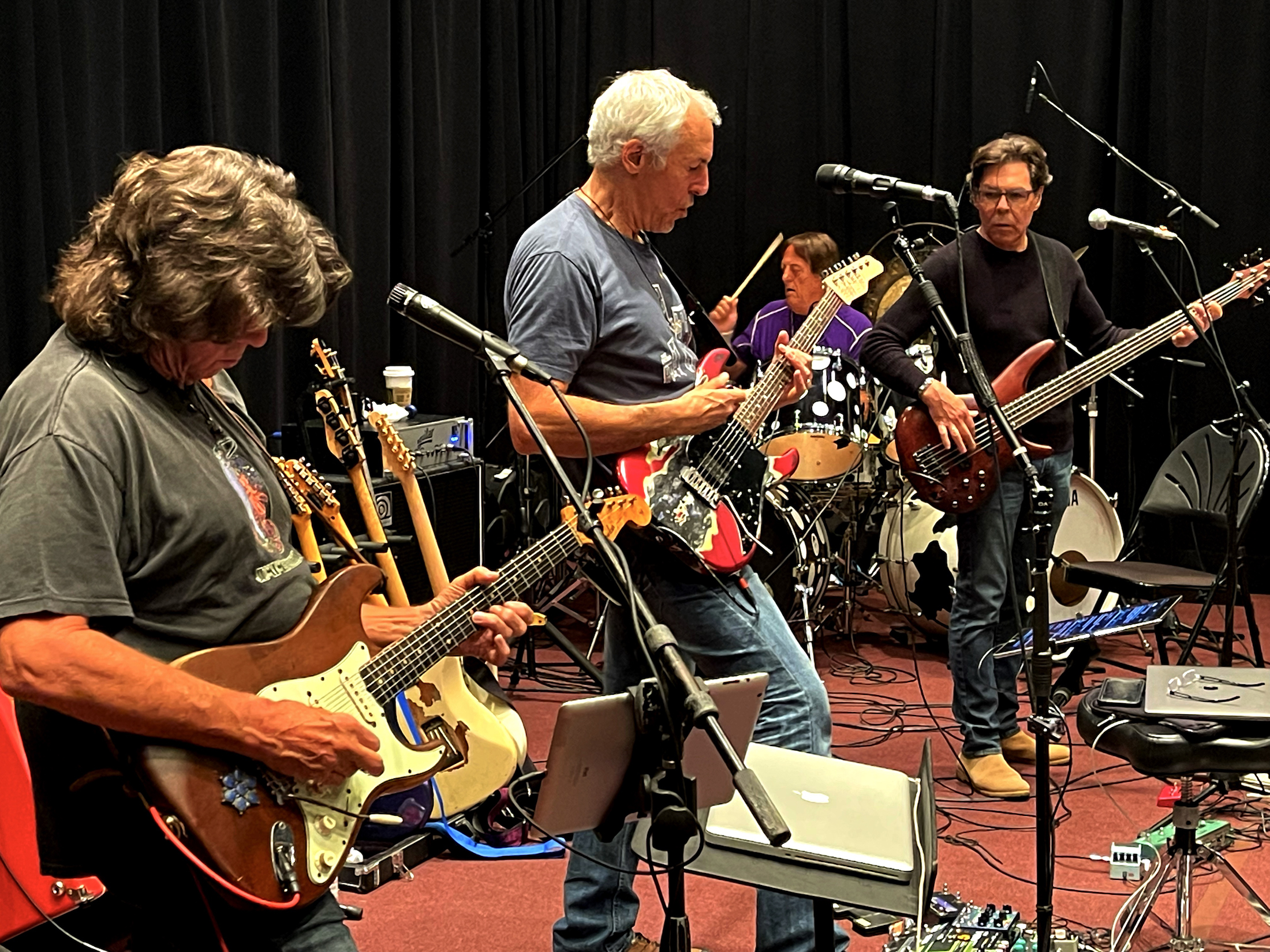 While the musicians in the Project have been perfecting their repertoire and arrangements, Gaiman points out, the technical crew have also been developing media and animation elements to visually accompany the performances. Meanwhile, audio techs have also been beavering away on sound innovations, going so far as to construct a working replica of the Floyd's famous quadraphonic panning unit, known as the Azimuth Coordinator. Gaiman adds that in this year's shows the band have been road-testing these multimedia components, at least when the venues have had the room and facilities for them.
"The Project hopes to reshuffle the deck on everyone's expectations about Pink Floyd, by tapping into that zeitgest of the early '70s," Gaiman observes. "Using the multimedia and a quad sound system along with the Floyd's music helps them to create all of those interstitial bits – the connective tissue – between the musical passages. That became a key element in Pink Floyd's mythology. And, in time, I think the Project can create its own mythology, too."
Tour Dates:
May 5
Ridgefield, CT
Ridgefield Playhouse
(Rescheduled from 1/19)
May 6
Providence, RI
The Strand Ballroom and Theatre - RI
(Rescheduled from 1/21)
May 8
Boston, MA
Wilbur Theatre
May 11
Montclair, NJ
Wellmont Theater
May 12
Reading, PA
Santander Performing Arts Center
(Rescheduled from 1/8)
May 13
North Tonawanda, NY
Riviera Theatre North Tonawanda
(Rescheduled from 1/12)
May 15
Northfield, OH
MGM Northfield Park - Center Stage
(Rescheduled from 01/16)
May 17
Columbus, OH
The Bluestone
May 18
Royal Oak, MI
Royal Oak Music Theatre
May 19
Des Plaines, IL
Des Plaines Theatre
May 20
St Charles, IL
Arcada Theatre
May 22
Jim Thorpe, PA
Penns Peak
May 25
Warrendale, PA
Jergels Rhythm Grille
May 26
Sellersville, PA
Sellersville Theatre 1894
May 27
Wilmington, DE
The Queen
May 28
New York, NY
Sony Hall
May 31
Annapolis, MD
Rams Head On Stage
Jun 1
Alexandria, VA
Birchmere
Jun 2
Westbury, NY
NYCB Theatre at Westbury
Jun 5
Atlanta, GA
Symphony Hall Atlanta
Jun 7
Clearwater, FL
Capitol Theatre Clearwater
Jun 8
Fort Lauderdale, FL
Revolution Live
Jun 11
Mexico City, Mexico
Pepsi Center WTC