For Colorado's Yonder Mountain String Band, the new year is full of possibilities. The band has a rigorous winter and spring tour underway, and will be hosting their 10th annual Northwest String Summit this summer in Oregon. They will also be returning for a headlining gig at famed Red Rocks Amphitheater in their home state, and are looking forward to another Harvest Festival in Arkansas this fall.
The group has so many great endeavors on the horizon, and nobody is more excited about them than frontman Jeff Austin.  He loves to rant about the amazing experiences he has gone through with this band, and gets positively giddy speaking about what lies ahead for this formidable foursome.
Recently the Grateful Web's Tim Hurley connected with Jeff to discuss the progression of this band of brothers, the allure of his side projects, and why it might be time to stop calling Yonder Mountain a bluegrass band.
GW: So Jeff, tell me how your new year has started off?
JA: It's actually been really, really good.  I've kind of taken some new directions in my life, and I am really pumped up about being alive and making music.  I am getting to play tunes with a bunch of different folks in addition to touring now with Yonder.
GW: Did you get a chance to watch the Super Bowl?
JA: I did, and you know as a lifetime Bears fan I have to say, screw the Packers!  I know I am doomed for the next decade; Aaron Rodgers is probably going to lead them to 10 consecutive Super Bowls.  I've come to expect it; I am a Bears fan and a Cubs fan so I know what it is like.
GW: I feel your pain; I am actually a Vikings fan so we are in the same boat.
JA: There you go!  But I am in such a good mood and in a good phase of life that for some reason it doesn't bother me as much as it should.  Baseball pitchers and catchers report next week, so I have that to look forward to.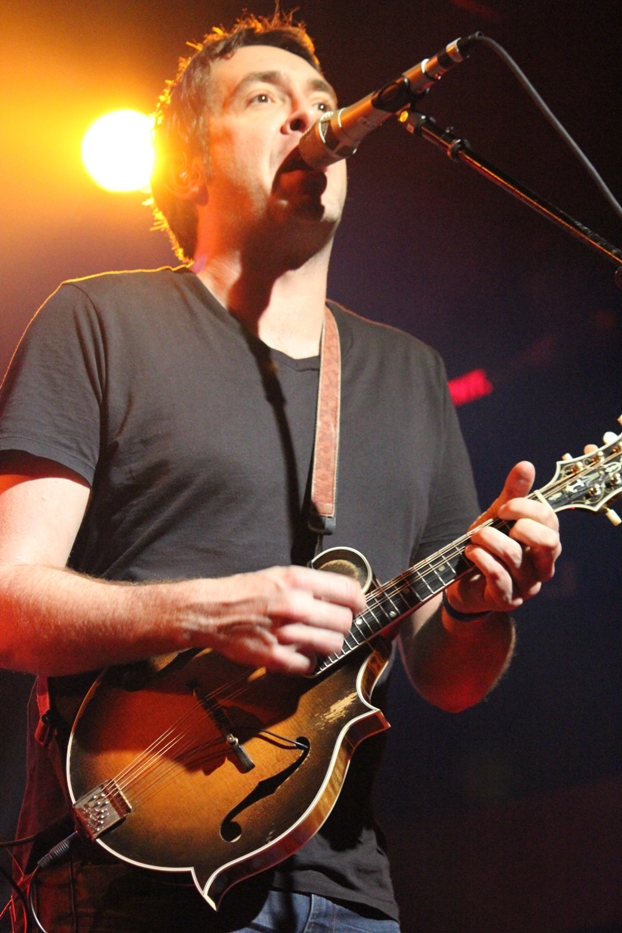 GW: Well let's back on the music track, I want to talk about Yonder Mountain String Band moving the annual New Year's Eve performance into St. Louis and out of your comfort zone, the Front Range in Colorado, where you have performed pretty much every year the last decade.  What prompted the move, and how did the new experience come off for you guys?
JA: What prompted the move was that when we first doing New Year's in Colorado, it seemed like it was just us and maybe another band.  But now, geez, this past year alone there was Railroad Earth, Widespread Panic, Sound Tribe Sector 9, and a gazillion other bands playing there.  And over the last 3-4 years it has kind of turned that way, where you have a lot of bands that do really well in Colorado, and now they move their New Year's run out to the Rockies.  We just thought we should get out of Dodge for a year.  Let's step away, and go to the only other place we have played for NYE, which is St. Louis.  We have never really played on that night anywhere else than Colorado, except St. Louis.
So it was great!  The people turned out, the place was full, people had a great time, and they really responded to the experience.  A lot more people travelled than I thought would.  It really was a great time, and we are talking about what our plans are going to be for this year.  We had immediately said we would go away for a year then come back to Colorado, but now since this last one was so great...who knows.  It's open for discussion at this point.  We love playing in the Midwest, and it was great to go back to St. Louis and play.
GW: You guys have a large number of dates booked this year already, including your Cabin Fever and spring tour.  The band also announced you will be doing your annual Harvest Festival at Mulberry Mountain in Arkansas this fall.  What are some of the dates that the band has this year that you, and of course your fans, are looking forward to?
JA: The thing I am most excited about is our 10th annual Northwest String Summit up in Oregon.  That being the 10th anniversary, we've got a lineup coming together that is pretty insane.  It's non-coincidental; it's all of our friends.  It is going to be a lot of musical buddies like Keller Williams with Larry and Jenny Keel, Drew Emmitt and Bill Nershi, Todd Snider, Vince Herman; a lot of these bands that have "familied" us.  Really excited about it!
Also our Red Rocks date will be announced soon, which is always just a blast.  We've got a great bill coming together for that too, and that is going to be a real destination show for people.
It's all kind of a whole new world for us now.  We've got a new management team behind us that has given us a lot of energy, and a new found spark.  With us as a band and us as people you know....I will be 37 in two months and we are getting closer to 40 than we are to 30, so we are all kind of entering into a new phase.  For example Dave, our banjo player, just had a son this past year.  Life is just kind of moving along, as it does.  It only goes one direction, and I think we are letting ourselves go of childish things.  We are letting the past be the past, and we are looking so forward to the future.  Not just with each other and this new found vibe we've got, but in how we are getting along.  We are embracing all of these things that are coming up, and really trying to make a fresh start.  Last night on stage we were cracking each other up, and it was light and the atmosphere was so fun, and the crowd was really responding as such.
But shit, you want to talk about dates that we are excited about...we are doing two nights at the Orange Peel down in Asheville, North Carolina, which is just a blast to play. Asheville turns out, and they love us.  Then we play Atlanta on Saturday at the Tabernacle, which is, dare I say, a religious room to play in because is just an amazing place to music.
And as far as band stuff goes, we have all kinds of things we are jacked up about.  String Summit and Red Rocks, I am really looking forward to those.  But I am not looking too forward to them, only because I don't want the year to go so fast.  I am not looking to rush through the year.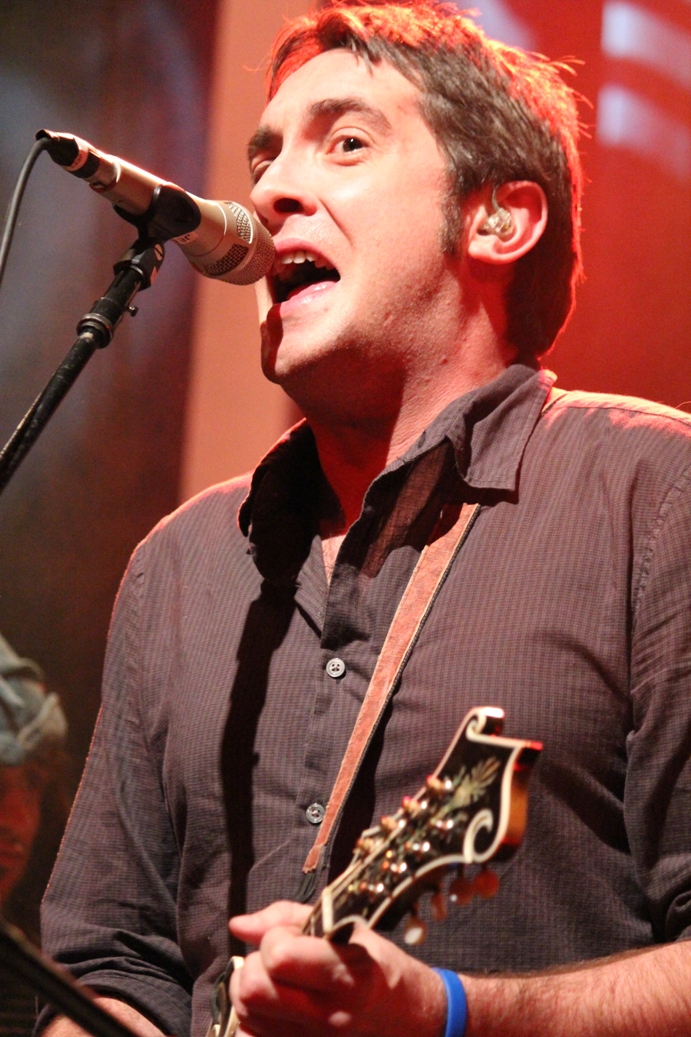 GW: I was hoping you guys might headline Red Rocks again this year.
JA: Oh yeah, we are having a big meeting tomorrow about it.  Our manager, DJ McLaughlin, is coming out and we are going to have a big meeting about it tomorrow and get everything finalized, then there will be a big announcement coming out in the next week or so.
GW: Has the band been working on any new music lately?  Any thoughts on maybe a new album?
JA: We have, we actually want to have a record out by this summer.  We are compiling all of this music; we have so much existing music that we would love to record.  Then we have a bunch of half-finished songs, and all of these ideas that are going to turn into stuff.  What we are doing is finding as much time as possible to sneak into the studio.  We have already recorded a couple of tracks, and when we get back at the end of this month we will sneak into the studio for a few more days and record a couple of more.  We are experimenting with a couple of producing ideas, and trying to make a record without a lot of pressure, and with a lot of optimism.  We want to reflect the new kind of vibe we are trying to show, and have that transfer over on to a record.
GW: Speaking of albums, the band released its last studio project in 2009 called The Show.  This was actually ten years after the release of your debut album, Elevation.  The progression of the band, I felt, has been obvious over that decade.  What do you feel has been the most important, or maybe defining area of change in your albums in that time frame?
JA: For us, it has been being open to embracing the studio for what it is, which is a fucking playground.  It's a place to go in and experiment, and really let it all hang out.  We made that discovery through our friend, Tom Rothrock, who produced The Show as well as the self-titled record we put out.  We went into that first project with him in 2006 kind of tight.  You know, we didn't want to do this or didn't want to do that.  When we first met Tom, he said that if we were going to work together then he needed us to put everything aside and let him steer the ship.  Not like in a commander way, but more of a "trust me, come along and find out what we can discover".  We finally said yes, because why wouldn't we trust Tom Rothrock who recorded "Loser" by Beck, for fuck's sake!?  Talk about your experimental music, changing the way music is made.  Without "Loser", music would have made in an incredibly different way in the 90s.  That turned a whole different direction of people.  Like Odelay, and all of these other amazing records.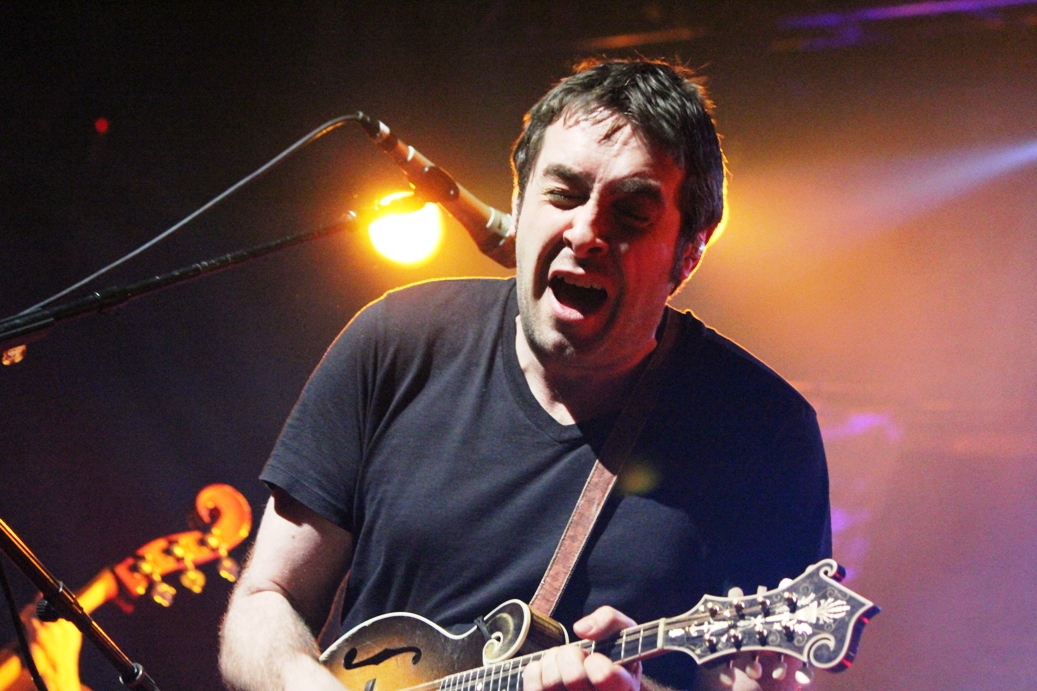 We trusted Tom, and I am so glad that we did.  Through trusting him we learned to trust ourselves.  And we started saying yes to things like putting some distortion on this voice, or giving the mandolin feedback, or having Ben play three different basses and put them together into one bass sound.  You know, Adam may play one section on an acoustic guitar and then layer over it with electric guitar.  Really trusting Tom kind of helped us break through a lot of barriers.  And now we are fearless in the studio; now it's like bring it on!
GW: The confidence on The Show is evident.  And over the last few years you guys have even incorporated drums into some of your live performances, and even on that last album.  That is not real typical of your group, or any bluegrass band for that matter.  What do you feel adding drums to the mix has meant to the sound and progression of the group?
JA: In the definition, no, drums are forbidden in bluegrass groups.  That was another thing for us was to finally step out and say, we are not a bluegrass band.  We may play one on TV; we may look like one but we are not.  I've caught a lot of crap for that, but we've learned to let go of our hang-ups with the term bluegrass band.  As soon as we let go of that it got a lot easier to exist and play music.  Adding drums, well shit...for me, I am the snare drum of the band, and when I am soloing Adam becomes the snare drum and Adam will do the chop on the guitar.  It opens different avenues to walk down, and it is a total different world to discover when you have a drummer playing with you.  And for fuck's sake, look at the drummers we have had play with us!  Like Jon Fishman, and Pete Thomas who is in the freaking Rock n' Roll Hall of Fame!  He played drums on "Veronica" and "Watchin' the Detective" you know, that's him.  You gotta be kidding me!  And he knows our music; we finished a show with him and he wanted to go on the road with us.  That was like, holy crap!  People call him to have him come out, and now he wants to go out on the road with us.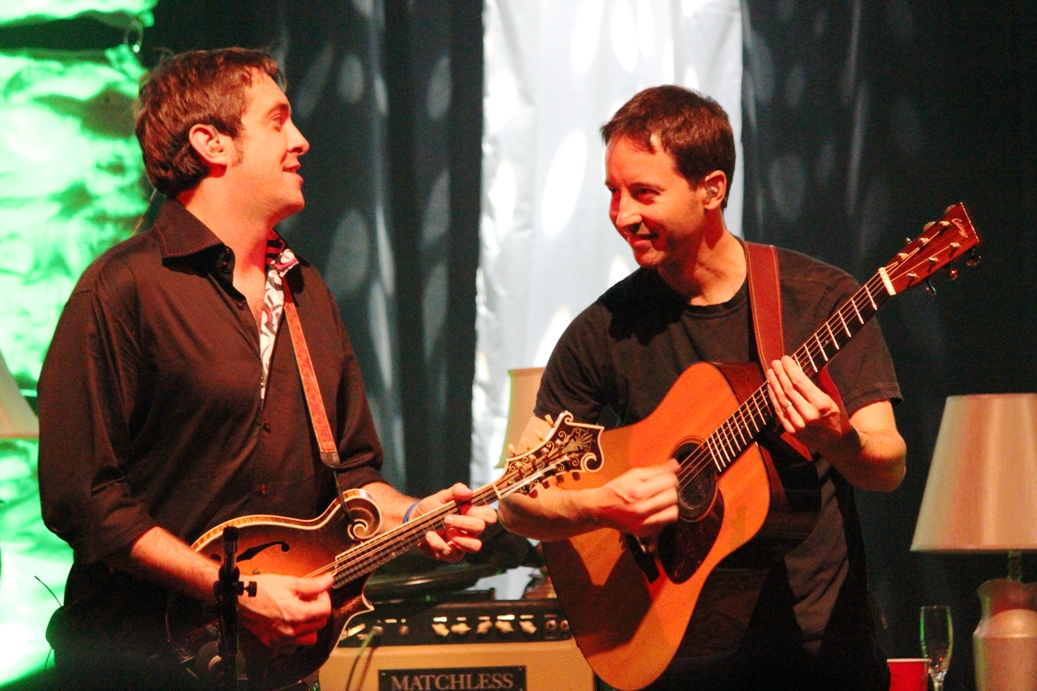 Then there is our buddy Rob Koritz from Dark Star Orchestra, who is just a fantastic drummer.  And everybody else like Jeff Sipe; christ, it's just an A-list of drummers that we have had!  When we first got together we were in the land of Leftover Salmon and the String Cheese Incident; you know the bands that took the bluegrass energy and idea and added the Cajun flavor like Leftover or the world beat side with String Cheese, then added drums.  So when we were coming up we said we would be different and we would be the bluegrass band that doesn't have drums.  And who knew that decision would lead us to this ability to play with all of these amazing artists.
It still blows my mind that Fishman calls us his "other band".  When Jon did his first show with us in Colorado when we did our first Red Rocks headlining debut, he hadn't touched a drum kit in two years; not since Phish had broke up.  He hadn't even looked at them; he packed them up and put them away.  When we were brainstorming on who we wanted to have play drums with us at that first Red Rocks show we said either Ringo Starr or Jon Fishman.  I'm not shitting you, we actually reached out to Ringo's camp and they actually politely declined.  Instead of a "go fuck yourself kid", they said that unfortunately he could not do it.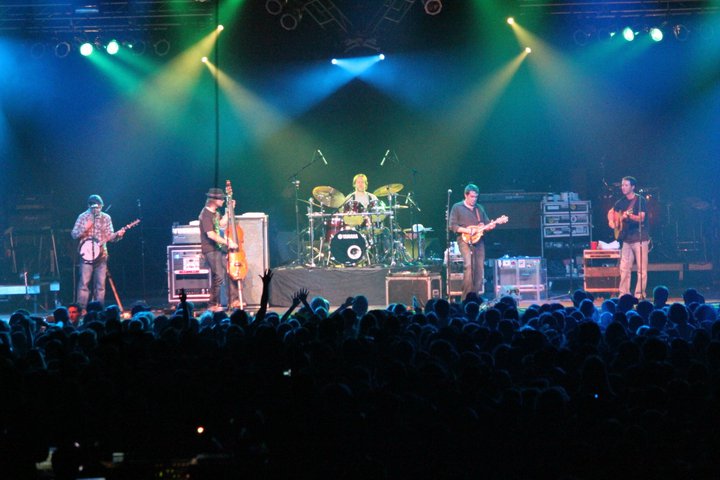 But Jon was totally into the idea and loved to do it.  Phish totally changed my entire life as far as the way I look at music, so to have him call and say "man I love this tune, and I have this cool idea to do this fill" was incredible.  We got to do this benefit show (Four Mile Canyon Revival) last year and Jon came on to play with us, and we were back stage rehearsing and he knows every song.  He knows every single song!  Wow, because geez...you want to nerd out?  I know every single Phish song.  I can sing every word, every hook.  I can sing you Trey's solos!  I could sing Mike's bass solos.  I know when this happens, and when that happens.  I'm a nerd, I call tunes, and we will bet dollars on set openers.
GW: That's funny, my friends and I do that too!
JA: And then to have Jon go, "man I love that Fine Excuses tune of yours" and this and that, or "it kind of ends like Slave to the Traffic Light".  I'm just like oh my god!  So who knew that decision would lead to all of these people really committing to it, and not just saying "oh god, I gotta play with a bluegrass band".  One time I told Pete that I was so honored to have him play with us, and he told me he was honored to do it.  He said it was special because we didn't have a drummer and it was something he takes a lot of care with.  Sitting here talking about it all gets me pretty amped up!
GW: Are their other elements, instruments, or artists that you are considering adding to any future projects?
JA: Well, we call Darol Anger the 5th member of Yonder Mountain String Band.  The only difference is that he is not on the bus everyday and he doesn't tour and play every show.  But he jumps in and knows every song, and fits right in with us.  He gets it, and he embraces us.  Without his experimentation and involvement with the original David Grisman Quintet, we are not sitting here having this conversation.  But it would never be the case where we added anybody full-time, but I think that is the beauty of it because it allows the openness to have, say, Sally Van Meter come in and play some killer dobro, or have Sam Bush play some fiddle.  I actually just had lunch with one of our monitor engineers and best friends in the world Kevin Gregory, and we were talking about Martin Fierro.  Having him guest play with us was an amazing experience.  He's a sax player, and he comes right off and just kills it.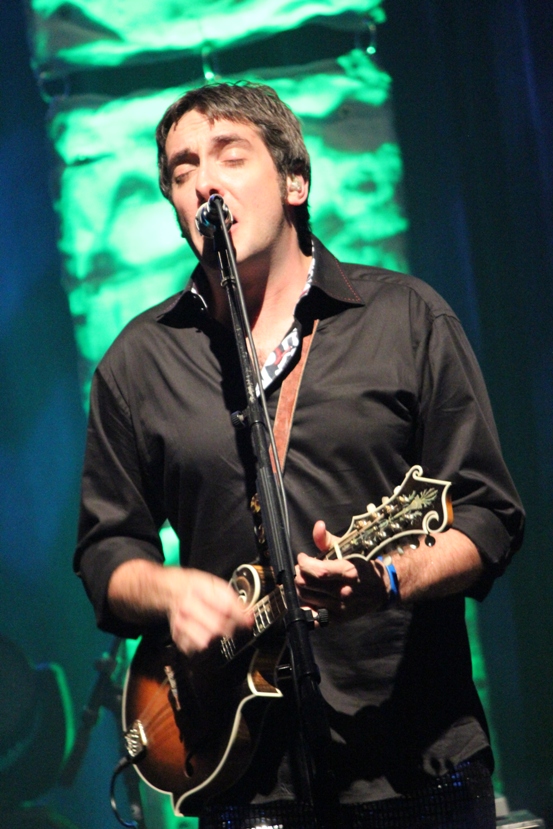 So I don't think anything permanent, but the idea of it...it's like a good old one night stand.  You might feel guilty about it in the morning, but in the moment it's incredibly exhilarating.  You just have to let it all hang out, and that was the beauty of playing with someone like Martin.  He loved it; he got such a kick out of it.  He was the best, we miss him.
GW: Let's talk a little bit about this mini-festival called the Bluegrass Ball you are doing with the Travelin' McCourys, Drew Emmitt, and Head for the Hills.  Tell me how you got involved with this project?
JA: I am still trying to process that myself (laughing)!  But we are real close with the McCourys, and luckily so.  Del has embraced us like a granddad.  To any of those Nashville uptights who don't like the way we play or the way we represent bluegrass...to have somebody like Del McCoury in our corner is like saying they can kiss my ass.  I don't want to be crude, but they can kiss my ass.  How much I care about their opinions, and their harsh words and criticisms, is really diminished by the fact that Del McCoury stands in our corner and says "boy, you guys really bring something fresh to this music.  I can tell when we are playing a show, and your fans are at the show they stand up and they dance, and I just love it".
But that is just what him, and his whole family are about.  There are not interested in if you have drums or because you are this or that.  They won't decide not to play with you because it might affect their standing, they are so open.  He is just the ambassador of that music; he is our champion of our cause and we couldn't have a better guy in office if you will.  The fact that he embraces Leftover Salmon, String Cheese, and us is amazing because the bluegrass scene can be very elitist.  Del has no interest in that in any way, shape, or form.  You are talking about a man who is a member of the Grand Ole Opry, been honored for his 50+ years in bluegrass, who has played with Bill Monroe, and he defines what it means to be a gentleman in bluegrass.  I wish more people would stop their internal dialogue and just look at the example he sets.  In turn, I have gotten to become friends with Ronnie and Robbie.  I mean, Ronnie is such a hero to me; my god if you are a mandolin player and you don't respect what Ronnie has done, then you must not have a pulse.
The way it all came about for me is that Greg Friedman, who is our business manager/lawyer/friend and very important person in my life, was putting together an event and we were looking at talking to the McCourys.  Greg was talking to their manager, and somehow this came up.  They were looking at having some special guests, and I know Drew's name got mentioned, and he told Greg that I would be perfect for that.  And I said shit; I'd do it for free!  Any opportunity to hang out with those guys and trade some licks, I would do it for free.  That's how important the experience is for me.  The next thing I knew I was booked, and it is happening.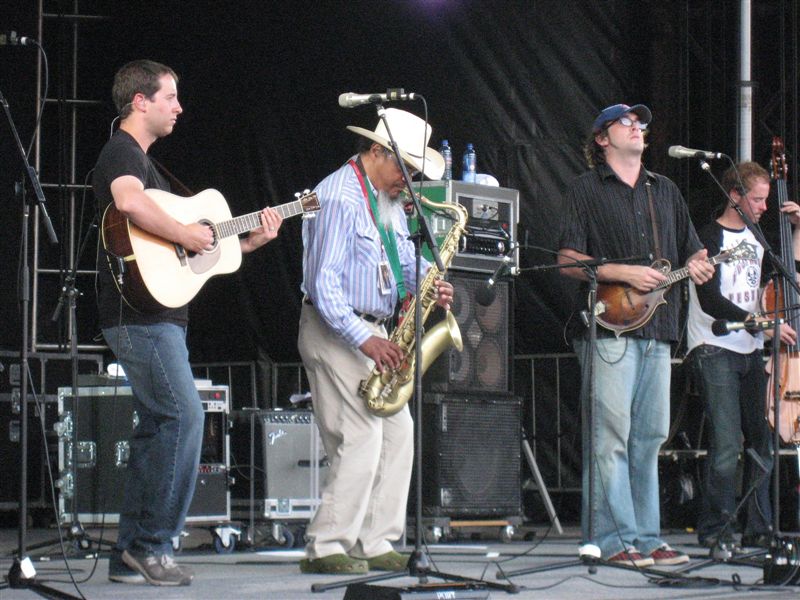 And I love those Head for the Hills guys, they are just great.  I remember them doing band competitions at our String Summits; it's good to see them sticking to their guns and playing the music.
GW: I imagine with you, Drew Emmitt, Ronnie McCoury, and Mike Chappell all present at these shows that fans should see an amazing mandolin duel.
JA: What's funny about that is...I know who I am.  I am not the greatest soloist of all time; I don't pretend to be a virtuoso on my instrument.  I don't pretend to play everything melodically perfect, and play every note with precision.  But you know what; I will put my fuckin' balls against anybody.  The one thing I have learned about myself is that I have some balls of steel that I am not afraid to put on the table.  I'll get on stage with the best of the best, but because I have learned to be fearless.  I was taught that by people like Drew Emmitt, Ronnie McCoury, and Vince Herman.  Vince has taught me more about that if you show people your heart and your guts, they will embrace that more than any precision that anybody can have.
You know, I am a lurker...I lurk on all of these online forums, and some people are saying "oh Jeff is going to get called out and totally embarrassed...or he ain't Drew Emmitt, or this and that".  And I thought you know what, bring it on.  I'm not scared, and I have nothing to be afraid of.  There is a mandolin player out in Colorado that I really respect, and I was talking to him six or seven years ago and I told him how frustrated I was about soloing, and how embarrassed I was because I was surrounded by all of these people that are melodically precise, and how I should just stop and start from scratch.  He looked at me asked, "why the hell would you do that?"  His name is Greg Schocket, and continued saying, "that is your style, which is who you are...don't ever change that".
Then a couple of years ago at the String Summit I was standing backstage with some of the Infamous Stringdusters like Andy Hall and Jesse Cobb, and I said the same type of thing to them.  Jesse told me how much fun it was to watch me play.  And I told him something to the extent that hey man, I don't know what I am doing and I should change.  He gave me the same answer, like "why the hell would you do that?  You've got more balls than any mandolin player out there right now.  You've got nothing to worry about. Screw those people who say this and that.  They weren't here watching 4,000 people flip out.  They aren't there when you've got 10,000 people at Red Rocks screaming when you start every solo".  And I got a total kick out of it, because this is a mandolin player who I respect so much and who is so damn good.
When I finally realized I am who I am, and that I can't go back to playing mandolin like I was five years old, or go back and decide to start playing with precision...you know, I can't change that.  So to that poster that said I am going to get embarrassed by these guys, I have to think...no, I'm not.  I'm not going to be able to match them technically note for note on things, but I am going to learn a lot being surrounded by those guys.  I will definitely step away from that having learned something.  Really, I am just honored to be a part of it and to be asked.  Drew and Ronnie are such heroes and brothers of mine, and I am proud to be in their ranks.
I had another experience last year at Telluride Bluegrass where the Punch Brothers were playing a show.  Chris Thile and I have gotten close over the years, and he invited me down for a jam at the end of the show.  It was me, Drew, Bela Fleck, Bryan Sutton, and I thought "what the hell am I doing here?"  And I took this solo during "Daybreak in Dixie" and I just went for it.  When we were done I walked off stage and said to the guys that I really screwed that up.  But then Bela put his arm around me and told me that mine was his favorite solo.  He told me I play with such balls, and that is why he loves me.  So I have just decided to stop the internal dialogue and start listening to these people (laughing)!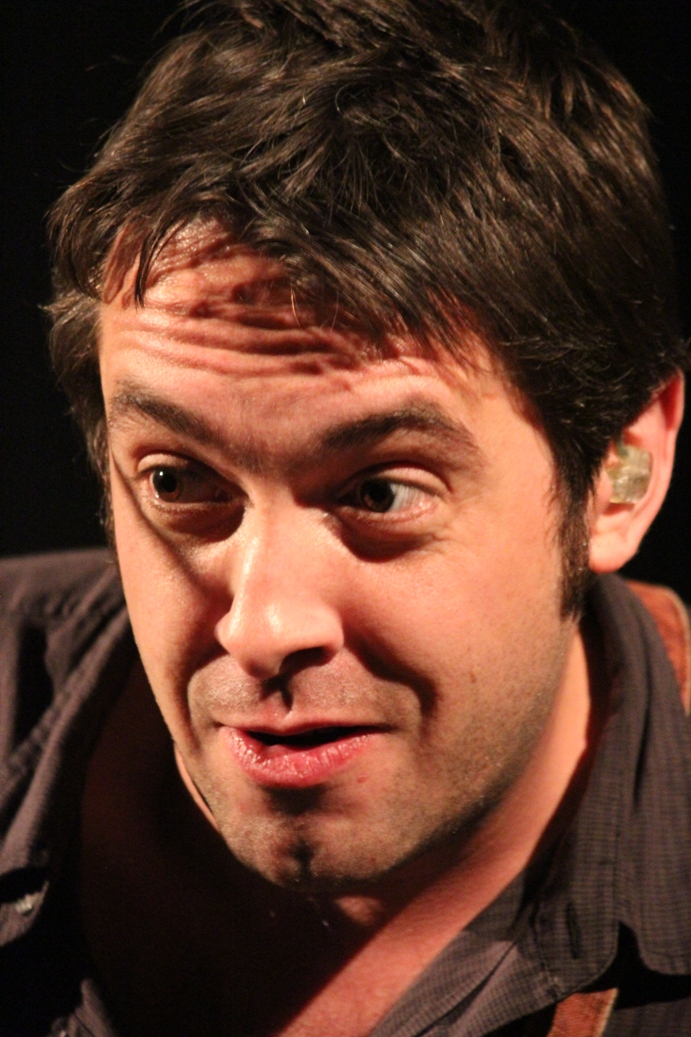 GW: You are a busy guy this year.  Are you looking to fit in any more work with Brendan Bayliss and 30DB?
JA: Have you heard of any of the 30DB album?
GW: Absolutely, it was awesome work.
JA: It's such a trip, isn't it?  When Brendan and I get to do just the duo shows we sit up there and laugh our asses off, because it is just such a release for both of us.  So yes, we are going to do some more stuff.  We have committed ourselves to it this year, and we have just a ton of new music.
When we wrote the stuff for the original record, we were both in such a different place.  We were going through a lot personally, mentally, and physically.  I was into different things that I should not have been into (laughing).  And I have really moved on from all of that.  I'm such a different person, and I've got a woman I have been madly in love with for the last five years.  Also Brendan just got married, so we are in different places.
We said for this that we didn't want to get too flowery.  We both have different ideas of music we want to put out.  We have jokingly said we want to call the next album "Upgrade", because we both have sort of upgraded in our lives.  But we don't want to get weird with it you know, like rainbows and happiness and panda bears (laughing).
The reason I embrace that music, and people I have spoken to embrace that music, is because it was written from the heart and from the moment we were in.  And now it is going to be fun to write from a whole different moment.  What I would like to do is get into the studio later with him maybe just in a duo form.  That was the way we kicked around doing the first album, but then we brainstormed and thought it would be great to put a band behind all that, and we had such a killer group of guys with us.
GW: You had a badass group of guys playing with you.
JA: Wrecking crew, dude.  I mean, Eric Thorin is my favorite bass player on the planet; there is no debating it.  No disrespect to my dear Ben, who I have rocked with for thirteen years; it's just a different connect.  And then there's Cody, he is just the fucking man; I would go to war with Cody any day.  And Nick Forster, he is just our sage, our wizard guiding us along.
So I am actually talking to Brendan later today, and we are going to talk about doing more duo shows this year, and get some more music rocking.
GW: You are also going to be doing your Jeff Austin and Friends shows next month in Colorado.  Who do you have joining you in those performances this time, and what songs are you guys working on?
JA: I will have Eric Thorin playing bass and Nick Forster playing guitars, and we will all be switching up instruments.  Eric has always been the constant, and I told him that when the day comes that he can't do these shows anymore then I won't do them, because it is such a natural connection; an unspoken language.  For somebody that I don't play music with all the time that is pretty rare.
Over the last few years I have been bringing people in from out of state.  I've been so lucky to have guys like Danny Barnes, Wayne Gottstine from Split Lip Rayfield, Tyler Grant, and all of these guys.  This year I thought it would be good to just keep it local.  Late last year I did a show with Nick, and it was just so great.  Nick is like a father figure to me.  If anything I just thought this would be another great excuse to just hang out with my buddies.
But the one thing I am focusing on that I've really never done with those shows is play some Yonder music.  I was always a believer in that they were two separate worlds, but now I am thinking that instead of avoiding that whole catalog of songs I have I need to embrace them and bring them into those shows.  So it will be fun to play Yonder music with a different lineup and different arrangements.  Then also since we are three-fifths of 30DB we will play a ton of that stuff.  I also did a record years and years ago with Chris Castino of the Big Wu, in which Nick Forster played on as well, and I would like to do some of that.  So all of those projects in addition to ten or twelve new songs that I have, most of which I am hoping to debut over those shows.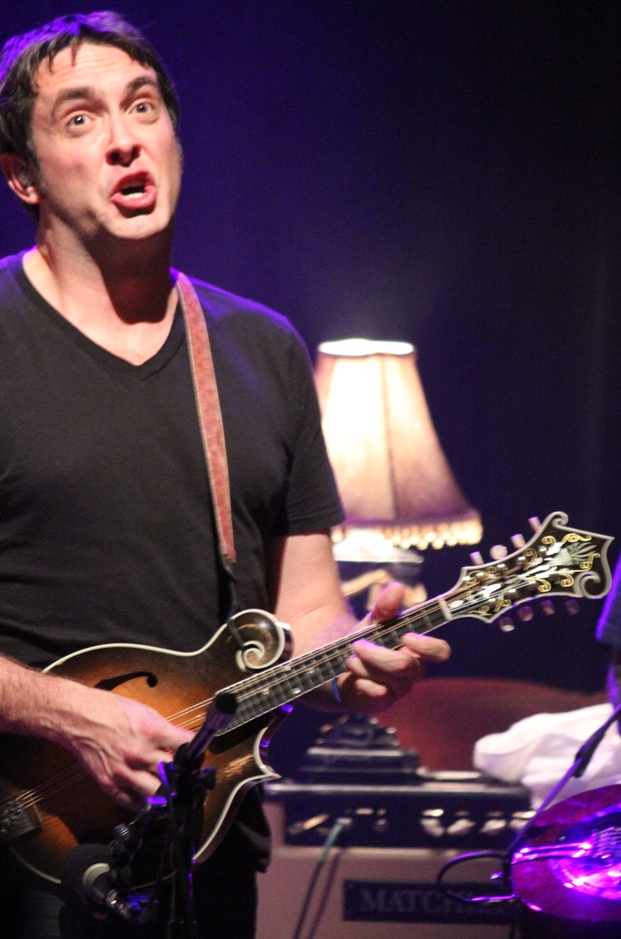 Over the years some people said I was playing the same set lists over and over, and that was probably true.  I was playing a set group of songs that I was really excited to play that I don't ever really get to play.  Rather than keeping it repetitive I am shaking it up with this lineup.  The three of us can play almost any instrument so we can mix it up.  I was talking with Nick and told him we should just set up an arsenal of instruments on the stage and we can just go for it.  We are going to get together for a few days and go over that stuff.  Those guys are like steel traps, you can show them something once and they know it.  So it is going to be very different from years past.
GW: Speaking of that album you did with Chris Castino, that was a really great collection of songs, I really liked it.
JA: I did too; it was such a labor of love.  Chris and I had become such great friends and put that record out years ago.  You know Chris had a heart condition, an arrhythmia and had an aorta transplant, so we recorded the first half before his transplant, and then he came back and did the second half.  It was a real labor of love.  I am actually sitting here right now wood shedding that record and getting a lot of those songs back in my head, and I am wondering why the fuck I haven't played these songs in awhile because they were so good.
GW: I went to college in Minnesota and I grew up, if you will, listening to Chris and the Big Wu.  In fact they are the reason I was introduced to your music, when they had Yonder play at their Big Wu Family Reunion in 2000.
JA: That band was so responsible for our following in the Midwest.  They plopped us in front of a couple thousand people and said "go....and they are going to love you too".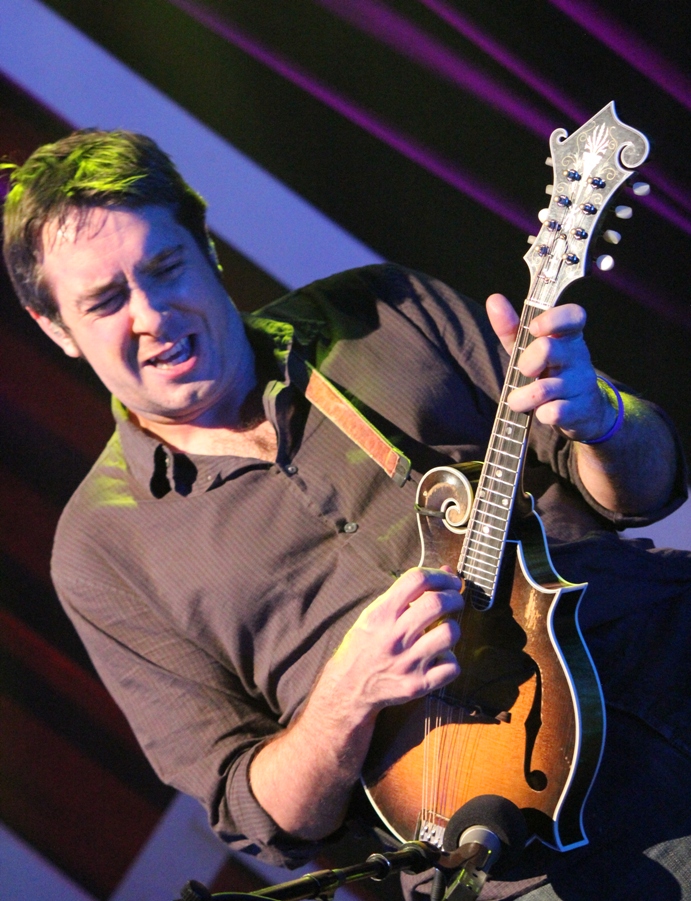 GW: Yeah, those were good times.  Well Jeff I have one more question for you, and that is what do you get as an artist playing your side projects outside of performing with your usual group Yonder Mountain?
JA: It really energizes me, and helps me bring back ideas to Yonder.  When I play with Yonder, that is my focus and my energy, and sometimes you feel the need to do something different to energize yourself so I can bring back new ideas to the love of my life, which or course is Yonder.  That is really what it is; an energizing process to play with guys like Nick and Eric and have a blast and create ideas.  There are actually songs I am getting ready to show the guys in Yonder that I have been playing with Jeff & Friends for years.  I used to think Jeff & Friends songs could not come into the Yonder world because I had to keep those separate, but the more I think about it I realize these are some cool tunes that people really dig, and I should bring them in.
It's really just keeping the machine lubed with ideas.  It's like Todd Snider says, if you dig what you do it will never get you down.  And I dig what I do.  There were times in my life where I didn't dig I was doing, and I struggled.  When I finally stopped and realized how lucky I am to do what I do...I mean, how many people go through their day not liking what they do, and they just hate everybody?  And that is what is going on with Yonder; we are all kind of in this brand new head space where we feel lucky that we get to do what we are doing.  Life can come and go pretty quick so you better grab it while it's here.
GW: There you go.  You guys are pretty lucky to do what you do.  Jeff thanks so much for talking with me today.  You seem to have a pretty fulfilling year ahead of you so let me say good luck with everything this year.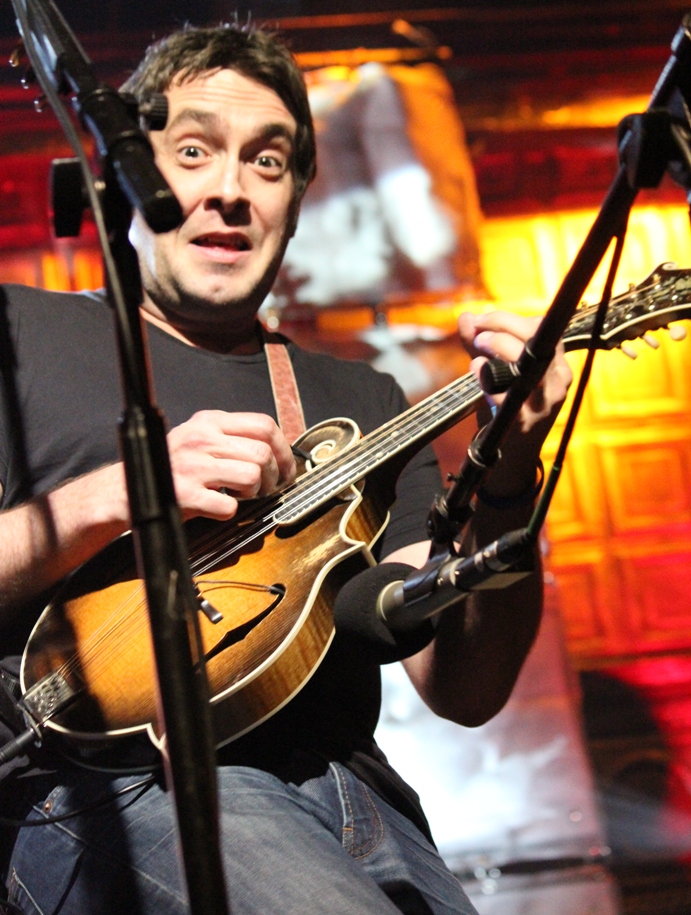 JA: Oh yeah, thanks for speaking to me today.  We are going to keep doing the work, keep our heads down, and keep on pushing; that's the way to go.  And of course look up every once in awhile to see the crowd that is kicking ass in front of us!