There are many Pink Floyd themed-bands in existence today – some as full-on tributes who try to replicate Floyd live shows authentically, others more loosely inspired by the psychedelic and conceptual scope of PF's groundbreaking music. But one of the more interesting groups to have recently appeared on the horizon is the all-star, Floyd-centric act The Gilmour Project, headed up by veteran rock guitarist Jeff Pevar.
Some "projects" – the one involving Alan Parsons comes to mind – usually have one founding member or a namesake at the helm. And though neither David Gilmour nor any living members of Pink Floyd are part of TGP, Pevar and his band of fellow rock luminaries have launched this exploration of Gilmour's guitar landscapes with an adventurous approach that's not so far from the attitude of the late '60s' Floyd. As Pevar explains in the following interview, TGP aims to celebrate – not replicate – the depth and power of Gilmour's and Floyd's music.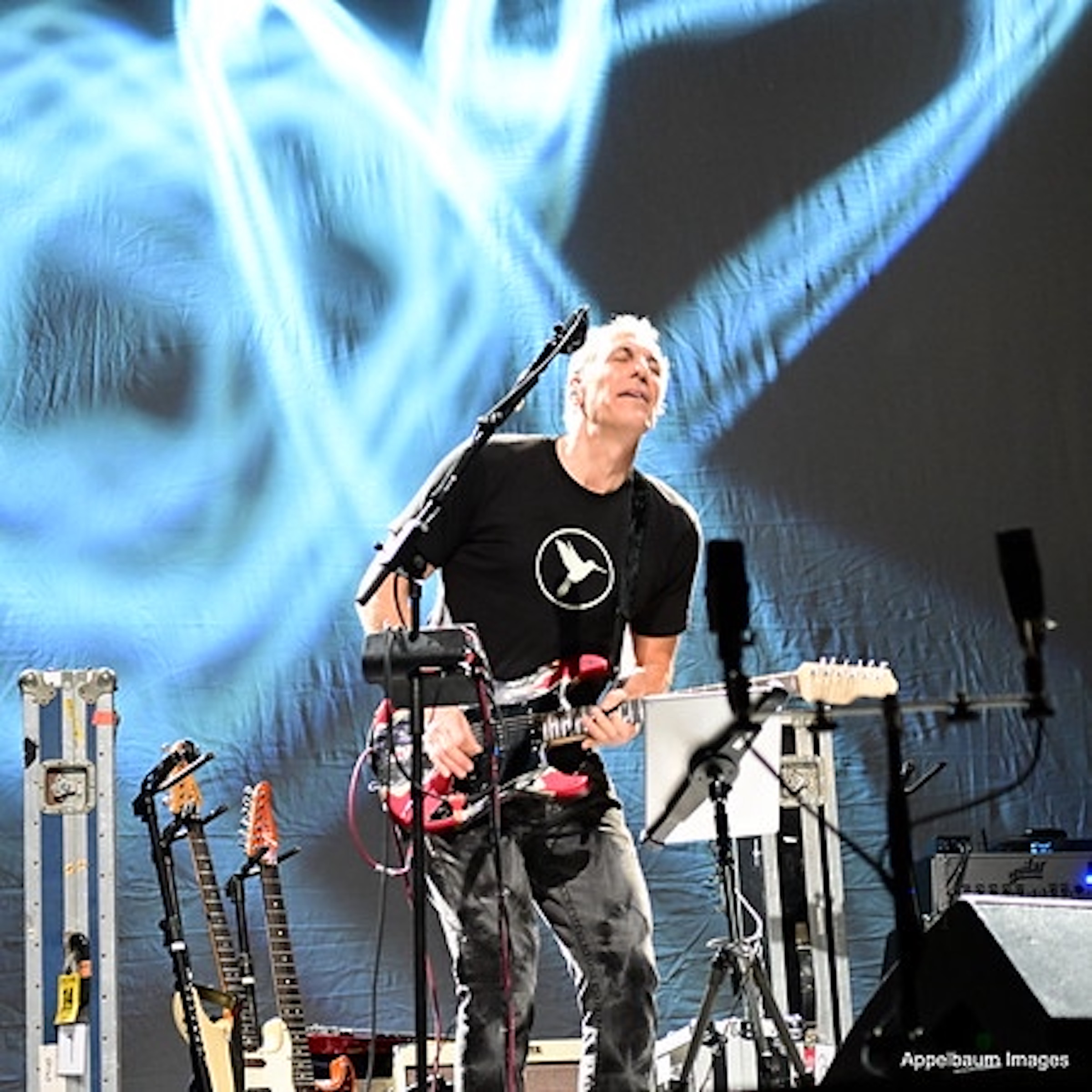 Pevar – himself a seasoned band member and session player with such primary artists as Phil Lesh & Friends, James Taylor, Ray Charles, CSN and other David Crosby projects – also took part in the experimental, early 2000s Govt. Mule offshoot, Blue Floyd. He recently spoke with us at Grateful Web for nearly an hour, discussing his band's creative mission, as well as his own relationship to that music, his influences and lessons learned along the way. We previewed some of his observations in a recent article about the upcoming, late-spring TGP tour, but this is a more complete transcript.
The Gilmour Project first came together in 2019 at the inspiration of TGP manager, Michael Gaiman, who first pitched the idea of a new approach to Floyd music to Pevar. Then, Gaiman and Pevar opened up the the project to other heavy-hitting industry veterans, which include keyboardist Scott Guberman, drummer Prairie Prince, guitarist Mark Karan and bassist Kasim Sulton. Their collective résumés include artists ranging from Todd Rundgren, Journey and the extended Grateful Dead musical family to Patti Smith, The Tubes and other alternative and pop-rock acts.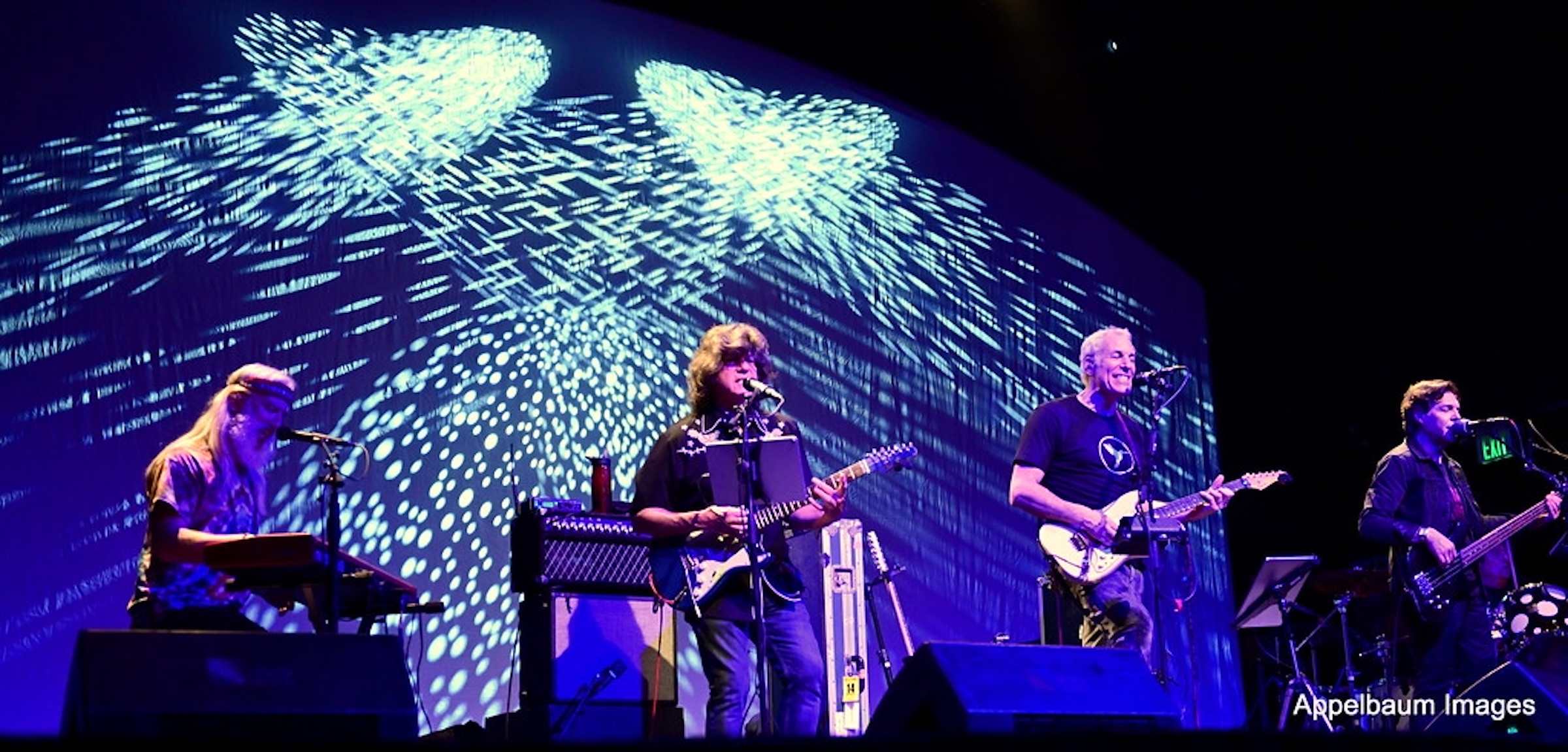 And now, we turn to the interview, so you can enjoy Pevar's expanded thoughts on his relationship with music and the fine art of re-interpretation.
GW: Thanks, Jeff, for making time to talk to us. We'll try to keep to a few questions.
Pevar: Sure, whatever time you need. But – heh – once you get me going, it's kinda hard to stop me!
GW: Well, we'll see how it goes! I first learned about [TGP] last year but didn't have a chance to attend any shows. But I'll be able to this time around. This is the 50th anniversary of PF's release of Dark Side, and you've been doing that as part of your shows since you formed in 2019. Since you've had a full tour with it before as the main event, what kinds of surprises will there be for folks this time around?
Pevar: Well, our approach to Pink Floyd is to interpret their music, and it changes nightly. I was involved with Jazz is Dead previously, which is also, obviously, an interpretive band. And, now, my friend Steve Kimock is playing guitar for them and I'm doing this now. But the whole point was to interpret one band's music [in a new way]. What we offer in [TGP] is an assortment of – Dare I say? – high-pedigree players who have worked with very well-known, established artists. Combined, we bring our experience and strengths to this kind of iconic music. So we're an interpretive ensemble, versus a tribute. So, yes, we're honoring [Pink Floyd's] music but – at the time – we're taking liberties to bring our own flavor to it."
GW: Right. Your interpretation of PF's "Set the Controls for the Heart of the Sun" is very interesting because it takes that piece out of its original Arabic mode and puts a more Latin spin on it.
Pevar: Exactly. On [PF's original 1968 recording], that's a very open, psychedelic piece that almost lacks a groove. And when I was in Blue Floyd (in the early 2000s), we gave it a funkier edge. That's an example of something that seemed like a good one to interpret – to take the original inspiration from a song and go anywhere with it. So that was an original idea of when I was in Blue Floyd that's carried over into TGP.
GW: So you're still doing similar things from your time in Blue Floyd, right? But are you also changing and adding new songs to the setlist?
Pevar: There's a certain amount of improvisation that happens every night which is unique to every single performance. We change it up – constantly. And we always do a Dark Side set – but with lots of variation – but when we are able to do a two-set show, we have a second set of [PF and Gilmour solo songs] that we're sure people will enjoy hearing and that we can also have fun playing. There are songs we are [working on] now for the next run that we've never played before.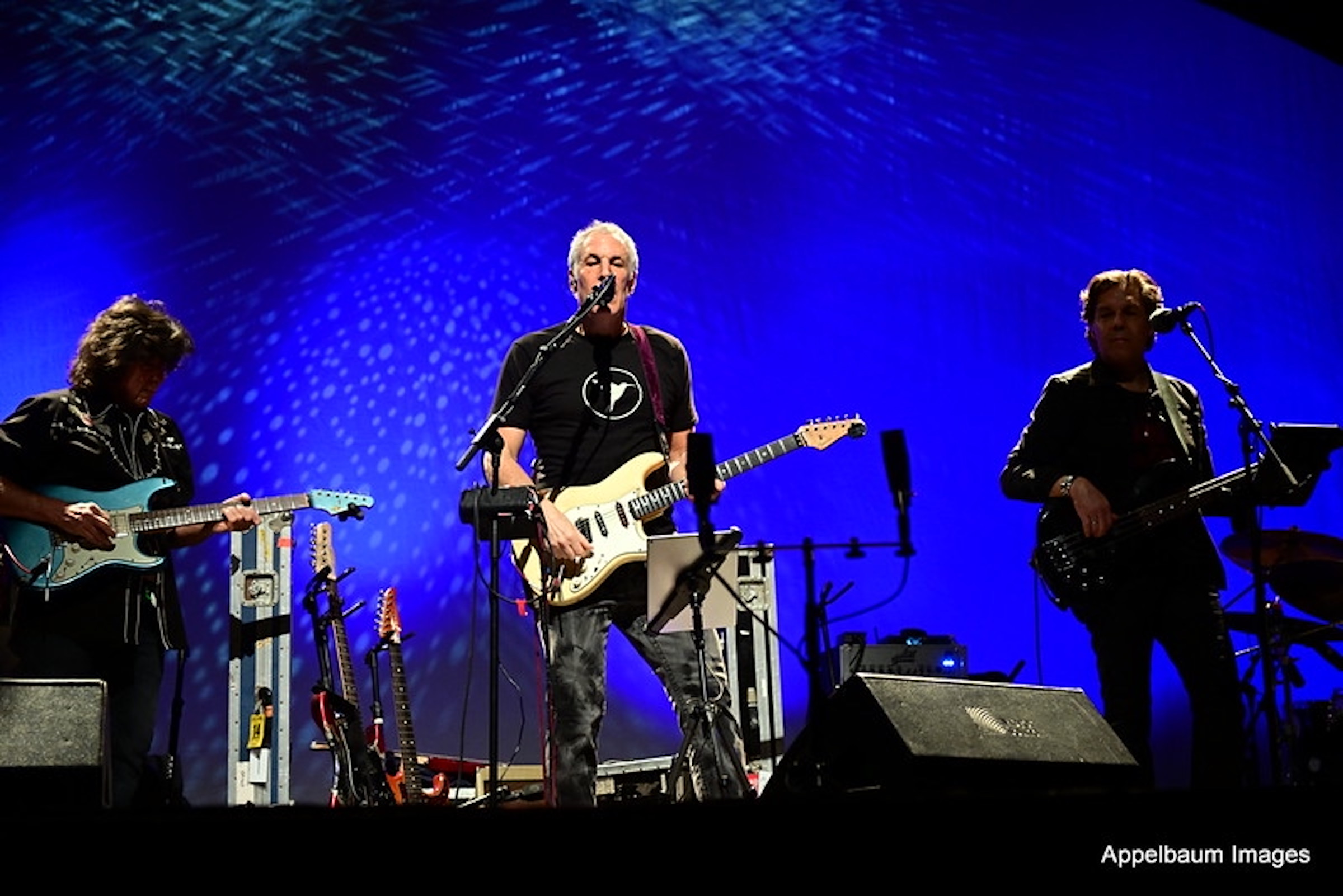 GW: I don't need you to give away any song names, but how many songs would you say that is?
Pevar: That's at least four to five new songs. But the thing is, we change up the sets each show, so not every song will be played every night. We have about a dozen deep tracks that we [rotate] from night to night. So if folks are going to see two nights [on the tour] or watch a couple of live streams, they're going to hear different songs.
GW: Great. . .and from what I see online, there've been a lot of live streams.
Pevar: Yeah, and the person who put TGP together (Michael Gaiman) is a guy who likes to 'spread the love'.  He just clicks his iPhone up by the soundboard, and then throws [full shows] up online for people to see. He's a big fan of how the Dead were self-made media giants – heh – by just allowing fans to tape their music and sending it out there – in the ether – for free. Not everyone does that. And the word about the Project tends to get around because they're enjoying the opportunity to share it with their friends.
GW: Since you've worked with [drummer] Steve diStanislao [in CPR – Crosby, Pevar and Raymond] and he has also worked with David Gilmour, has he given you any tips about playing with David?
Pevar: Heh – not at all. Steve is one of my dearest friends and we've not only been musical accomplices but very close personally since the late 1990s. And Steve actually has come out to see our show. Interestingly, when I was first asked to put this band together, I gave Steve a call to see if he'd be interested in doing [TGP] with us. But, between scheduling and the fact that our drummer Prairie Prince was already interested, it worked out differently. There's so much involved with that. But to answer your question, Steve and I are fans of each other – lots of recordings and hundreds of  gigs together – and in the wake of our dear friend David Crosby passing, we've been in close contact a lot lately. And when he came to our show, he loved it and we talked about a lot of things in the music. Having him come and enjoy it so well was really lovely.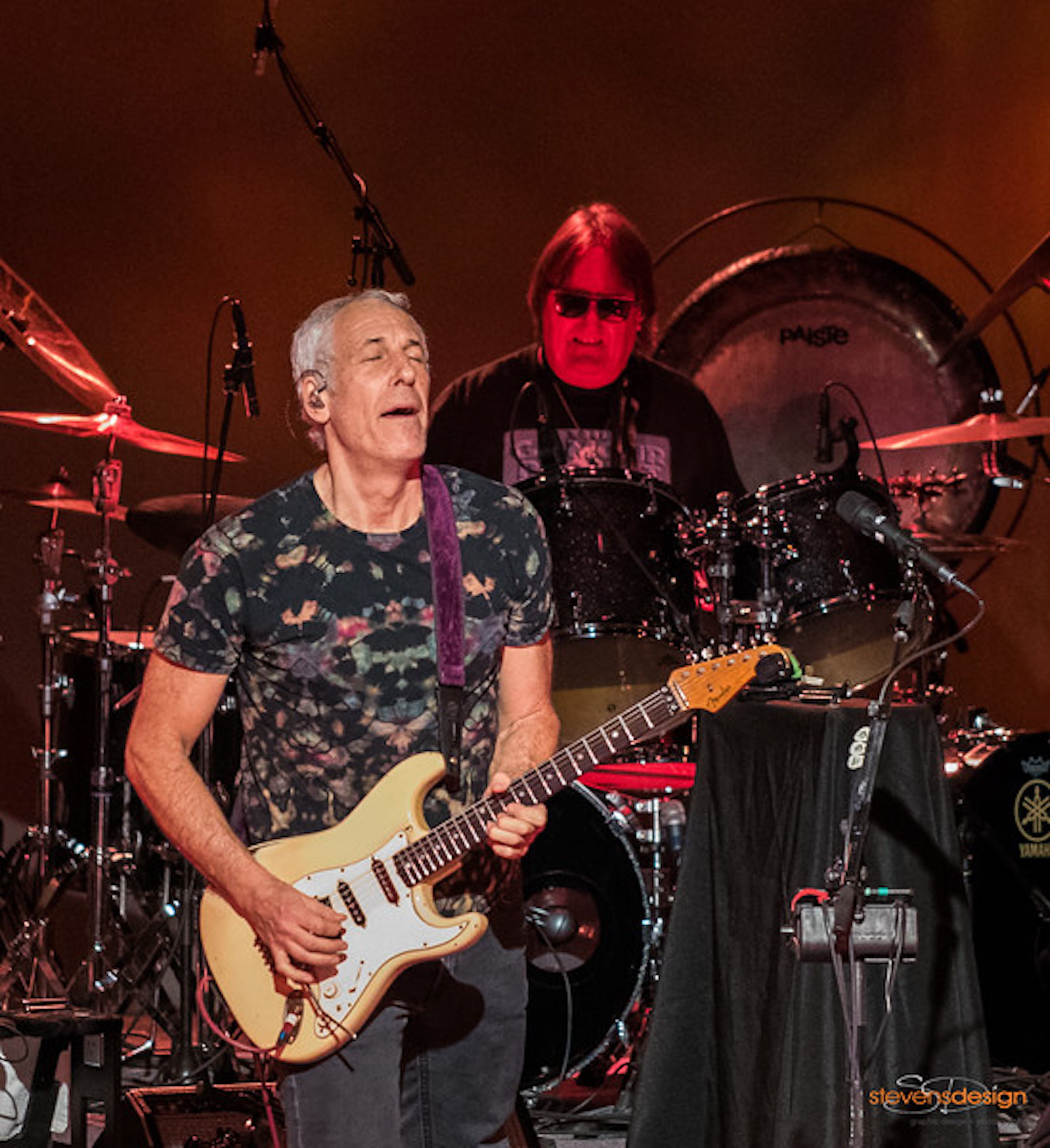 GW: In terms of feedback, have you ever had any contact from Pink Floyd, Ltd. For example, are you aware that anyone from the band has attended one of your shows?
Pevar: Well, not [a TGP show]. But when I was touring with Steve in support of David [Crosby] in Europe, David Gilmour came to one of our shows. So that was pretty exciting, to know that while I was up there – playing my heart out – one of my most favorite guitar players in the world was out there, listening to me. And, y'know, as time goes by, I've had other chances to play for some of my favorite artists. Paul McCartney came to see us play in a rehearsal studio, and that was really exciting, since he's one of the reasons I started playing music in the first place! Knowing that someone you respect so much is in the audience makes you feel so many things – heh – including nervous!
GW: Wow!
Pevar: The main thing I feel is that after all these years I've put into becoming the musician and artist that I am, it's very exciting that I'm being observed by others that I so respect in the same way. And when David Gilmour came backstage at the Crosby show, I was able to meet him, y'know, and we hung out a bit, and I could ask him a bunch of questions. I really enjoyed his candor and his gentlemanly stature. He's a really beautiful man.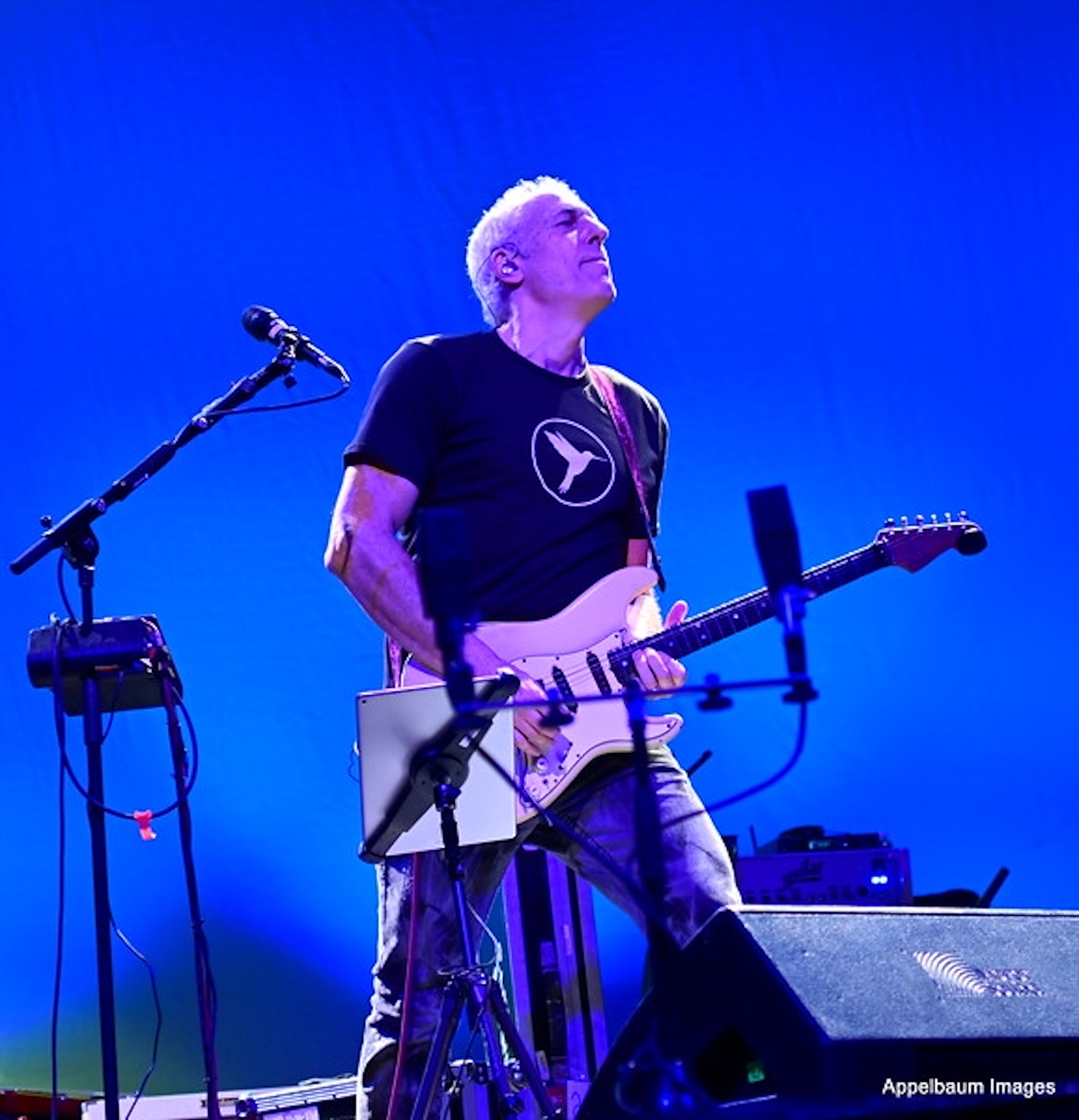 GW: What project were you working on when Paul [McCartney] came to see you?
Pevar: Well, as you know, I was involved with David Crosby in various line-ups – from Crosby, Stills and Nash to the band CPR with his son [keyboardist] James Raymond. And in the [more recent 2000s], I was also part of his "Skytrails" band. So, unfortunately, the last tours we were scheduled to do (in 2020) were canceled due to Covid. But we were in rehearsals for one of those tours in California at a place called Center Staging, and Paul was down the hall with his band.
GW: Cool. . .
Pevar: So we went to visit Paul during his rehearsal, which, for me, was so incredible to be sitting, oh, ten feet away him, watching him sing 'Ob-La-Di, Ob-La-Da'. And I'm singing it, too, and he's looking over at me and smiling. I'm looking at him and feeling like a 12-year-old, all over again! So then, he came down to our rehearsal and sat on the sofa for about a half hour and listened to us run through a bunch of our songs. Getting a chance to play for Sir Paul and hang out afterwards. . .well, that was just great! He was a very sweet man. A Bucket List thing, for sure!
GW: I'm guessing that when you put together your show for the Rock and Romance Cruise (this past March), you performed a one-set show versus your regular two-set show. . .
Pevar: Correct.
GW: So did you perform only Dark Side of the Moon, or did you focus on a few of the classic DS songs and a handful of other PF 'hit' tracks?
Pevar: Well, with it being the 50th anniversary of Dark Side, obviously, that was our main focus, but we did sprinkle in a few other PF songs, including "Shine On You Crazy Diamond". It's different when we're doing a longer, two-set show.  We'll stretch Dark Side out and throw in some other unique 'taste treats' in the middle. For example, we will add some bits from [Pink Floyd's 1972 live working version of DSotM] that they discarded, such as 'The Travel Sequence". (A piece later replaced by "On the Run" on the final recording of DSotM.) That was a cool, guitar-driven jam with a delay [effect] that we kind of hint at. And we try to add some of our own left turns to that, our own inspiration. There's room for us to explore, to have our own "momentary lapses of reason'" if you will.
GW: Heh! So when you're off in a deep improvisation, do you make set changes on the fly, where you may have had a certain sequence of songs planned but you change course in the moment and end up somewhere else?
Pevar: Yes! Admittedly, there are places in the music where we know we are going to improvise. And as with the Dead's music, there are many moments where we can do a 'tease', where someone will go into a [quote] of a well-known melody that the other musicians will recognize and follow. So we can jump into a bit of that here and there. But with the nature of the music we are doing (Floyd songs), we have a pretty good idea of what songs we're going to be doing, but what happens within the set varies from night to night.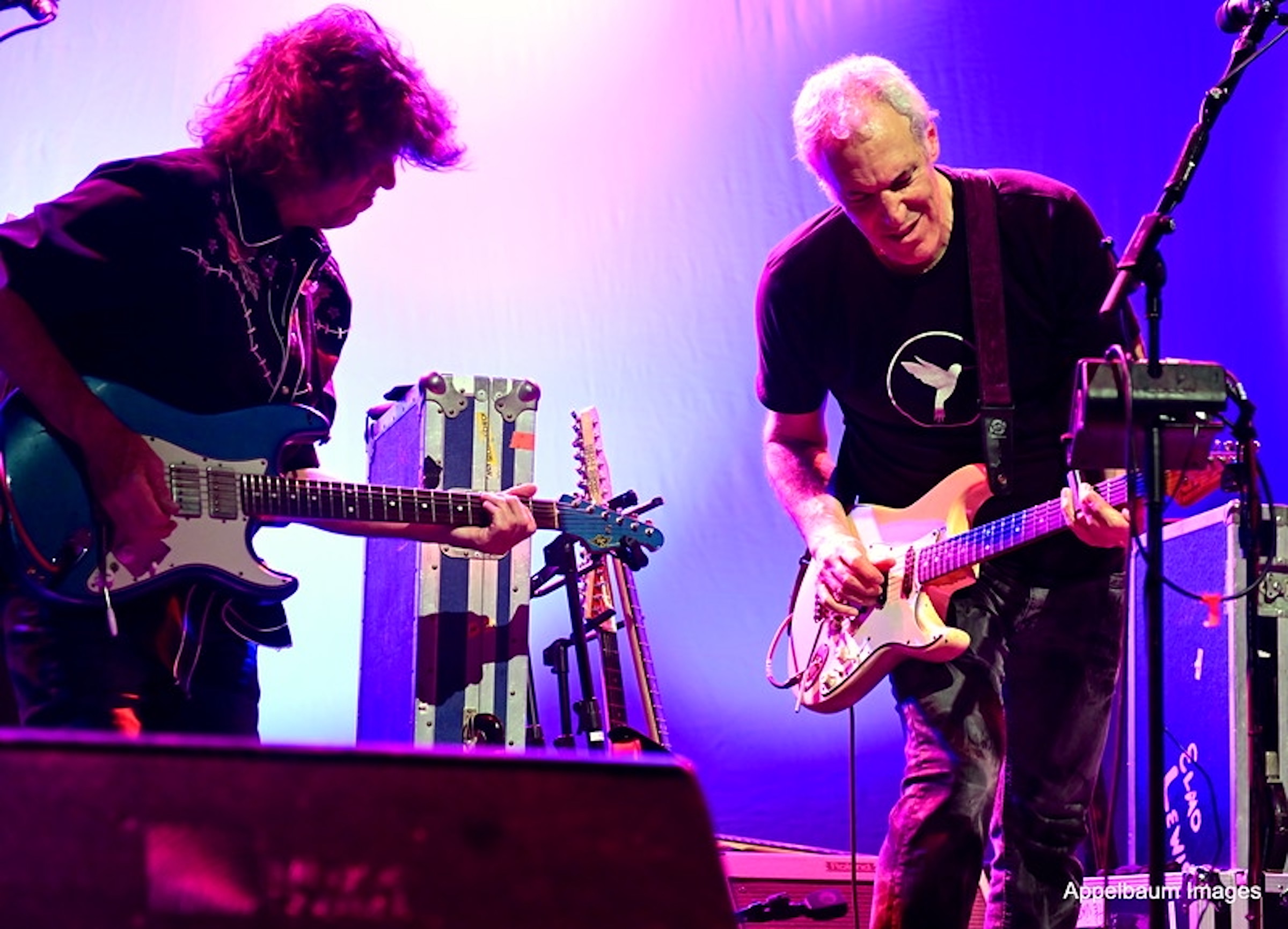 GW: I was thinking about the time (in 1974, on the GD box set Pacific Northwest '73-'74) when the Dead played "Playing in the Band" for nearly an entire set. Just wondering whether you'd ever have a night like that.
Pevar: I love that kind of freedom with any band, and I do a lot of that when I'm playing my own gigs. I value playing with musicians who are adept at 'going anywhere, at any time'. I'm no stranger to that kind of exploration. But, at the same time, there are musicians in TGP who are more used to [staying within] the song form than the jam. So we've reached a kind of balance with our line-up. Some musicians are very attracted to improvisation while others are more comfortable – heh – knowing where things are going to go. So, those of us who like to improvise enjoy helping to widen their perspective and to open the doors of their minds to other possibilities. It's still really up to each individual's comfort level. But I believe there's a lot of potential for fun in not being too careful!
GW: Right – you can fall on your face musically but it can still be fun for everyone, including the audience. . .
Pevar: It's funny. If you're a high-wire walker and you fail, you could die. But being a musician, it's not [life and death]. Like Stevie [diStanislao] once said to me, "What's the worst thing that can happen?" Well – heh-heh – maybe it's that someone wasn't entertained.
GW: When you're not recording or filming a special show that you only get one chance to get right, there's no pain. Nothing at stake – you can just relax and have fun. . .
Pevar: Yeah, the essential thing I've learned is that not everyone is going to like what you do, or 'get' what you're about. Not everyone is going say, "My God! This is the best interpretation of Pink Floyd I've ever heard!" It's just our vision, and if some people dig it and others don't, it's OK because you can't please everyone. But if it's beautiful in your own mind, then you've done your part.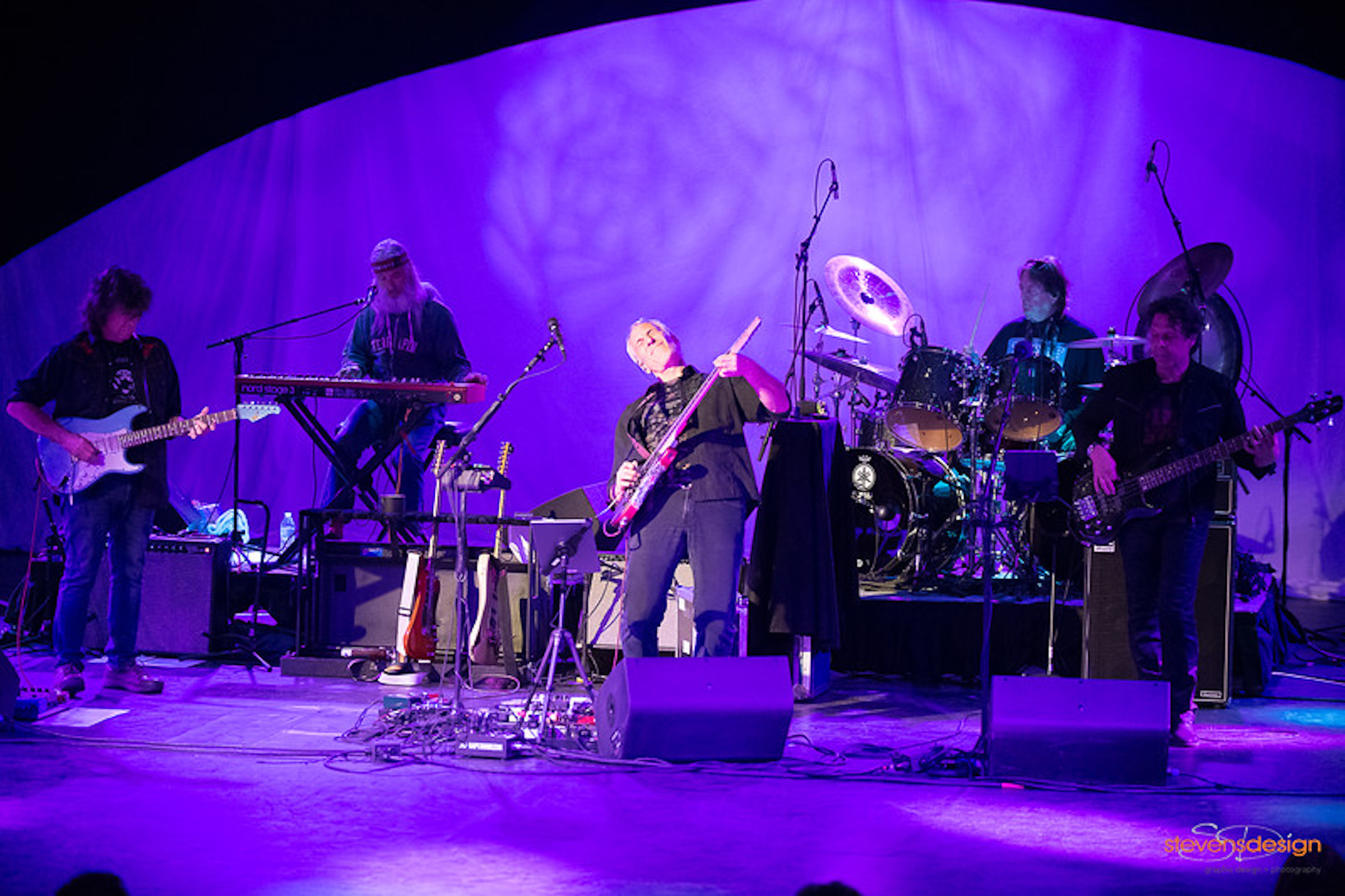 GW: Could you talk a little more about your experience in Blue Floyd? For example, what you learned from being in that project and what you brought into TGP. And even if you thought, "Heck, I could do that even better."
Pevar: It's not about doing it better. It's really about the synergy that happens with a certain group of people. That's one of the beautiful things about music that inspires me every time. Every day is different, even when it's the same band but two different shows. I learn [something] every time I play music, because I go in with my best intentions.
It's not a cocky attitude. I want to go in genuinely wanting to be open and to invite the muse. And the muse, to me, is that unknown entity that empowers any [performer] who wants to flirt with the unknown. I love the concept of "I don't have to have all the answers. . ." And, in fact, if I get out of the way, there's something much bigger than my own mind and abilities. You can call that God, Love or "energy".
But the thing I've realized from playing music over 50 years is that if you allow this [higher] power to come through you, then you can be a more ego-less conduit that plays the music – or more to the point – it plays you! Obviously, it takes a long time for the concept to reveal itself that if you've become proficient enough on your instrument, then you don't have to control everything.
GW: How and when did you start learn this?
Pevar: When I played with Blue Floyd, I had the opportunity to work with musicians I had never played with before. With [drummer] Matt Abts from Warren Haynes' band Gov't Mule, the amazing Allmans' keyboardist and singer Johnny Neel, Berry Oakley Jr. on bass, and [other rotating members], I learned something new about music and about PF's music especially every time we played. Like any musical experience I had over the last 50 years, that inspired things I'm doing right now in TGP. There are a couple of songs, such as "Set the Controls", that we started doing differently that far back, and I've carried that forward.
GW: As I noted earlier, in your version of "Controls" I really liked that it wasn't just a groove change but also a different harmonic space from the PF version.
Pevar: Well, not only am I the lead vocalist [on that song] but also I really enjoy playing slide guitar on that. I dip into a bit of that Arabic musical space, too, and I'll even tease a little of George Harrison's "Within You, Without You." It really gives me a chance to do a bit with Pink Floyd's music that I do with my own band. So, yeah, you have a verse and a chorus, and those things repeat, but anywhere else in the song, you can go anywhere, any time we want. So I love it whenever I have an opportunity to bring in the influences of my own experience from other projects into something new like this.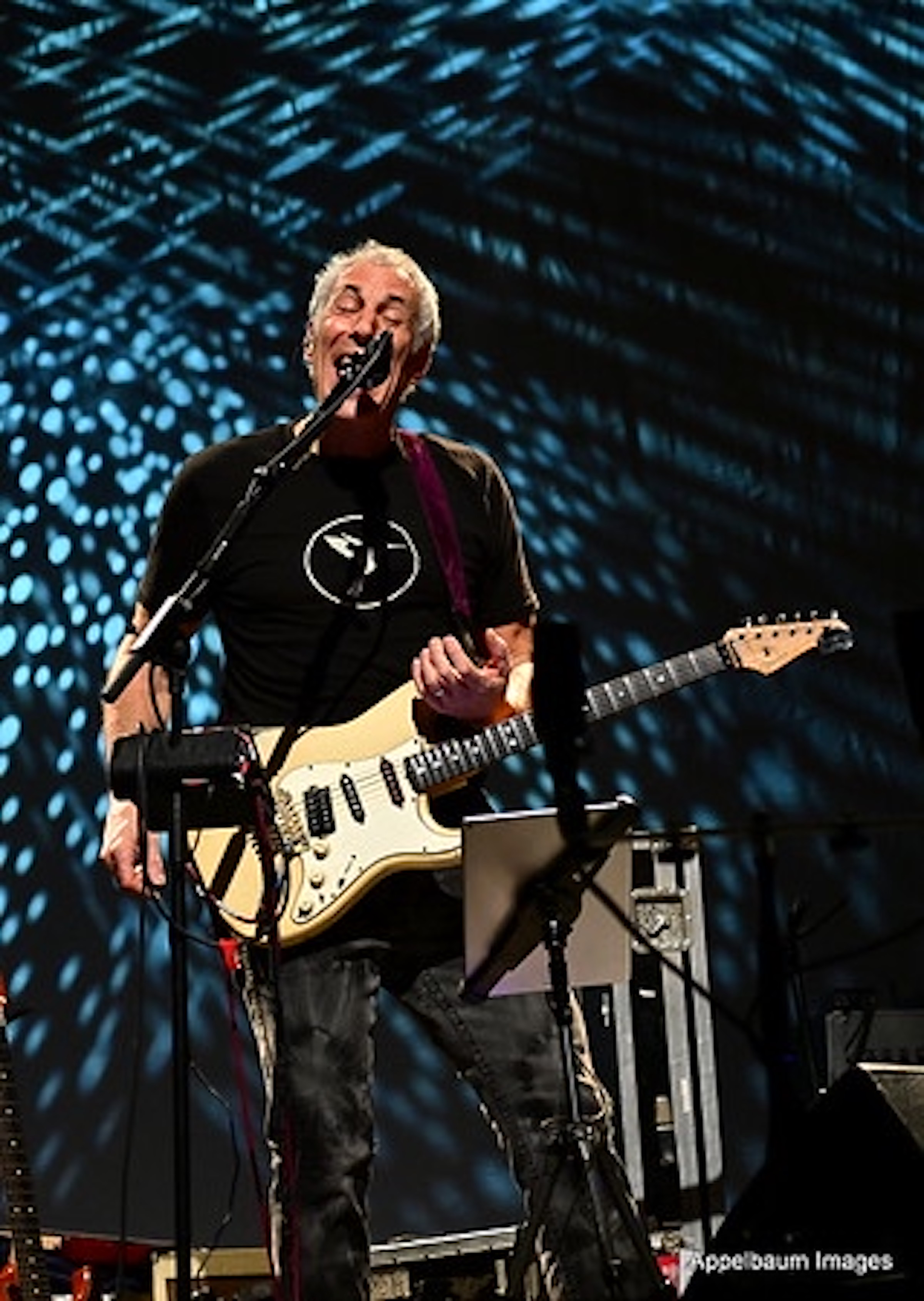 GW: OK, Jeff. If we're getting tight on time, I'll try to wrap things up with just a couple more questions. . .
Pevar: Sure. . .whatever you want. Let's go!
GW: Regarding David Gilmour, could you talk more about his impact and influence on you? For example, what surprised you about his playing as being more or less difficult when you tried to learn his parts?
Pevar: Well, in general, when you get to a certain level of proficiency on an instrument, many things get easier, but there are still always certain things you have to work at to figure out.
One of the most lovely things about David, besides his amazing singing voice – God! I wish I could sing like that – is his guitar playing. He has such a strong sense of melodicism in his playing – not unlike B.B. King, Albert King or many of the great blues greats. It's all about phrasing, dynamics and understatement, that's really an ability to make their instruments sing – like a voice.
David always plays in such an elegant, melodic way that it's not like he's trying to impress you with his chops. It's more like he's singing with his guitar. And while I haven't found anything so hard [in his playing] to replicate on a technical level, to achieve [the grandness of] his conceptual and compositional ability is just astounding. His solos are gorgeous and – as I've noted – iconic.
Being a guitar player in this band (with a second guitarist) and also being the band leader, I've made a decision that when we play certain songs I just have to play a [lot of the] solos, because in my mind they are as much a marker of the melody as the vocal lines. When we do "Comfortably Numb", I do play the guitar [very close to] note for note, because even just thinking about the song makes the hair on the back of my neck stand up. But it's more than [replicating the notes] It's me trying to get close to the feeling he expresses. It's not the notes he's playing. It's the spirit of the man that comes through.
I'm a self-taught guitar player. How did I learn to play? Well, I listened to Jeff Beck. Also, Jimi Hendrix, Alvin Lee, Ry Cooder, Robben Ford and Larry Carlton. So I learned from them, and then it all comes out of me, through my personal filter. Ultimately, I'm the one beaming out the musicality that's in my heart. When it's my time to shine, I shine out my beacon of the music I've taken in [over time].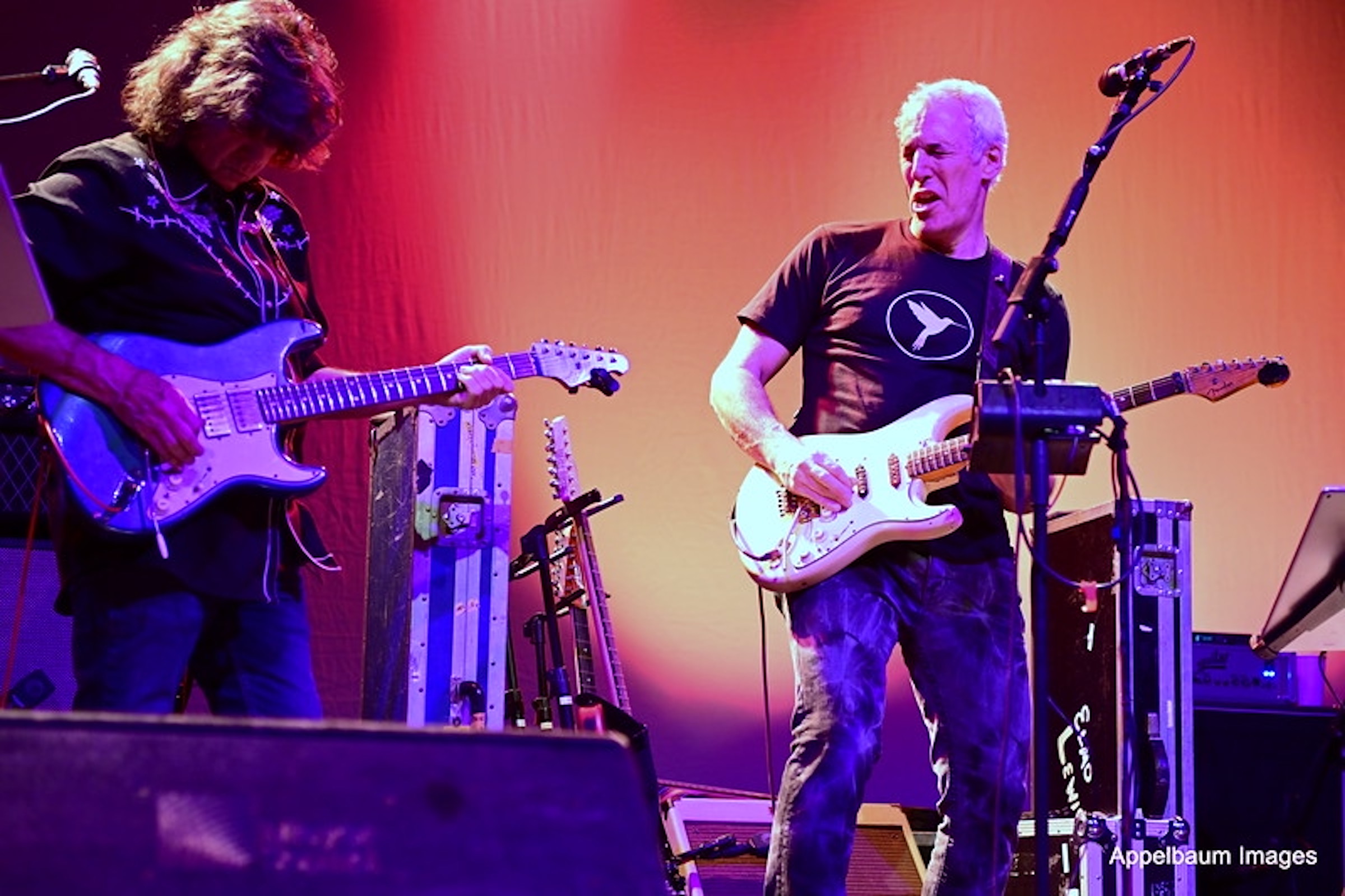 GW: Just curious, Jeff, whether you've been conscious that many of David [Gilmour]'s early influences were often the same as yours? For example, a Floyd song that TGP does is "Fat Old Sun", which is a country-blues song that I think is very similar a lot like Jimi's "The Wind Cries Mary." I think what you and Mark [Karan] do with "Sun" brings out more of the baked-in country-blues flavor. So was that awareness of that style that also influenced Jimi or just a song with a Gilmour progression and melody you liked?
Pevar: In actuality, it's fairly impossible to know what another person has experienced and where their influences come from, to come up with their own stylings. We are all a product of what we've experienced and heard before – we each have a personal 'embroidery' of experience, if you will – and that gets expressed in someone's performance. So I don't listen to David, [just] trying to figure out where all of his influences have come from. I only know who my influences are and I recognize certain types of guitar playing and the common thread [between] them.
At a certain point, really, 'we're all Bozos on this Bus'! Everything is connected. So, in short, anyone who dares to sling a guitar around their neck is going to be exposed to a myriad of influences. What percentage of that lick is David? What percentage of it is Jimi? Doesn't matter. No, I don't look at it that way!
GW: Respect for the music is so important, and it sounds like you understand the emotional core of Pink Floyd's music.
Pevar: Obviously, the period in which David became a musician and learned to play guitar was an incredibly open and experimental period in which all types of music were celebrated. It was such an influential period, with so much discovery. It was a Renaissance, and I feel very fortunate that I was growing up in this [same general] time period. The way that guitar playing has evolved from the 1950s to the present influences everyone who plays. David experienced all of that, too, and I appreciate that he is [not just a technical player] but more raw and emotional. Being more [real] has incredible power to communicate. I remember Ray Charles (whom Pevar worked with in the 1980s) once told me, "It's not how many notes ya play – it's what ya got in each note." And Ray said he learned that from Count Basie. So the influence continues.
GW: I love it!
Pevar: Well, y'know, I wasn't influenced by Pink Floyd until quite a bit later in my development. But once I really started to listen to them, I [connected] to David's personal expression, the way he plays, and loved the Floyd records and he became a [bigger] influence. Especially his experimentation with guitar, how he used slide guitar and various effects. His approach was unique to him. It added to his 'symphonic' ability, the way he 'painted pictures' with his guitar.
GW: Yes. I remember an early 1970s interview with David where he described learning songs with PF in his early days. He said they didn't write music [on sheet music] but gave him diagrams, with peaks and valleys, to help visualize the effect they wanted. "It's all chaos here. Then, it calms down. Now, it's melodic." So he got his 'symphonic' training early on.
Pevar: Heh-heh! That's awesome. Just lovely. I wish I could be in a band that gave me sheets like that!
GW: Thanks, Jeff, for giving us so much to think about here. Really appreciate it.
Pevar: I gotta say that as time has gone on, I've become so aware of life's limitations. Very dear pals – including David Crosby – have passed on, and it's really hit me hard. It makes me proud of the roads I've traveled. Really proud of all the dreaming that I did [as a young musician] of traveling, playing [with top musicians, in major venues], etc., which I accomplished through dedication and tenacity actually did come true for me. But I also feel very honored to be able to share any of this inspiration with others who might interested to hear it, because it's what I'm going to leave behind. I don't take my [opportunities and privilege] lightly, and I approach everything I do with the same spirit of doing my best.
I'd love to think that any artists – not just David Gilmour or Pink Floyd – are excited that people still love to hear their music played live and that there are musicians who support this art form – this iconic book, if you will, of music history. As established musicians ourselves, we (TGP) hope we can keep the flame alive and give it new life by celebrating it as we do.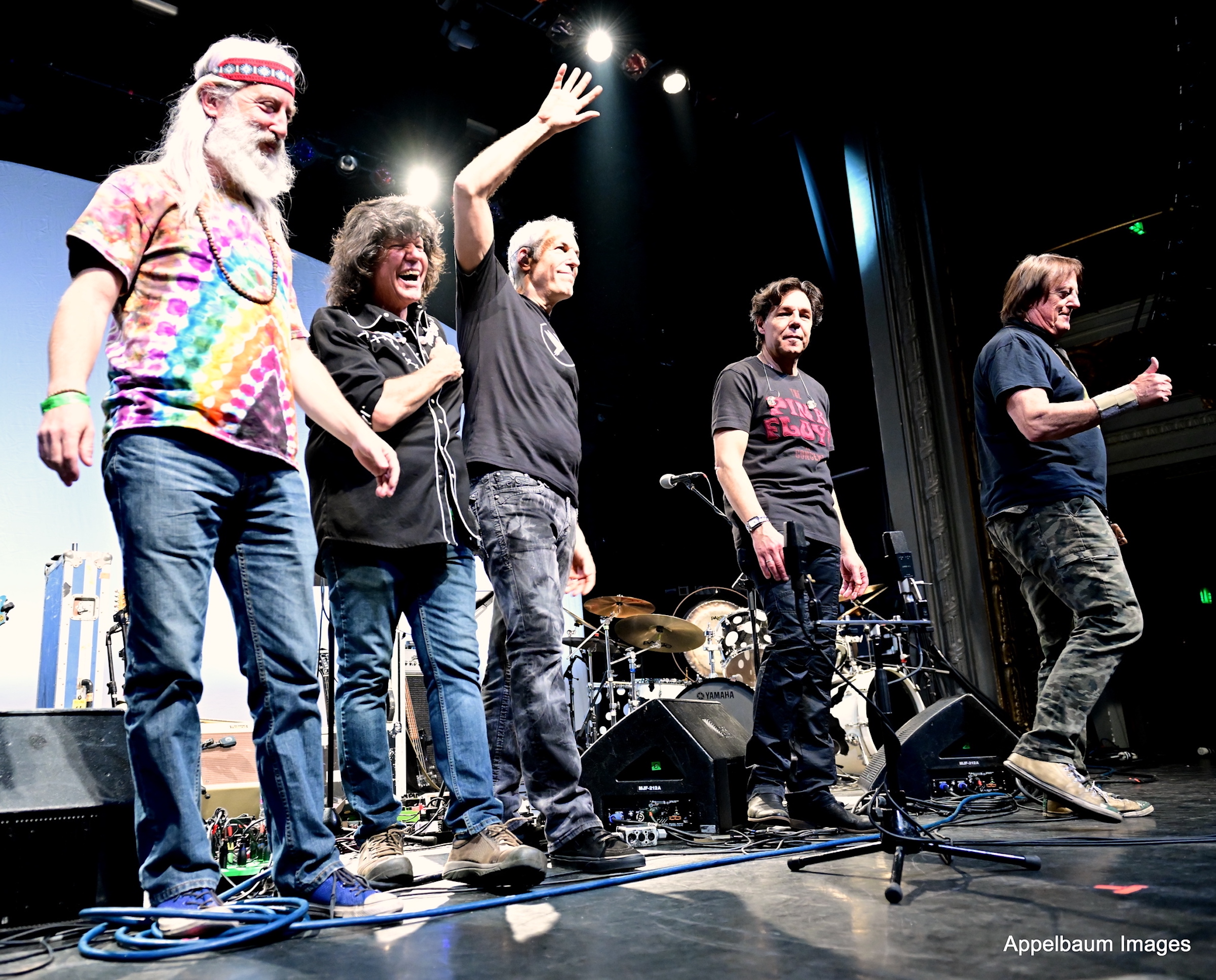 As noted in a recent article, the Gilmour Project's May 2023 tour leg includes the following dates, venues and cities. For more information, please visit Jeff Pevar's website, http://www.pevar.com.
May 12 – Turning Stone Casino, Verona NY
May 13 – Riviera Theater, Tonawanda NY
May 14 – Hard Rock Casino, Northfield Park OH
May 16 – Palace Theatre, Greensburg PA
May 18 – Barrymore Theatre, Madison WI
May 19 – Arcada Theatre, St. Charles IL
May 20 – Des Plains Theatre, Des Plains IL
May 21 – The Fillmore - Detroit MI
May 23 – The Egyptian Room/Old National Centre, Indianapolis IN
May 24 – Memorial Hall, Cincinnati OH
May 27 – Sellersville Theatre, Sellersville PA