The Haunted Windchimes took to the studio with Guitarist/Mandolinist/Producer Chandler Pratt, best known for his work with The Good Luck Thrift Store Outfit, to record their 6th album, an LP on their own label Blank Tape Records. Rattle Your Bones offered an opportunity for the talented quartet from Pueblo, CO to release another fine example of their unique brand of Americana-Roots. The band consists of Inaiah Lujan (Acoustic and Electric Guitar, Bass, Percussion, Vocals), Chela Lujan (Banjo, Vocals), Desirae Garcia (Baritone Ukulele, Bass, Vocals) and Mike Clark (Acoustic Guitar, Violin, Mandolin, Vocals), as well as featured guest musicians Pratt (Tambourine, Mandolin, Electric Guitar) and eminent LA and Nashville session musician Mike Witcher(Lap Steel, Dobro), well-known for his work with bluegrass legend Peter Rowan.
If the name elicits images of a rumbling-ragtime outfit barnstorming the dust bowl with carnies, magicians, and snake-oil salesmen, then the music won't surprise you one bit. Between the use of traditional instrumentation, musical influences and timeless lyrics, a listener can imagine the The Haunted Windchimes playing at a folk festival today while sharing the stage with Sam Bush or kicking up dust in a town square with Django Reinhardt. Their styles incorporate Americana, Blues, Bluegrass, and influences can be heard from the likes of Simon and Garfunkel, Joni Mitchell, Woody Guthrie, and Crosby, Stills, Nash, and Young.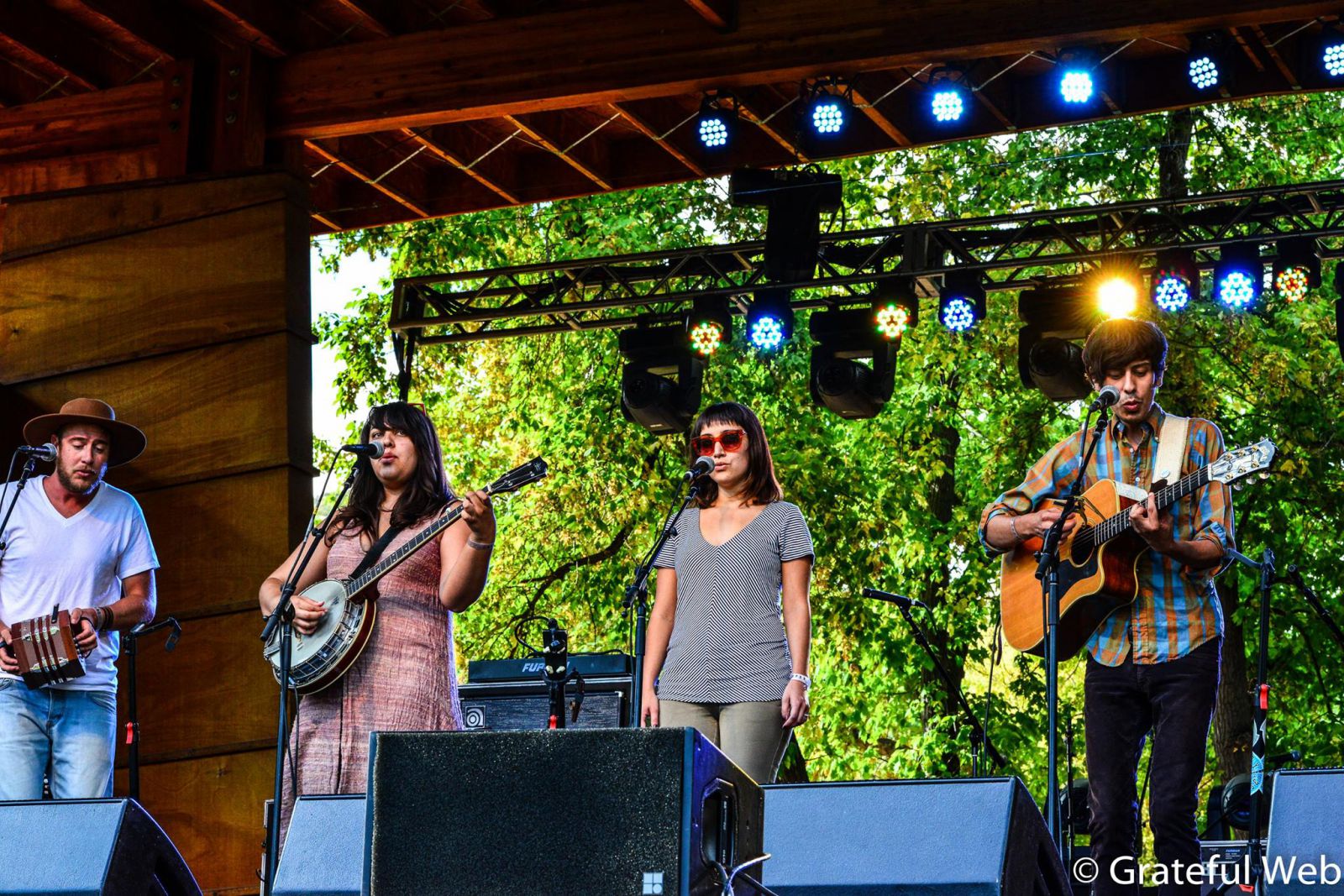 Rattle Your Bones gives a complete, if brief, taste of the various musical styles The Haunted Windchimes compose. "Everybody Talking", the album's opening track, gets the juices flowing with a playful, ragtime-swing tune capturing the ongoing frustration everyone has felt at one point or another, when everybody is talking and nobody is listening. "River Song" and "I'm Sorry (I'm In Love With Someone Else)" are slower, rootsy ballads demonstrating the enchanting vocal harmonies of the quartet with serene, thoughtful lyrics. "Dead And Gone" shows their trademark ironic combination of playfulness and dark lyrical underpinnings. "Banjo And The Bottle" is reminiscent Lynyrd Skynyrd's "The Ballad Of Curtis Loew" with a slower country feel, complete with Witcher's trademark Dobro. "The Sun Shining Bright" was penned by founder Inaiah Lujan after coming back from the Grateful Dead's Fare Thee Well celebration in Chicago over the 4th of July in 2015, and that inspiration is evident as the song feels like it could easily be placed in a Jerry Garcia Acoustic set in between "Deep Elem Blues" and "Jack-A-Roe".
The Haunted Windchimes will be having their CD Release Party at the Sangre De Cristo Arts Center in Pueblo, CO with Special Guest Jordan Smart on Friday May 13. While that show is sold out, you can catch them this summer at the Tumbleweed Festival in Garden City, KS in August and the Lost Sierra Hoedown in Johnsonville, CA in September.
"The Sun Shining Bright" Music Video