The last two years for percussionist Jason Hann have been a roller coaster of musical endeavors. His main project, the wildly popular String Cheese Incident, decided it was time to take an extended hiatus from performing due to some artistic conflicts within the group. From the break, Hann and fellow Cheese drummer Michael Travis formed a dynamic jam-tronica duo called EOTO, which is essentially an experiment in improvised, live electronic music.
Just as the EOTO project was gaining incredible momentum this year, the members of String Cheese declared it was time to give it another go and performed a reunion show at the second annual Rothbury Music Festival in Michigan this last July. Though it was only one show, the concert would take months of rehearsals to get everything right.
But that did not keep Hann and Travis from focusing on EOTO, as they continue to tour relentlessly with heavy fan appeal. A busy summer schedule has them traversing across the US and beyond, surely swallowing up new fans of the group along the way.
Though there are no official plans regarding the future of the String Cheese Incident, it does appear that they are willing to go on shortened tours whenever time allows. The conflict for Jason Hann (as well as the others) now lies in finding the right balance between both groups; a challenge he seems more than excited to take on.
Prior to EOTO's house-thumping performance last weekend at Cervantes Ballroom in Denver, the Grateful Web's Tim Hurley had a chance to catch up with this percussive master to discuss the return of String Cheese, the rise of EOTO, and finding a musical balance between two very unique outfits; In essence... the dichotomy of Dr. Jason and Mr. Hann.
GW: A lot has changed since you and I spoke last....for example, String Cheese Incident got back together and did a one-off reunion performance at this summer's Rothbury Festival. Tell me a little bit about how that went.
JH: It was really amazing! And just the whole process of rehearsing throughout the month of June; It was tricky getting it all back because we really didn't have it all together in practices. It was tricky going through complete songs; we would find that certain sections or harmonies were hard to remember how those parts are supposed to go. We really had to get things sorted out. What was cool about it is if that we didn't get certain sections right, we would let it morph into something else. That made it feel a little fresh performance-wise.
So it was interesting going through the entire process, not just rehearsing songs as they are but trying to do something else with them that are fitting with the band moving forward, as opposed to playing the same stuff we have been doing over the years. Even though they were the same songs, everyone had a fresher approach.
GW: Did it seem like you guys were rusty, or do you feel like you really clicked during the performance?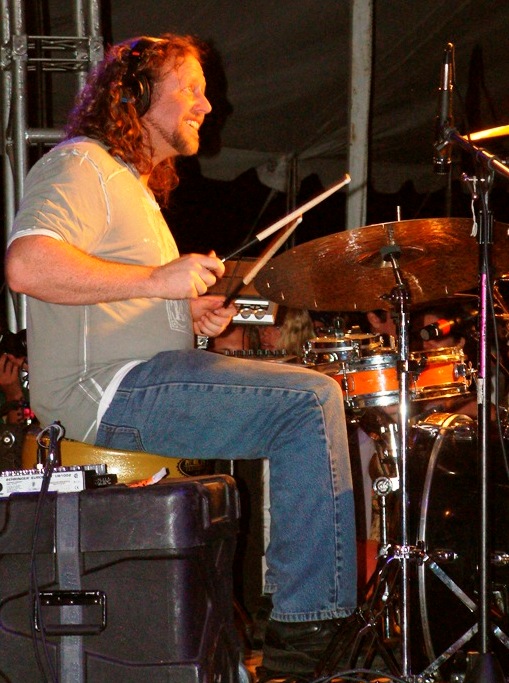 JH: It felt like we clicked, but it definitely took setting up at our soundcheck show (at the Ogden Theater in Denver) where we had our ear monitors in and everything like that, and started going through songs kind of rapid-fire before we went, "Oh, this is how that goes". So many of the songs we play are kind of done through muscle memory, and the band had never really taken a super extensive break before enough where we might have forgotten how to play songs. And now we had, so we had to relearn what key some songs were in, and really figure some of that stuff out.
So essentially it all began to click at that soundcheck show, and we were off and running for the Rothbury show. It went off really well!
GW: What prompted the band to do the comeback show at Rothbury?
JH: It definitely helped that Rothbury made things very easy for us, as far as with management and the way the festival is set up. And most of crew guys were going to be there already. Really it just didn't have to be a big ordeal where everything was put on our shoulders; there was not a lot of pressure that went along with doing that, versus like trying to do Hornings Hideout or something. It was set up so we could show up and really concentrate on just playing the set.
It is such a great atmosphere at Rothbury; it is so beautiful up there. It is probably the largest intimate festival around. It is set up so well, and we were allowed to pretty much do whatever we wanted. Everybody made things so easy for us there.
GW: Was it fun to get back with the guys and do a full show?
JH: Oh yeah! It was really good, and one of the cool things about getting back together, even at the Ogden show, was that there was so people who have been fans of the band throughout the years back with us in the same place. On the other hand, at Rothbury it seemed like a lot of the people I talked to were seeing their first String Cheese show. People were saying we were their favorite band, but they had never seen the band live before. So that gave us a fresh, open look on the possibilities going forward.
GW: Do you see any musical differences between the band prior to the hiatus, and now?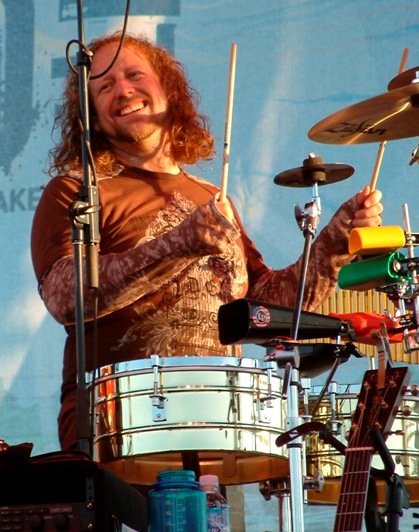 JH: Yeah, everyone has pretty much got to experience being in new bands where they got to play something different. For example, Billy had Honkytonk Homeslice, Keith played with Keller Williams and the WMDs, Kyle was doing some of his solo things, Kang was doing Panjea, and of course Travis and I have been doing EOTO. Everyone was getting so much out of these other projects, and there has been some give and take on what to bring back into the mix as far as the String Cheese sound.
GW: Speaking of EOTO, you and Travis have been busy this summer touring again. Tell me a little about tonight's show, and what else you are looking forward to doing this summer.
JH: The main reason we are together tonight is to help show off almost 30 live painters, who will be set up all around the venue. It makes for so many different ways to essentially tap into the evening. It is going to be a whole musical night with the energy of the audience and the painters.
As for other exciting things, tomorrow night we fly to Maine to do a show, and then we are doing Camp Bisco this weekend. We definitely have our work cut out for us. We also just recently did a workshop presentation at an Apple store in Boulder. We had some people come down and check out what we do. We went through all of our gear piece by piece, and then did like three songs. It was a demonstration on how we use technology in our organic approach to performing with the equipment live.
We are going to be all over this summer, such as playing a cool little gig in Idaho, and working our way up to Canada for a festival of international artists from Europe, Australia, and more. It is going to be a busy summer!
GW: There is also this fun, new festival in Idaho Springs, Colorado called the Phamily Reunion, which is essentially a compliment to the Phish shows going on at Red Rocks. What can fans expect from you guys at this gathering?
JH: It should be a cool little deal in the mountains with some great bands playing that weekend. We are playing a set one night until like four in the morning, then we jump on a plane to head to Camp Zoe in Missouri for an all electronic music night with familiar and not-so-familiar names, like Bassnectar, New Mastersounds, and some more rave-type DJs.
GW: With the Phamily Reunion revolving around Phish, this will mark the second time you guys have done some post-Phish shows. You and Travis also did some gigs during their Hampton reunion shows. Are you guys purposely trying to siphon fans from their shows, or is it just an excuse to follow Phish around a bit?
JH: Hahaha! I have actually never seen Phish live. But Travis is a really big fan. I would say they are one of his big influences. But the good thing about playing around a Phish show is that you have 20,000 people getting out of the concert at around 11:00 or so, and a lot of them are looking for something to do afterwards. And even at Hampton, thousands of people could not get into the shows so many of them came down to check us out.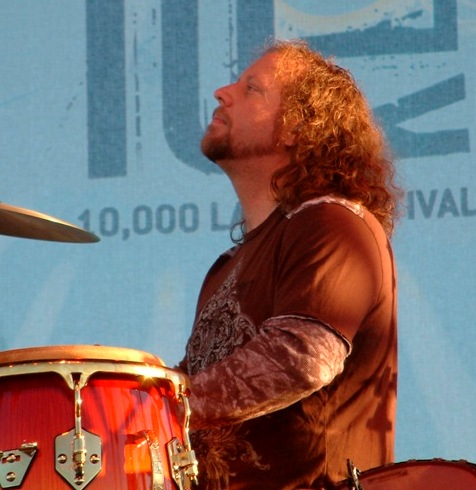 GW: What elements have you and Travis been adding to the EOTO sound?
JH: We are actually doing a lot more vocals. Particularly over the last six months I have been adding vocal elements, just sort of rapping in some alien language. Adding some distortion effects to voice, with some non-descript rapping or free style. It's kind of fun to just make up words, and be aliens at that point (laughing).
But mainly we are working hard at getting better at our craft. We have also added a style called dub-step, which has really allowed us to go further with our sound. New generations of fans are showing up, like the 18-24 age group, and we get a great response from that.
GW: Well with you and Travis being so busy with EOTO, and of course moving somewhat forward with the String Cheese Incident, you are essentially members of two high profile groups. Are you hoping to have a good balance of both projects, or is one going to have more focus in the future?
JH: Right now it seems like String Cheese is not going to be doing a bunch of shows each year. It doesn't really seem like that is in the cards. Ever since I joined SCI we were doing like 60-70 shows a year and it seems like we might be doing just a few months of big weekend shows. More things like Rothbury, Hornings Hideout, and Red Rocks; really making those few shows as special as we can make it. We will need like a month of rehearsals before hand, so we need to give ourselves enough time to do shows like that, and make them as big and as joyous as possible.
As for EOTO, we will be touring as much as we can around doing Cheese. It should be a fine balance. And this could all, of course, change. But the good thing is that with EOTO we are a little more established, so we might be able to get away with doing more just weekends. And we are looking at expanding as far as maybe playing Europe and South America, so less String Cheese shows will give us that flexibility to do that type of touring. The bottom line is that we would rather be playing anything, than not playing at all. If we can find a good balance between different projects, and of course staying at home when we can, that is the goal.