Sunday, Day 2 of the Kaua'i Folk Fest was as magical as the day before. Trying to pace ourselves for another 12 solid hours of amazing music, festival creator asked the crowd: "when someone asks you what was your favorite band... you say the Old-Time Hillbilly String Band from Tennessee!"
They delighted the crowd with old-timey songs like "Shortening Bread" And once again, all the audience was dancing and swirling in the morning sunshine.
These guys & gals were the real deal, and looked straight out of the movie: "Oh Brother, Where Art Thou?"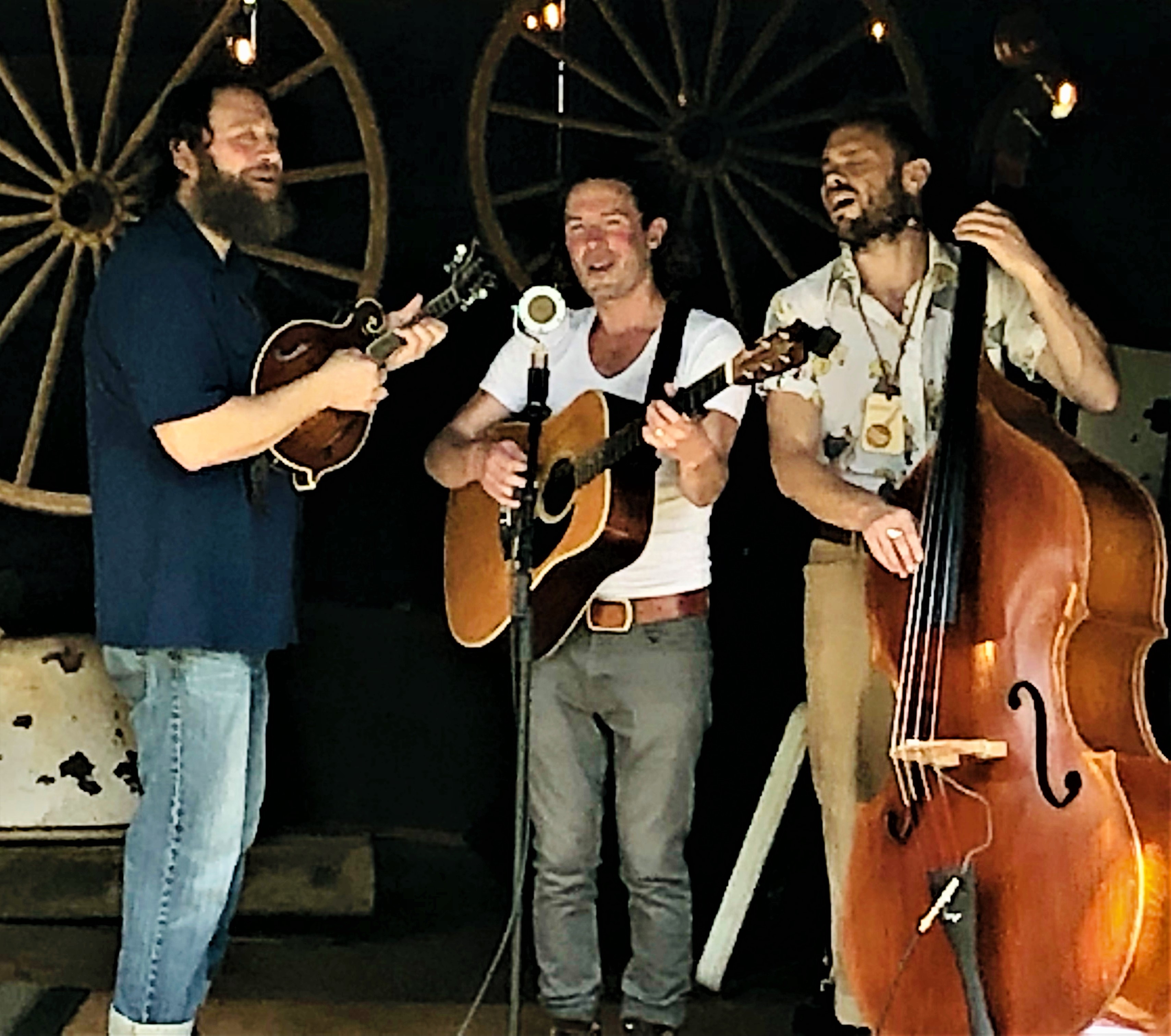 Back at the Old Shed, my new friends from Washington, The Pinehearts delighted our souls with "All night long" -dedicated to everyone at festival.
"The Pinehearts are the best, new,  fresh intramural, and razor-sharp harmony trio in Americana music that a 68-year-old geezer has seen in a very long time!" -Bruce on Kaua'i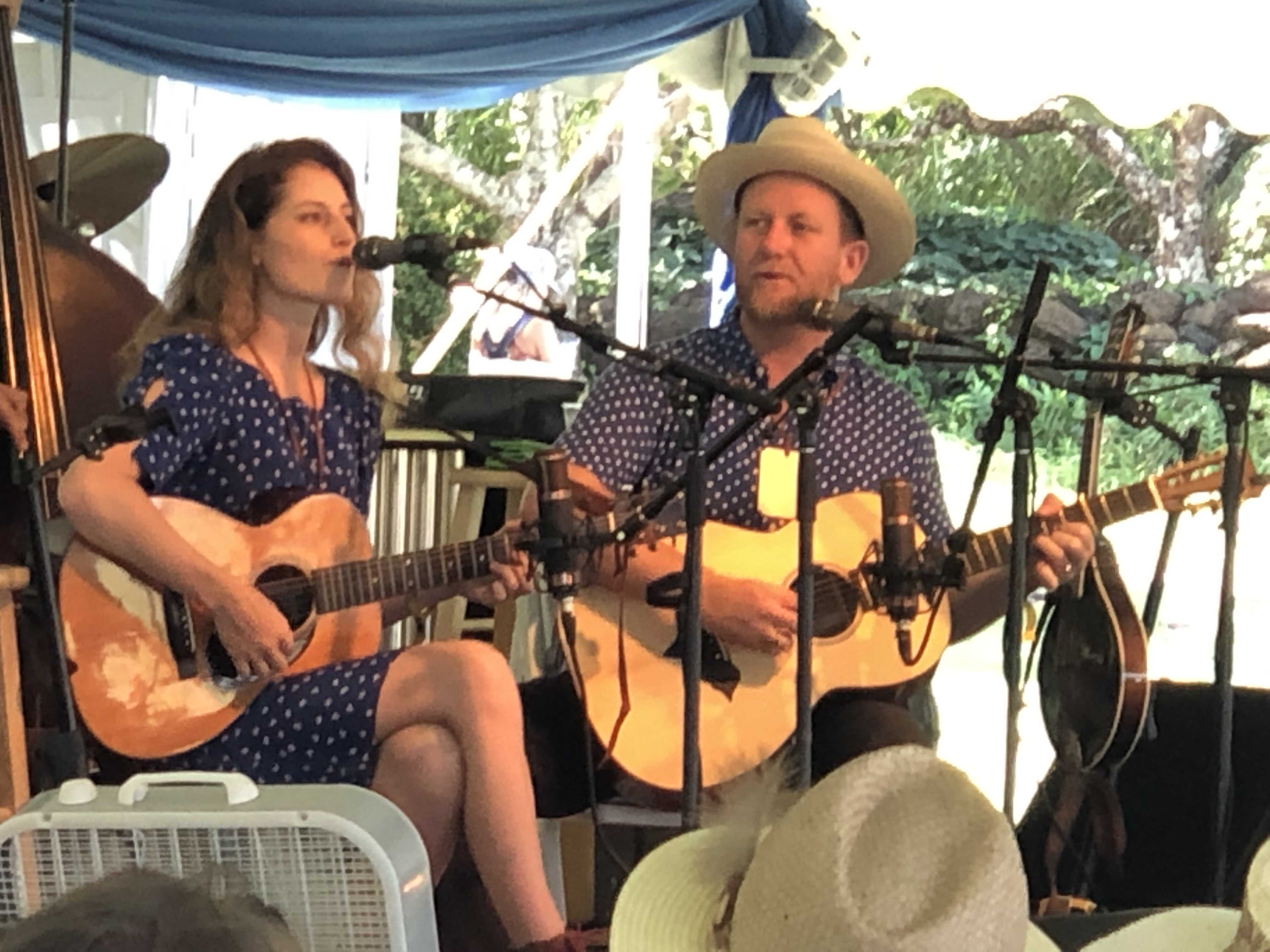 The Linns played the somber and traditional spooky songs like "Born in a river bed," perfect for entering October and the time of Halloween. 
An interview with Square Dance caller, Stan Sharp from Maryville, TN, who has been teaching square-dance for seven years:
Me: "Stan, please share your experience of the amazing Silent square-dancing last night."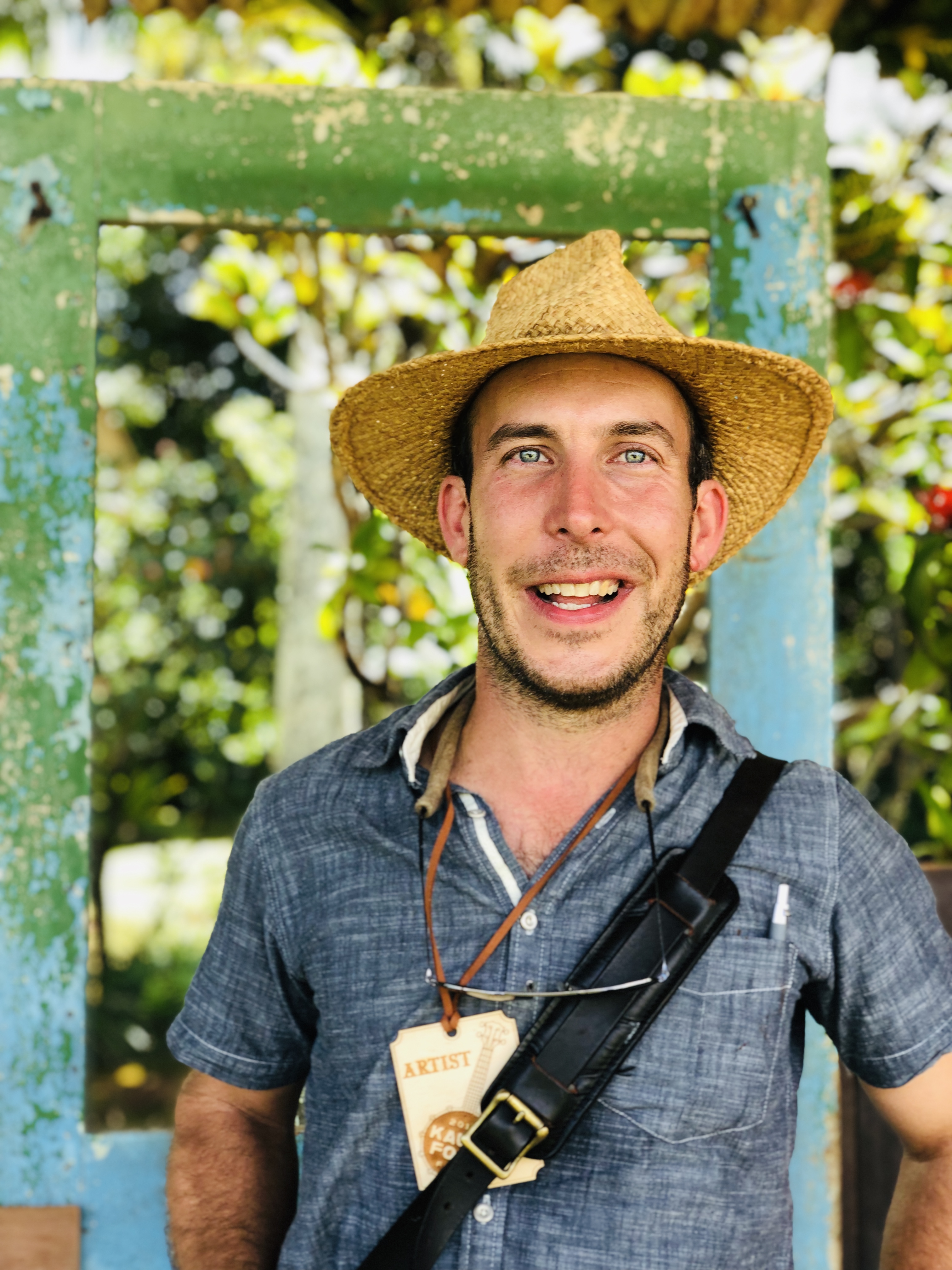 Stan: "It was Appalachian style square dancing. The silent square dance was an experience of square dance: never done before... it was incredible!
It began with the decision of 'how to deal with the sound ordinance?'
Acoustic musicians: Slo County Stumbler Kaleb Klauder & Reeb Wilms graced the stage and delighted the silent square dancers with traditional Appalachian Square Dance Songs.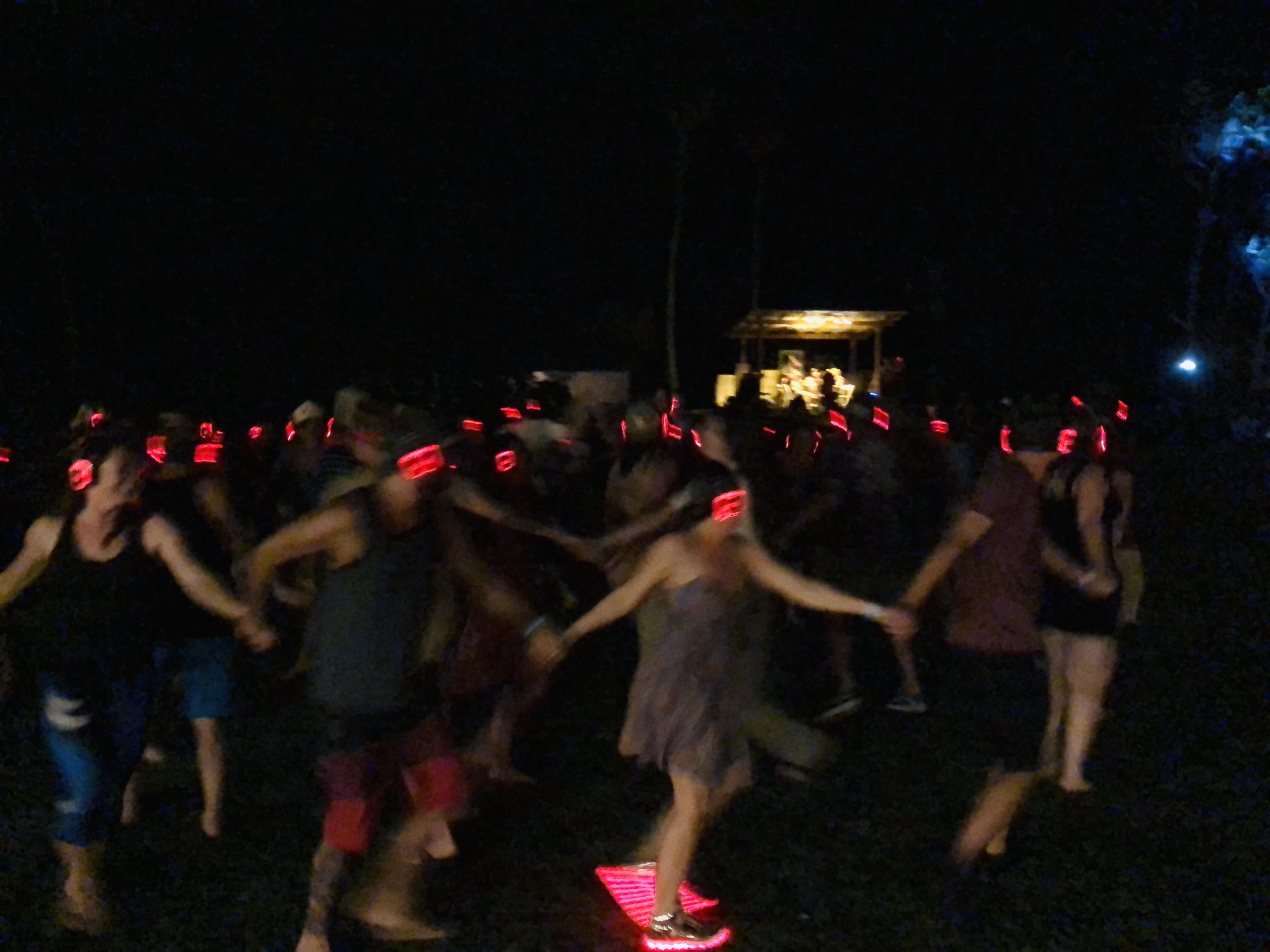 The entire experience was very surreal with a psychedelic feeling... watching everyone in pitch black moving in circles...
So awesome to take off headphones & watch the dancers in silence was a little ridiculous!  All these people dancing & without the headphones, you can't hear music!"
A Giant coordinated silent square dance. One for the history books indeed!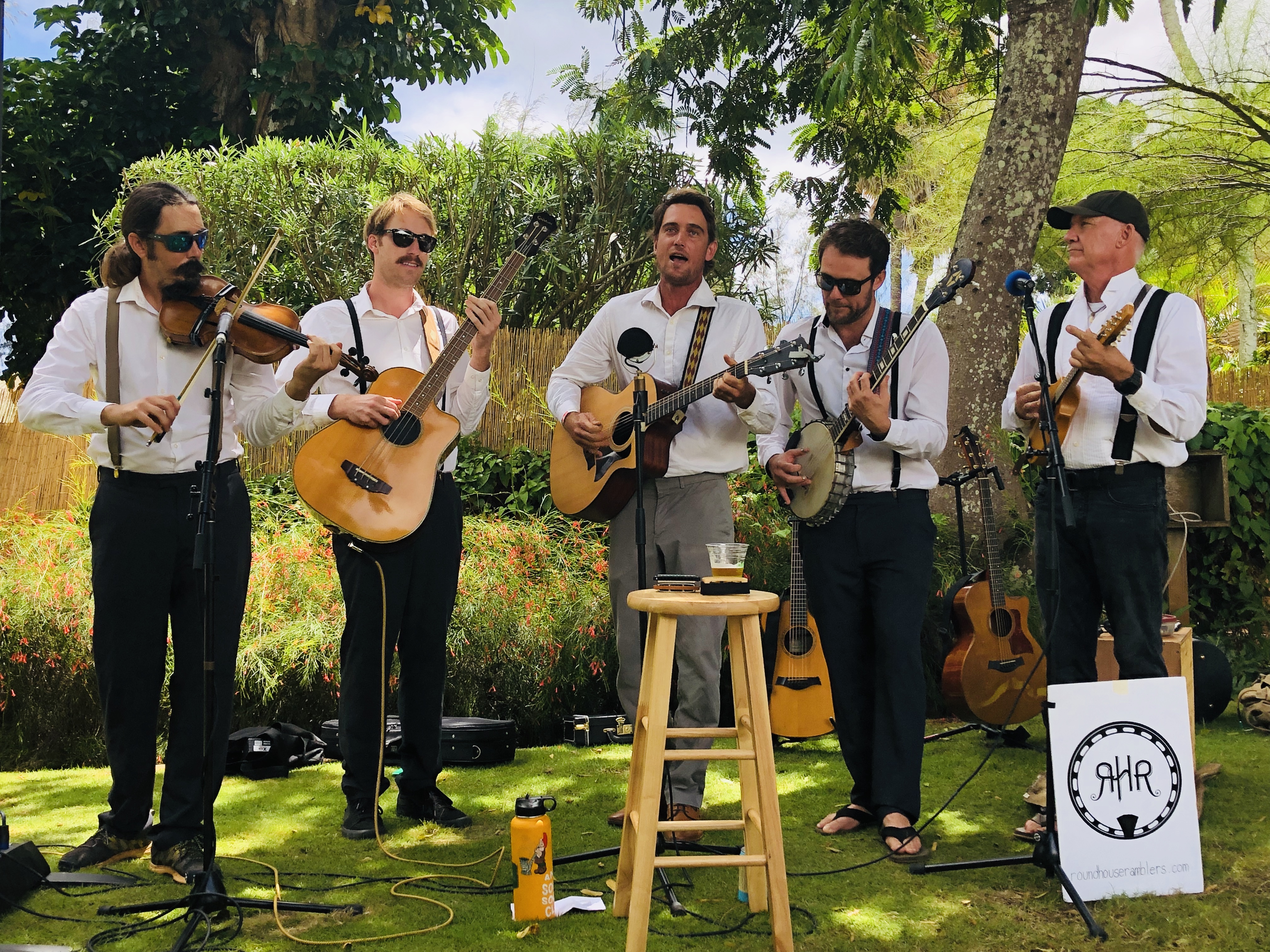 Another personal, local favorite are these adorable Kauai boys: The Roundhouse Ramblers.
"Home grown Kaua'i boys in suspenders... it's spectacular!" -Kim, Kaua'i resident, and big fan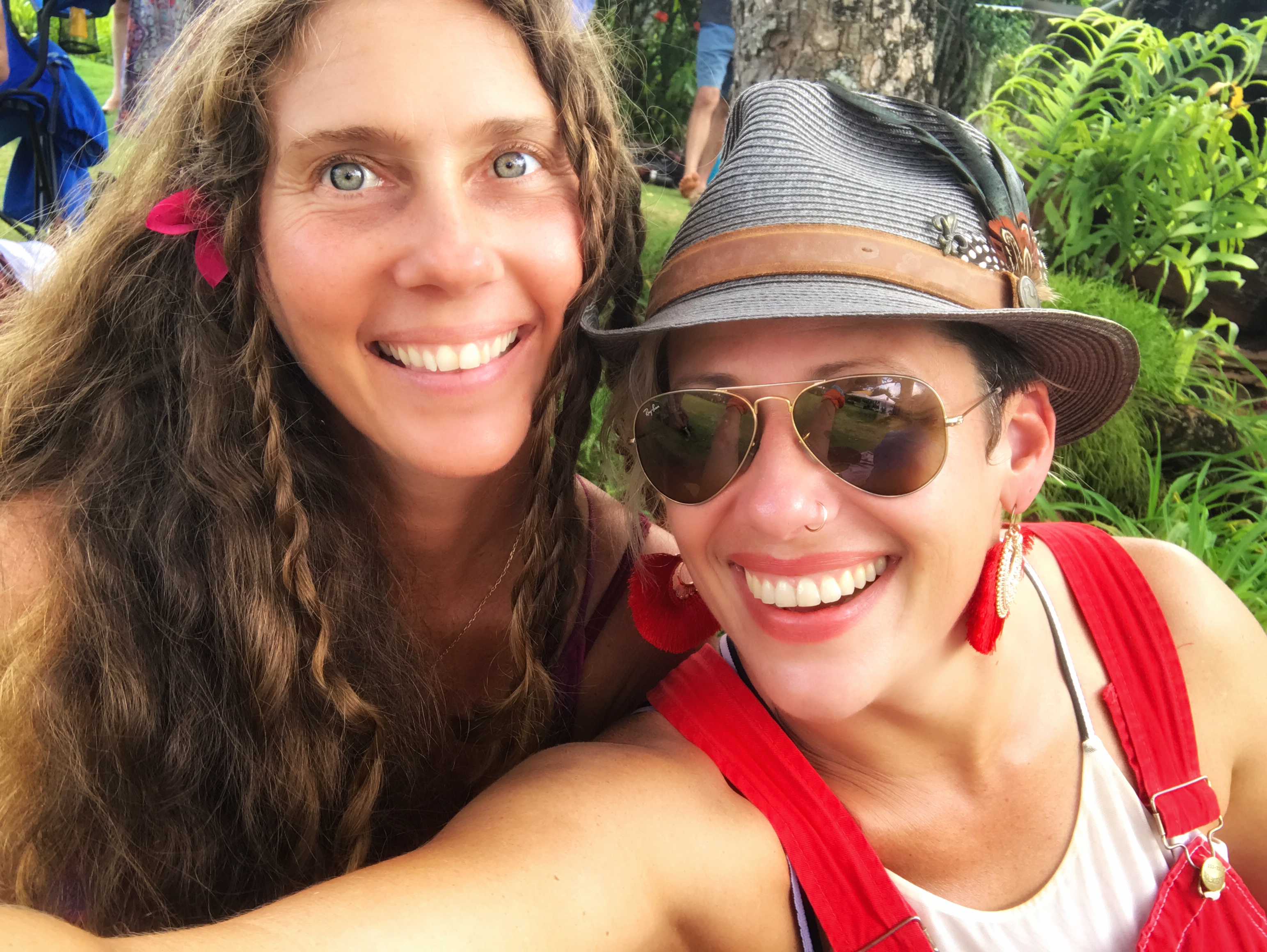 They played their tunes like "Restless" and "County," all the Kaua'i 'ohana was dancing.... including their own mothers!
Hawaiian music played under the trees.... just like back in the day.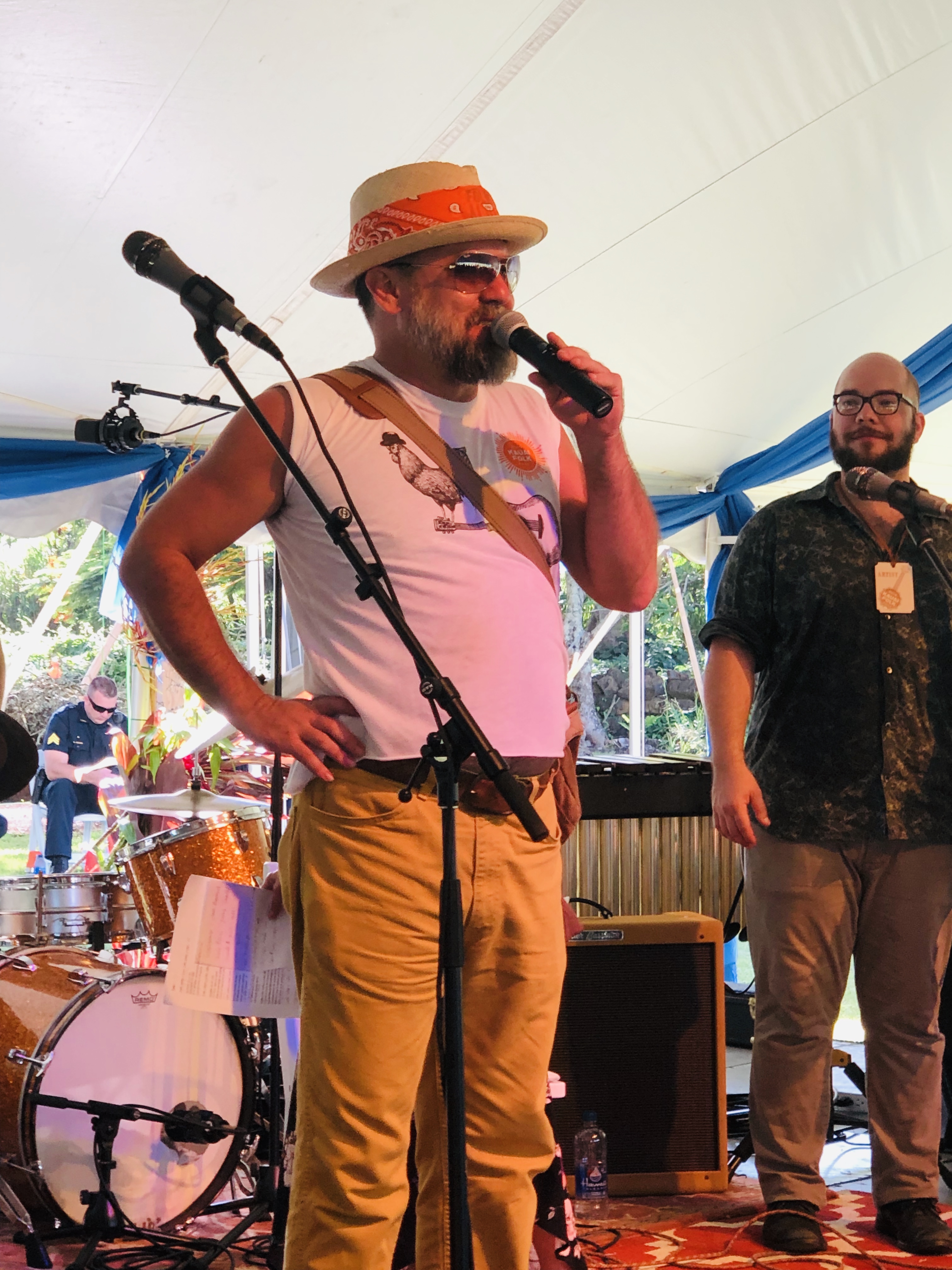 Festival creator Matt Morlock in his happy place.
"Probably the most famous guy here" was overheard as Tim and his band played songs like Dylan's "Maggie's Farm." 
Our Storytellers: Taj Mahal, Bobby Ingano, Puka Asing, Tim O'Brien, and Peter Rowan.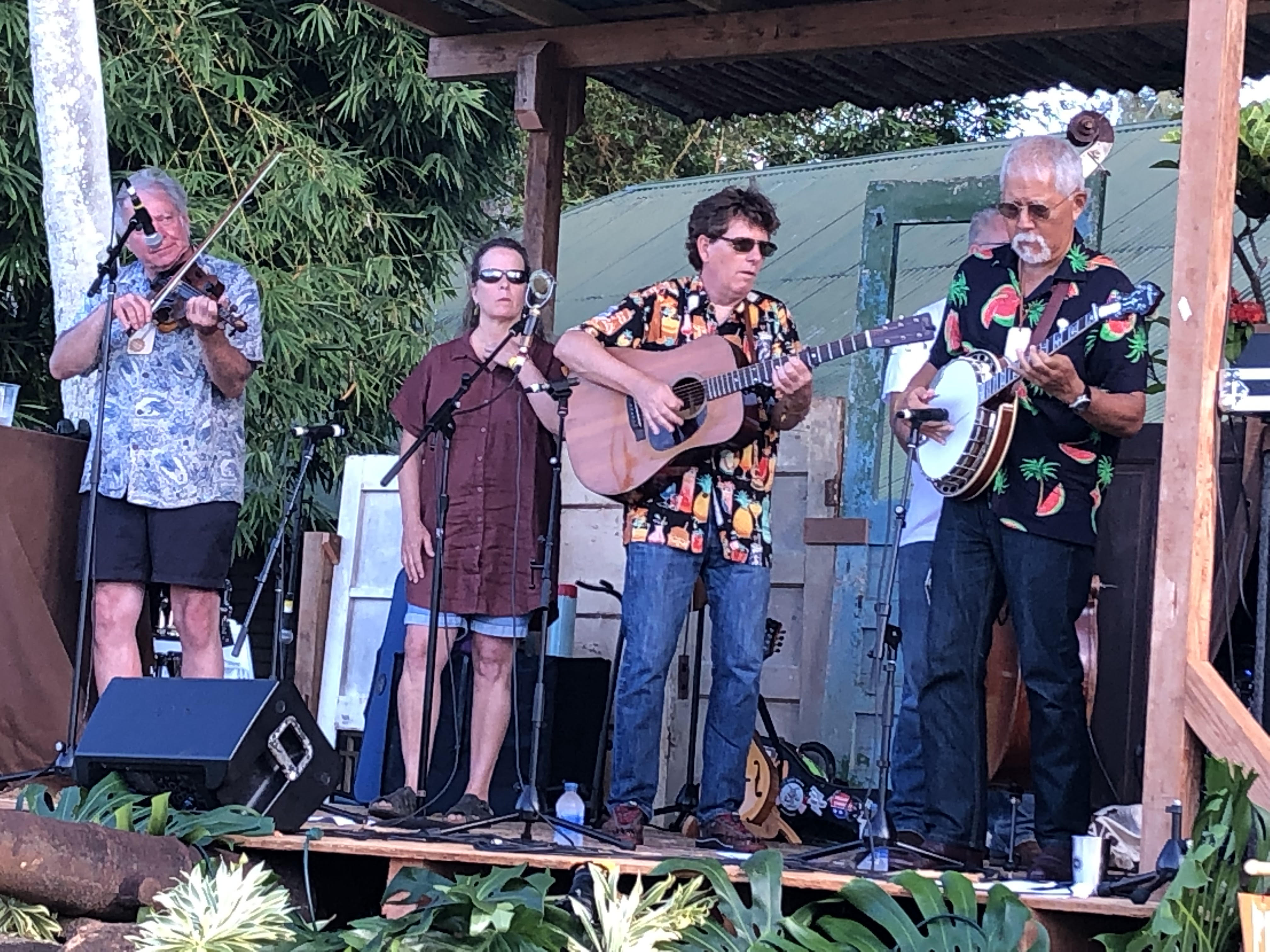 One of the biggest highlights of the festival was this amazing panel of storytellers.
They spoke about how we all can trace our musical roots: Ireland..., the Caribbean, Hawai'i... we are all connected through music and the multicultural influence.
Taj sang songs like "The walking blues" and Puka Asing spoke about how important the cultural aspect is in all our lives. He even inspired the crown with a huge "Ku Kia'i Mauna!" in honor of all the brave Kia'i (Protectors) on sacred Mauna Kea (Big Island, Hawai'i)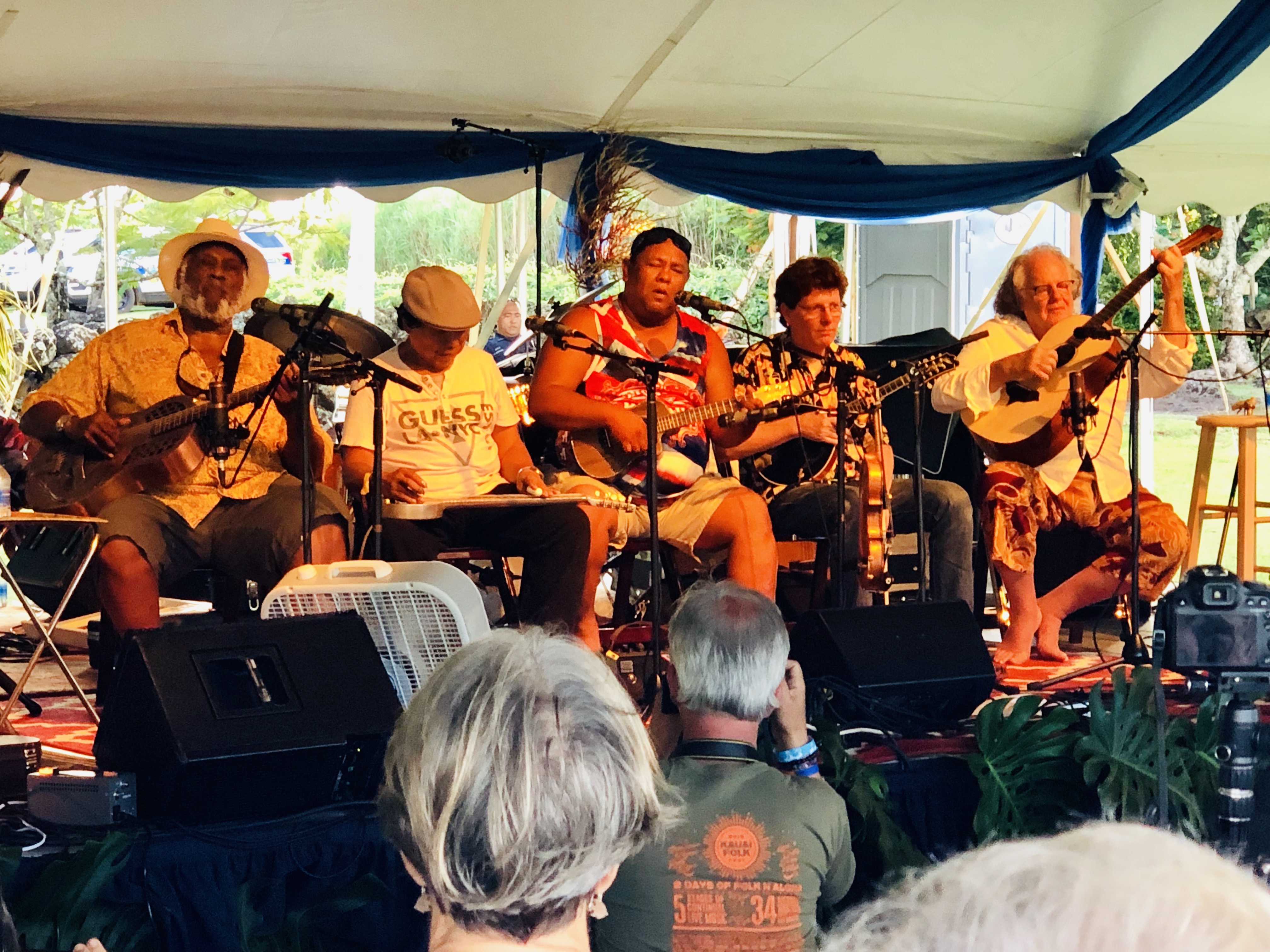 Together they sang "Mele Aloha Āina," and tears were flowing amongst the audience as the afternoon trade winds crutches around us as if the ancestors were giving us all their blessing and approval.
"Nobody knows how much Hawaiian influence is in Bluegrass music" -Matt Morlock.
The storytellers ended with a song called "Who will rock the cradle when I'm gone?" 
No one can fill these brother's shoes. A truly historic event.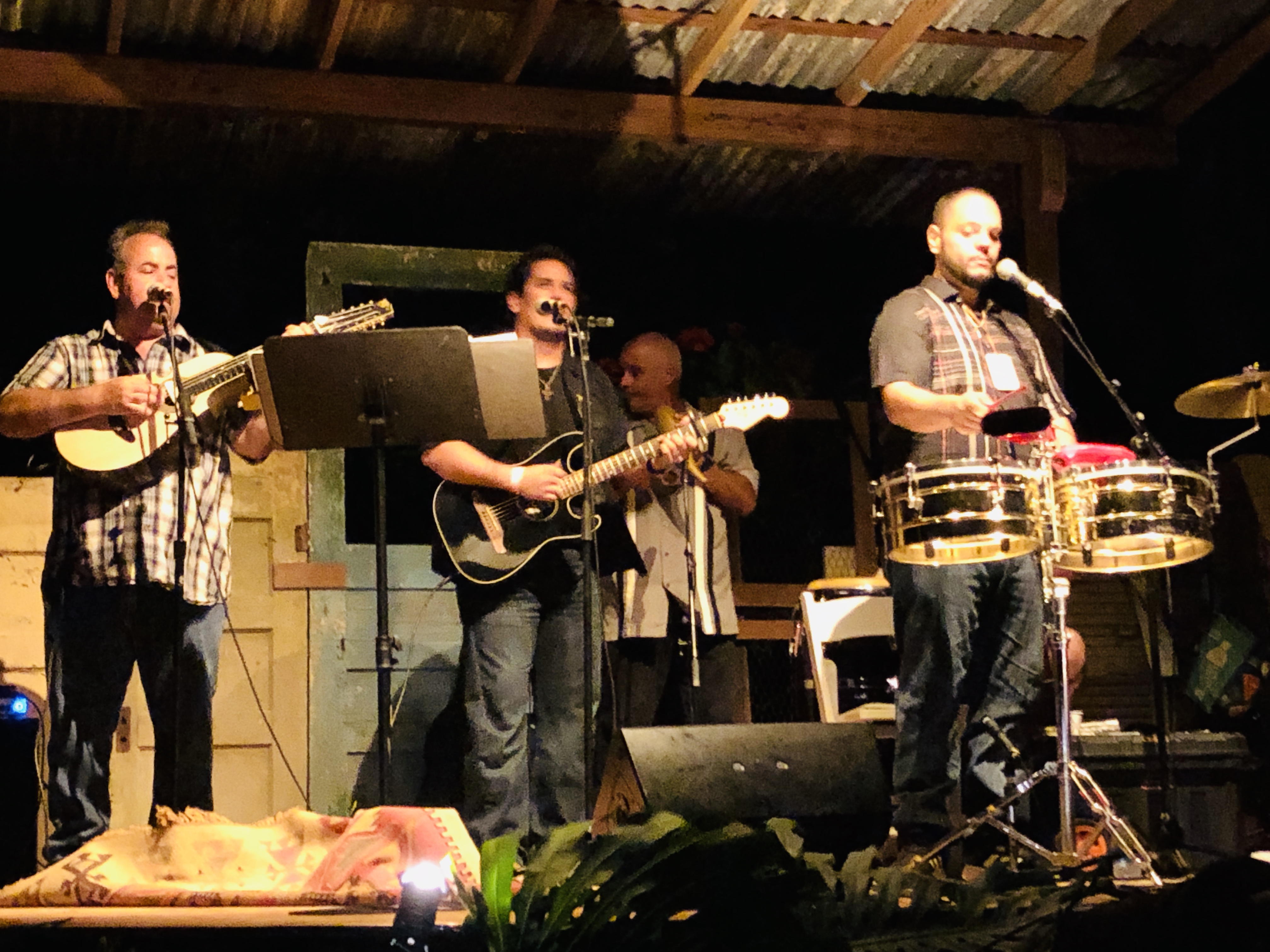 The magical evening continued with everyone shaking their tail feathers to Los Kauaianos, a fourth-generation Portuguese Latin Band the had the entire festival dancing, singing, and laughing with great gusto! At this point, all our dancing feet were so tired.... but the beer flowed freely, and everyone continued to dance like no tomorrow!
The most epic Kaua'i Folk Fest ended with free beer for We The People flowing abundantly from Maui Brewing Co. & an old-timey Hootenanny with washtub bass, washboard, fiddles, & pickin'!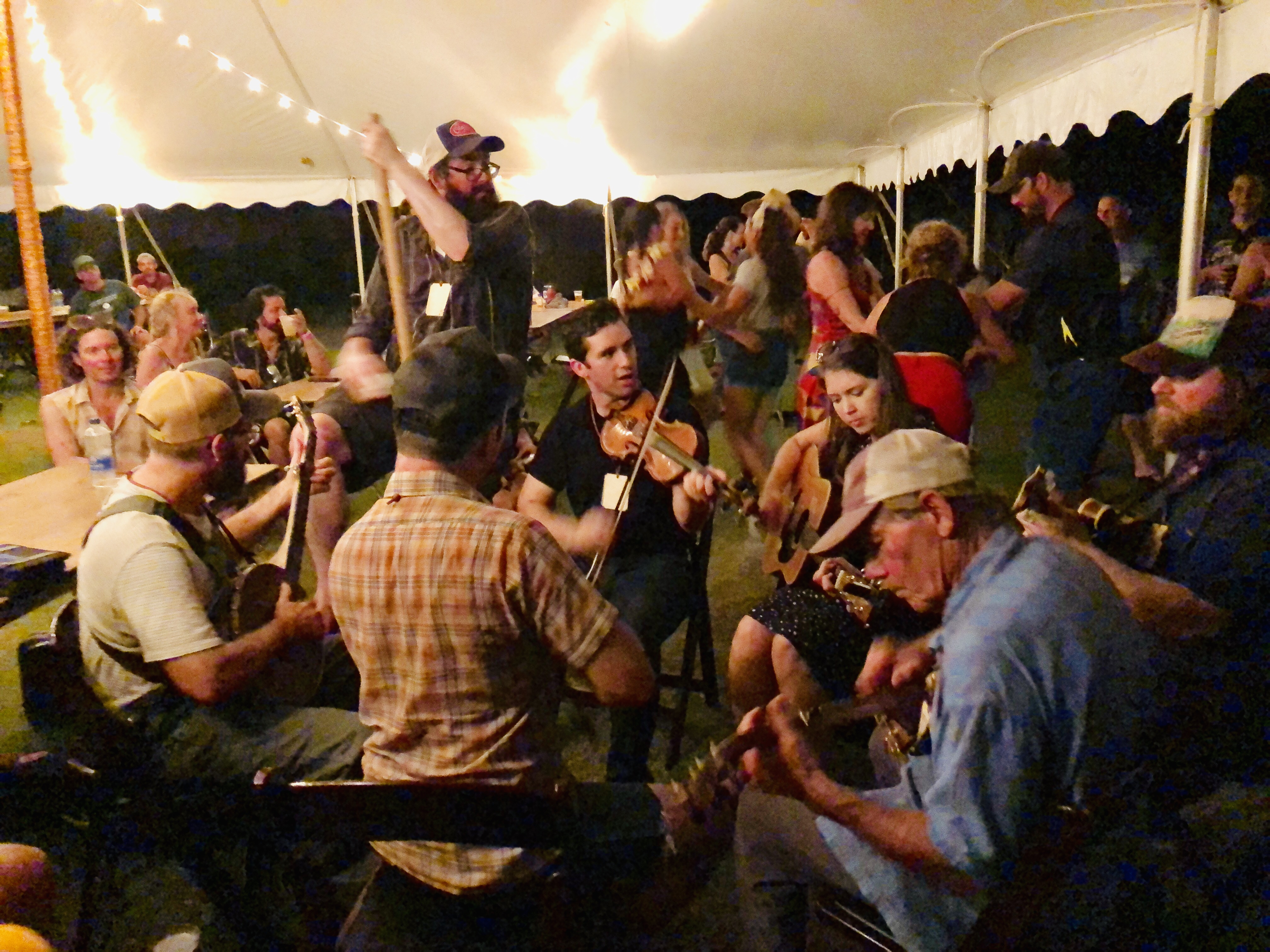 We were all having so much fun that we could have played and danced until dawn.
But as the evening finally wound down to a close, creator Matt Morlock gave us a raucous "Now Git!" for it was finally time to go home.
See you all next year at the Second Annual Kaua'i Folk Fest! 
Cheeeeeehooooooi y'all!