The United States hosted its first Winter Olympics in 1932. Lake Placid was the site for this first of only four visits the winter games have made to the states. Two of them have been in this cozy little village in the Northeast corner of New York. At the 1932 games, the U.S. Men's Hockey Team battled a far superior Canadian team for a hard earned silver medal under the extended indoor arch known as the Jack Shea Arena, the first indoor hockey facility used in the Olympics since 1920. On a Saturday in October, it was not speed skaters, ice dancing or hockey that brought glory back to this cavernous hall, it was the climactic super jam at the end of a day of bluegrass and American music. It was jamming that would make any athlete, or music fan for that matter, rise up and take notice of this miracle on (a surface formerly covered with) ice. But that didn't happen until more than 10 hours of music were in the books.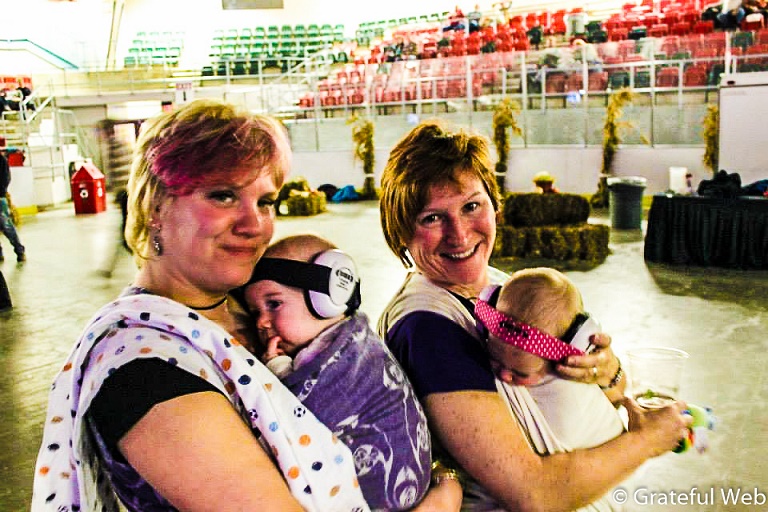 For the first annual Lake Placid Bluegrass Jam, the organizers jumped in with both feet. A working relationship between ORDA (The Olympic Regional Development Association) and the organizers who bring the Grey Fox Bluegrass Festival to New York's Catskill Region every summer proved to be a winning combination form the moment we walked in the door. The venue was divided into two halves, with the day's festivities only occurring on the south side of the venue. This decision made the room feel much less cavernous, helped with the already challenging acoustics of having a high roof and a cement floor where the ice usually is, and allowed those that chose to sit in the stands to have a decent view of the music, even if the music was a bit muffled in the low rafters.

We dropped our jacket and bags in the aforementioned seats around 2:15, having missed the first two bands of the day. To 52 Pick-Up and Eastbound Jesus I apologize, but the needed rest of a 2 year old trumps my desire to cover a music festival in its entirety. From the stands, we took stock of the venue's layout. Two stages, side by side, lead me to believe that the music could be continuous through the day. A set up like that gave the festival's organizers a chance to break down a stage and reset it for the next band, while the other stage had a band playing upon it. Seamless segues would be important as this one day festival had few amenities beyond the music. There were three carts for food with each serving beer, both local and domestic. Up front, there was a large seated area that extended across the front of both stages for those patrons willing to pay the extra fee to be VIPs for the day. They even had their own food beer and wine station. Ah the luxury. Beyond that, the fans were only treated to what downtown Lake Placid could provide them. This is a ski town, so the amenities outside the venue are limitless for those looking for a beer or a quick bite, but this is where the Lake Placid Bluegrass Jam parted with its brethren in festivals. Typically, once you are in a music festival, whether it be the traditional multi-day festival, or a one day affair, there are no options for you beyond what the festival organizers have for you. Other than music, what that usually entails it overpriced food, watery beer for half of your wallets contents, darker beer for all of them, overpriced t-shirts and $9 lighters. This day, whenever the lights came up between sets, the day's emcee was falling over herself to remind the general admission attendees to get their hands stamped so they could re-enter without a problem. What? We don't have to spend money exclusively under what is literally and figuratively covered by this festival? Again, ORDAs presence in this event was atypical, which was what opened the doors of the venue both ways. Part of ORDAs mission is to benefit the local economy and the only way to do that with a few hundred concertgoers is to set them free on the town. As they headliners made their way to the stage later in the day, you would only expect the crowd to stay put, but earlier in the day, come and go and, most importantly, spend. That was the mantra the organizers were living by and I applaud them for it.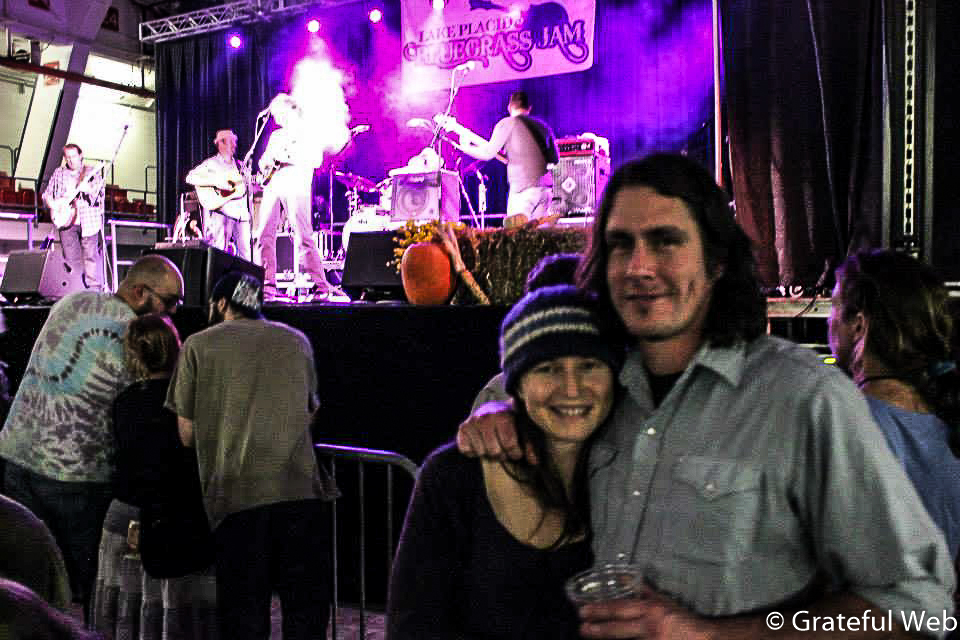 Once settled, we made our way to the floor for the end of Joe Mullins and the Radio Ramblers set. This prototypical bluegrass quintet (guitar, fiddle, mandolin, upright bass and banjo) was exactly what you would expect to see when you walk into a bluegrass festival in the middle of the afternoon. A song list that included covers of the founding fathers of this truly American art form, as well as plenty of originals that also sounded like they were only one degree of separation from their forefathers songs, Joe Mullins group primed my ears for what I would have expected to hear at a bluegrass festival.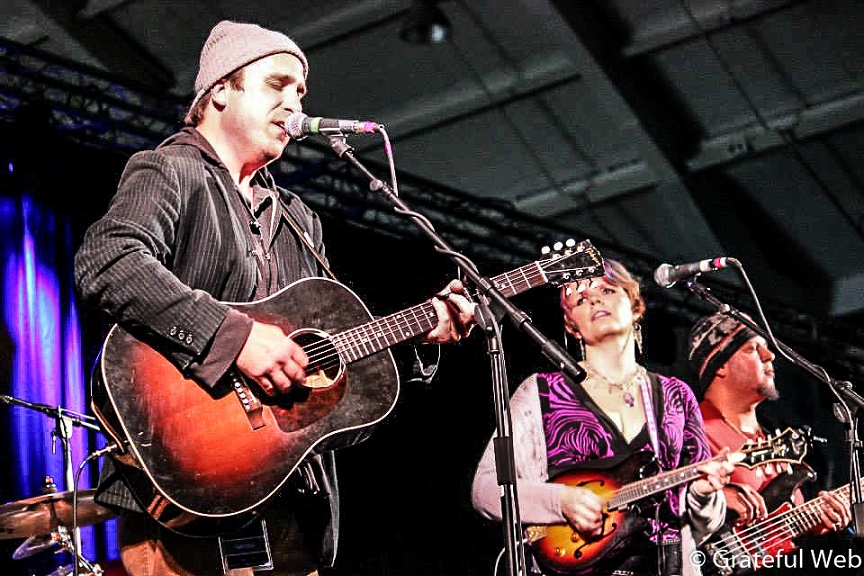 When the lights on the Blue Stage went dim and those on the Grass Stage quickly went up, Big Leg Emma showed me how far the pendulum can swing at a Bluegrass Festival. Their influences include Bluegrass musicians, but hidden under their 'aw shucks' stage presence (a must for most bluegrass bands), is a blue collar American rock band. I have a feeling that they did not let their music go too much, as the crowd was there for the tightly bound solos of a bluegrass show, but their ability to slip into jams that challenged rhythm and the audience to sit up and take notice, was consistently teased through their set. I would imagine, under the lights of a different stage, this band might be as much a jamband as any of the newgrass bands in the genre.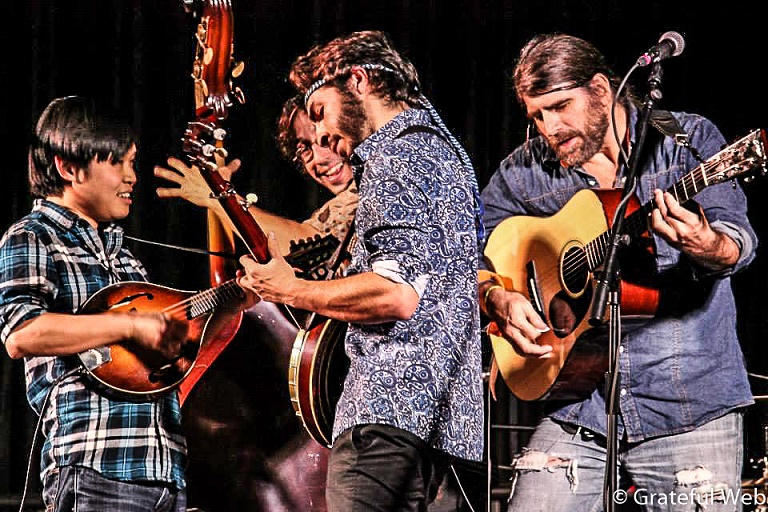 While the headliners later in the day may have been what brought in the crowds, and hopefully secured a future for this new festival, it was Hot Day at the Zoo who truly embodied the spirit of this fledgling event. This is a band with two histories. There is the first incarnation of the band, nearly a decade old that toured the country never catching a big enough break to keep the original line up together. That quintet went their separate ways, only to have its bassist and guitarist/vocalist/songwriter rise form the ashes a little over a year ago and begin the second coming with a new mandolin player and banjo player. "Its kind of a funny story," Jon Cummings, the ten year representative in the band along with Jed Rosen, said. "Jed and I were out, kind of talent scouting and we saw this band and thought that the banjo player was way too good…" Jed stopped short of saying something negative about another band on the rise, but he and Jed made it clear that they wanted to pick this talent up. Rick Mier remembers it a being a little more awkward. "Dan [Bui] was the mandolin player that night and my roommate. It was a gig, you know? Anyway, we got home and I got a message saying that these guys liked my banjo and asked if I wanted to get together." Jon assured me that he and Jed were only looking for a banjo player that night and actually never even saw Dan because he was playing behind a post. Nonetheless, Rick asked if Jon and Jed were interested in a package deal. And after that awkward start, like a teenager driving a stick shift or the first time, the boys got together, the music fell into gear and they have been cruising for the past year.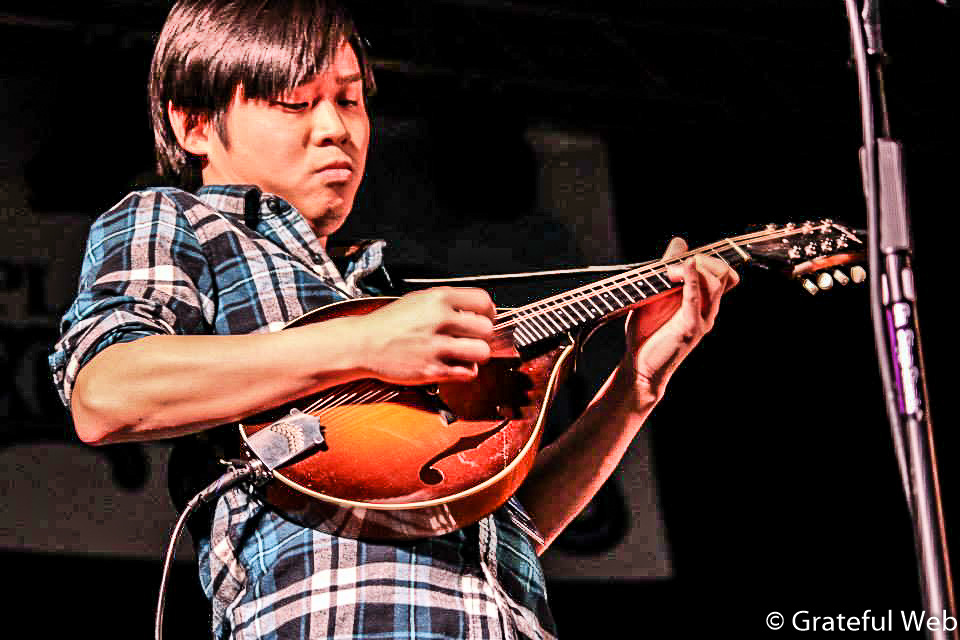 It is this sense of damning the torpedoes, dropping dead weight and carrying on in the face of adversity that made Hot Day at the Zoo the poster boys of the first Lake Placid Bluegrass Jam. Sure, the venue had bad acoustics. Yes, every beer I got was foamy and took the teenager manning the keg truck 20 minutes to concoct from three other heady pours, but the quality of the music prevailed. It has been a long time since I heard a band live and had it stop me in my tracks to make sure I was hearing, really hearing what they were doing, and HDATZ did that. The sound wasn't pure bluegrass, nor was it the newgrass of Yonder Mountain String Band. It wasn't the ballads of Railroad Earth, nor was it the Americana of Tom Petty. It was none of these, yet it was all of these. I could hear Earl Scruggs and Jerry Garcia in that banjo. I could feel Tim O'Brien and Jeff Austin in that mandolin. The band loved what they were doing, and yet they too weren't quite sure where they were headed. They are inspired, experienced, naïve, blundering, polished and fun all at once.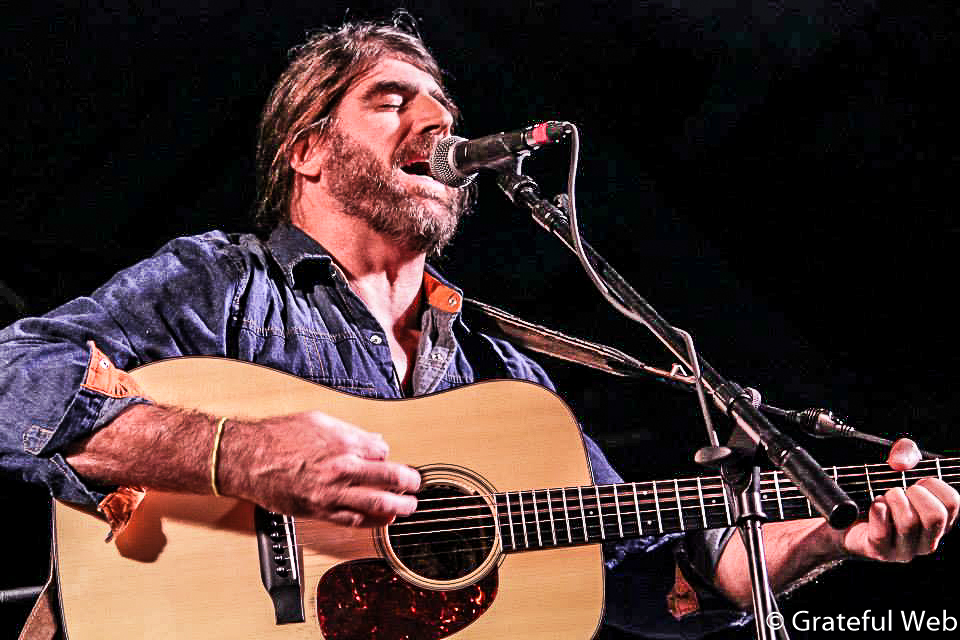 Despite my impassioned take on HDATZ, the festival promoters were banking on the name power of the remaining bands on the marquee to fill up the VIP section, as well as sell a few more foamy beers to the growing number of concertgoer. There would be no more time to duck out into downtown Lake Placid.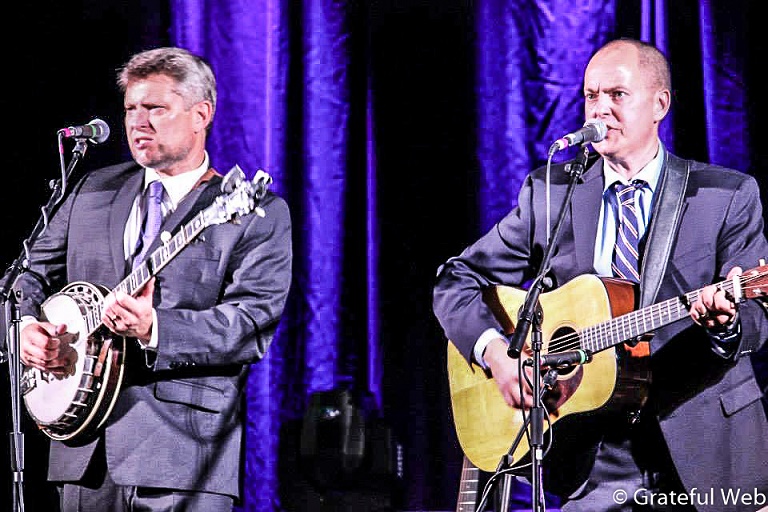 First up, The Gibson Brothers. For those of you loyal readers who have read my reviews over the years, you know that this band has caught my eye for a while at Grey Fox Bluegrass Festival. My growing love for this band has been universally confirmed as their following has grown, their sets have gotten closer to the headlining slot at Grey Fox and they have won the International Bluegrass Music Association performer of the year the past two years. A line-up change, with a new mandolin player, has made this more about a band playing together, rather than a group of individuals performing simultaneously. Their set was the tight and polished, full of the songs that have gotten slower as they have refined their sound, but also full of a sense of comfort in who they are which is right up there with the icons of bluegrass music.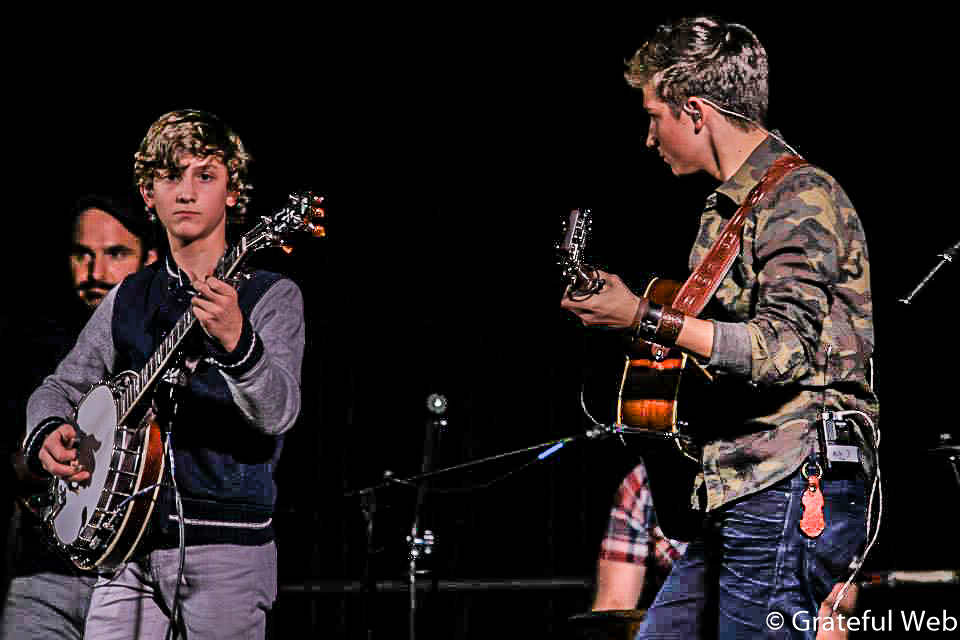 When the lights came up on The Sleepy Banjo Boys, I had to do a double take. While their name conjures images of white bearded pickers leaning back in rocking chairs as their lose fitting overalls don't leave enough to the imagination, this band is at the opposite end of the spectrum. Young, well-groomed diminutive boys lead this family band. The trio standing at the front of the stage, playing mandolin, banjo and acoustic guitar, do not appear to have 30 years or one pubic hair between them. And yet their chops are on par with just about any other band you'll hear in the genre. Taking age into consideration makes me believe that these young players are on the path of Nickel Creek where they'll be at the forefront of the scene before they can legally rent a car to take them on tour. Another reason to thank God for tour busses.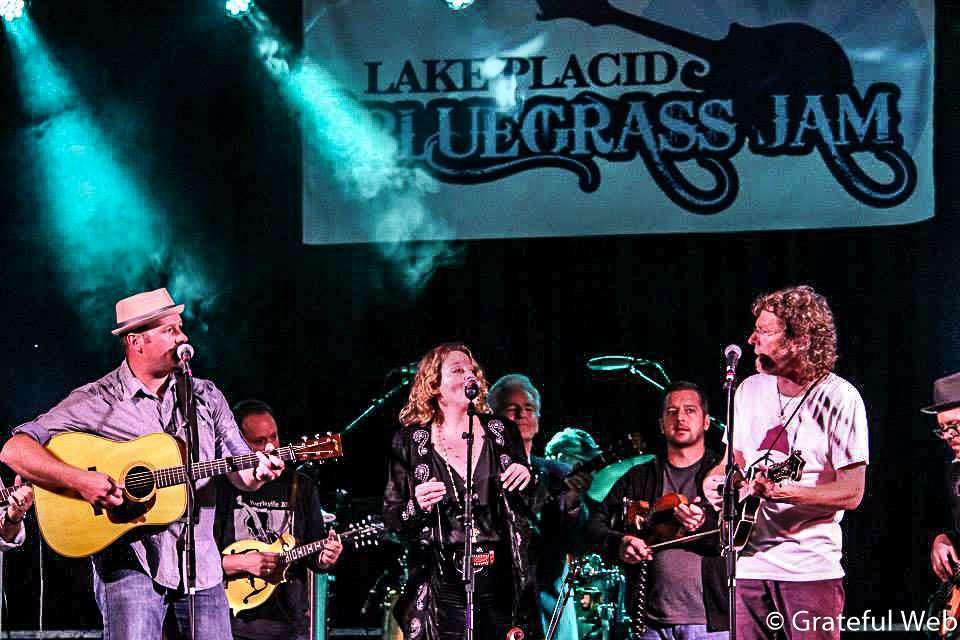 The name recognition took its last step forward with the next set as Amy Helm and the Handsome Strangers began a scripted set that conjured happiness, sentiment and sheer joy. The jamband scene has a propensity to put female players on a pedestal just for being a part of the show, but the bluegrass scene makes you earn your chops, no matter your gender. With a foot in both, Amy Helm has a place near the top of anyone's list of bands you should be listening to whether its for her originals, her passion or her shunning of the expected nod to nepotism. Sure, she will play the occasional song by The Band but not just as a reason to shine a light on her as the daughter of Levon Helm. Instead, as she did this night, she plays her father's music a hauntingly beautiful tribute to the music itself. When she laid down a solemn beat on a single drum at the front of the stage for a slowed down version of "The Night They Drove Old Dixie Down" I can assure you that more fans had goose bumps than didn't. And again, this wasn't because she was playing her Dad's tune. This was because of how she played her Dad's tune. Her music is revival music in every sense of the term.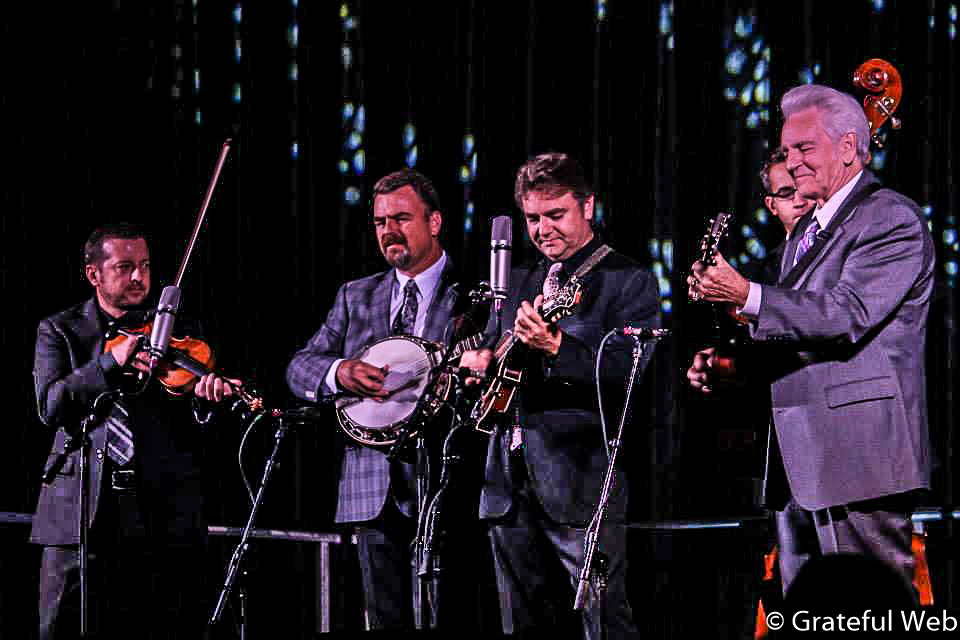 Opposite Amy's set, I noticed that the easiest stage set-up of the evening had quickly begun and been finished, with a single microphone and simple bass rig representing where bluegrass music truly started and where the Del McCoury Band continues to set the bar as the greatest true bluegrass band on the scene. Del, with his light suit and quaff of white hair that nearly reaches the rafters of the arena, led the expected high energy set of bluegrass standards written by every household name in Bluegrass music, including his own and those of his sons. I have been lucky enough to see Del quite a few times and felt like this was a greatest hits set for the band. On paper, it rivals any I have ever seen. His is the standard that all other Bluegrass bands have been striving to reach for nearly 30 years.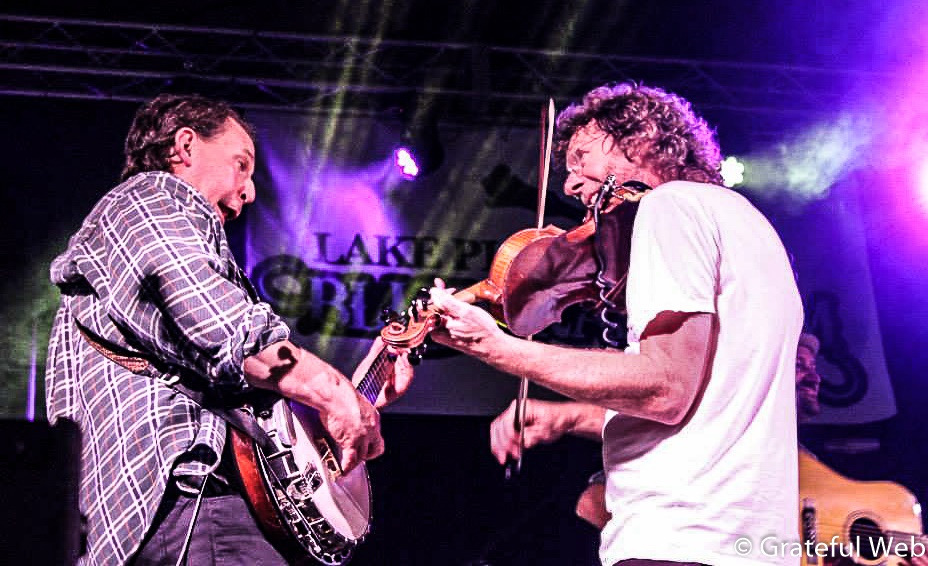 And then, in what I saw as the late night set that started in the early evening, Bush brought the evening to a close. It seems that, no matter how long Sam Bush's career goes on, he'll never tire of playing to or with a live crowd. I compare him to the hosts of NPR's Car Talk, who Laura cannot believe find themselves as funny as they do week in and week out. Yet there they are, every Saturday morning, laughing at their own jokes every time they tell them. In a similar way, Sam Bush is constantly amused with what is happening around him, no matter how many times it has happened. This king (or jester) of newgrass may seem superficially jovial, but his playing is anything but. His ear has made him a student of everything he has heard over his lifetime, helping him to incorporate an easygoing, bluegrass reggae beat to most of his songs. It has helped to have a rhythm section that embraces this path, playing on the upbeats and keeping the musical structure light, even when the spaces that the jams take us can be deep and sinister in there chord structure and offsetting rhythms. When you watch Sam, you see him watching his surrounding, feeding off of other players' solos as well as their energy and giving all that he finds back in what he plays.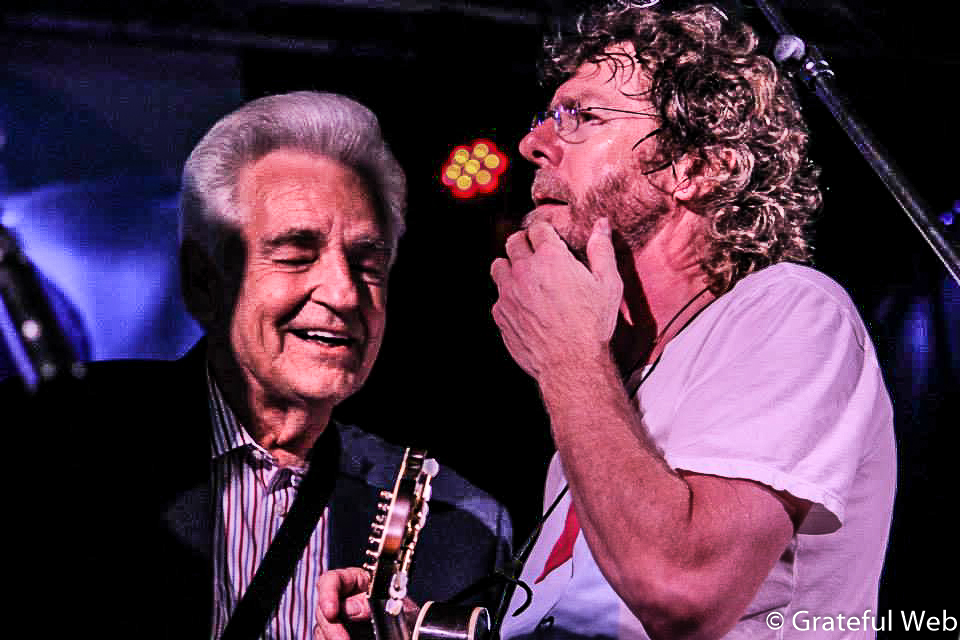 Of course, this sense of sharing finally came to be embodied this evening with Sam Bush's encores. Sam is a friend to everyone he meets and it is clear that despite their differing interpretations of bluegrass, one of his longest standing relationships is with Del McCoury. So inviting Del and the bulk of his band onto stage for a three-song encore allowed all of us in front of this stage to bask in this dichotomous friendship. The music went in dozens of directions, depending on who was soloing and no listener in the crowd was disappointed. That is, unless they were a fan of female vocalists. That group needed only to wait for the second incarnation of the super jam when the Sam/ Del mash-up was complimented further with the bulk of Amy Helm's band taking the stage. It was clear that there was no room for players onstage at this point in the evening as some were all but forgotten as this super jam went thought every player onstage to solo. But the solos, the song choices, and any missed notes weren't what made this perfect end to a wonderful festival special. It was the energy that these players gave to us all. You would have thought that Amy, Sam, Del and everyone else were playing at midnight on New Year's Eve at Madison Square Garden, not in front of a few hundred North Country folks lucky enough to be able to see this spectacle. But that is how this first of many Lake Placid Bluegrass Jams will be remembered. It was a night far more extraordinary than any of us thought it could have been. See you next year.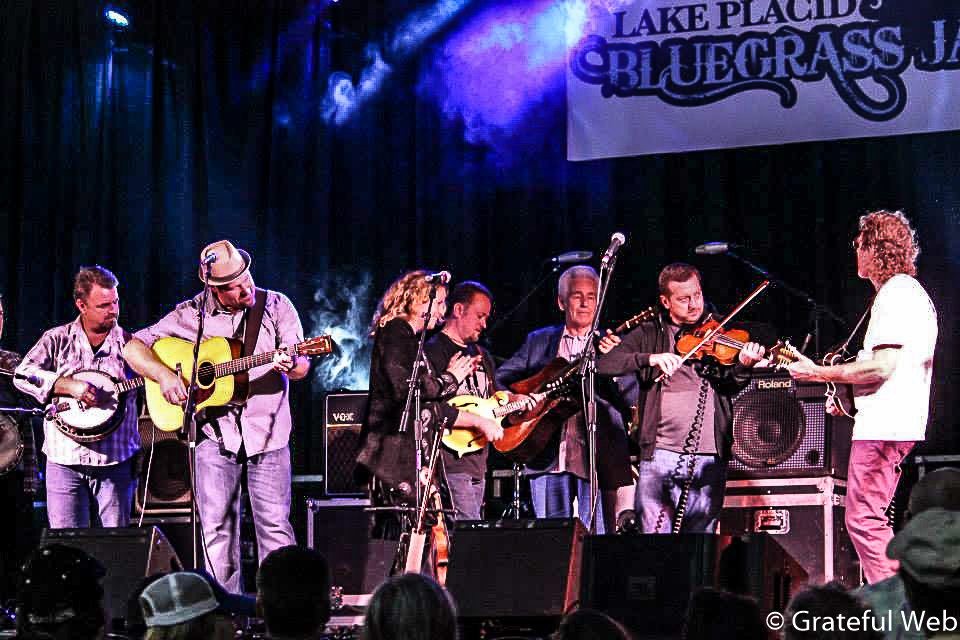 Check out more photos from Lake Placid Bluegrass Jam.