On December 31, 2012, The Mantras along with Yo Mama's Big Fat Booty Band, rang in 2013 in fine fashion at Greensboro, North Carolina's Blind Tiger. On this leg of the tour, the Mantras and Yo Mama's Big Fat Booty Band are alternating the headlining role from night to night. Fans were treated to four or five hours of some loud, hiiiiiiiiigh energy, granola-funk each night of this blossoming tour. Having seen these bands with some of my hairy, old school, freak friends in both Charlotte and Raleigh prior to New Year's Eve in Greensboro, all three shows had equal energy and each show was a blast. Promise! If either act is playing in your local vicinity, GO !
The Booty Band kicked off the evening with a flavorful set of heavy funk that brought to mind Sly and the Family Stone, Parliament and K.C. and the Sunshine Band; with an added and distinctive, new school edge. An edge so impressive and up in your grill that even Snoop the D-O-Double G himself would have had both hands up high while bobbing and swaying with appreciation. Reports have it that after a recent trip to Jamaica, the D-O-Double G had a spiritual awakening and changed his last name to Lion. Whatever Snoop's last name is these days, he would have undoubtedly appreciated the Booty Band's efforts on this night.
On this evening in particular, The Booty Band's Mary Frances, on keyboards, keytar and vocals was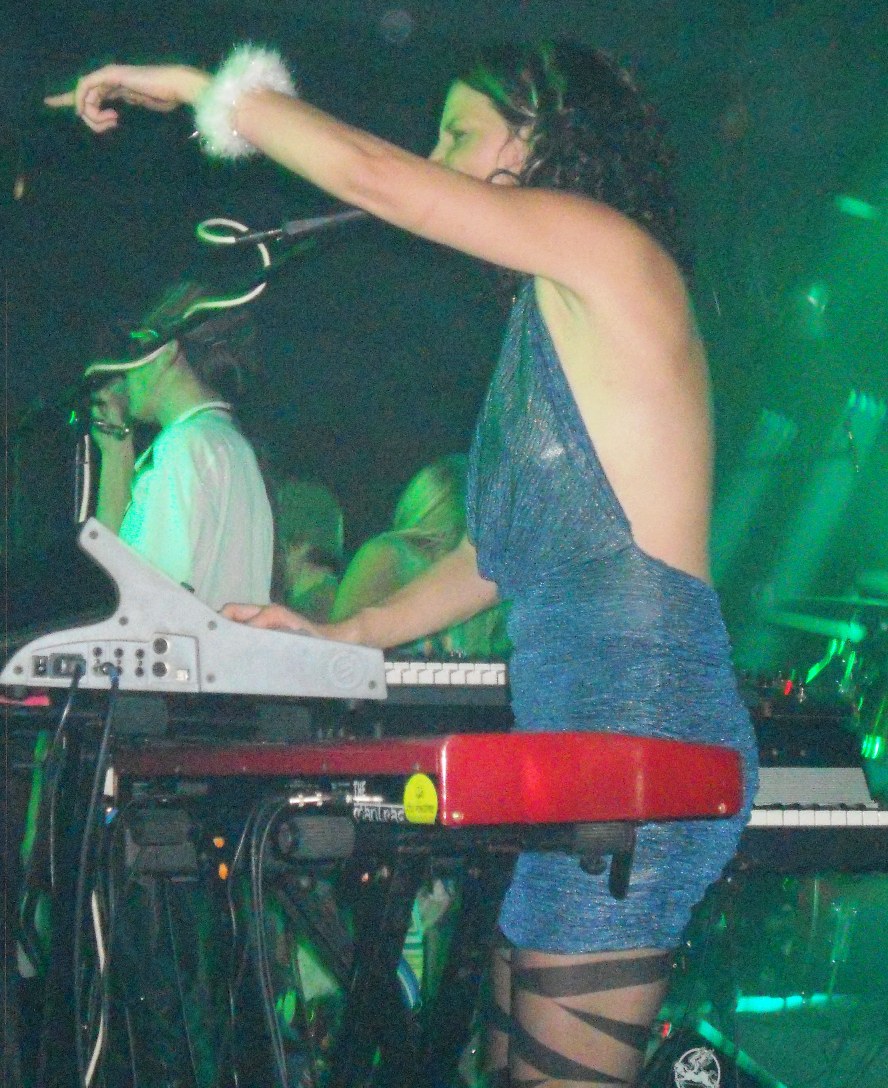 particularly impressive and at times, even mesmerizing. Between prowling the stage with her keytar while making the most of what her mama gave her strut (Boys, trust me, Mary's mama was not stingy when bestowing feminine charms upon her daughter!), belting out perfect female lead funk vocals along with her dazzling keyboard skills, she has the potential to steal ANY show. Not to be diminishing any of the gentlemen of the Booty Band's skills or casting doubt on the longevity and future of the current Booty Band line-up, but Ms. Mary Frances may be in the process of blowing up as a solo performer.
The members of The Mantras are Brent Vaughan (percussion, vocals), Brian Tyndall (bass guitar, bass synth, vocals), Keith Allen (guitar, vocals) Justin Loew (drums) and Justin Powell (keyboards, vocals). For the third night in a row, The Mantras offered their fans a mix of rhythm section power and swirling bass grooves, guitar riffs that are in the ballpark with any up and coming rock guitarist on tour today along with the added "UMPH" of some organ and keyboard hooks that will make the most shy dancers, dance.
If you need a visual to further appreciate the Mantras' sound, think of the old school Batman show with the "CRACK!".."OUCH!".."ZAAAAAAP!" symbols but instead of symbolizing the cracking of low rent thugs jaws and super villain skulls, allow those images to conjure up thoughts of the tightness and togetherness of the band hitting their notes and gathering their stride for future accomplishments on a bigger stage.
For the performance of Auld Lang Syne, the stage was full with members of the Booty Band and The Mantras; along with several baby dolls shaking their moneymakers in an unabashed manner that would have had good old Pigpen from the Grateful Dead spinning off a rap. The type of rap that Pig would drop like it was hot; a rap that sings the praises of ladies letting their lovelight shine, celebrating the delights of rhythmically thrusting hips and lots of "me love you loooooooooooong time" hair slinging; while cautioning the guys in the audience not to be playing pocket pool and to be the fox in regards to approaching any single, desirable ladies. Ladies, I am sure Pigpen would be just fine with you acting in the role of fox if any gentleman in attendance happens to catch your eye.
"You daaaaaa fox!", as Pigpen preached in his own pure, bluesman style, is not a bad mantra or New Year's resolution for either gender. The sentiment expressed by those words encourages each of us to be clever and confident as we pursue our goals in 2013.
Be the fox!