I have to admit, I like to take an angle when I write. Often times, I will have a phrase or concept thought out, which may be developed into an introduction, even before I go to see a band. How can that be, you may be asking. Well, most of the bands I review I have seen before and I can figure out what to expect. But, last Sunday night's show left me dumbfounded. Granted, from the moment I read about the pairing of Mason Jennings and Zach Gill, I was a little confused. I know they are both under the umbrella of Brushfire Records, the eco-friendly label pioneered by Jack Johnson. But beyond that, I had no idea what approach to take. I could see them both as strong musicians, but I just couldn't wrap my mind about where to make a connection. Even more terrifying, for the first time since I began reviewing music, I didn't have an angle once I walked out of the show. So let's start simply. The night was amazing.
Zach Gill is a ham. I have always known this from watching him on stage with his most common stage mates, Animal Liberation Orchestra. Yet, I never knew before Sunday night how much lightheartedness he feels when he is onstage. I suppose as one of four, as is the case with ALO, he has a role. Albeit, he also leads that quartet, but he is only a functioning part of the whole. Last night, he was the machine, a hand buzzer. Zach took the stage amidst swirling sounds produced by his miniature megaphone that looked to have been purchased at KB Toys- full light-up bell included. The crowd was not sure what to make of Zach and I quickly realized that ALO's reputation did not precede him here at The Higher Ground. Laughter and head bobbing to see what was happening on stage spread through the half full venue as Zach abandoned his novelty toy for the piano.
Yet his first selection of the night, 'Bettina' off of his new album 'Stuff' signaled to the crowd that the comedian had not left the building. Instead, he was disguising himself as a soulful, skillful, surfer boy, piano man- a lounge singer that doesn't take himself too seriously. And why would he? His first song of the night dealt with the offbeat topics of a confused, yet happy drunk who wanted two things from Zach, a chance to sing with his band and liquor. Next he got a little heavier, but only as deep as his grandmother talking to him about where things in her house and life came from 'Back in The Day'. Zach seems to approach life with a zest that has often been stereotypical about our west coast brethren. No situation will get him down. There is always a silver lining and this deliberate naiveté comes through in his lyrics. His piano playing compliments this style, yet it's anchored more in the Wild West. It's a percussive style with drama built into his crescendos.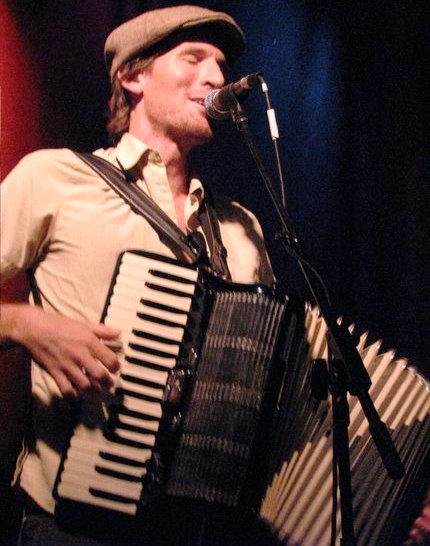 ALO has always had the ability to be very deliberate when they construct a set of music and it quickly became clear Zach mirrors that ability when playing solo. The ever-growing crowd did not know if Zach was a comedian with piano skills, or a crooner with jokes to tell. This question was quickly answered with a rendition of 'Maria' off of ALO's most recent album 'Roses and Clovers'. It's a radio friendly melody, full of rises and introspection and, naturally, catchy piano hooks. The crowd began to understand the performer who was so inhibition free before them. His laid back attitude almost made it appear as if Zach had a chip on his shoulder, but the reality is that he is just comfortable being the artist he has become. Zach's swagger while on stage and Maria's upbeat climax made everyone in the crowd want to lean back and let out a "yeehaw!" as the song came to a close.
The set fell back somewhere between Vaudeville and a piano bar over the next few tunes, going from Zach introducing 'Handyman' with a long story about eating mushrooms with his girlfriend to the inside joke shared by the crew in the irreverent 'Not a Monkey For You Anymore'. Zach's humor isn't subtle, which let the audience feel like they were in on the joke.
After a hilarious rendition of 'Do You Like My Pecks?' with a new introduction, still starring the governator, Zach moved from the piano to the ukulele for a couple of songs, then to the accordion for a polka-infused version of 'Girl I Want To Lay You Down' and 'The Devil Went Down To Bavaria', a Germanic take on the Charlie Daniels' original, only take out the south, Johnny and the fiddle and add Dieter, the squeezebox and Deutschland. When Zach left the stage the audience had been entertained, but not in the way they had expected. We were laughing hysterically and humming the tunes.
My wife introduced the music of Mason Jennings to me a few years ago. At first, I just thought he was guitar player with a pretty face for all the girls to ogle. That's until I listened to what he has to say. In a time when we are bombarded from all sides with information, a time when we are living in the gray area as every possible angle of every possible issue is examined by every possible expert, Mason speaks succinctly and directly about those things that really matter. His songs are odes to the matters of the heart and mind of the individual. Does he talk about global issues? Of course. Any self-conscious individual should be thinking about issues that affect them as well as their fellow man. But, it is the way the Mason sings about these issues that is effective. He does not prophesize, nor does he demonize.
Instead, Mason puts himself in the world of a character that is experiencing these issues, good and bad, firsthand. He sings from the place of an alcoholic, a born again Christian, an apathetic suicide victim and an everyday person like you or me who has trouble living in the moment. He does all of this with simple, direct language that makes you feel like he does understand what it is to be you, no matter which of these groupings you fall into.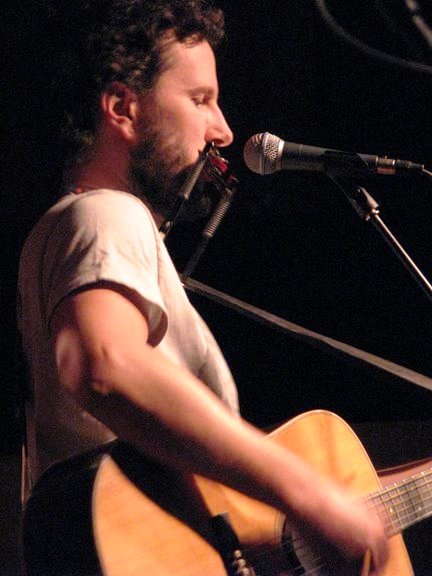 As you might expect, with such a diverse paradigm, an artist like Mason Jennings may have a slightly pessimistic outlook. And, as you might expect, said artist may have a morose stage presence. But, on this night, Mason took the stage with an unexpected spring in his step and upward turns at the corners of his mouth. His first song 'Sorry Sign on Cash Machines' let the audience know from the outset the disposition of Mason these days with the poignantly optimistic line "every moment starts right here with us." This mantra could be taken as a welcome to the evening, or it could be interpreted as a rally cry in this season of change. Whatever the case, the second half of the night was taking a distinctively propitious tone.
This message of battling the odds continued in his second song of the set 'Fighter Girl' as Mason fervently pounded his acoustic guitar, backed by Zach on keys, Adam Topol on drums and Jonny Polonsky on bass. In contrast to Mason's poetic persona which speaks right to the heart, he has also achieved pop idol fame, which became incredibly clear to me as I watched the two rows of young ladies with "I'm not 21" X's on their hands swooning right below Mason, singing all the words back to him, so as to ask him to "come on kiss me, keep on kissin me." And like a true pop icon, Mason did not even notice these girls. He was absorbed in the art he was creating, which of course drove the teens even wilder.
Yet, despite the teen groupies and despite the poignancy of Mason's lyrics, I could not get past the fact that Mason seemed genuinely happier then I had seen him before. He was thanking the crowd, sharing stories of how he and the band enjoyed their day in the Green Mountains. As the band launched into the quirky, upbeat 'Butterfly' I realized that the presence of Zach Gill on this tour may be infusing a little levity into what has always been such serious business for Mason.
Mason put down his acoustic and dismissed the band for the next few tunes as he moved over to the piano. His style is juxtaposed to that of Zach Gill, and this can be seen so much more clearly when he is alone at the piano, how Zach spent most of his set.
While Zach mused on the lighter side of life, Mason tackled more polarizing topics while sitting alone at the keys. He talked about the need for continuity in religion ('I Love You and Buddha, Too'), the American reaction to Hurricane Katrina and the Iraqi invasion ('Going Back to New Orleans') and hopelessness leading to suicide ('Jackson Square'). He was painting a picture of Americana, good and bad, using rhythmic poetry and annunciation to push the syllables into our minds.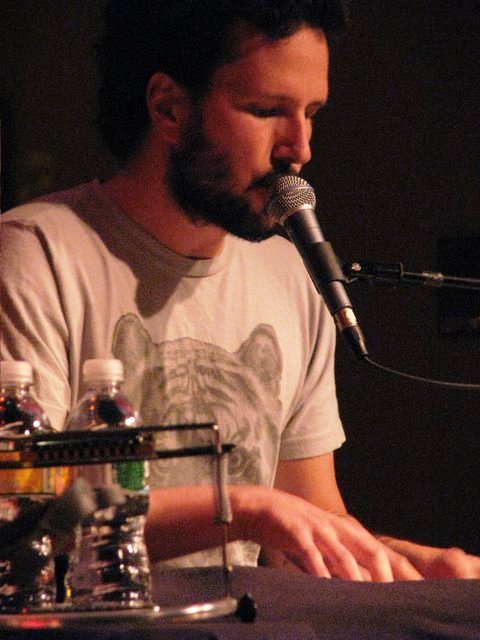 Just when it started to seem that the message of the night was becoming shrouded in darkness, the vibe changed to one of newness and now-ness with my favorite Mason Jenning's song of the past, present and future 'Be Here Now'. When my wife and I were still engaged and trying to decide on a wedding song, the message of 'Be Here Now' applied so directly to the occasion for me. The song tells you to be a part of this moment, do not live your life worrying about what was or expecting what might be. Be part of the love that you are giving right now so that the love you get back will mirror that. Everyday the sun rises and we all get to start this process again. Be part of the process, not dictated by it. Unfortunately for my wife and I, the R&B cover band in Delaware we hired for our wedding was not that familiar with the Mason Jennings catalog, so we had to change genres, happily opting for Al Green's, 'Let's Stay Together'.
Before inviting the band back up, Mason played one more song solo, and he paused beforehand to tell us the story of 'Black'. Inspired by a camping trip to Patagonia in which, firsthand, he saw the detriment of glacial melt, this song brought the crowd to a standstill. His imagery was so vivid with simple descriptions for not so simple topics.
When he brought the band back up, the set continued to go into dark places and resolve itself with messages of empowerment. Love, energy and possibility are in all of us, according to Mason Jennings, we just need to makes sure we are on the right track and with the right people. It looks like Mason is with the right people right now, as Zach has brought out happiness in him.