On a night where Colorado music fans could have seen G-Love and the Special Sauce, another Zero reunion, and numerous other acts it was exciting to see folks completely pack the Bluebird Theater in Denver to witness the latest incarnation of the Stanton Moore Trio.  Before the show began one fan was overheard saying, "This is a big night in D-town!"  It was a big night indeed.
The Trio consisting of Moore (Galactic) on drums, Robert Walter (Greyboy Allstars) on keys, and Will Bernard (Motherbug) on guitar brought the funk on this Friday evening from start to finish.  Concert staples such as "Adelita" and "Licorice" introduced the set with complex jazz structures and New Orleans style funk.  It did not take the trio long to warm up either as Walter was pounding away at his very vintage Hammond B3, grimacing with each note, while Moore's sticks were all over the drum set and his tongue protruding from his mouth.
Deep into the set saw dirty jams from Will Bernard on songs like "poison Pushy", "Kat's Kan", and "Funky Miracle", showing why Moore hand picked this guitar virtuoso to join the project.  The three were jamming nearly flawlessly throughout the first set and had the audience reeling from the sounds of what many call the quintessential funk trio.
The highlight of act one came during their cover of Zeppelin's "Good Times Bad Times", which was an instrumental orgasm of rock and soul.  Stanton Moore was off his rocker (literally) for most of this rendition and played so hard he even lost a stick near the jam's climax.  Fans were screaming for more, and they would soon get it after what was a very short set break.
The second set began with the bluesy-funk tunes "Layer Kake" and "Aquafresh", before segueing into the fan favorite "Maple Leaf".  At this point the band showed no sign of slowing down as each song was seamlessly flowing into another.  By the time the band ripped into "Weak Sauce" the floor of the Bluebird Theater was absolutely shaking.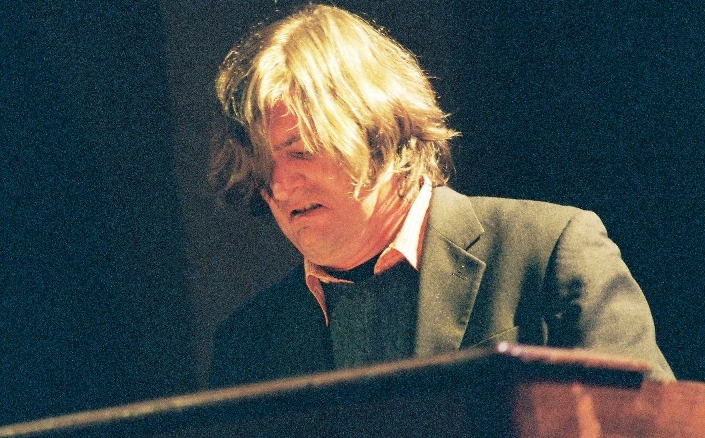 Closing the show were chill versions of "Chickin Lickin" and "Maple Plank" that were carried out by Moore and Walter alone, evidence that these two were born to play together.  Following a very short break was a two-song encore of "2% Body Fat" and the now stamped New Orleans anthem "When the Levee Breaks".  Stanton Moore seems to plug this song into just about every performance as a reminder to everyone that the devastation of his hometown still exists.  You could really feel the emotion presented in this classic rock number turned funk explosion.
It was a very exciting night for jazz and funk fans alike.  Stanton Moore continues to prove that he is one of the greatest and most exhilarating drummers in the jam scene, whether he is playing with Galactic or his side projects.  The chemistry between these three was very organic and the musicianship displayed was absolutely phenomenal.  There is no doubt this trio will continue to impress audiences along the way and stretch the boundaries of modern instrumental fusion.