Normally I am a little skeptical of artists who release albums that are dubbed "B-sides" or "leftover recording material", because it usually is a feeble attempt to cash in on material that truly is b-grade. However, this is not the case with the release of Umphreys McGee's The Bottom Half, which happens to boast some beautifully written and energetically recorded tracks from the Chicago-based rock outfit.
The Bottom Half features a two-disc collection of songs and bonus material that was originally recorded during the sessions of last year's Safety in Numbers album. The first disc is comprised of ten full-length tracks that were originally slated to be included with SIN as a double album; however, changing goals forced the band to shelve them for the meantime.
To many fans' delight, they are now featured here and are executed with the same recording precision as songs from Safety in Numbers. The title track opens this disc and showcases Umphreys McGee's strong musically ability and unique compositions. Melodic vocals that turn quickly into hard-rocking guitar solos prove that there is nothing common about the songs these guys create.
Following is a very interesting version of "Bright Lights, Big City", a song often played in the band's live shows. Those who have heard the concert version may be a little thrown off by this heavy, almost club version. It is complete with deep bass beats, synthesizers, and bizarre audio snippets that sound almost more like Duran Duran than Umphreys McGee. But don't get turned off, this version absolutely rocks and should probably be played at high volume by anyone with a bumpin' sound system.
Another gem is the instrumental composition, "Great American", which is culminated by the banjo craftsmanship of Bela Fleck. The acoustic interplay amongst Fleck and guitarists Jake Cinninger and Brendan Bayliss is precise yet playful, and showcases the band's underappreciated songwriting skills.
A version of "Intentions Clear", which also appears on Safety In Numbers, is reissued here with subtle differences to the original, mostly by the extended pieces performed by guest musician and saxophone genius, Joshua Redman.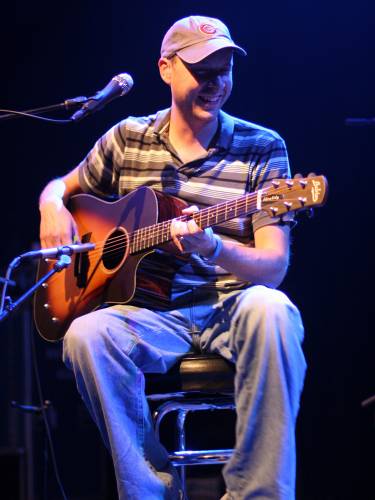 Long time concert staples "Higgins" and "Atmosfarag" make quality appearances on this album, as does an acoustically raw but very powerful rendition of "Divisions". The complex structure of this song is stretched out and displayed well, making it possibly the best track on The Bottom Half.
The second disc of this release is definitely for fans only. It contains 28 pieces that essentially provide the listener a window into the band's recording process. A cappella versions, instrumental jams, and demo fragments from the sessions give fans alternate perceptions of the finished pieces, and display the groundwork from which their songs are born.
Although not much of the alternate takes will be very new to the seasoned fans, a near complete and unrefined recording of "Alex's House" is born here and now has been heavily featured in their live performances as of late. It proves that studio experimentation can yield some amazing artwork.
The Bottom Half is another impressive collection of songs from these forerunners of progressive rock. Umphreys McGee is already well-known for their incredibly intense live shows, yet this disc shows us once again how important and how comfortable the studio can be for them.