Despite two evenings devastated by severe thunderstorms and even hail, the 2008 Wakarusa Festival held at Clinton Lake, Kansas powered through it all and still provided its attendees a great weekend of music, camping, and all around good times.
Things started off on Thursday already gloomy.  As concert goers began to arrive they were greeted by a large bulletin board warning folks that a severe thunderstorm containing heavy lightning and 70 mph winds was sure to hit the festival grounds.
Though a few smaller bands were lucky enough to perform before the storm hit, the Wakarusa staff wisely cancelled the first evening's acts after large webs of lightning sprawled over the skies above.  Mother Nature treated everyone to an amazing light show, but deprived them of any evening music.  Anticipated acts such as Lotus, Bump, The Heavy Pets, and Future Rock did not get the chance to display their craft to fans.
Those who arrived on Thursday and rode out the storm would not let the announcement, or the impending weather, dampen their spirits.  The sounds of laughter, beer cans opening, and improvised music could be heard coming from each campsite, where groups huddled under tents and trees waiting for the storm to pass or the evening to end, whichever came first.
FRIDAY
The slight aftermath was apparent on Friday morning.  The skies finally cleared while a warming sun and chirping birds woke up Clinton Lake, and revealed scores of busted tents, flooded campsites, and plenty of mud.  Though the hot day would dry many areas of the festival, most of the concert tents and some low lying areas remained damp and muddy for the remainder of the weekend.
With a beautiful day in store, it was finally time for a full day of music to begin.  Friday's lineup was chock full of great bands and surprisingly good performances.  The day began with a foot-shufflin', old-timey bluegrass set by the Iowa homegrown boys known as Mr. Baber's Neighbors (winners of the local "Waka Winter Classic").  A hundred or so folks danced, soaked up the sun, and were properly welcomed to the "Baberhood".  The audience was not the only ones enjoying the sun; the Prairie Stage upon which they were performing was a 100% solar powered stage.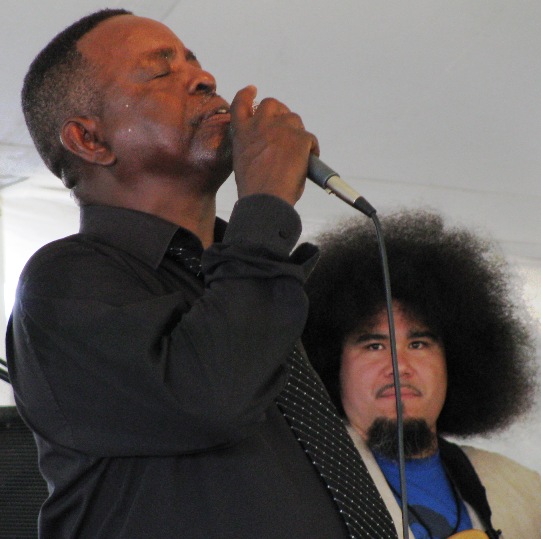 Later in the day fans were treated to a powerful set at the Sun Up Stage by the Dynamites, led by the dynamic vocals of Charles Walker.  Decked out in fine suits, this explosive group provided the afternoon with some serious soul, gospel, and good old funk.  The sloppy conditions under the tent didn't seem to hamper folks from dancing and enjoying these heroes from Nashville, Tennessee.
Shortly thereafter, heads turned to the nearby Porch Stage to witness the reggae, ska-rock collective known as Grimy Styles.  Psychedelic guitar riffs, dub beats, and keyboardist Martin Moeller's unique "blowmonica" (think Frampton's talking guitar, but done through the keys) filled this set with a bold, danceable sound.  A very groovy afternoon set indeed.
Around this time the main stage, or Sun Down Stage, began to come into full swing starting with indie rock icons Built to Spill.  Though a talented bunch of musicians whose sound resemble the days of Neil Young and Crazy Horse, their set seemed pretty tired and held back.  A few rockers got the crowd moving, but they didn't quite get the main stage warm just yet.  That would come with the following act at this stage, the always eclectic Buckethead.
Donning his usual blue jump suit, white Kabuki mask, and chicken bucket on the dome this axe master came to the stage "popping and locking" in typical robot-like fashion, before picking up his guitar and ripping through some blistering solos.  Pre-recorded bass and drums back dropped his set, which was also full of odd stage antics (like rubber chickens and nunchakus displays).  His mix of Tom Morello-ish riffs, Slash-like solos, and the speed of Eddie Van Halen arguably make Buckethead a modern guitar god and the future of hair metal.
The weekend weather would later cancel his time slot, but fans got a taste of the bizarreness of That 1 Guy, who joined Buckethead briefly on stage to perform his unique tube machine and digital instrument.  It was certainly a perfect combination of the weird, as Buckethead tore off solos while That 1 Guy slapped away at his vibrant magic pipes and strings.
Following this performance many fans were in for a disappointing surprise.  Though Cake was scheduled to perform at this 7:00 time slot, they would not arrive in time to play.  Instead of cancelling the group, the Wakarusa organizers decided to switch their slot with Galactic's midnight set.  It was seemingly a good idea so that both bands could be heard; however no real announcement was made.  Thus, many fans of these two groups missed those respective shows.
Moving on through the evening, the festival's top headliner The Flaming Lips brought their novelty act to the Sun Down Stage and gave fans their usual showing.  Groups of people oddly dressed, or in this case not dressed at all, danced on the stage while frontman Wayne Coyne tossed confetti into the crowd.  Older songs from their catalog like "She Don't Use Jelly" to newer favorites like "Yoshimi" gave Lips fans what they came to hear.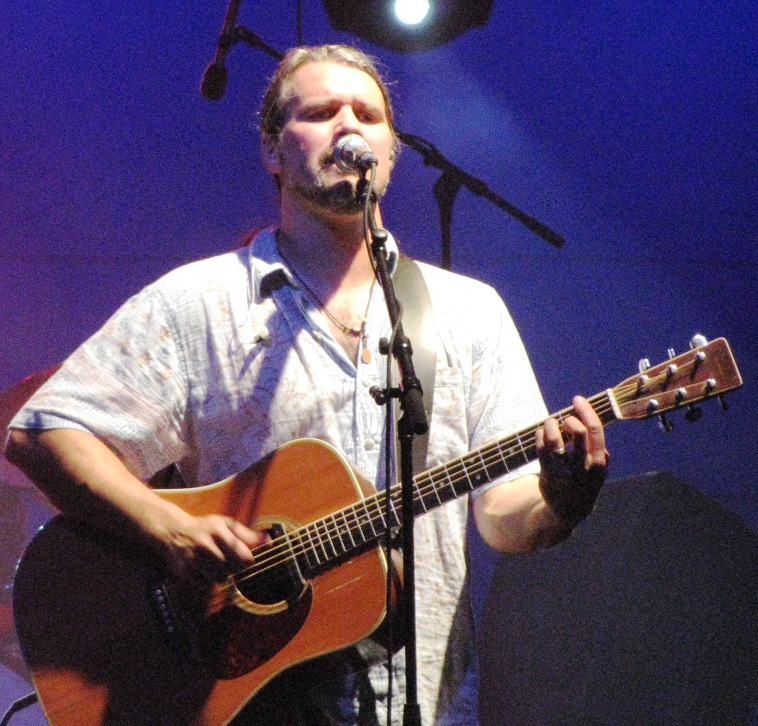 At the same time at the Revival Tent, San Francisco rockers New Monsoon were giving a much smaller audience another amazing set of music.  This group continues to impress listeners as core members Phil Ferlino, Bo Carper, and Jeff Miller improve this group with every performance.  Scorchers like "Southern Dew" and the bluesy "Greenhouse" highlighted the set from this underrated collective.
With their new midnight set in place, Cake took to the main stage and gave a so-so performance, walking through popular songs such as "Rock n' Roll Lifestyle", "Never There", and "Short Skirt, Long Jacket".  This group seems more like a studio band rather than a live act, and may not have been the best choice as a festival headliner.
However, the evening was not over yet.  Late night shows at the Revival Tent and Sun Up Stage were extremely exciting.  On one side you had the Matt Butler-led superjam known as the Everyone Orchestra.  Members of Hot Buttered Rum, New Monsoon, Ozomotli, Papa Mali, and more took to the stage for a grand display of improvisational music and some seriously bold jams.
Across the way more improvisational music was delighting fans, provided by the electronic duo EOTO (Jason Hann and Michael Travis, formerly of String Cheese Incident).  Even at 3:00 in the morning, a large group of people showed their support and were still dancing like it was 3:00 in the afternoon.  An amazing light show, accompanying female dancers with bright LED hula-hoops, and booming bass beats delighted those strong enough to hang for this super set, and closed out a wonderful first day of music.
SATURDAY
Saturday's weather may have remained dry, but the winds that whipped through Clinton Lake on this day made for a slightly uncomfortable experience.  Yet few would let that disappoint them seeing how another great day of music was in store.
The afternoon was full of great talent, with excellent sets provided by such notables as blues master Papa Mali, Alejandro Escovedo, Delta Nove, indie rocker Brett Dennen, and the Latin rock kings Ozomatli.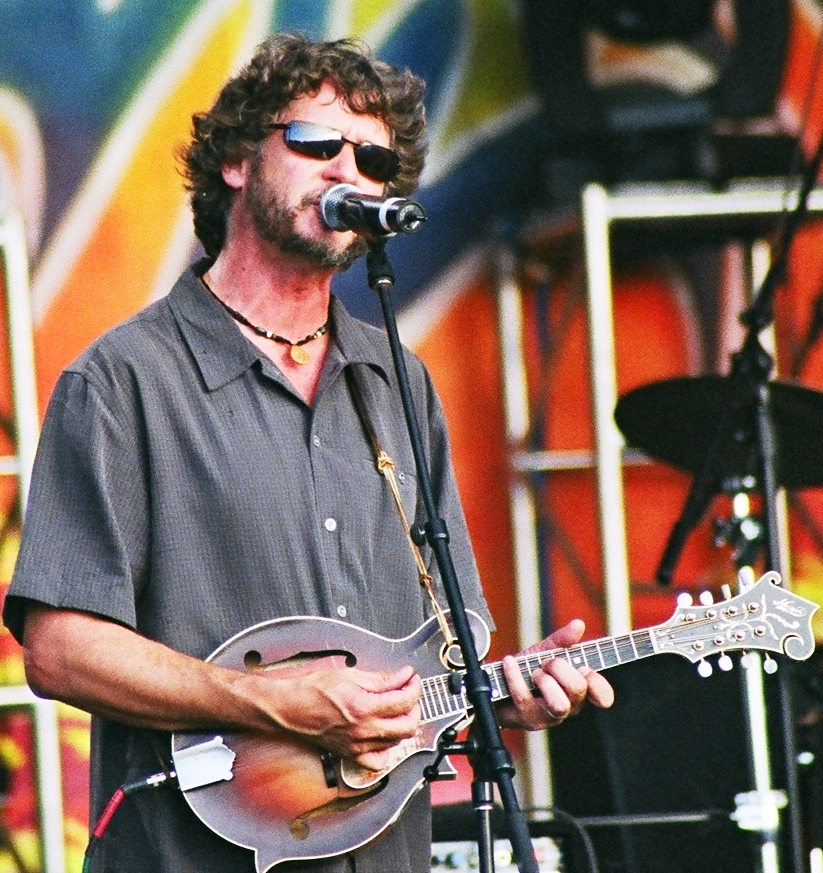 The evening's lineup would prove to be even more exciting, highlighted by the return of jamgrass pioneers Leftover Salmon.  The recently reunited group treated fans to an amazing two hour set on the Sun Down Stage.  Fan favorites like "Carnival Time", "Get Me Outta This City", "Up on the Hill", and "Ain't Gonna Work" sounded great and had folks dancing in the breeze.  Frontman Vince Herman's down home banter and "festivaaaaaaaallll!" cheers kept everyone in high spirits during this energetic set.
The nearby Sun Up Stage continued on with the foot stomping bluegrass from California's high country boys, Hot Buttered Rum.  Banjo player Erik Yates could not make the trek with the band, but they were fortunate to have guest drummer Matt Butler (Everyone Orchestra) join them onstage for a wonderful set of tunes.  "Sweet Honey Fountain", "Busted in Utah", and a cover of the Dead's "Sugaree" delighted attendees.
Following this well-received set were two big name headliners playing simultaneously on the Sun Down and Revival Stages, that being Sound Tribe Sector 9 and Ben Folds.  Both artists would have some sound issues, especially Ben Folds.  Although he's normally quite a showman, Folds' set sounded pretty bad and it seemed very rushed.  Nevertheless, a large group gathered and cheered on popular hits like "Underground" and "Rockin' the Suburbs".
STS9 got over their sound issues quickly, and powered out an intense display of sight and sound.  LED bars and thick tungsten lighting helped to shape the electronic grooves provided by this superior band.  Heavy bass beats and spacey guitar jams left no one still during the powerful two-plus hour set.
Soon after Sound Tribe's electric performance, Chicago's own bluegrass outfit Cornmeal dazzled those fans who gathered at the Sun Up Stage.  Their unique blend of hard rockin' bluegrass (kind of like "The Devil Went Down to Georgia" on cocaine) had folks stomping in the mud, led by some amazing musicianship by fiddler Allie Kral.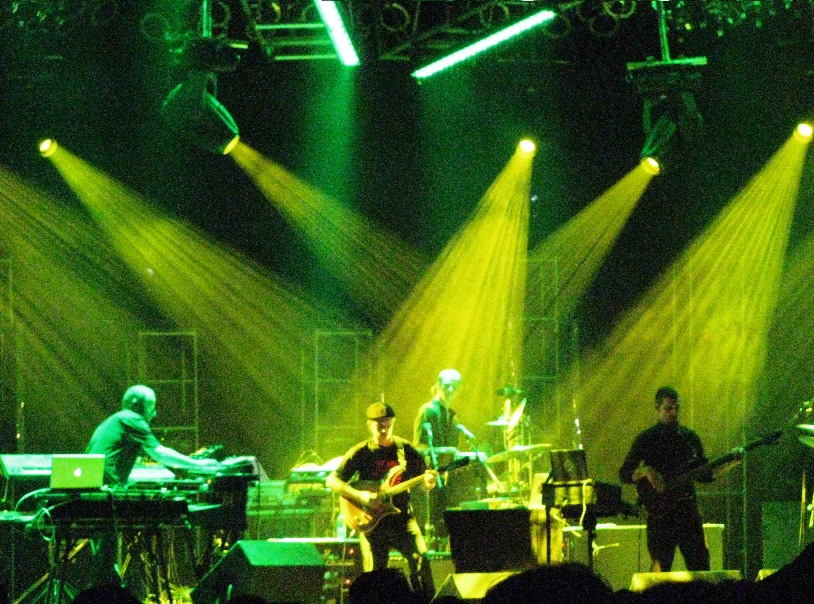 More late night sets by British electronica giants Ozric Tentacles, one-man-band Keller Williams, Blue Turtle Seduction, and the theatrical group Yard Dog's Road Show kept festival goers entertained until the wee hours of the morning.
The most anticipated late performance of the evening came by California rockers Tea Leaf Green, who managed to take the stage at nearly 3:00am.  However, time did not take away from the group's energy as they came out firing on all cylinders.  Frontman and keyboardist Trevor Garrard came out sporting a black jacket with orange shirt and tie, while leading his band mates through exceptional versions of "Incandescent Devil", "Jezebel", "The Garden", and others from their vast catalogue.  Ending around 4:30, their set concluded what would be the finest, and sadly the last complete day of music.
SUNDAY
What began as a beautiful morning of sunshine and light breezes would later turn into an evening of severe thunderstorms, hail, gale-force winds, and unfortunately more stage cancellations.
Nevertheless, attendees were still treated to handful of good music throughout the day.  Early afternoon artists such as American Babies, Truckstop Honeymoon, Dr. Dog, and Ivan Neville's Dumpstaphunk provided groovy tunes to the weary but bright-eyed people experiencing the last day of the festival.
Another fine afternoon set by Leftover Salmon in the Revival Tent, with renditions of "Mama Boulet" and the always popular "Ask the Fish", left many folks to declare LOS the kings of this year's Wakarusa.  The reunited old boys from Colorado did not disappoint one bit.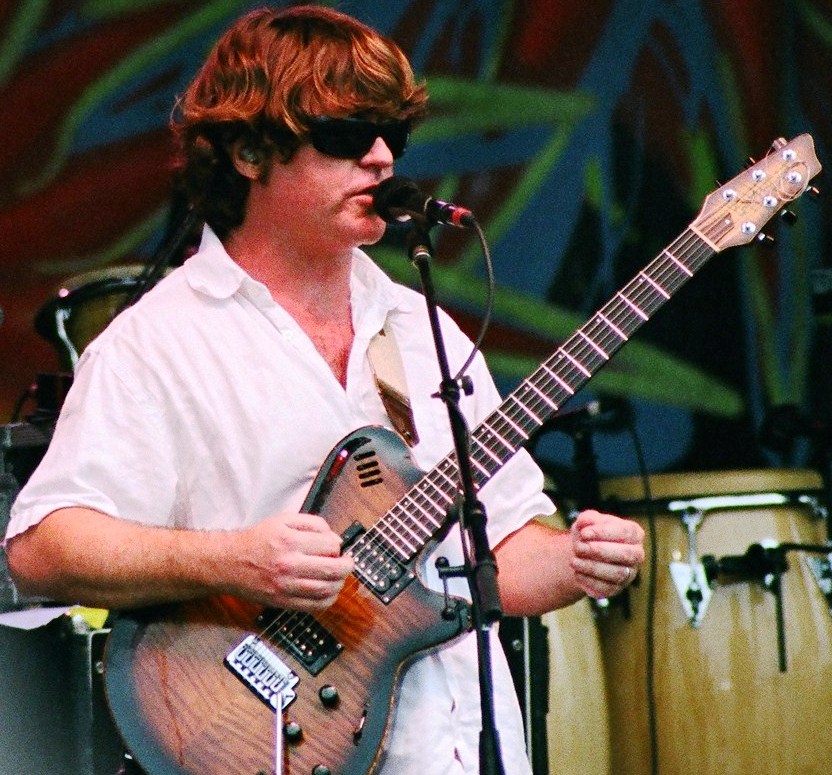 Following their show, Keller Williams once again performed but this time had some help by fellow Virginians, The Transmitters.  The group backed Keller with reggae versions of favorites like "Freeker by the Speaker", "Alligator Alley", and "Best Feeling".  A few Transmitter originals rounded out this chill, Caribbean-flavored set.
As Keller & The Transmitters came to a close, the announcement came that due to nearby lightning they were suspending all music temporarily.  Folks began to gather under the music tents waiting for the stages to resume the festivities.  Then the rain came; and it came hard.  A serious downpour with accompanying winds and a little hail left people scrambling to get under shelter.  Within an hour the entire festival grounds basically had standing water, and everyone thought for sure the rest of the evening would get canceled just like it did on Thursday.
They were partially right.  Highly anticipated acts such as Emmylou Harris, The Mickey Hart Band w/Steve Kimock & George Porter, Jr., Zappa Plays Zappa, and many more would unfortunately not get their chance to play.  The stages upon which they were to play were drenched, and the audience areas surrounding them contained about 3-5 inches of standing rain water.  Frustration amongst the crowd was intense, and the folks that put on the festival could sense it immediately.
Against their better judgment, one stage (Revival Tent) remained plugged in to allow those artists to continue playing their scheduled performances.  So those who braved the severe weather were first treated to a very short set by the David Grisman Quintet.  The "Dawg" and his crew (along with some help by Drew Emmitt on mandolin) did not disappoint and received resounding cheers after ending with an excellent rendition of the Grisman & Garcia classic "Shady Grove".
With no other stages functioning, the Revival Tent packed in the remnants of attendees for the final act of the weekend, which fittingly was hometown heroes and Wakarusa veterans Split Lip Rayfield.  Fans of this group were extremely happy to see these guys back playing again, as this was a reunion tour of sorts for them.  Founding member Kirk Rundstrom had recently passed away due to a battle with cancer, which led to the group to temporarily call it quits.  However, the remaining three members eventually decided that Kirk would have wanted them to keep on playing.
The band gave one of their most energetic and astounding performances this evening, and sounded just as good ever.  A couple thousand fans cheered, danced, and raised their glasses to the band's fallen member.  Whiskey-infused bluegrass tunes like "Kiss of Death" and "Outlaw" highlighted this grand performance.  Under the circumstances, there was probably no better band to close this year's festival.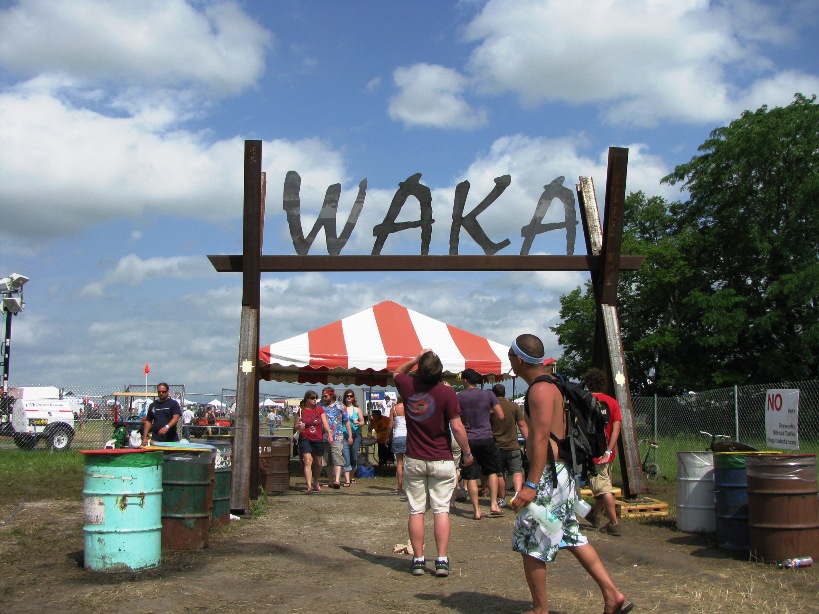 The wrath of Mother Nature aside, the 2008 Wakarusa Festival was not without its flaws.  This time around seemed much scaled down from the previous endeavors.  Many festival goers complained about fewer bathrooms, smaller and poorly located stages, less of the desired jambands that this festival was founded upon, higher admission/camping prices, and lack of communication.  Ultimately these factors, in conjunction with the weak economy, lead to fewer ticket sales and made the gathering a little less desirable than it had been in the past.
Nevertheless, folks seemed generally happy to have experienced this weekend of good music, good friends, and some needed relaxation.  Some changes will need to be made next year to make sure this festival continues to grow positively in the right direction, but ideally Wakarusa is still one of the best, tried-and-true festivals in all the Midwest.