So, Widespread Panic played a show at Red Rocks on Saturday night. Honestly, for those of you who have seen them in that setting before, that's about as good of a review as you need. All it would take is one glance at the set list, particularly from the second set on, to know that it was a spectacular evening. But I will nevertheless provide the recap for those who were not fortunate enough to attend and those who were dancing so hard they missed something, which was pretty much everyone.
The band wasted no time locking into a groove with opener "Junior" into "Stop Breaking Down Blues." Jojo Hermann on the keys was featured prominently on the second song, a theme that would continue throughout the night. In fact, the next tune "One-Armed Steve," was one of three classic Jojo songs the band played.
Things slowed down a bit after that, with "Degenerate" leading into "Tickle the Truth," in which lead guitarist Jimmy Herring turned the song into a power ballad via a long, piercing, melodic solo. The tempo picked up again with "Pigeons" and the first set closed strong with three old school faves in "Hatfield," "Contentment Blues" (during which the band displayed a giant chicken head on the LED screen behind them), and "Worry."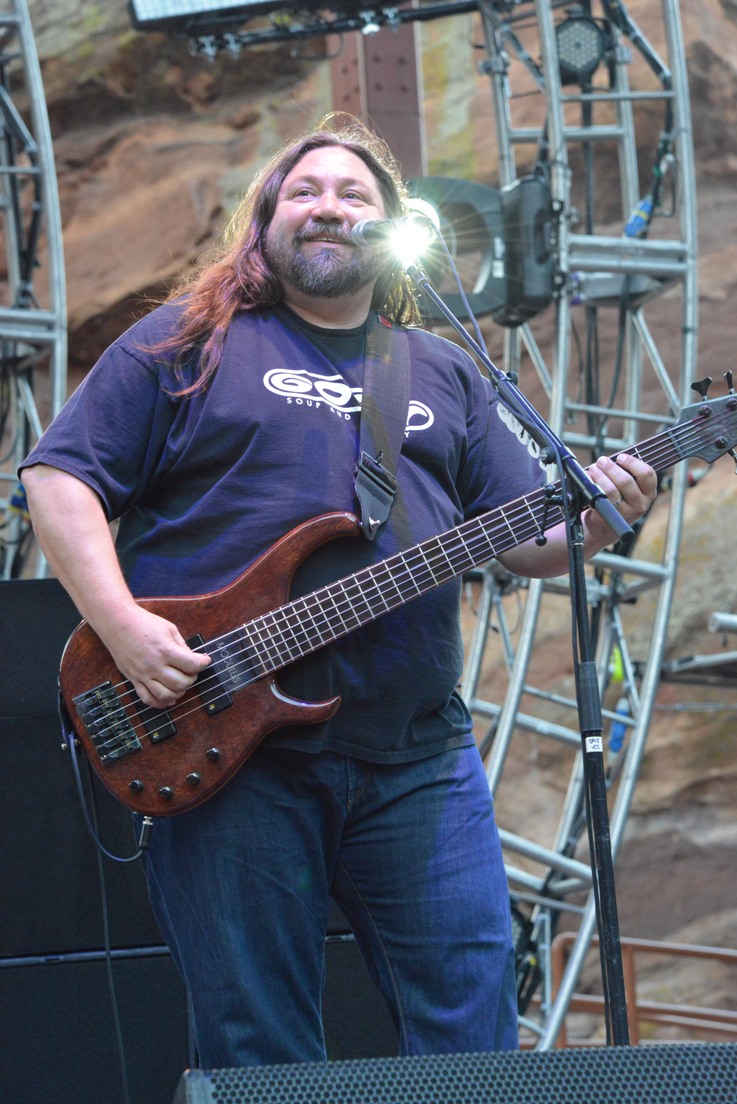 When the band came back out, the sun had finally slipped behind the foothills and it was officially on. Panic deftly mixed old and newer-school favorites in building an unforgettable set that never gave the audience a chance to slow down. It seemed as though each consecutive song brought a louder, more elated reaction from the crowd.
An early highlight was "Impossible" into "Conrad." John Bell's vocals haven't diminished at all, but the audience was more than happy to help him sing along. Immediately after "Conrad," the band switched gears and began a long, trippy intro into "Second Skin." The groove-heavy, dark-electro vibe of "Second Skin" might seem somewhat out of place with Panic's other more southern-influenced songs, but I doubt anyone would argue that it was a perfect song choice for that moment in the show.
The ante was upped even further when the LED display switched to a video of a car moving down a road, and the first notes of "Driving Song" rang out. The band took the beginning of that song into "Ride Me High," the second excellent Jojo song of the night. The following drum solo gave the audience a little bit of a chance to catch their breath, at least until Dave Schools came back and started playing a deep, dirty bass line. This led to "Proving Ground," which in turn led back to "Driving Song," drawing a large roar from the audience. Panic closed things out with "North," with the jazzed crowd almost drowning out Bell on the vocals.
The band was so good they prompted the audience to burst into song in between the second set and encore. I heard rousing renditions of Boyz II Men's "I'll Make Love to You" as well as the theme song from "Cheers" sung by rowdy concertgoers who just didn't want the music to stop.
Luckily, they didn't have to wait very long. It was difficult to see how the encore could build upon the tremendous second set, but somehow they did it. The honky-tonk boogie of "Big Wooly Mammoth" kept the crowd in a dancing mood, and Hermann's request for somebody to "throw him a fire" sent all remaining glow sticks into the air. The show closed with the gritty, hard-rocking "Henry Parsons Died," returning the band to their southern rock roots and giving the audience one more chance to frenetically bang their heads.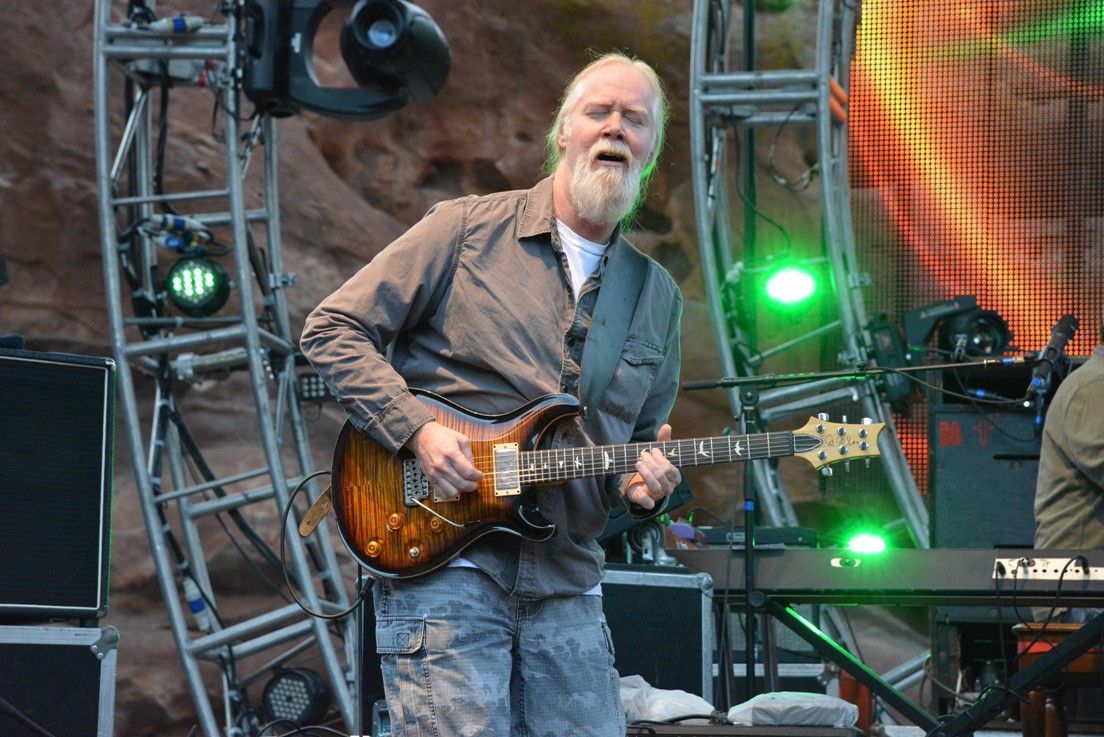 It's easy to give Jimmy Herring the MVP award after any Widespread Panic show. He's earned that recognition with his incredible guitar wizardry and ability to turn even the most mediocre of songs into an epic jam. However, I think Panic is at its best when Herring is scaled back a bit and everyone has a chance to shine. Tonight, Herring had more than his fair share of memorable moments, but so did Jojo, Schools, Bell and percussionists Todd Nance and Domingo Ortiz.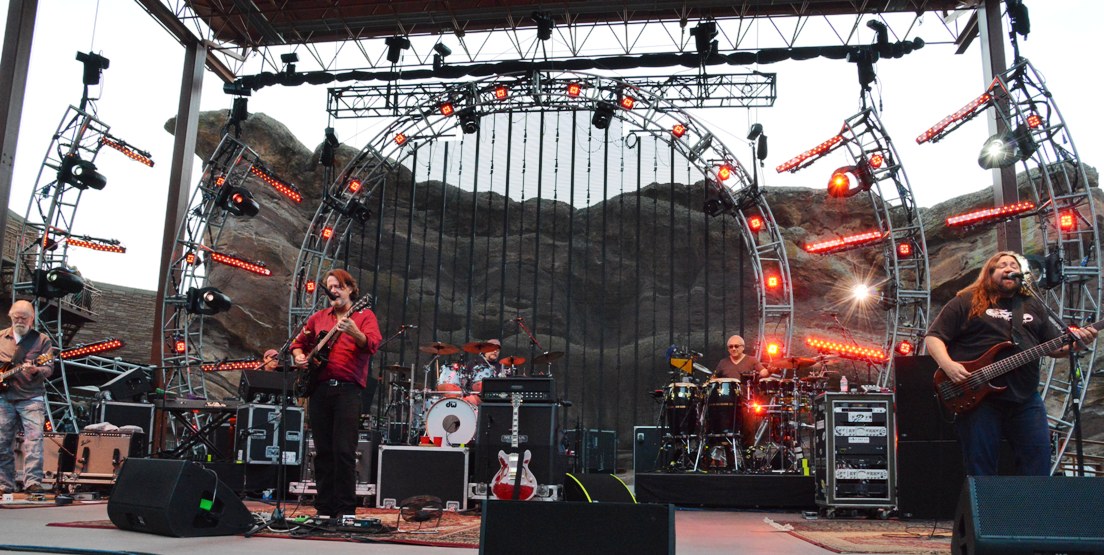 Nights like this one demonstrate exactly why Widespread Panic basically owns Red Rocks at this point. Despite nearing their 30-year anniversary as a band, they still have lots in the tank and show no signs of slowing down. Some might argue they're the best they've ever been, at least in the post-Michael Houser years. There is a reason they have sold out a record 42 straight shows there, and I suspect that number will basically be untouchable by the time their incredible streak comes to an end.