A Hot, Humid and Stormy Start to elseFest 2012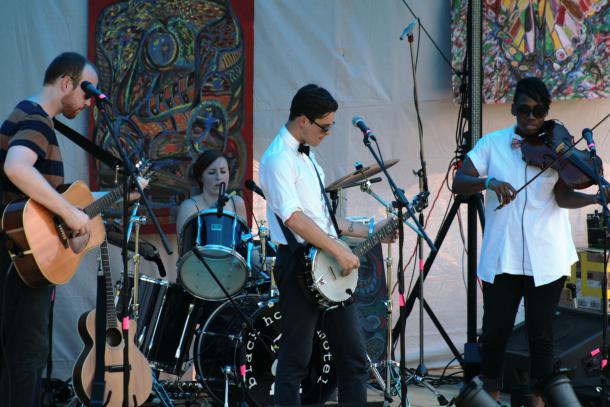 Turning into what looked like someone's driveway (is this the right place?), we were relieved to hear that we had reached our destination (albeit, more rugged than we expected). In our little car, we downshifted and trekked up a dirt hill and parked in the overgrown grass. "Where is the stage?" we wondered. Alas, over a hill, we found it: elseFest.
elseFest was slim pickings early Friday afternoon. The sun was shining and the temperatures were too high, so umbrellas, tents and sunscreen were in abundance. In a wide open field, the main stage was set up at the bottom of a hill. The vendors set up shop at the top early on and the smell of barbeque filled the air. At Grounds for Music elseFest's gates opened at noon. Despite the small turn up, Black Horse Motel began their set in the blazing sun sporting sunglasses and long pants (there must have been some kind of air conditioner nearby for them to wear that).
Regardless of the scorching temperature, Black Horse Motel played on to a small crowd of fans. Campers showed up and set up shop atop the hill overlooking the stage. Instead of trekking back and forth from the festival, many decided to camp out and await Saturday's show. We hope they brought their bug spray, as the bugs were out looking to feast.
The vendors were enjoying the music and interaction with the fans. We got the inside drama among the vendors. Given a 10 foot allotted space, some were not pleased. "Mine's wider than 10 feet and I don't care," said one anonymous vendor. 
In the open air, the music sounded better live than on any album or through any speaker. Sitting in the grass, everyone in the audience listened and soaked in the music. Black Horse Motel exclaimed, "It's like we're playing for our family," regarding the initial small turn up.
Regrettably, we were forced to leave early, but from the looks of the ominous clouds, we can't imagine the torrential downpour that must have ensued in the following hours. We do know, however, that the music was wonderful and wish we could have stayed. We can only hope the rain offered some sort of relief from the summer heat.