Is there a festival with a cooler name than Gathering of the Vibes? Immediately all festivals with the word festival or fest are eliminated from the name competition- I hope I don't have to tell you why. Bonnaroo? Pretty cool, but the words not even in the lexicon of those pretentious wordies who use the word lexicon often. No, all festivals should aspire to be a gathering. And a gathering of the vibes; it sounds like we were all drawn here, an inner power at work. Money is no matter. Heat? We'll adapt or melt trying. Yes, this gathering has brought together the like minded. Seeing it in every brother and sister around me tonight, the first night of Gathering of the Vibes 2011, is trying at times. But it's there; a deeper vibe, which by no coincidence is slang for vibration. That vibration that was struck the first time we heard Jerry and it still continues to resonate in all of us to this day.
THURSDAY
Thursday started off miserably. In fact "this is just a miserable start to the weekend" was the phrase Laura used before we were half a mile from our driveway. And she was right. I know I was acting like a royal prick- I tend to get in an all business, stressed mode the day we leave for a show; ironically its always me who forgets half our shit, but makes sure to neatly pack my suitcase.
It wasn't until we stopped to get some food that the conversation started to move. Funny how a full belly helps resolve tension. But as quickly as the conversation picked up, a new collective stress came over us both as we watched the thermometer rise. We passed Albany, we passed 100 degrees, only dipping into the 90's as we approached Seaside Park longtime home of GOTV, around 6pm.
As is so often the case on day one of a 4-day festival, we arrived a bit late. I have learned to accept this. My apologies to The Mother Hips and The Infamous Stringdusters. I have always wanted to see both of you. To Ivan Neville's Dumstaphunk- you were an excellent band to have playing while we set up the tent and fed the baby. But I have to be clear about our reason for missing the latter band. The heat when we arrived was oppressive. Couple that with a lot more early arrivals than last year, and further complicate that with the fact that what was our secluded unknown family-camping overflow spot last year was unfortunately turned into staff camping this year; so Laura and I found ourselves circling the family camping looking for enough real estate to live comfortably over the next 4-days and only found enough space for our tent and the car, rubbing nylon with our neighbors on one side and toeing the spray painted white line preserving the fire lane on the other.
But once we got in to the concert field and found a spot to sit on stage right and feel the ocean breeze, a different feeling than last year quickly became as stifling as the heat. Last year, on the first night, it felt like a warm-up for the rest of the weekend. Not this year. All around me, the vibe felt like a Saturday night. Maybe it was simply due to the heat, but the fact of the matter was that this weekend's flowers had blossomed. The pungent aroma of the festival was already in the air. One can only hope that it won't rot with 3 more sunny and hot days to go…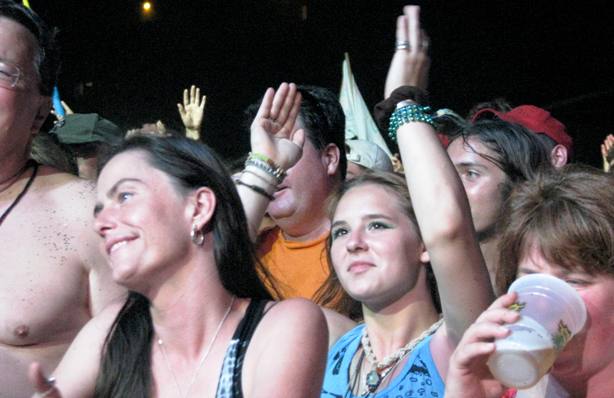 Dark Star Orchestra started their three-hour set with a slow approach into China Cat Sunflower. The groove between the drum kits and the guitar riffing was bouncy and deep and I hoped that it would be a mid-80's tribute from the Dead's ultimate tribute band. At times overplayed, the first set meandered through songs of multiple eras and I was sure that it was not a true reproduction. It pains me when DSO doesn't play to their artistic template that they have set at such a high level. When they only play a montage of the Dead's catalog, then they are only a cover band. Still, the array of Deadbase they wove into the first set- the seldom played Loose Lucy, Brent by Rob, and the actual Donna Jean Godchaux dancing on and off stage and even joining her greatest fan and representative in DSO- was capped off by a great rock and roll rendition of JGB's famous cover of The Harder They Come into Around and Around to end the first set.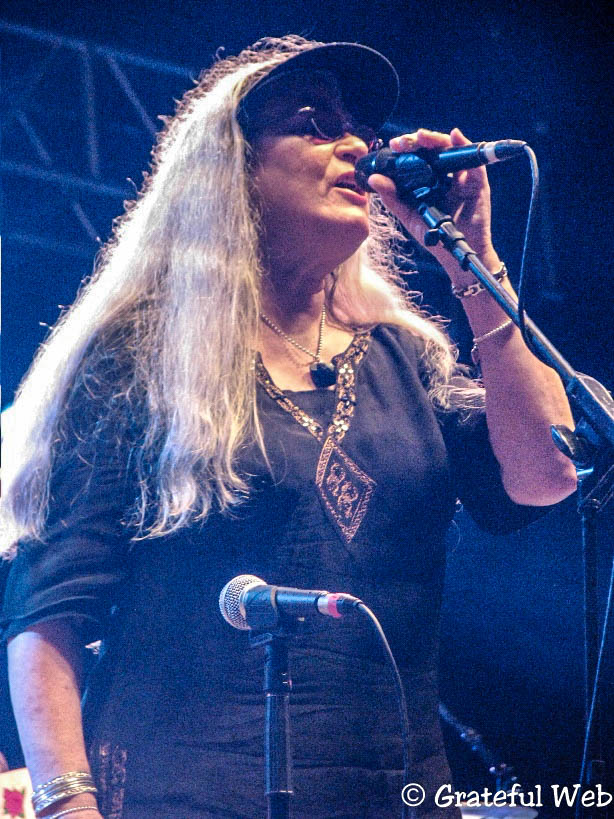 To bed with the one year old at set break and, upon my return to the concert field, it seemed that DSO had rolled up there collective sleeves for the second set and were playing dark and deep staples from the Dead's second set catalog.
While I still pine for the DSO of old with John Kadlecik dancing around improv sounding like Jerry both in tone and intensity, the rockin' Jeff Mattson livens the party, and a party GOTV has quickly become.
As was explained from the stage before DSO's set even started, this party kicked off the year Jerry died. At its roots, what was originally called the Grateful Dead Convention; A Gathering of The Tribes, was a camping extravaganza for all liked minded heads that wanted to attend. Sixteen years later, the merry disorganization spins onward with little regard for what is around, yet staying in control all along.
That's all for now. I hear the low rumble of The New Mastersounds entering their second song, you'll have to surf on back tomorrow to hear about them and everything else happening on Friday. For now, I am delving back into the belly of the beast…
Check out more photos from DSO's set at GOTV. |  GOTV | Part II -  GOTV | Part III - GOTV | Part IV