Clouds and a breeze. That's all it took. Last night when I lay down I was sure that the heat would never break. Why should it? There wasn't a cloud in the sky at 2AM and yet the heat hadn't let lost on its grip of the weekend. The hope of a quick temperature change had no meteorological phenomenon left to hold onto.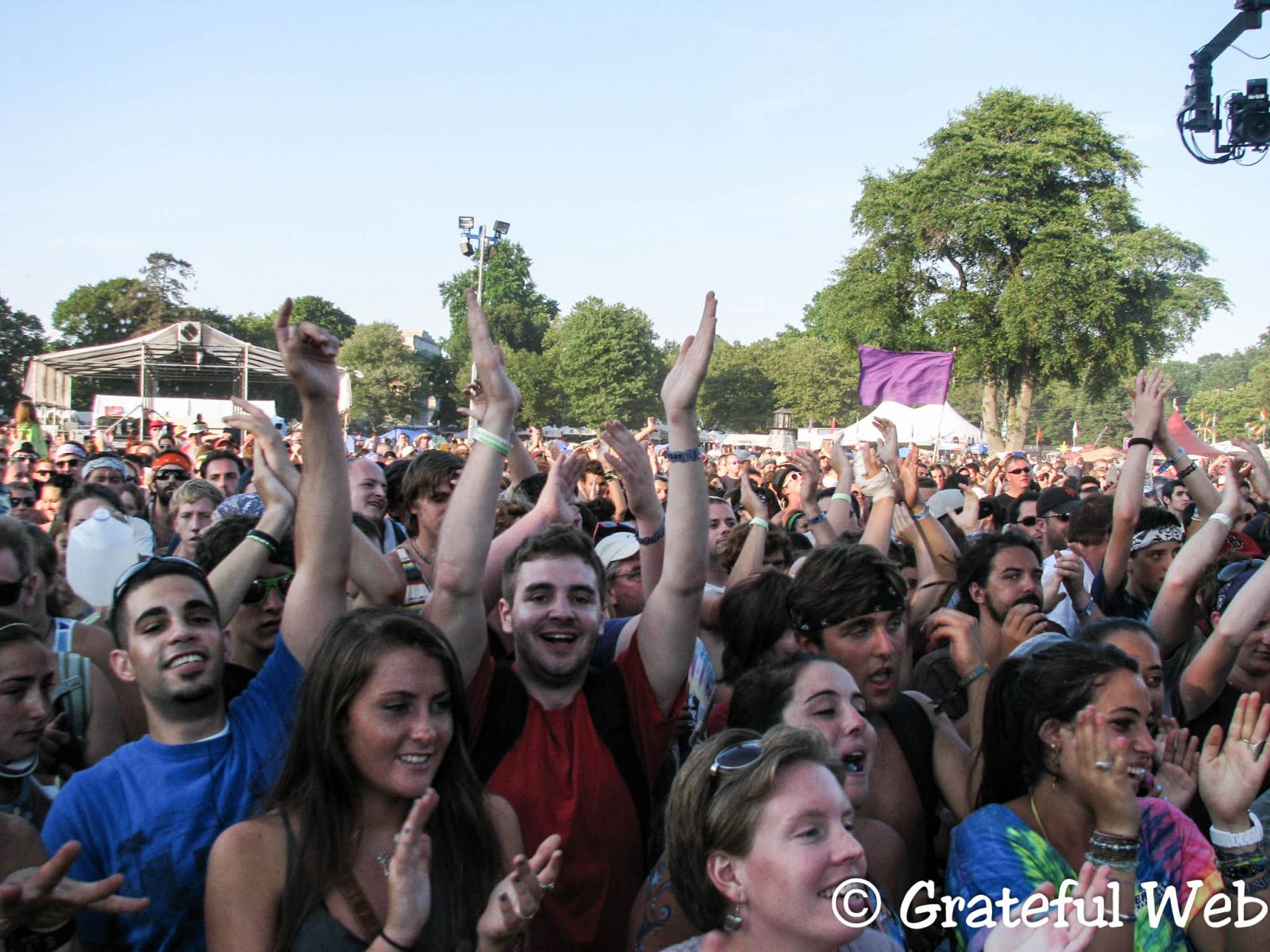 Much earlier, after hearing all of the music that I could handle soon after Furthur left the stage when Friday turned into Saturday, I found myself in the tight, yet comfortable, media inner sanctum. It's funny what a honest opinion can tell you about the world you have immersed yourself in. "I lost a lot of friends to a situation like that" observed the mid-level Vibes employee standing outside the tent looking at us like caged hamsters waiting to be sold, At least I assumed he was mid-level based on his number of tattoos and his amount of facial and head hair. The way he held himself, even at this late hour, embodied patience. "Yup. They're all gamers." So that is what I have been equated with; an aging group of men sitting in front of their laptops, ignoring all semblance of the real world happening all around them? It is what we appeared to be, right? And appearances aren't always deceiving. Secretly, of course, we were IM'ing each other about the asshole talking shit about us. Ha, technology wins every time!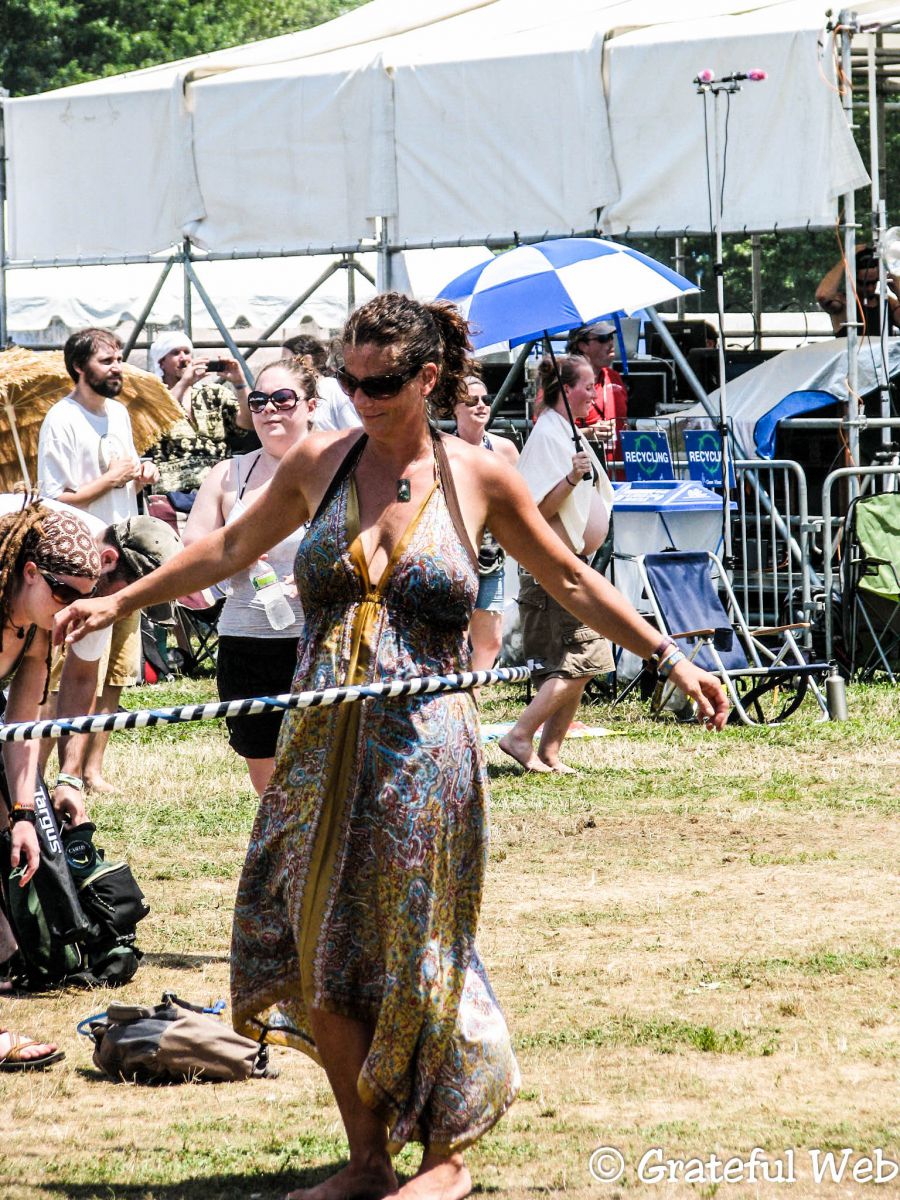 But the heat was still there. Like a summer cold, its end was unknown to all. Once its ally in torture, el sol (what the sun would be known by if ever turned into a comic book villain) came back up, we would all peril at the combine power of these two. But, with a thin and staying layer of clouds and a breeze, its late Saturday night and I am wearing the same shirt I started the day with.  We are all here. Sure, it's hot, but not knock-you-down hot as the past two days have been.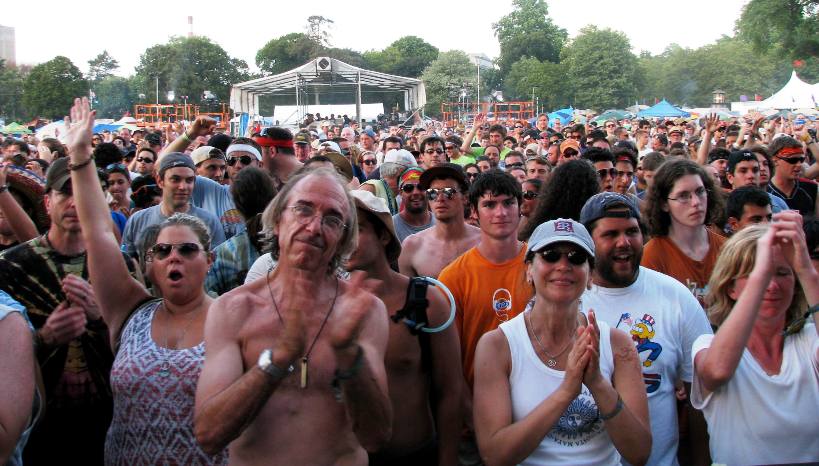 My taste for electronica had dwindled as I entered my 30's and all but ended when I became a parent. Did either of these rites of passage influence my musical tastes? Maybe. More to the point, I just stopped living a life that needed a pulsating, ever-present soundtrack. So Big Gigantic still remains a big mystery to me and to you as well faithful reader. I got some sleep last night.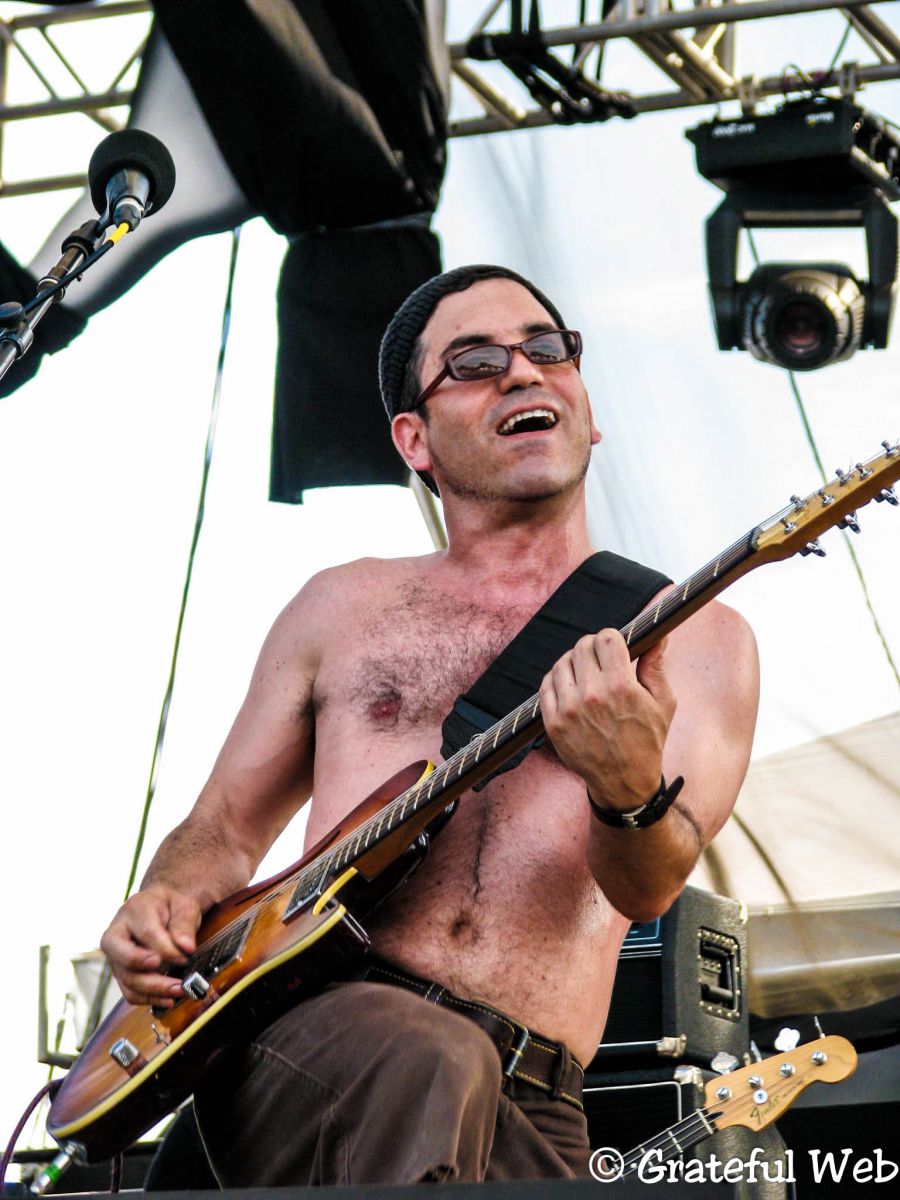 Which came first, the McLovin's or that movie that stapled their name to the list of quotes from movies that are at the tips of the tongues of all of us who watch way too many movies? Maybe it was because of this, maybe it was because I have seen their name on many a festival bill and, usually, it is too early for me to catch. Whatever the reason, I wanted to see this early set. Their sound, while not unique, showed promise. They have a deep well of talent and harder hitting originals will come as they continue to take their lumps on the hard road, playing more of the early sets that people have trouble motivating themselves to come and see. Their future is bright. I hope they earn their way to mid-day status soon.
I'm not experienced enough with Assembly of Dust to offer a truly valid understanding of their show based on song choice, comparative energy, etc. But amongst the population of the Northeast and, more specifically, our little 4-day city, there are a lot of people that can; evidenced by the sing-along feel to so much of their set. This set was the kick off to the three-band-homage to Gathering's past. What I can give you is my opinion, and my opinion of AOD is that listening to them can feel like they are pushing a musical agenda on you. Fortunately, today's goal was to hang loose. We all obliged. The set began with older tunes, ones even I recognize and can sort of sing along to. Sort of singing along has to be the most annoying thing to hear at a concert. I was fulfilling this horrible role. Remember, when you are tempted to add the words of the song that you can remember that nobody paid to hear you sing. Even after AOD moved into the more recent catalog, a comfortable feel persisted. On every song, the approach was deliberate, the harmonizing beautiful and the beat swinging. With sounds that hearken back to the Americana grooves of The Doobie Brothers, mixed with the sophistication of Steely Dan and topped off with a voice you would enjoy hearing sing the phonebook, AOD is more comfortable with their new personnel that I have seen them in many moons.
Local band done good. That was the message we all got before Deep Banana Blackout took the stage. They have the deepest connection with the town of Bridgeport of any band playing this weekend, as some of their members claim this as their hometown. Even the mayor was on stage to introduce these main stage regulars at GOTV. It is clear that the individual attention of its members has turned to newer and fresher projects, but it always good to see a band you grew up with coming back together to give thanks of their own to a festival and a scene that elevated them to rock stardom.
Max Creek was the continuation of the tip of the cap to the longtime Tribe members. Making their eighty eighth straight appearance at GOTV, trumped only by the ninety three straight of AOD, Max Creek's music is the soundtrack to what Gathering became as soon as the founders realized that they had to take a step beyond bands made up of members of the Grateful Dead and Dead cover bands. Max Creek specialize in the blues aspect of the Grateful Dead's repertoire. Scott Murawski, a hybrid of Jerry and Trey, (think about it. Let it sink in. In certain ways, it's true.) is one of the happiest people to be playing you will ever see playing. Not a care in the world. What else can you ask for from a musician performing for you?
moe. is the poster child for northeast band done good. By the way, I'm not neglecting that other poster-child from Vermont, but the journey seems to have proven to be more difficult for moe. They were well on their way when the first GOTV occurred in the mid-nineties, so if you walk through the merch tent and take a look at the vintage posters from GOTV past, moe. jumps around from headliner to mid-day support, depending where Vibes was in it's evolution. While the set drew from all over their catalog, the energy felt muted. Perhaps the rumor that they were supposed to play two sets if Elvis cancelled got to them and their feelings were hurt when it turned out they were only getting 90-minutes. Foreshadowing baby, Read on.
Elvis Costello- played the first three songs in three minutes. If it wasn't for that slight jam in the third song, that would have been the most stark 180 degree turn from the rest of the day's set progressions. Song thirty was a rendition of "It Must Have Been the Roses" and I had to catch my breath. A polished stage act, check that, the most polished stage act, running through a few of his own classics (Real classics, the kind you hear way too much on your local classic rock station now that the late 70's and eighties constitute classic rock. I guess early 90's too. I'm getting old.) And having never seen him, it was wonderful that he even played. Because, fair reader, Elvis's fever had truly gripped the building. Some unknown malady had caused him to cancel his last two shows and, behind the fence, everybody wanted the answer to one question: was Elvis going to play or wasn't he? "Tow sets of moe." is what someone with authority told me was going to happen only 16 short hours before Elvis took the stage. It is no coincidence that the hierarchy of numerical backstage passes correlates with how much you are sure your opinion is fact. Next year, I'm getting a 6 tattooed to my face. I will have supreme access. Take that Ken Hays.  One more thought on Elvis; don't think that the irony of reviewing the man who said "writing about music is like dancing about architecture." Not lost, at all.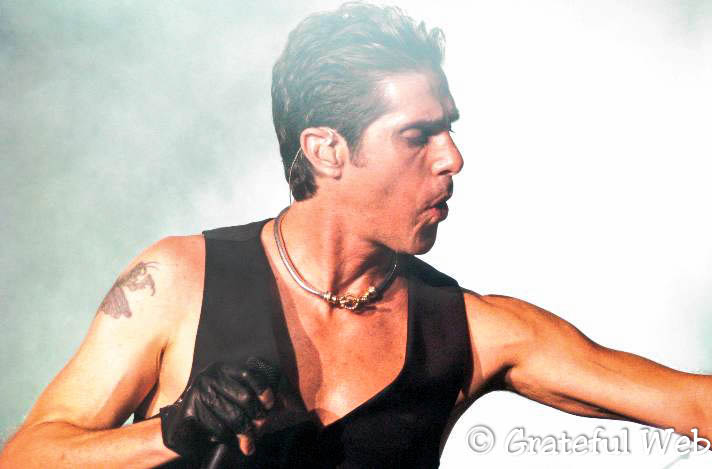 Can Jane's Addiction add a little more showmanship and energy to their set? This question is both rhetorical and sarcastic, thank you. Because if starting the set as a black sheet covering the entire stage set-up dropped and the band immediately ripped, as if hey immediately were traveling 100 miles per hour. Did I mention the women suspended from ropes swinging out over the first few rows of people in the audience? I would have remembered mentioning that. As if all of that wasn't enough, Jane's has Perry Farrell. Every facial expression you could ever contort your face into making was used by Perry throughout the entire set as often as you and I smile. It was comforting to hear Perry's take on their connection to this seemingly foreign fan base. A few too many pot references, yes, but he also eluded to Steve Perkins' older brothers bootleg collection- and his naked ass- in the same story. The pool of covers they drew from; Bob Dylan, Pink Floyd and Rush, showed that they are not so different from us after all. So many of their originals have become sing-alongs for the tweener generation at Vibes. Those of us not quite young enough to be personally effected by the untimely passing of Amy Winehouse earlier today (respect) and too young to have seen triple digit Dead shows, before they were officially known as The Dead that is. Jane's was what I listened to in High School when I stayed up late and knew I was being bad. Perry Farrell seems to have kept that same energy, energy bordering on insanity, over the years and brought it to the stage tonight. Fortunately, he was able to share that supremely positive outlook through his blurry ramblings peppered in between a reggae infused "Sex is Violent" a liberating look at thievery in "Been Caught Stealing" and the expected encore of "Jane Says".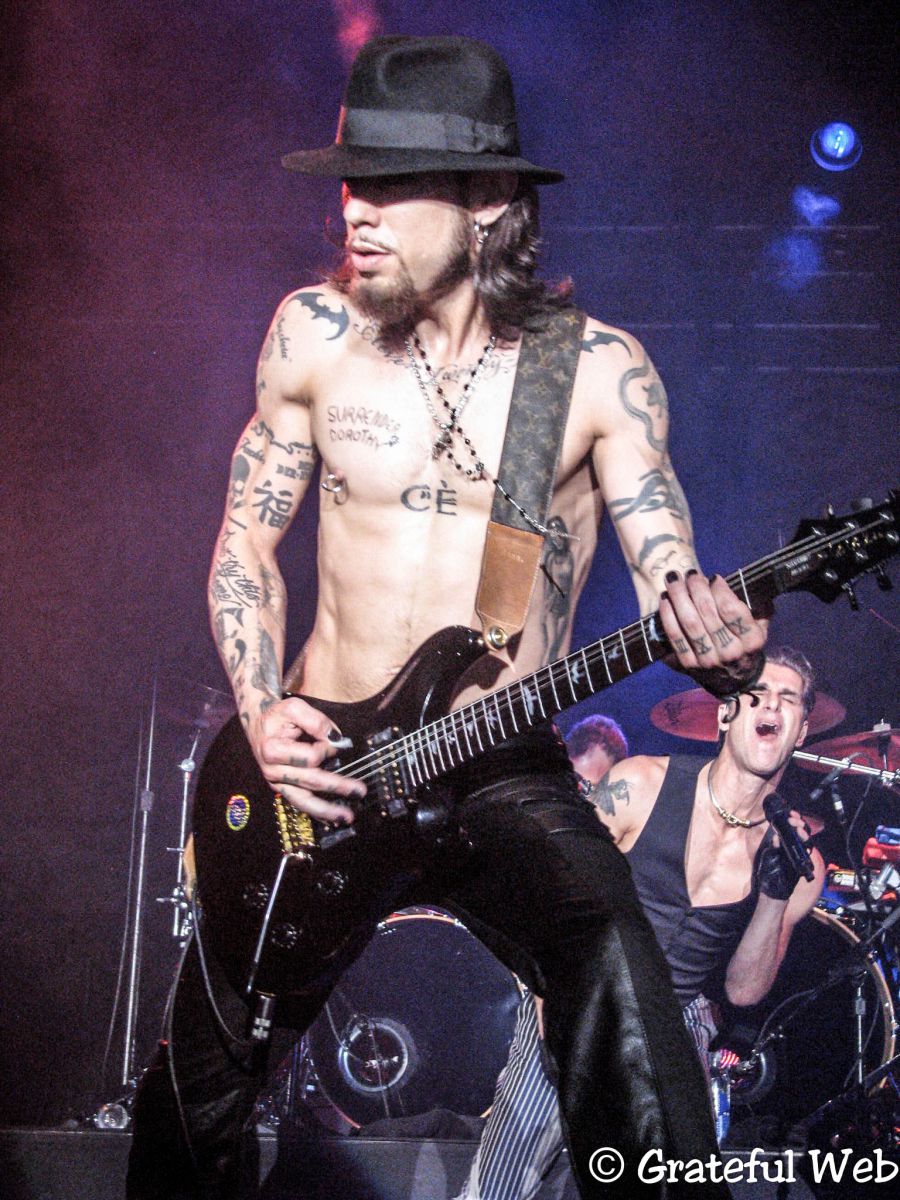 The success of this entire festival up until now, up against the heat, is owed to a tireless staff. If you think that this is the part in the show where I go through all of the names of important people and bore you with them, you're right. But hey, I'm doing it before the end (at least of the weekend) so that's unique, right? Thanks to the guy who looks like Hurley from 'Lost' who has to have sweated through a month's rations of T-shirts today alone, but still greeted me with a smile when I was walking Natalie to sleep. Thanks to the amazing old hippie queen who escorted Laura to the car mid-day today back into the campground and through the car search, admitting that allowing us to keep our glass pot for cooking gave it a better chance of staying intact than a trip to the lost and found in her golf cart would. Thanks to the lowly guys in red event staff shirts, the guys without radios, who simply sit in one spot for twelve fucking hours. The weather may have broken, but you all remain intact.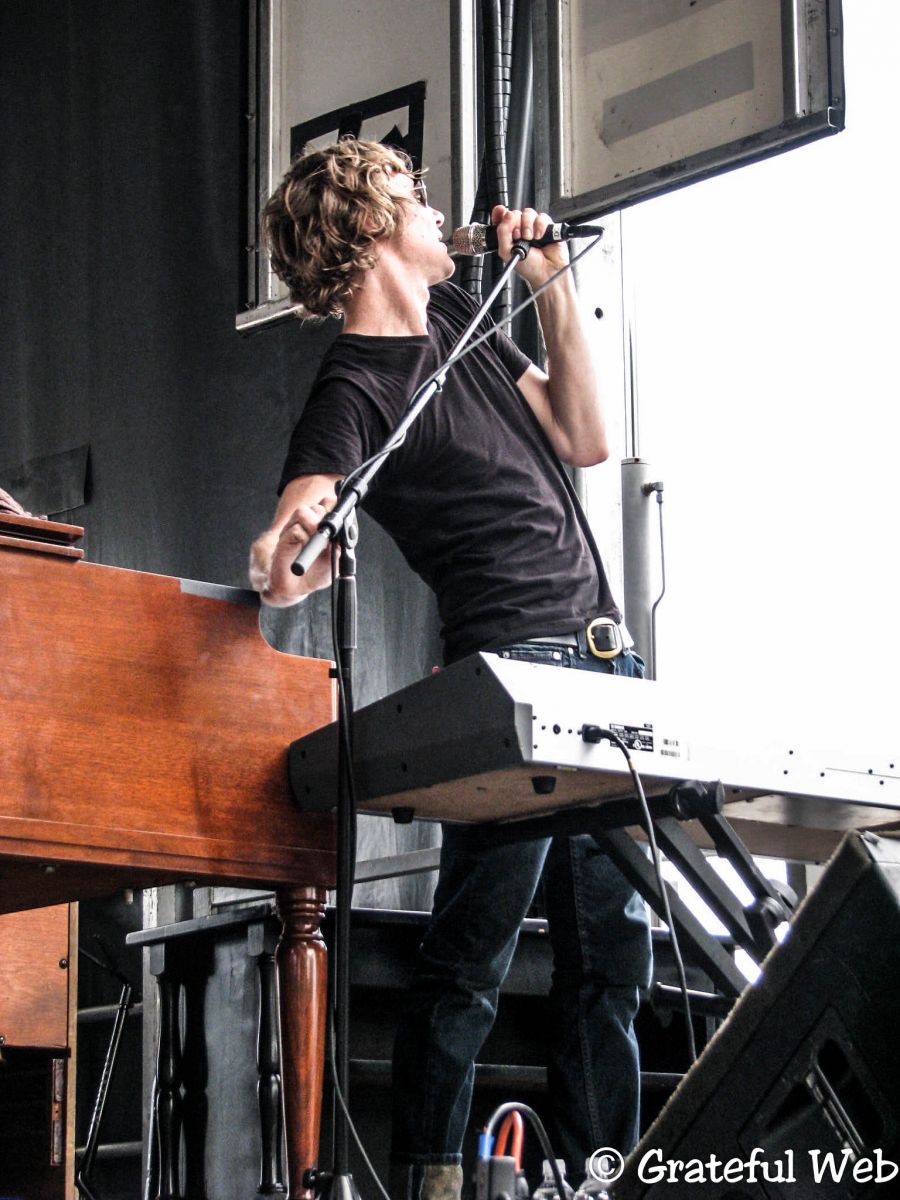 There is a reason that I have seen Mike Gordon, members of the Disco Biscuits, Martin Sexton and nearly every band that has already played walking around this festival. People want to be here, no matter their lot in life. With that, I head to P-Groove. See you tomorrow. P.S. My apologies to Tea Leaf Green. I watched them, They rocked. Reed Mathis grew a weird beard. The have 2 drummers now.  I want to see them again.