ARISE! Those are bold words that I have used in the title of this review, but I have thought long and hard about it, and I can rationalize and explain it. This inaugural festival is one that I will never miss. I was only there for Saturday night and Sunday afternoon, but I did not sleep, and in that short period of time, I was able to completely capture the magic and vibe of this festival.
First of all, ARISE is located in one of the most beautiful and majestic pieces of land in this country. These spacious grounds of the Sunrise Ranch in Loveland, CO is equip with a beautiful lake surrounded by mountains, and included every aspect of heaven on earth a festival can provide. There were several fun and creatively designed stages as well. The Center Stage was where the headliners played and was surrounded by food vendors, craft beer and wine village, a Kid's village and Elder's village. The Solar Overdrive Stage was where an array of mostly local bands played with the exception of a few. It was tucked cozily in a little grove between the trees, and the music that I saw there was great. The Syntonic Stage was a beautifully designed giant DJ booth basically hosted by Family Moons Artist Collective, which went on 24-7. There were some really fun late night and sunrise sets there. The Big Dome was built in the 70's, and hosted music, lectures, movies, and even a chapel on the final day. In addition to the stages, there were themed camps, art installations, yoga tents, a fire pit, Hands-on Jam/Healers, the Zocolo, and best of all, StarWater Bar and Beverage Shop. The StarWater Bar was a grounding tent that served Ozo Coffee by the best baristas I have ever encountered. It was a space full of talented DJs and performers that was open 24-7 to either keep you warm or entertained around the clock.
Next, the performers that participated in the festival did not seem like the greatest lineup of any festival on paper, but based on their performances and the vibe that festival producers created, it could not have possibly culminated any better. Like I said earlier, I missed several amazing acts that I wanted to see and probably missed several others that I would have discovered the first two nights, but I learned a lot on just the last two days. I would have loved to have danced to acts like the Motet, Gregory Alan Isakov, Greensky Bluegrass, Grant Farm, Xavier Rudd, Chali 2Na, Keller and the Keels, Toubab Krewe and Michal Menert or seen the passion in the speeches of speakers Daryl Hannah or Julia Butterfly Hill. But fortunately, I was there in time to see many phenomenal act.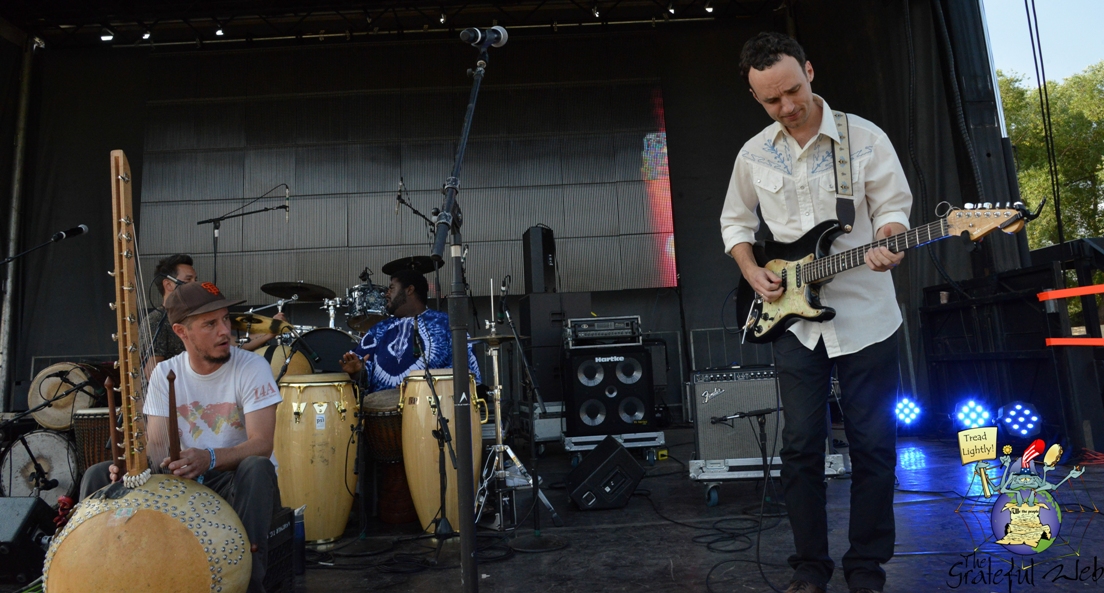 As I pulled into the press camping grounds, I was able to catch one of my favorite drummers Jonny Jyemo laying down the tribal beats with one of his bands TIERRO. It was beautiful to be able to set up my tent while feeling as close to the earth's majesty surrounding me to their very grounding music. I have been a fan of every band that Jyemo has been in for over a decade, and TIERRO did not disappoint.
One of the greatest things about being at a festival like this in its inaugural debut was the peace and space of having so much openness within the different stages. There were not as many attendees as the festival probably intended, which made it incredibly spacious and personal. I laid out a blanket at the main stage and waited for Zap Mama to come on next.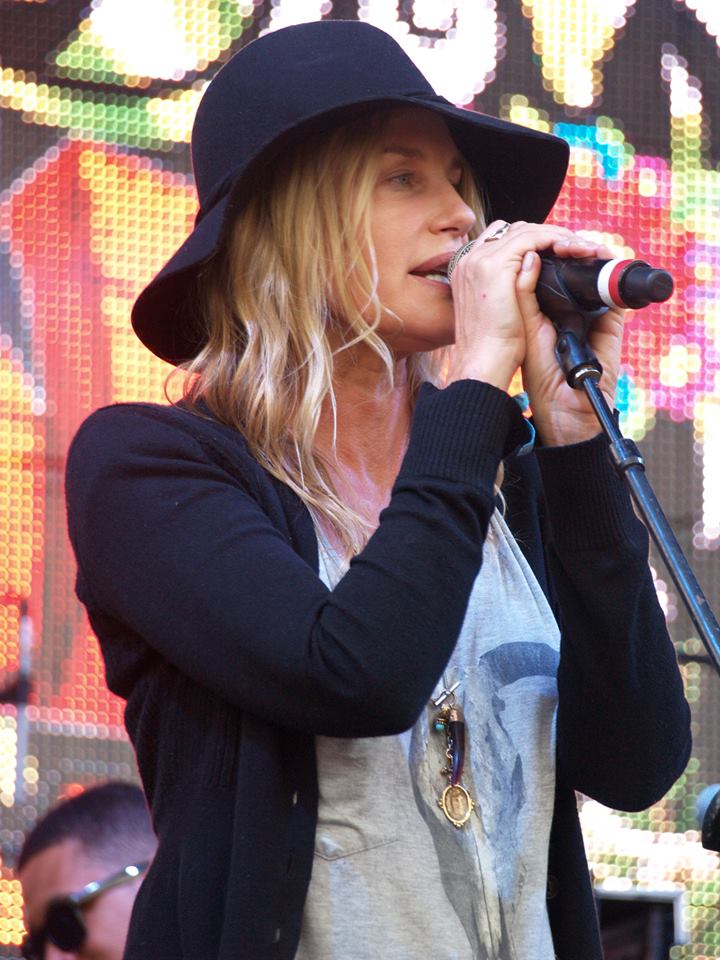 These Belgian beauties were introduced by Daryl Hannah and slowly prowled on stage displaying their Polyphonic Afro-pop status led by Marie Daulne. These women got the crowd engaged in a community of singing with their harmonies and vocal jams. I even spotted Michael Franti in the crowd getting his sing on. During this set, I took a walk over to the Syntonic Stage for a bit to peak at Mouseterious. He was dropping deep beats for an intimate crowd of fewer than ten people or so. After a few minutes, I wanted to see a bit of one of Boulder's new favorite bands, the West Water Outlaws at the Solar Overdrive Stage. I have seen them two times recently. The first time I saw them was when they opened for the Meter Men at the Ogden this spring, and the second time was at the Boulder Bandshell on Memorial Day weekend before Meniskus. Both times, I was thoroughly impressed. These guys are on the move. They rock! Every time I see them they get better and better too. Their retro, but unique rock sound is something that should be on any music lover's list.
The main event was about to go down at the Center Stage, so I got over there just in time for Michael Franti & Spearhead. I have a history with this band and have not written about them since my first review almost a decade ago at one of the first Wakarusa Music Festivals. Franti is a special individual. He is a presence that makes it impossible to be in a bad mood around. I have several stories about different positive experiences with him, but there is one, in particular, I need to share in order to make my point. In 2003, I went to the New Orleans Jazz & Heritage Festival with a couple friends. One of my friends was a girl that knew a lot of people in the music industry. To make a long story short, as she was flirting with a barefooted Franti outside a swanky New Orleans club, several other girls were surrounding him in a couple circle trying to do the same. He saw me over in a corner leaning on the venue purposely trying not to hound the star. At that moment, he literally nudged his way through all of the adoring girls to shake my hand and ask me how I am doing. I was shocked. Not that many rock stars would do that, but it goes to show you a lot about his character, and on that night, I became a big fan of Michael Franti as a person.
The ARISE crowd was anxious for the headliner, and just as one might think, he opened with "Sound of Sunshine." This is a song about being appreciative for being alive. Franti wrote it while he was struggling with a ruptured appendix and in severe pain. Every time he saw a familiar face visit him he felt a lot of joy, and of course, when he saw the sunshine, he felt extremely positive about his situation in life although he was at the moment having a difficult time. The song is uplifting, and the crowd was on their feet bouncing around, and shortly after, he welcomed his "old" friend Jaden Carlson to the stage. Jaden is a 12-year-old sensation who rips on the guitar. This quote is taken right from her website, "At the age of six, Jaden's path was determined at a Michael Franti and Spearhead concert where she decided on the spot that she 'wanted to play music and make people happy like that.' The rest is history in the making…" I have seen her play twice now, and her ability to play the blues and destroy solos is something special. "11:59" and "One Step Closer to You" kept the vibe spread throughout the festival until Franti slowed things down to describe a song that he wrote for his wife. He talked about the tumultuous times that we all have with our loved ones, and how when we have those times we get frustrated and want to quit. But then he realized that it takes work for people who love each other to stay together, and that is why he wrote, "Life's Better With You" for his wife after walking the beach in Bali with her.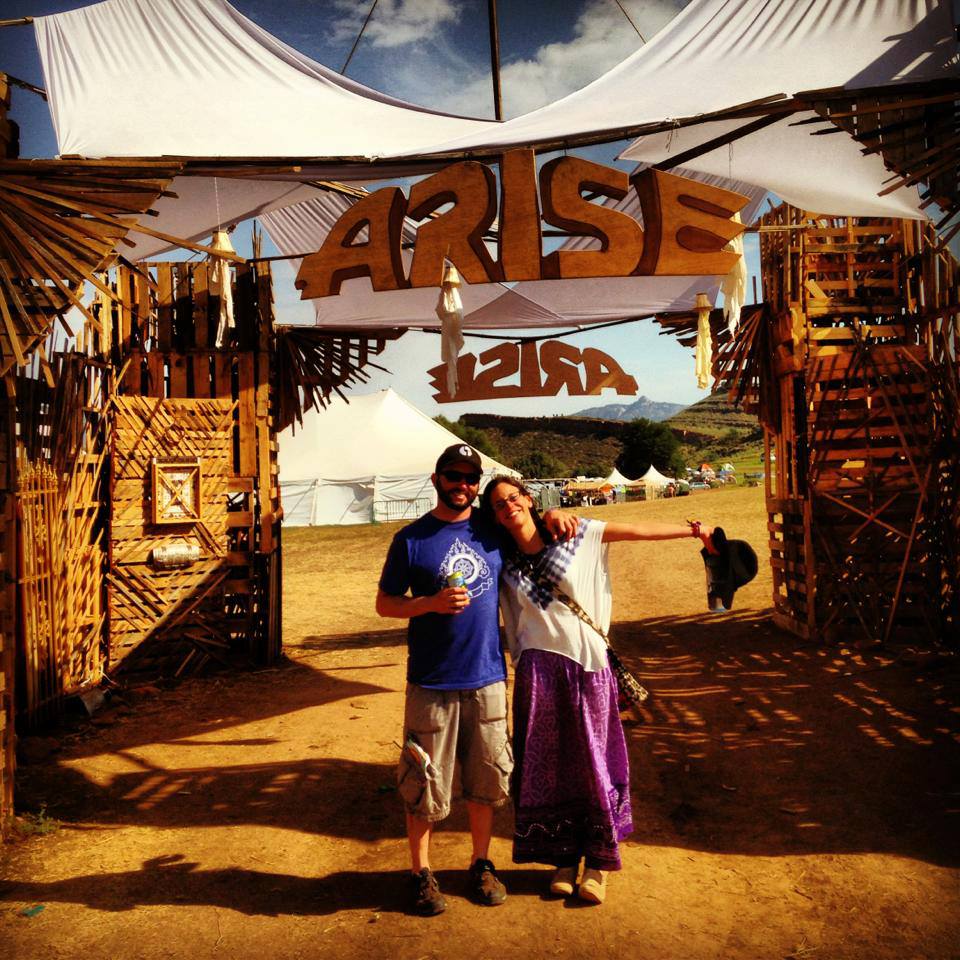 The charismatic frontman commanded attention from the crowd to ask how cool it would be if we were around for the invention of the light bulb or to be around for the first trip to the moon. And then he compared these events to being at the very first ARISE Music Festival, and the tiny, but strong crowd felt the magic and gave their love in an uproar. He said, "Imagine in ten years when the grounds are packed and as far as he can see back to the mountains are full of crowds of passionate people who want to ARISE and contribute to their society." The excited band then erupted into the title track off of their new album, "All People," and Franti described playing for the people and troops in Iraq. Throughout the show, he walked into the crowd several times high fiving people and dancing with them while continuing to perform.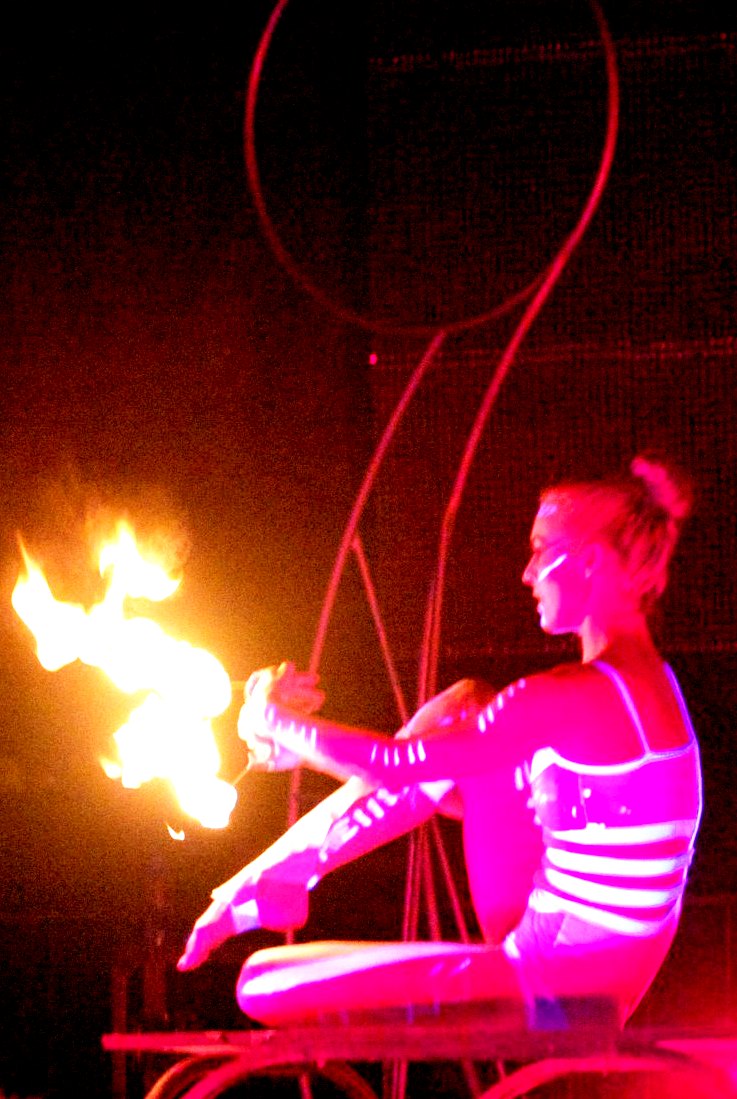 Next, he welcomed Marie Daulne from Zap Mama up to the stage to sing a song with him. When she left he took off towards the back of the crowd an arm's length away from where my friends and I were standing to play on this giant box. A crowd circled him again, and it took me back to New Orleans once again. He blasted "Hey, Hey, Hey" and then called for all of the children to come on stage to sing "Long Ride Home" and end the show with him.
After an incredibly energetic show, the night was young, and I was having a blast. I went to explore the amazing art gallery that the festival offered and stumbled upon an old jamband sound that attracted me coming from the Solar Overdrive Stage. It was an east coast band called Twiddle. After hearing an influence of two of my favorite bands, moe. and Phish, I decided to stay and get down. They jammed to the partying crowd and then it happened. They led one of the own songs right into the middle of "Divided Sky," by Phish, and the crowd went crazy. They did the song justice for sure, and after they finished we eagerly booked in to see Quixotic.
It was about 1am and this band put me into a trance to another world that I never wanted to leave. It was delicious! I was so impressed. They are a combination of a violinist, djs, drummers, and performing artists that played with fire and did acrobatic moves that I have never seen before. It was beautiful. Taken from the ARISE program it reads, "This inventive group of artists goes beyond the limits of any specific art form, challenging traditional perceptions and creating a total sensory experience unlike any other for its audience." Go to quixoticfusion.com to see and hear about this amazing group. I cannot wait to see them again. It was an amazing experience.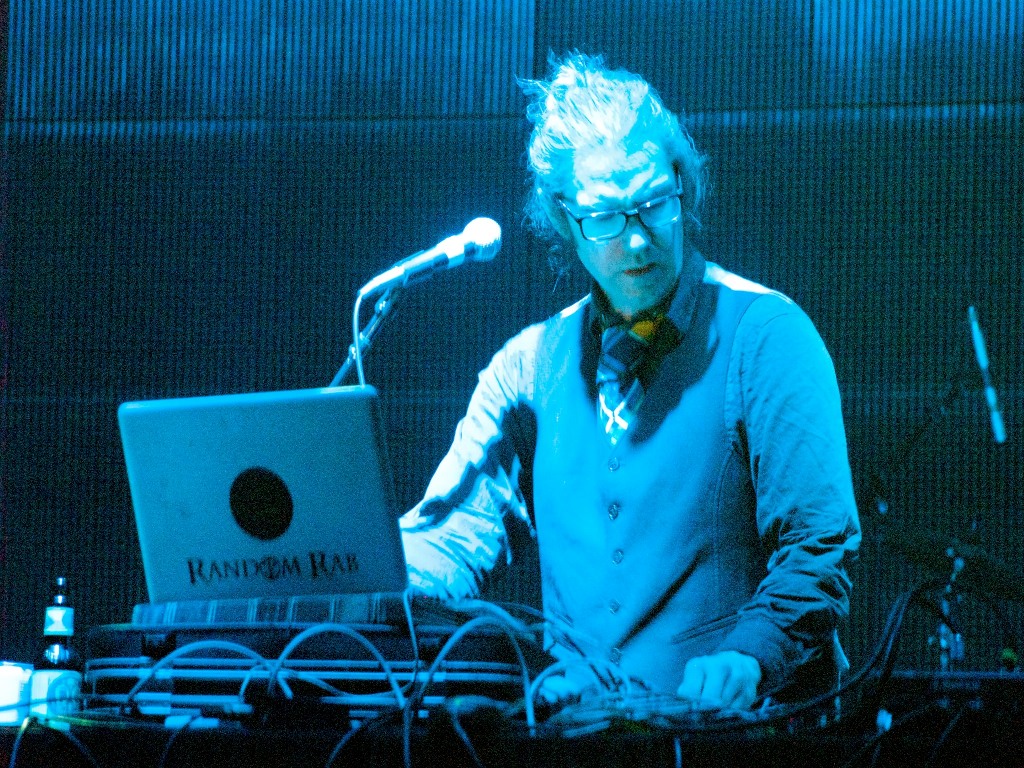 Finally, it was Random Rab's turn to take us on a Shpongle like journey for the next several hours. After a few technical difficulties at 2:30am, Rab got the crowd alive again. The visuals were adventurous, and I was hoping that he never stopped playing. He invokes a certain feeling when he combines his snake charm type voice into his melodic beats, which just seem to fit perfectly into the moment. When his set was over, I did not want to ever sleep again because of all the fun I was having. Therefore, I moseyed back over to the StarWater Bar and Beverage Shop where there was a DJ, drum circle, warm beverages, and a lovely voice improvising a combination of rap and chant. It was an amazing community of people just chillin' out and enjoying the very beginnings of the morning.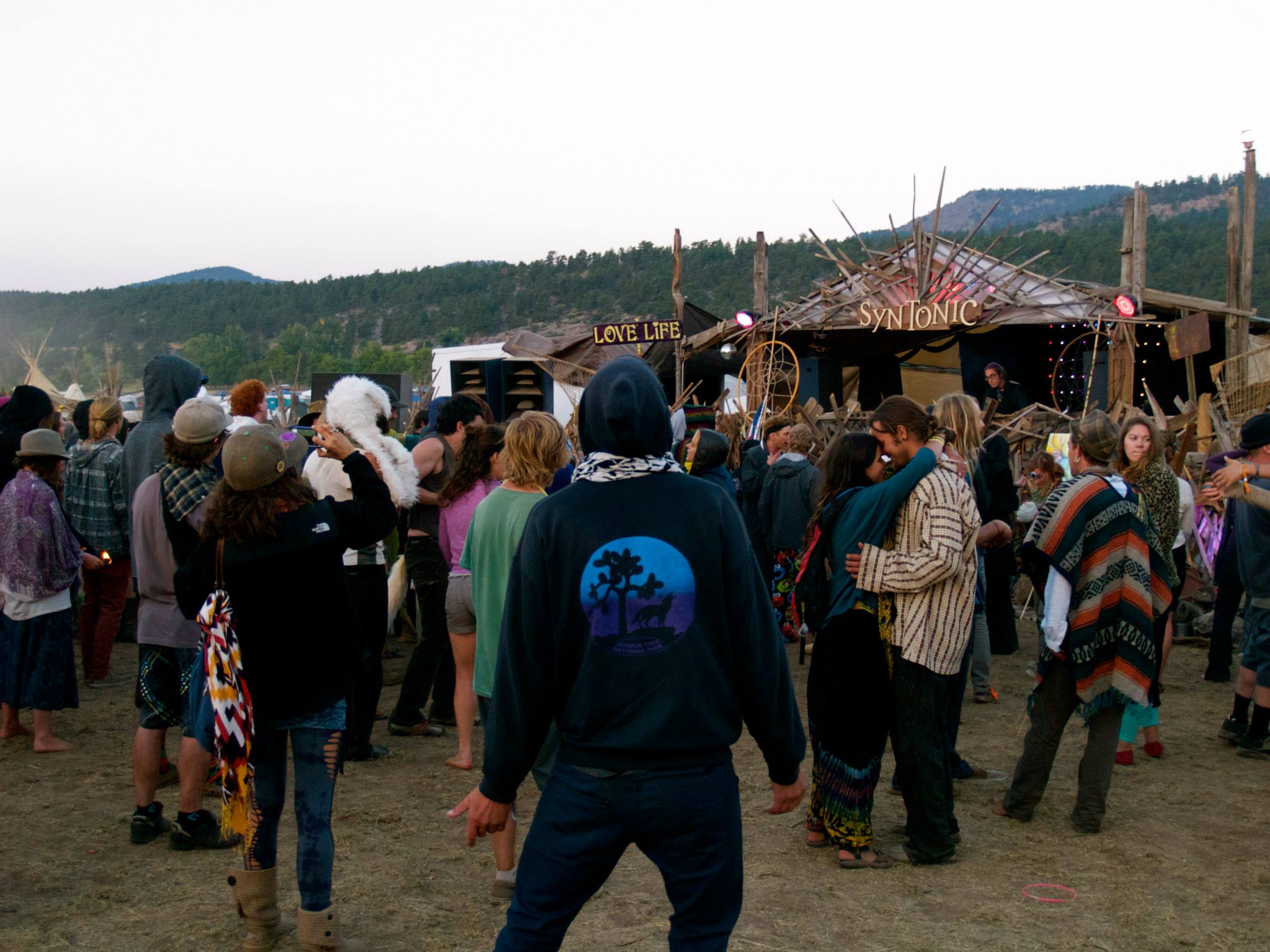 Because we did not want this experience to end, we headed to the only place we could to see music, and what ensued next was mind-blowing. We went to the Syntonic Stage to see the magic of Cloud-D, MIRAJA, and Souljorn take us on a journey of sounds and music while a series of optical illusions and dancing silhouettes entertained the late late night crowd as we waited for the much anticipated Secret Sunrise Set. It was magical. There were only about 50 of us around, but for those lucky enough to catch this, it was epic. At promptly 5:30am when the sun was barely making its presence Random Rab came back to share and create this experience with us. The sun just barely peaked over the mountains and the rays hit Random Rab's stage directly, and the crowd simultaneously all turned to face the mountain while dancing still. I have seen a lot of festivals and concerts, but the last 12 hours that I witnessed at this festival was one of my favorite musical moments I have I ever experienced.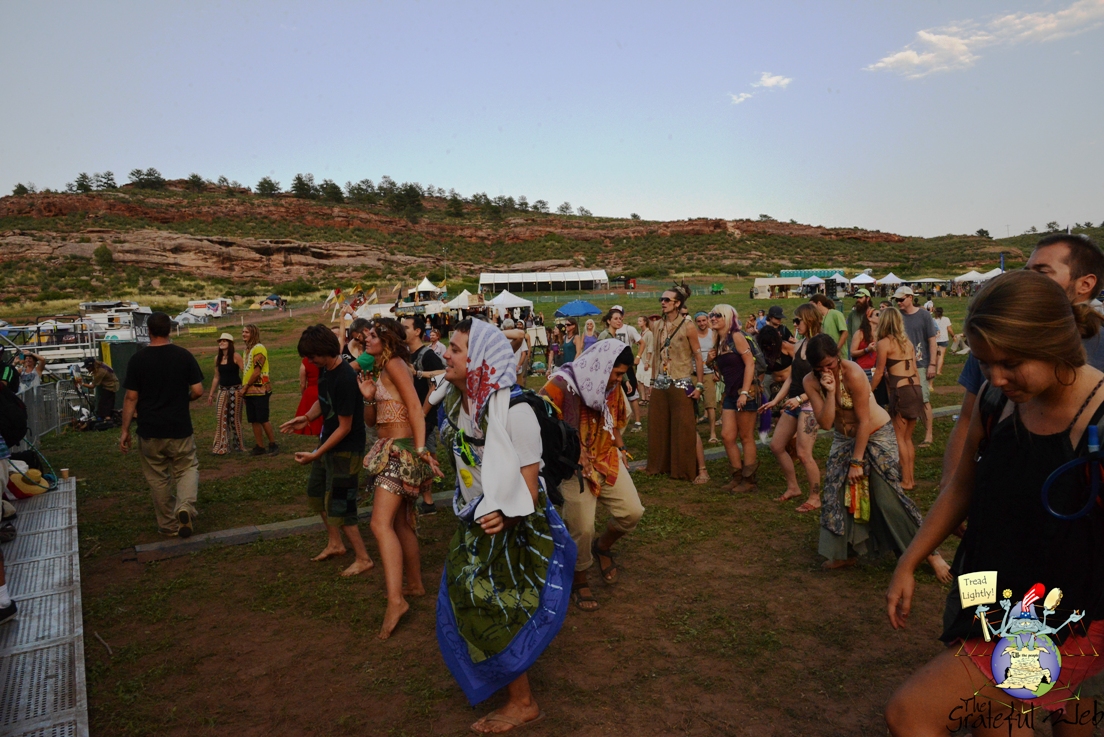 It was 8:15am, and I refused to leave. It was majestic in that land. The lake was shimmering, the fire pit was bustling, it was starting to get hot again, and I was having the time of my life. Just as I was walking to take down my tent (that I never slept in), I stumbled upon an extremely sacred and enlightening ceremony at the Temple of the Heart. It was an area near the entrance in a circle where a monk was chanting with another man. I stopped dead in my tracks to listen. It was meditatively sacred and special. I listened to his beautiful prayer, and when he finished, another Native American ceremony began. A small group of people that likened a fortress of pulchritude began to pray to the four corners, and I was in awe. Indians danced in circles with a giant man dancing and singing with fortitude around with others washed in sage. I could not believe my eyes. This magic would not stop. When it finally did though, I pulled myself away from the festival grounds leaving with visions of returning in years ahead. If this festival keeps this authenticity, power, and positive vibe, I will never miss another as long as I can.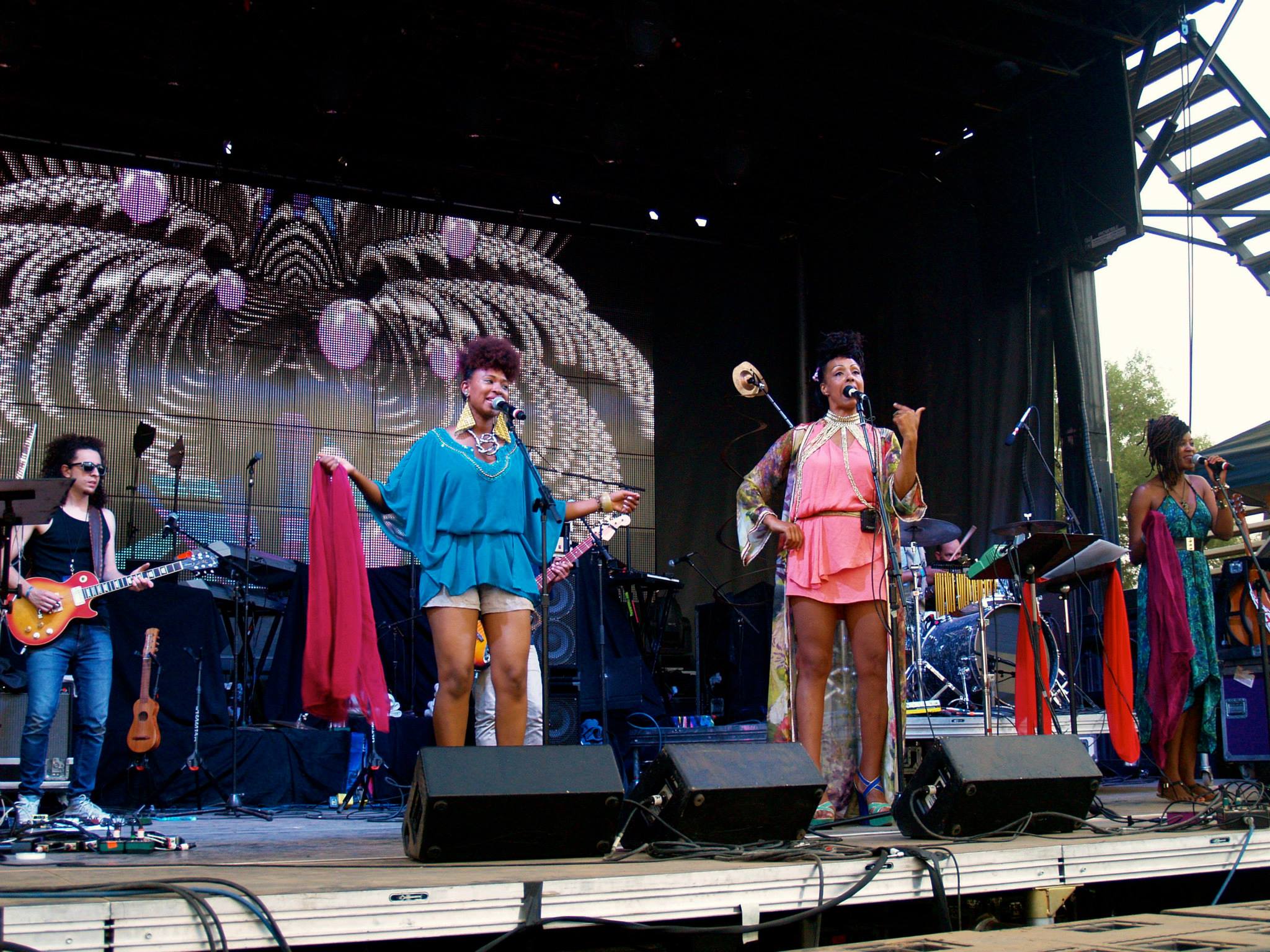 Check out more photos from ARISE Festival: Thursday | Friday | Saturday | Sunday