Today, North Carolina-based alternative rock sextet Big Something unveils their newest single, "Clouds Unplugged" featuring Justin Osborne of SUSTO. The haunting new track heralds the upcoming release of the band's seventh full-length studio album, Headspace, arriving November 17th via Truth Serum Records.
"Clouds Unplugged" is an evocative reimagination of recently released single "Clouds", a first time writing collaboration between Big Something, Justin Osborne, and Andy Frasco. The unplugged rendition arrives featuring vocals from Osborne instead of Frasco over a stripped-back, soul-stirring, and emotive take on the sanguine track, presented earnestly with two acoustic guitars and echoing unison vocal work from frontman Nick MacDaniels. Lyrically, "Clouds Unplugged" sheds light on the struggle presented by addiction and the decision to rejoin reality or surrender to the clouds.
MacDaniels explains, "one of my favorite parts about making Headspace was becoming friends with Justin. Frasco helped connect us. He said, 'if there's anyone who knows how to finish a song, it's Justin.' I was a little unsure at first about writing with someone I didn't know, but we instantly clicked and finished vocal parts for both 'Clouds' and 'The Mountain' all in one morning in a cabin in the Asheville mountains. There was a squirrel who lived on the porch of the cabin that the owners encouraged their guests to feed. We fed him nuts while he listened to us play music all morning. It was awesome. Shoutout to Giddy the squirrel.
The spirit of the session felt similar in a lot of ways to writing with my old friend Paul, Big Something's primary lyricist who passed away in 2017. I love how these new songs still have some of his style. Justin is an incredible singer and songwriter and it was a truly an honor getting to create with him."
WATCH | Big Something - Clouds Unplugged (with SUSTO)
Accompanying the release is a pro-shot music video captured at Winston-Salem, NC's historic Millennium Center.  Directed by MacDaniels, the bare-bones, straightforward visual places two of the Carolinas' brightest luminaries of rock and roll front and center.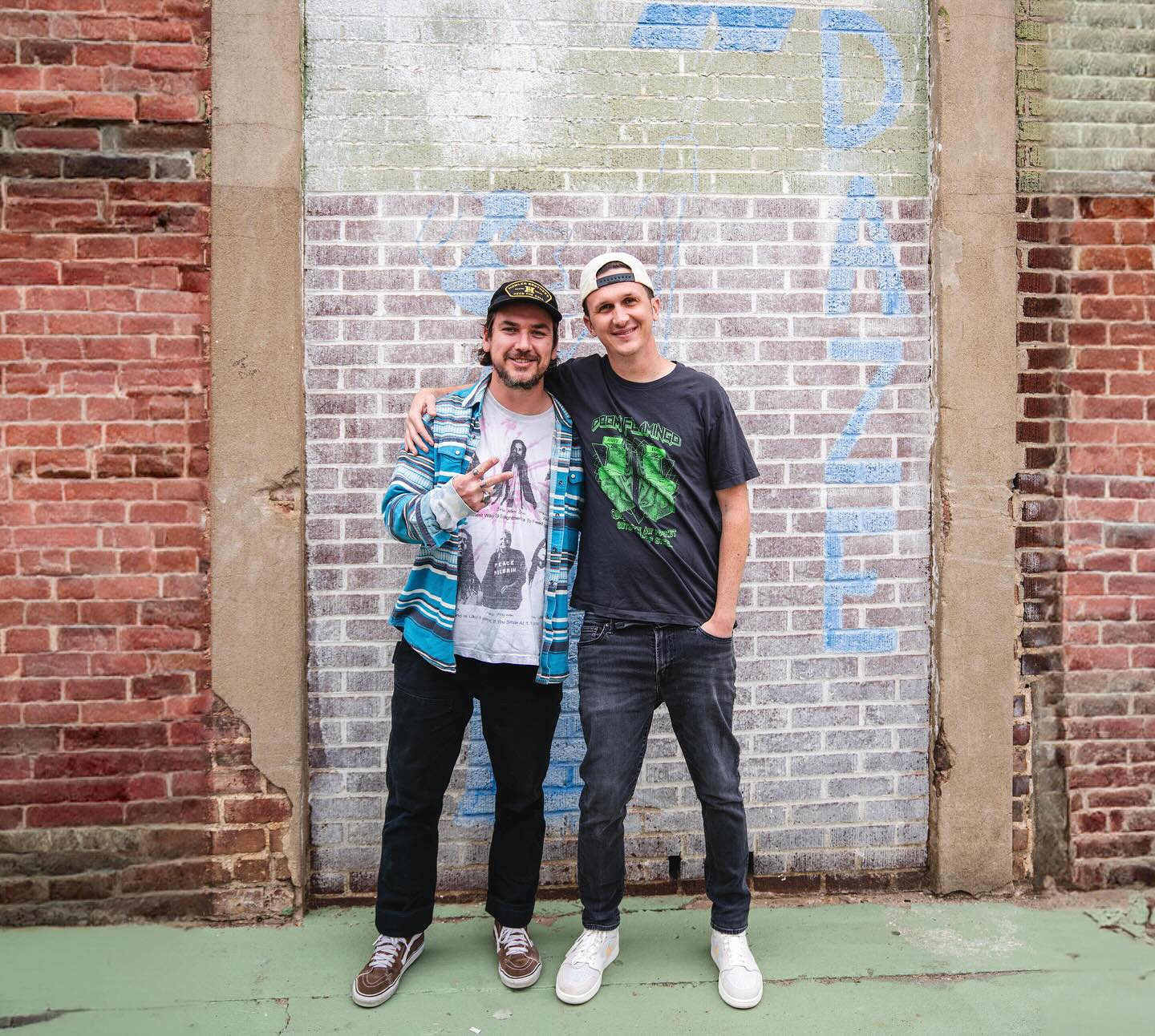 Big Something's forthcoming 12-track album Headspace was recorded at the legendary Pachyderm Recording Studios—the birthplace of Nirvana's In Utero. Accompanied by GRAMMY® Award-nominated longtime producer John Custer, the band immersed themselves in the project, living together in a serene guest house tucked into nature.
As they gear up for their national "Headspace Tour," Big Something remains committed to supporting organizations and nonprofits working to aid those struggling with mental health, addiction, incarceration, and more.
With the release of Headspace, the band will spotlight Sound Mind Live, a non-profit organization that catalyzes action on mental health by fostering community, open dialogue, and support-seeking on mental health through the power of music.
"We're so thrilled to be partnering with Big Something, and that the band is taking a courageous stand to use their voice to open up conversation on mental health and increase access to resources," said Sound Mind Live Executive Director Chris Bullard. "Music has the power to inspire, connect, and drive social change - and working with artists like Big Something to support their community and fans has a transformative impact on individual lives as well as longer-term shifts in cultural norms around compassion, empathy, and support-seeking."
Big Something recently ignited the stage at Winston-Salem, NC's Millenium Center at their "Haunted Mansion" Halloween show.  Following an album release listening party on Friday, November 17th at High Rock Outfitters in Lexington, NC, the band will embark on their nationwide "Headspace Tour," commencing in December 2023.
The massive tour includes a momentous New Year's run (December 29-31, 2023), at Raleigh's Lincoln Theatre, and stops in Colorado (March 6-9, 2024), California (March 19-23, 2024) and the Midwest (April 2024). Tickets for all tour dates are on sale now.
TICKETS | Headspace Tour
"Headspace Tour" Dates:
11/17 •  Lexington, NC  •  High Rock Outfitters (Headspace Album Listening Party)
12/14 •  Baltimore, MD •  8x10
12/15 •  Baltimore, MD •  8x10
12/16 •  Harrisburg, PA •  XL Live
12/22 •  Hartford, CT •  Infinity Live
12/23 •  Pembroke, MA •  Soundcheck Studios
12/29 •  Raleigh, NC •  Lincoln Theatre
12/30 •  Raleigh, NC •  Lincoln Theatre
12/31 •  Raleigh, NC •  Lincoln Theatre
1/26 •  Asheville, NC •  Salvage Station
1/27 •  Asheville, NC •  Salvage Station
2/1 •  Roanoke, VA •  5 Points Music Sanctuary
2/2 •  Charlotte, NC •  Visulite Theatre
2/3 •  Atlanta, GA •  Variety Playhouse
2/8 •  Birmingham, AL •  Zydeco
2/9 •  Knoxville, TN •  Bijou Theatre
2/15 •  Charleston, SC •  Charleston Pour House
2/16 •  Charleston, SC •  Charleston Pour House
2/17 •  Charleston, SC •  Charleston Pour House
3/5 • Durango, CO • Animas City Theatre
3/6 •  Telluride, CO •  Sheridan Opera House
3/7 •  Crested Butte, CO •  Public House
3/8 •  Steamboat Springs, CO •  Schmiggity's
3/9 •  Denver, CO •  Mission Ballroom
3/13 •  Boise, ID •  The Olympic
3/14 •  Bend, OR •  Volcanic Theatre Pub
3/15 •  Portland, OR •  The Get Down
3/16 •  Seattle, WA •  Tractor Tavern
3/19 • Chico, CA • Lost on Main
3/20 •  Nevada City, CA •  Crazy Horse Saloon
3/21 •  Sebastopol, CA •  Hopmonk Tavern
3/22 •  San Francisco, CA •  The Chapel
3/23 •  Los Angeles, CA •  Troubadour
3/24 •  Phoenix, AZ •  Crescent Ballroom
4/10 •  Columbus, OH •  Summit Music Hall
4/11 •  Cleveland, OH •  Mahall's
4/12 •  Buffalo, NY •  Iron Works
4/13 • Ferndale, MI • The Loving Touch
4/14 •  Grand Rapids, MI •  The Stache
4/17 • Des Moines, IA • xBk Live
4/19 •  Covington, KY •  Madison Theater
4/20 •  Chicago, IL •  Lincoln Hall
4/21 •  Madison, WI •  High Noon Saloon
4/24 •  Kansas City, MO •  Knuckleheads
4/25 •  Oklahoma City, OK •  Beer City Music Hall
4/26 •  Dallas, TX •  Deep Ellum Art Co
4/27 •  Austin, TX •  The Parish
4/28 •  Houston, TX •  Last Concert Cafe
5/2 •  Sanford, FL •  Tuffy's
5/3 •  Jacksonville, FL •  Underbelly
5/4 •  St. Petersburg, FL •  Floridian Social Club
5/8 •  Pittsburgh, PA •  Thunderbird Cafe
5/9 •  Philadelphia, PA •  The Foundry
5/10 •  New York, NY •  Brooklyn Made
5/11 •  Washington, DC •  The Atlantis