From one end to the other – a total of about 2 hours-15 minutes without intermission – the current Celebrating David Bowie tour is a firehose of classic Bowie songs. And the crackin' eight-piece band just turns on the flow and lets it go.
In fact, the set features 30 songs – a generous list by many folks' standards – and, yet, the show doesn't feel long. And the tour won't be either. This breathless, five-week Bowiefest – headed up superstar frontmen/vocalists Angelo Moore and Royston Langdon, and guitarists/vocalists Todd Rundgren and Adrian Belew – is already two weeks in but still in progress. So let's just start by saying that even if you are only a casual David Bowie fan and this tour should come anywhere near you, then you absolutely must see one of these shows. Maybe even more than one, if you can at all swing it!
As CdB member Belew told us in a recent interview here on gratefulweb.com, the beauty of this show is that with so many singers sharing the vocals, "no one is trying to be David Bowie." Amazingly, although every singer brought his own flair and spin to this eclectic, vocally-demanding body of work, they hit the Bowie bull's eye every time with their collective variations in the October 15 show at the Goodyear Theater, in Akron, Ohio. Quite often, their vocals were so uncannily Bowie-like you could close your eyes and imagine it was David himself, as if Time had not ever stolen him away.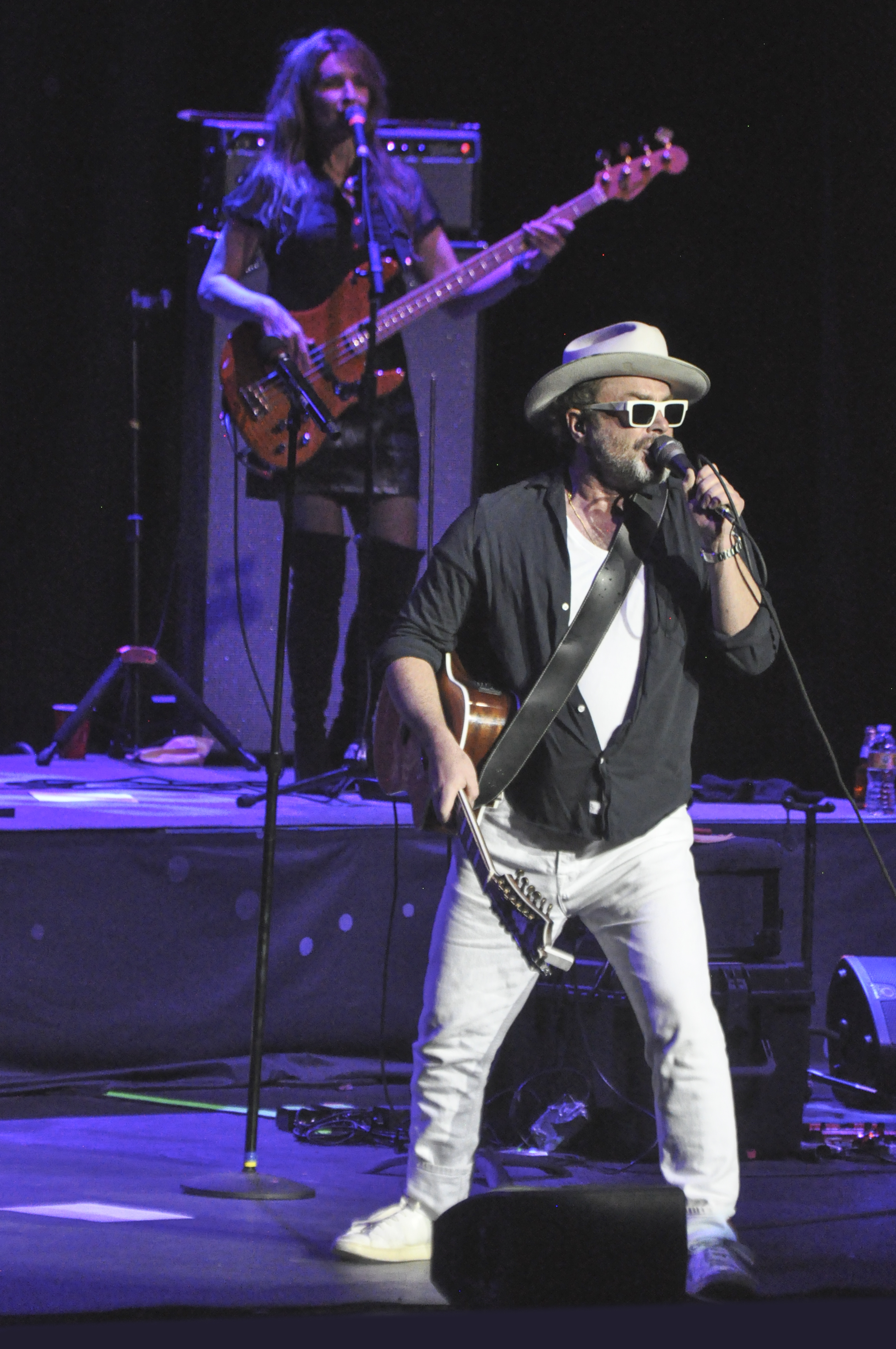 Each singer took a share of the songs so that the burden didn't fall to any one person for too long. This genius move helped to keep the pace move briskly and nicely juxtaposed. For example, the first four songs alone each featured a rotating singer, in the order of Belew, Rundgren, Moore and Langdon. That was 20 minutes in, and it felt like three. And that was the prevailing vibe for the entire running time of the show.
Judging from his workman-like jeans, T-shirt and ball cap attire at least, one can safely say that Belew was definitely not trying to visually compete image-wise with the glam, theatrical, shape-shifting of the original Thin White Duke. (Oh, snap! Check out those bright-red, sequined slippers he was wearing!) He simply took the lead with vocals and rhythm guitar with a beatific grin on the jaunty opening song, 'Sound and Vision', adding an endearing isolated vocal coda to the song.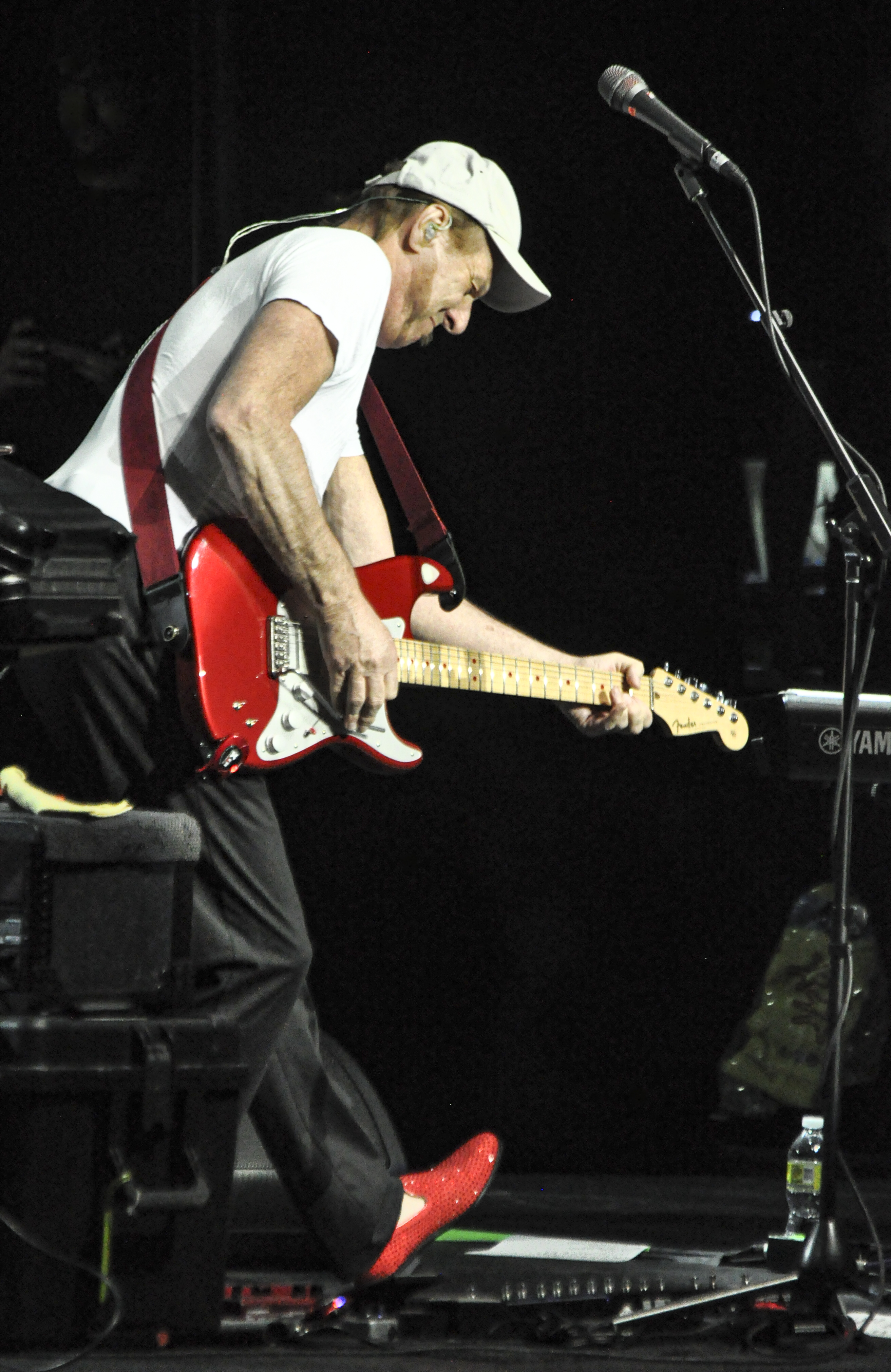 Next up was Rundgren, who, after Belew had dashed off into the wings, strutted onto the stage in a canary-yellow suit and launched into a groovy, sax-driven version of 'Young Americans'. His broad, projecting vocals gave it a rousing feel of an encore performance in spite of its early appearance in the show.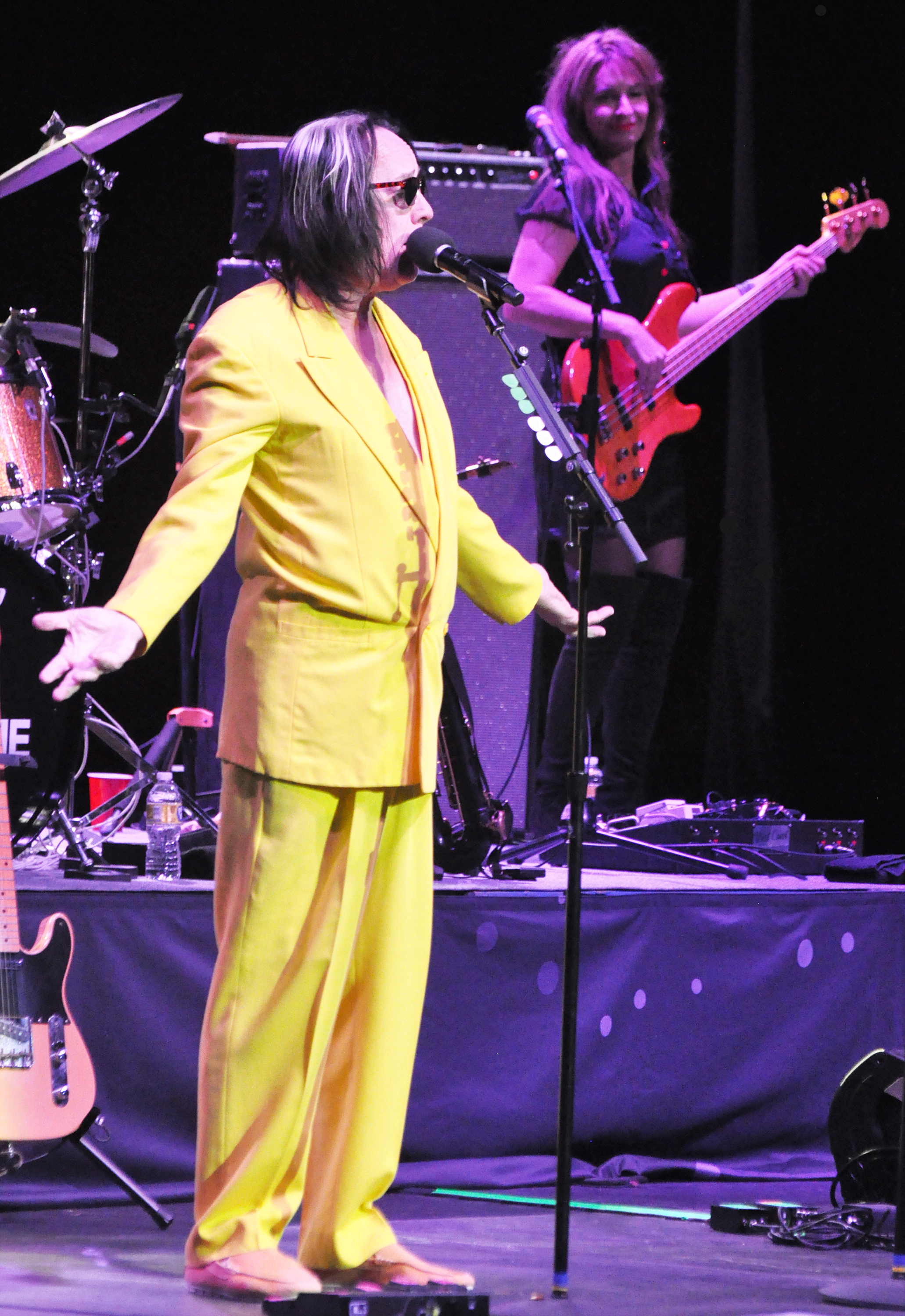 This early infusion of energy set the stage perfectly for the shaman-like persona of Fishbone vocalist Angelo Moore, who arrived as a man on a mission, definitely bringing a shitload of glam that had been dialed back so far in the show. As he burst out tornado-like, he sported a white bowler hat, a black robe, voodoo face paint and skull-and-crossbone socks for his wildly amusing, in-our-faces take on 'Moonage Daydream'. Awwwwww, yeaaaah!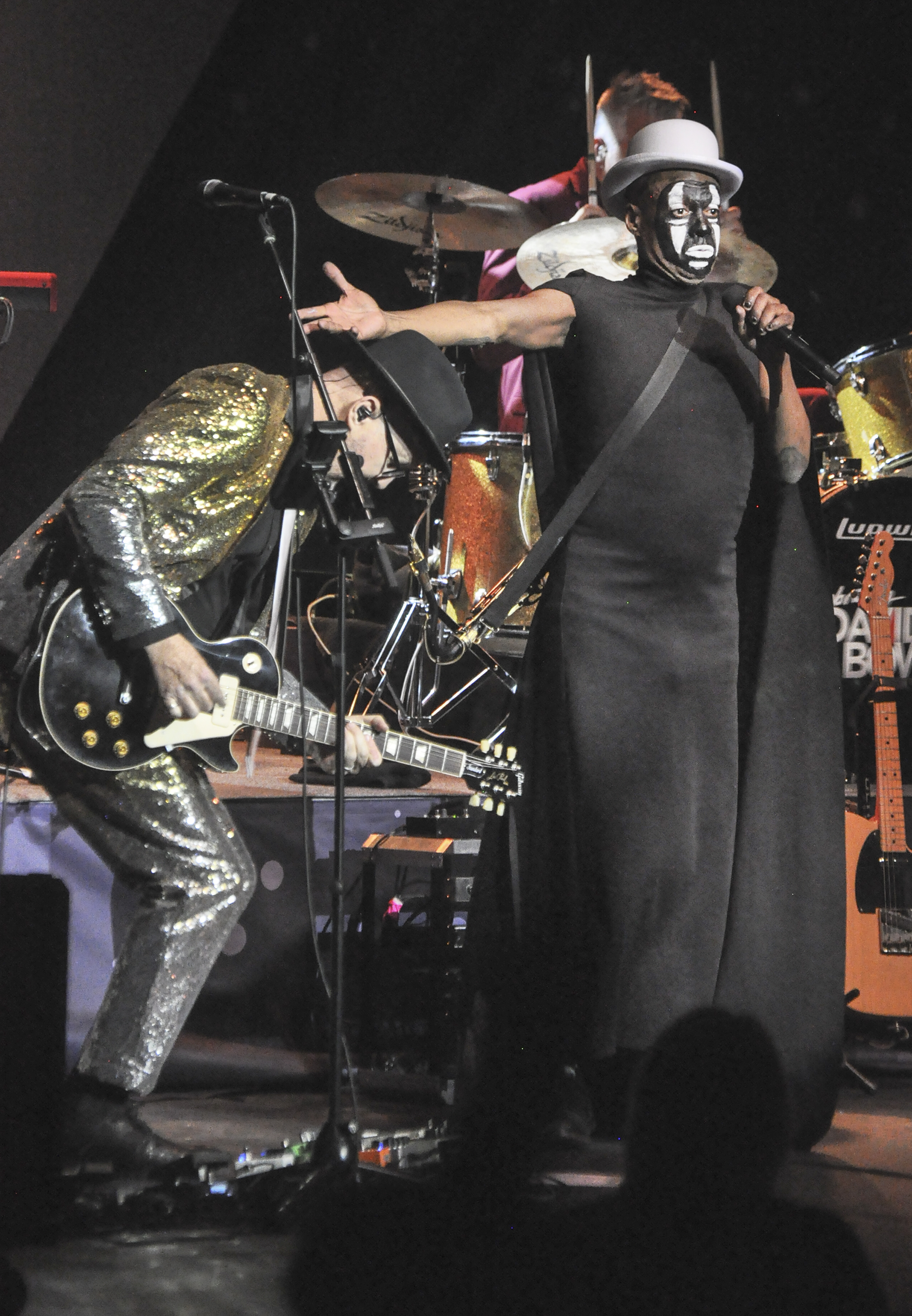 In contrast to all this switched-on extroversion, Royston Langdon was, at first anyway, all hipster-cool with his acoustic guitar, white Trilby hat and white-rimmed shades for the next song, 'Rock and Roll Suicide'. Yet, even this former Spacehog vocalist, who has often cited Bowie's influence upon his own singing style, drove the song's dynamics hard. Taking the song from low register to the top of the scale, in seconds flat, he turned in a neck-hair-raising delivery that convincingly conjured Bowie's electrifying, early Ziggy Stardust years.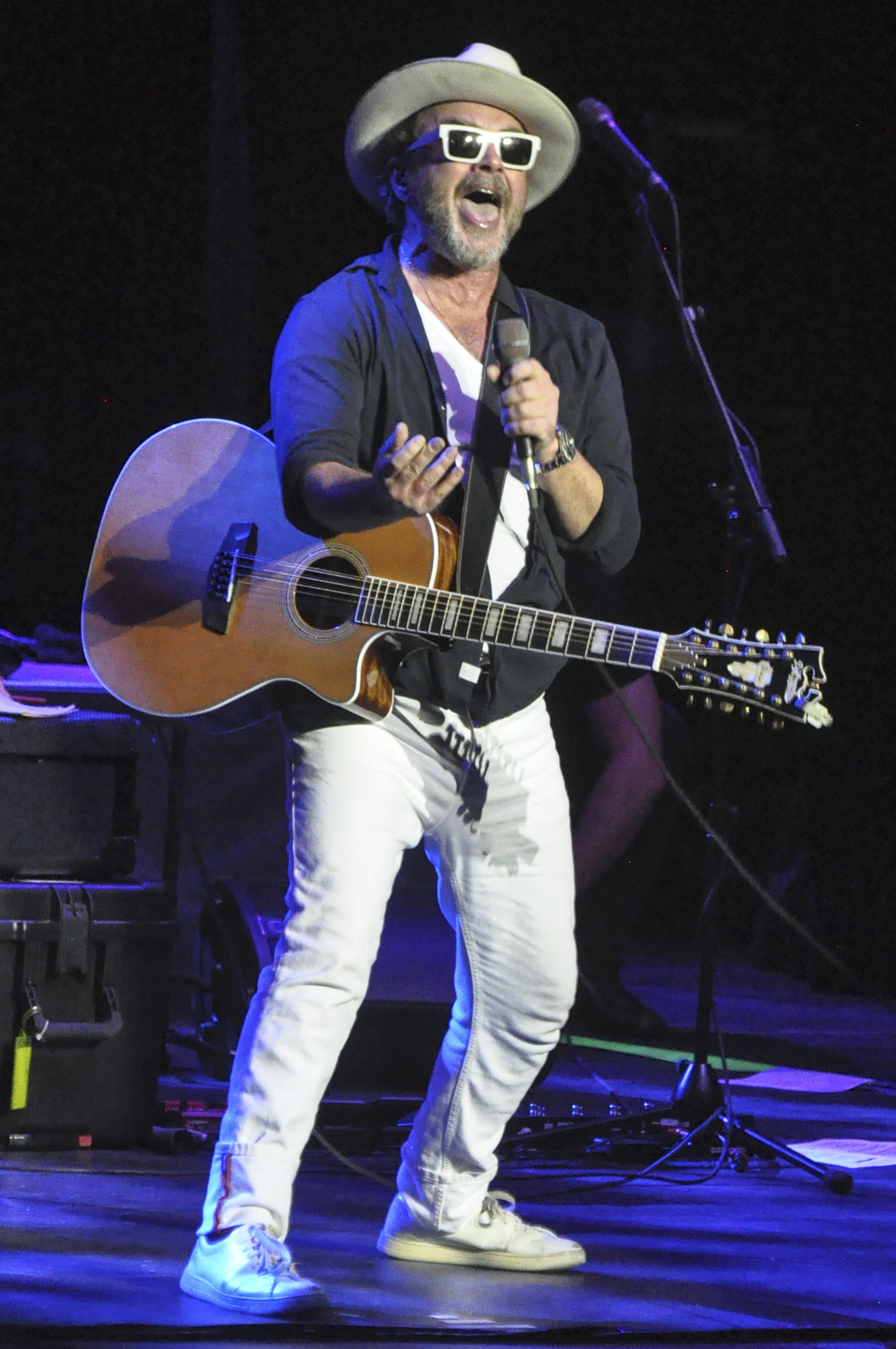 The band – which also includes bassist Angeline Saris, saxophonist/keyboardist Ron Dziubla and drummer Travis McNabb – already had the audience right where they wanted them, and then the stew began to bubble as the rotation order changed. Rundgren returned, this time in blue-green casual wear and loafers with his emotive take on Bowie's early-'70s classic 'Changes'. Once again, saxman Dziubla brought his horn beauty and agility to this song, weaving around through the verses and choruses, then painting a bittersweet, watercolored exit solo, just like a fading sunset.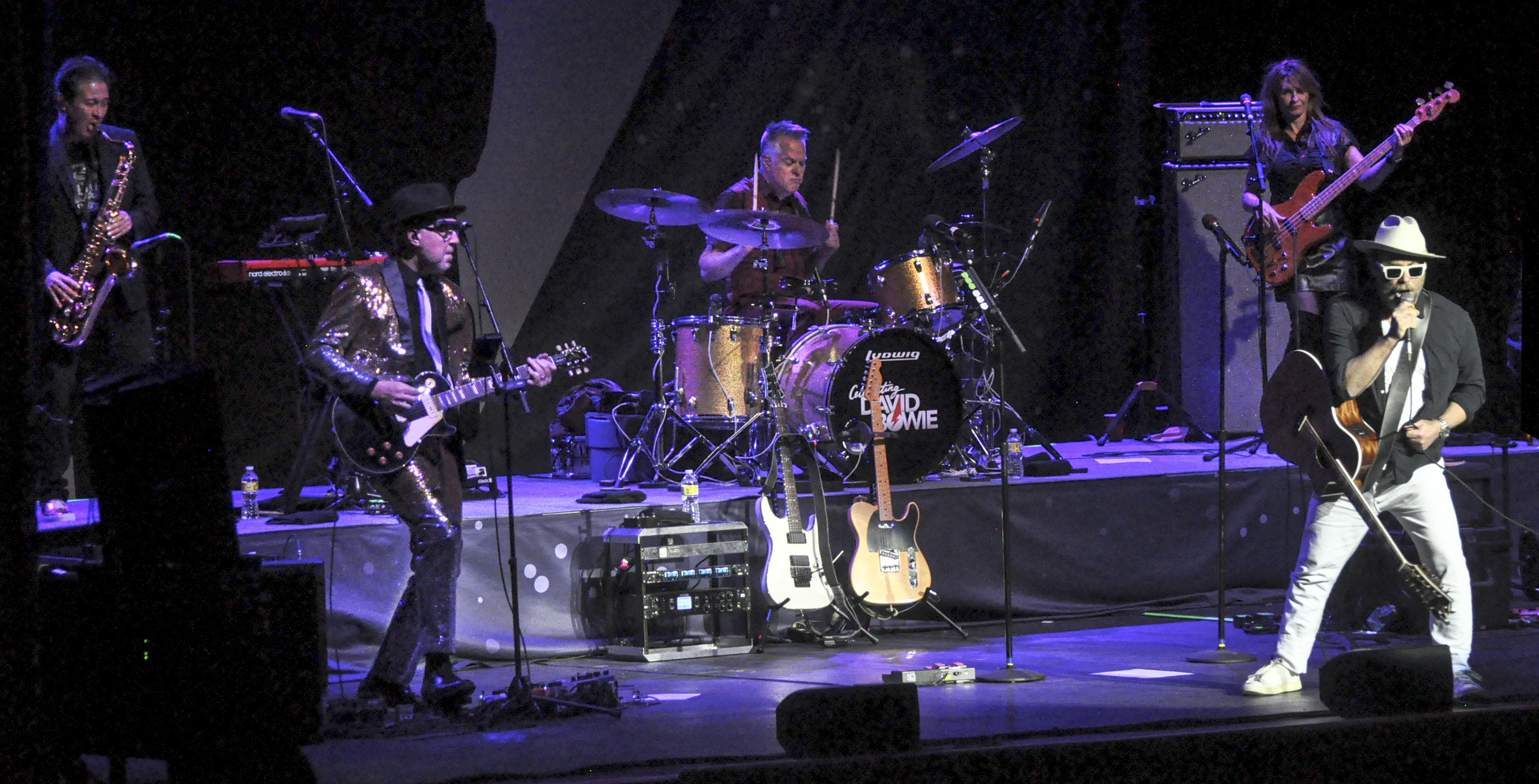 The sunset gave way to an astronomical theme for the first time in the evening, when Belew made a few eyes wet with his keening, sing-along version of the epic Ziggy Stardust song 'Starman'. This time around, Langdon came third in line, with a gritty, churning version of the cryptically melancholy 'The Man Who Sold the World'.
Then, Angelo Moore, in a fez and a red, sequined suit, came bounding back as if he had never left, with the funkiest dance moves, for a frenetic, falsetto-filled performance of 'John, I'm Only Dancing'. That was 35 minutes in, and the room was humming harder! By now, this band – headed by the mirror-ball-suited guitarist and CdB musical director Scrote (Angelo Bandini) – had made a direct hit with the audience, and proved that they know how to pick a set and work a room!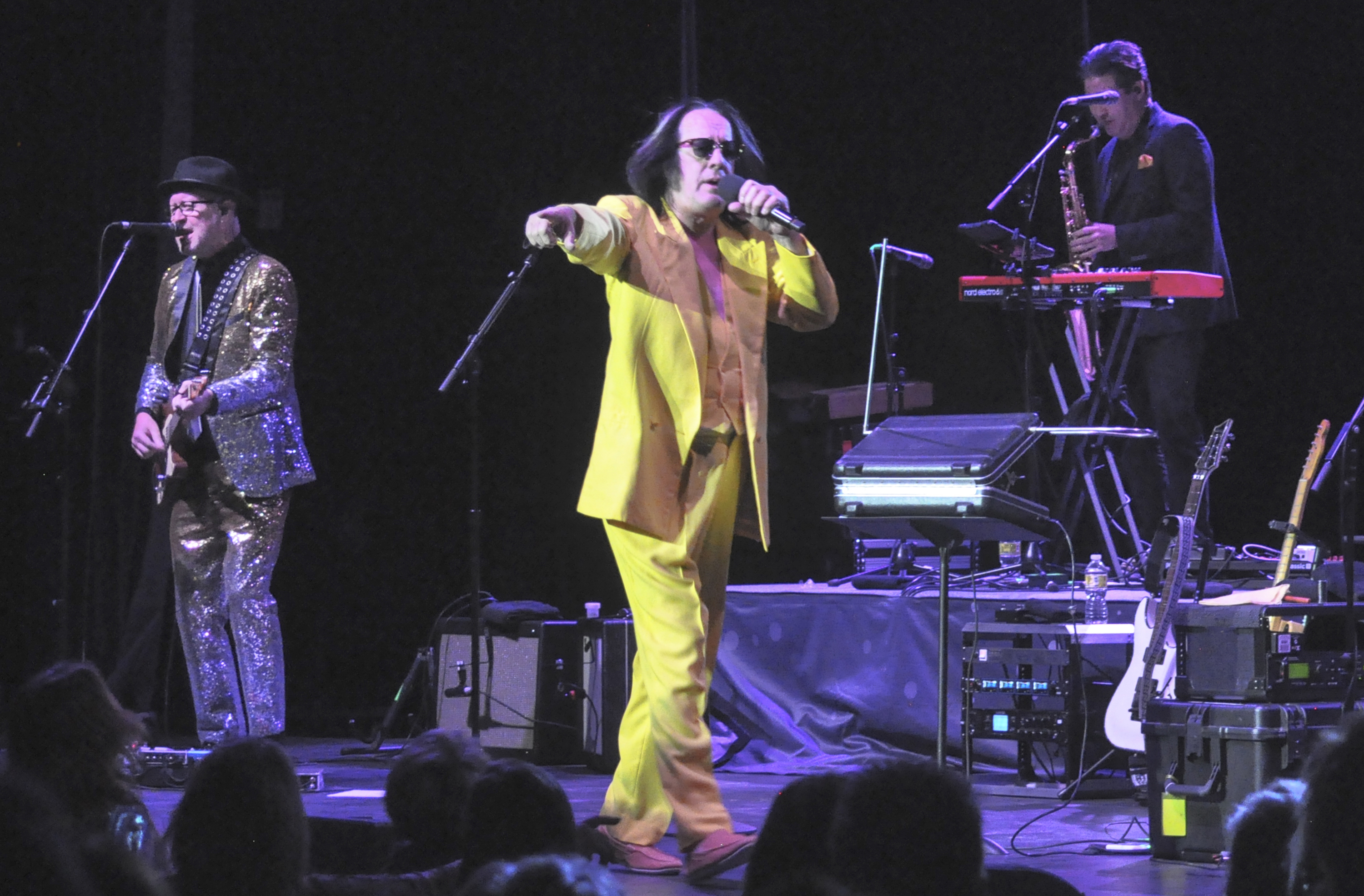 The room-working continued with more zooming around the Bowie Universe, from the breakthrough early '70s years to even earlier in time, then into the 'Art Decade' period of the later '70s and forward to the '80s and 90s. Albums that got spot-checked throughout the night included many obvious picks, including The Rise and Fall of Ziggy Stardust and the Spiders from Mars, Station to Station, Let's Dance,Young Americans and Diamond Dogs. But the moodier and more industrial 'Berlin trilogy' period of 1976 to 1978 was also highlighted with songs from Low, Heroes and Lodger, and the latter album was actually represented with the only medley of the night, a Belew-fronted splice of 'D.J.' and 'Boys Keep Swinging'.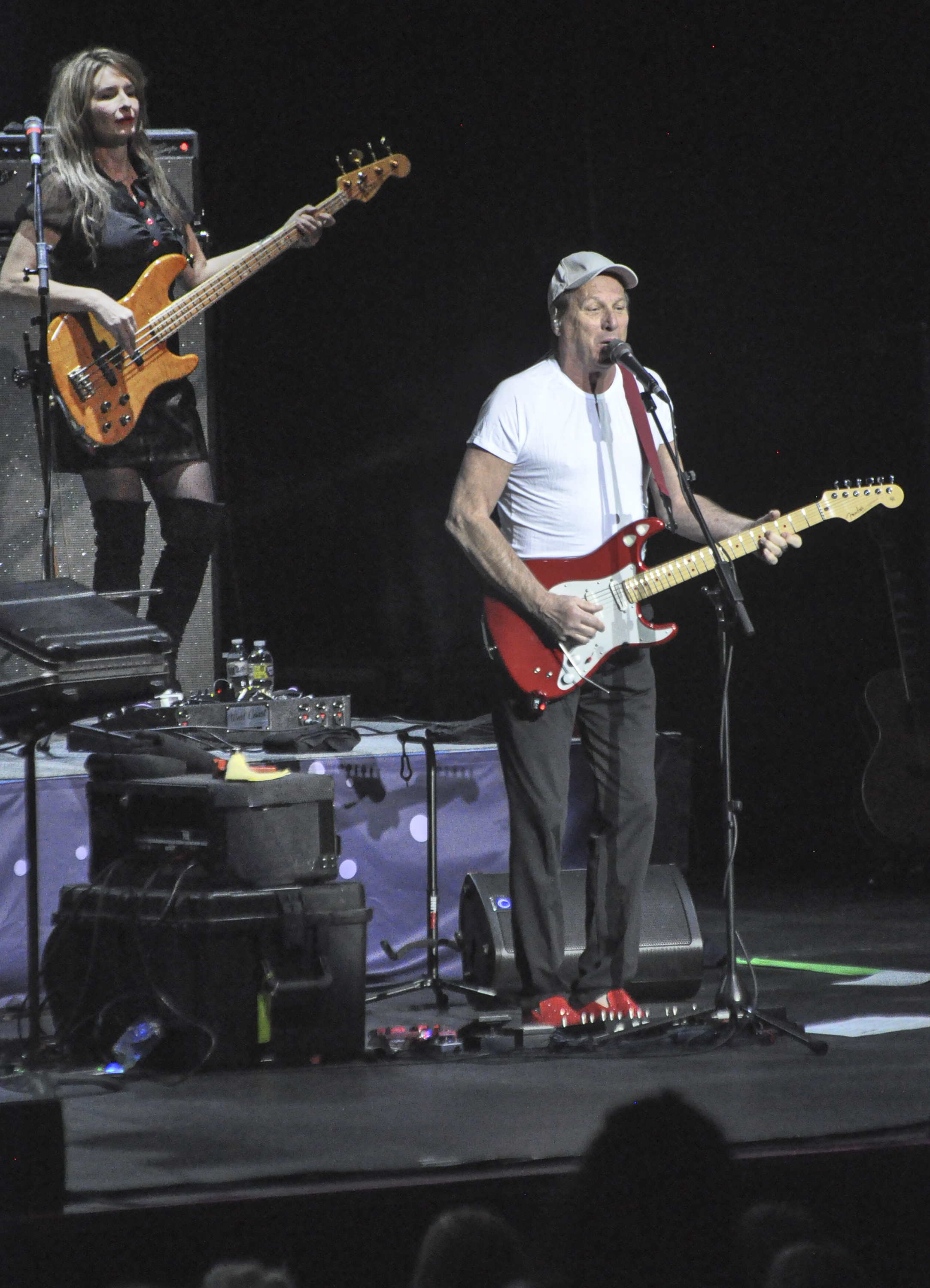 Beyond the album name-checking, the band (er, Scrote?) hit their stride with masterful picking of all the right tunes, the ones that both fervent fans and 'Bowie tourists' would expect to hear, or leave the hall grousing. Among these were some of those already mentioned but also 'Fame', 'Ziggy Stardust', 'Let's Dance', 'Fashion' and 'Space Oddity'. Set pieces that absolutely killed it included a blistering guitar death-match on 'Stay', from Station to Station, and Rundgren's expansive, operatic rendition of 'Life on Mars', from Bowie's 1973 critics' favorite Hunky Dory. The tale of the Thin White Duke, in the title track of the Station album, was brought to a slow boil with an extended grind-and-feedback guitar duel intro, courtesy of Belew and Scrote.
Other time tripping around Bowie's musical galaxy included such latter-day songs as 'I'm Afraid of Americans' and 'Hallo Spaceboy'. And Belew had the distinct honor of being able to feature on the only non-Bowie-written song of the night, his hard-rock original 'Pretty Pink Rose', which Bowie had sung with Belew on the avant-guitar guru's1990 solo album Young Lions.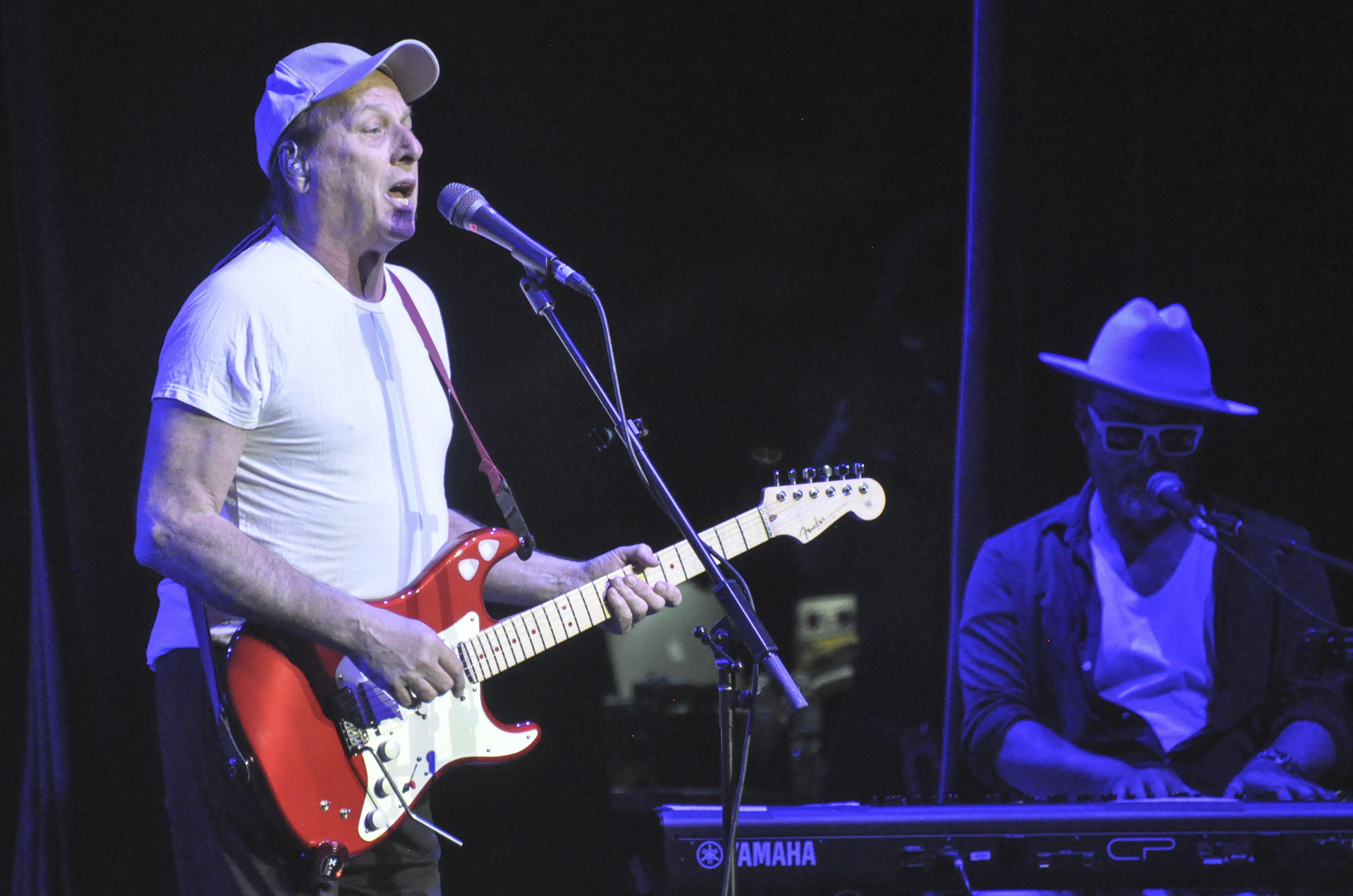 This four-man vocal pacing technique enabled each singer to give their all and return with fire-and-brimstone on their spotlight songs, but, by far, the show's 'secret weapon' is the de facto Master of Ceremonies, Angelo Moore. Each time Moore appeared, he came decked out in radically different fashions, costumes and make-up, including the trippy witch-doctor, the Fez dancer and a demented sideshow clown. At times, he gave the impression of Oogie-Boogie-Meets-David-Byrne's Big Suit, if you can imagine that. (Someone had to bring the glam and the sham, so why not Angelo?)
Notably, there will be a run of shows later in October (10/27-11/5) during which Moore will step out and the incoming fourth vocalist will be Jeffrey Gaines for almost all of those dates. And for two special shows in the middle of that run – in Annapolis, Maryland, on Oct. 31 and Nov. 1 – keyboardist/singer Thomas Dolby will be joining the team. No doubt, the shows will be just as varied and memorable, in their own ways, but it's hard to think – now that Moore has shown his 'stuff' – exactly how the band could replicate the same whackadoo antics and inspired madness that Moore brings to his featured songs. But if you feel you must see Moore, the good news is that he returns for the home stretch of the tour, from Nov. 7 to Nov. 20.
Y'see, Moore brings other things to the party than just his wildman-on-acid stage schtick, although it's really an interlocking part of everything he does. (For example, did you know he also throws cartwheels across the stage?) He also plays a mean theremin, the electromagnetic sound instrument that was the old-school, horror-movie precursor to the Moog synthesizer. On more than song, but most notably on 'Ashes to Ashes' and 'Heroes', Moore waved his hands around the aerial on the manual instrument's box, creating spooky, tremulous harmonics that accentuated the sci-fi, other-worldliness of those tracks.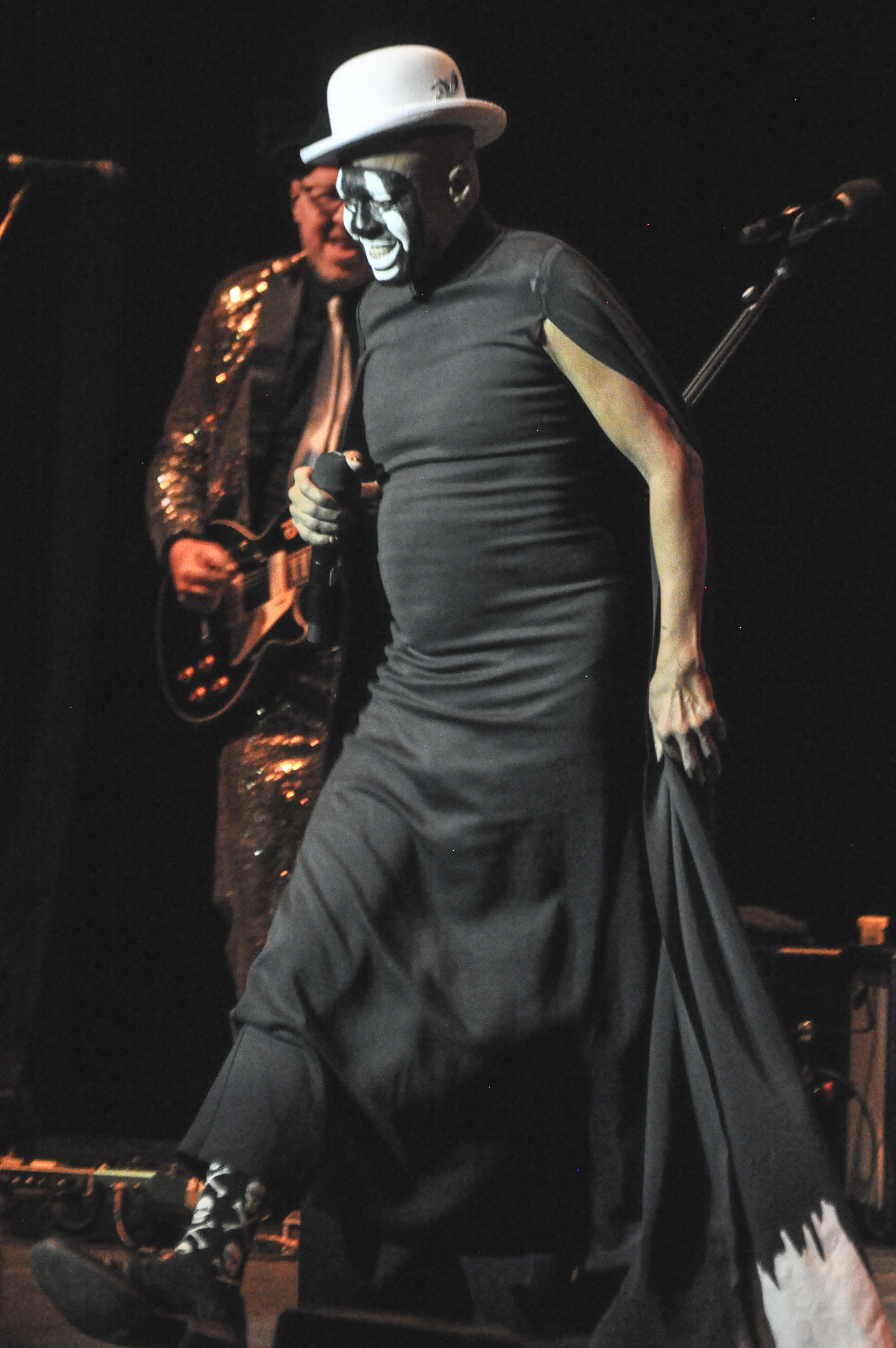 Closing in on the finale, as a supreme showman at the peak of his shamanic powers, Moore descended into the first few rows of the audience at the end of the show to crowd-surf among many willing accomplices. And then, during the first encore song, 'Rebel, Rebel', he proceeded to pull as many women – even a man or two – as he could up on to the stage for a complete shakedown-line-dance to that anthemic nut-rocking song. Throughout many years of concert-going, this reporter has, at various times, seen all-too-eager fans try to rush the stage and U2's Bono pull a pretty lady up for a-dance-a-kiss, but never a stage full of fans crowding the musicians shoulder to shoulder. It was the most rare rock 'n' roll kind of move, completely fitting for a night full of Bowie's envelope-pushing music.
Finally, the one moment that you can honestly say was the one everyone waited for was the spiritually-uplifting encore of Bowie 1977 epic 'Heroes'. It would be unthinkable, in fact, for the band to have not included this most-definitive Bowie song. During this finale, the full band, with every vocalist on the boards, was united in a wave of yearning, trading verses and ratcheting up the emotional energy with every verse of this lengthy ode to triumphing over adversity.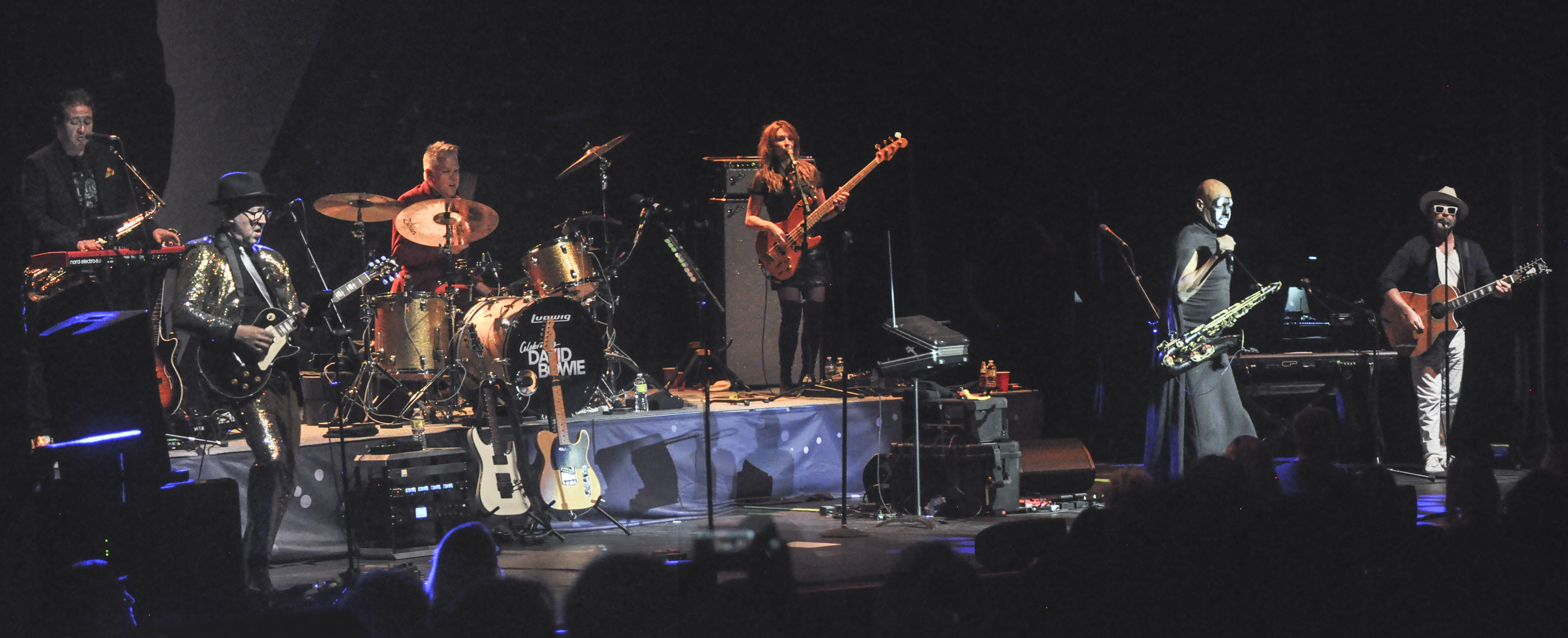 The slightly dissonant, alien drone of Moore's theremin set against the layered, harmonizing guitar lines between verses added to the evergreen human quest for personal freedom. In the the earlier song, 'D.J.' Bowie had declared in his lyrics that he had 'believers, believing me.' And with the end of 'Heroes', the CdB band members took their bows to a theater full of ecstatic 'believers' obviously convinced that, yes, we can all be heroes – even if just for one night!
For more information and tour dates for the Celebrating David Bowie tour, please visit the tour's website at: http://celebratingdavidbowie.com