Somewhere between space funk and carnival time resides the music of Georgia-based jamband, Perpetual Groove.  The current lineup of Brock Butler (guitar/vocals), Adam Perry (bass), Albert Suttle (drums), and Matt McDonald (keys/vocals) exploded onto the live music scene in 2001 and have since gained quite a devoted following.  Electrifying performances at festivals such as Wakarusa, 10,000 Lakes, and Bonnaroo have helped spread the word about this fantastic foursome of future rock.
After kicking off 2007 with a round of shows in the Northeast, the band will soon be heading closer to home for a lengthy spring tour in the Southeast; all in preparation for the release of their latest studio effort titled LIVELOVEDIE, set to hit your head on March 6th.
Though they are primarily trekking the East, no excursion is complete without the mountain mini-tour in Colorado.  Last week they embarked on a four-night concert run starting with The Fox Theater in Boulder, then to the 8150 Club in Vail, and concluded with two nights at Denver's Cervantes Masterpiece Ballroom.
It was the Saturday performance at Cervantes that best showcased Perpetual Groove's exceptional live music experience.  Fans old and new packed this renowned venue to near-sellout capacity, and it is doubtful anyone left disappointed.
The band kicked off with "Mayday", an energetic new song sure to be on the new album.  It contained long, rousing jams that seemed to set the tone for the evening.  It lent way to the fan favorites "Suburban Speedball", a reggae-ish rock tune, and the guitar-heavy "Space Paranoids".
Long-time fans of Perpetual Groove will tell you that the band is exceptional at covering songs, even obscure titles.  This was evident in their version of Tom Petty's "Don't Come Around Here No More", which had just about every fan in the venue screaming each lyric with front man Butler.  They performed the song inline with the original, while adding their own climactic ending.
Following the well-received Petty cover was "Mota", an upbeat original tune that has been in P-Groove's concert rotation for many years, proceeded by the new songs "Save For One" and "It Starts Where It Ends".  Both songs are familiar to their live shows of late, and are rumored to be on the new album.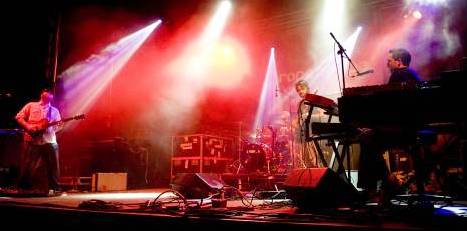 The set ended with "Playground", a long-standing rock gem in their catalog.  It is an appropriate title as the band seemed to be having fun just playing around and jamming on this tune.  It was a fine set closer indeed.
After a short set break, the band returned to the stage to bust out one of their signature concert staples "Speed Queen".  It was full of exhilarating tension-and-release guitar jams, heavy keys, and pounding beats.  Not a foot was still for this second set opener.
Another newer song, "Only Always", preceded hot renditions of "Robot Waltz" and "Out Here".  There were no breaks here as each song segued right into the other; a magnificent trilogy that highlighted the band's outstanding talents and pension for improvisational jamming.
As if one obscure cover wasn't enough for the evening, the band then broke out an impressive delivery of the Butthole Surfers' classic "Pepper". Complete with strobes and circling lights, it was certainly enlivening.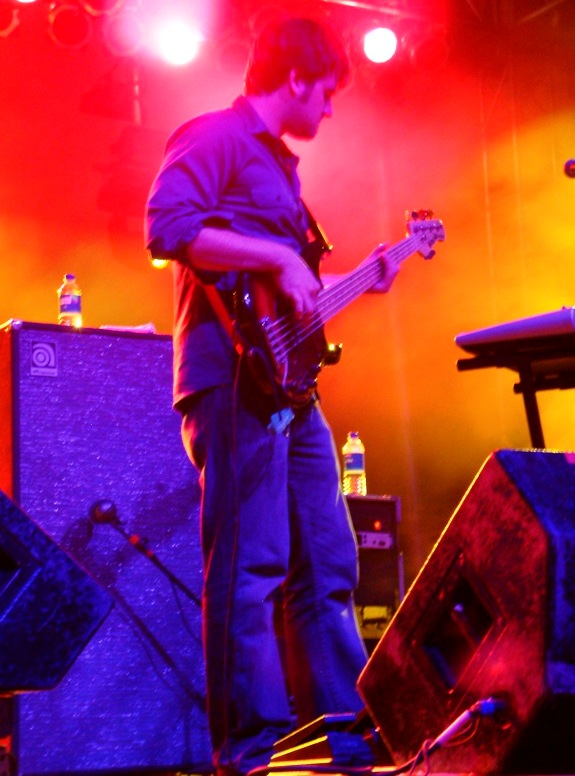 The band closed with two more new songs, "Two Shores" and "Crapshoot", both of which will be exciting to hear if they make the cut on  LIVELOVEDIE.  An encore that presented "TTFPJ" concluded an evening of smoking jams and amazing musical camaraderie.
After seeing this performance it is easy to see why Perpetual Groove's popularity has grown by leaps and bounds over the last two years.  By combining elements of classic rock, modern dance, and improvisational jazz the band has created a sound that tickles the ears and stimulates the senses.  An impressive lighting display has added to the whole experience, and it will be interesting to see where they can take that visual element as the band begins to play to larger audiences in larger venues.
It would be in the best interest of music lovers to see this outfit perform live.  They have quickly become one of the most exciting bands to see and hear in the jam scene, and will no doubt continue to turn heads as they propel their unique style of modern rock into the future.