There is no doubt in Colorado about how much the members of the Disco Biscuits love to come to Boulder. In fact, they have vehemently expressed their love for the area at every show for the last several years. You guys should all move here already. It's okay, we all do it. None the less, every time they are here it is a gigantic treat for all of us involved. Friends see friends and dance the night away. It is a true Boulder party. The Disco Biscuits were here in January, and Conspirator came in March. Will the Inferno come to Red Rocks in May? I wish. But behind a massive announcement that the Biscuits will be playing with Mickey Hart and Bill Kreutzmann at the Gathering of the Vibes this summer, guitar extraordinaire Chris Michetti (RAQ) and drummer  KJ Sawka (Pendulum) came with the Disco Biscuits Marc Brownstein (bass) and Aron Magner (keyboards) to electrify our mountain community. Conspirator is currently on an ambitious tour of their own culminating at Electric Forest this summer.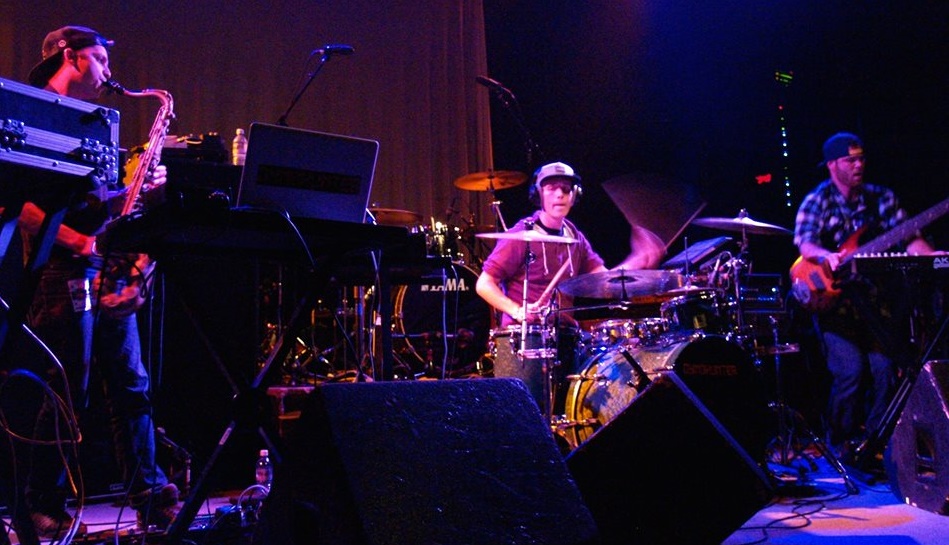 After Dynohunter opened the evening up with an instrument infused dub step sound, Conspirator struck with "Dynasty" a song that I was unfamiliar with, but I really dug it. Their electro Daft Punk with instruments sound creates an instant dance party. The rare Biscuits song "Step Inside" that has been only played 19 times, kept the groove alive, while "Special Kind" reverberated the lengths of the fabulous Fox Theater. "Park Ave." off of Conspirator's live album, Unlocked: Live from the Georgia Theater, is where Michetti puts a spell on the crowd with his hypnotic guitar magic. Finally, this collaboration knows how to turn up, and they concluded with "Heartbeat" and back into the opener, "Dynasty." This was just the beginning.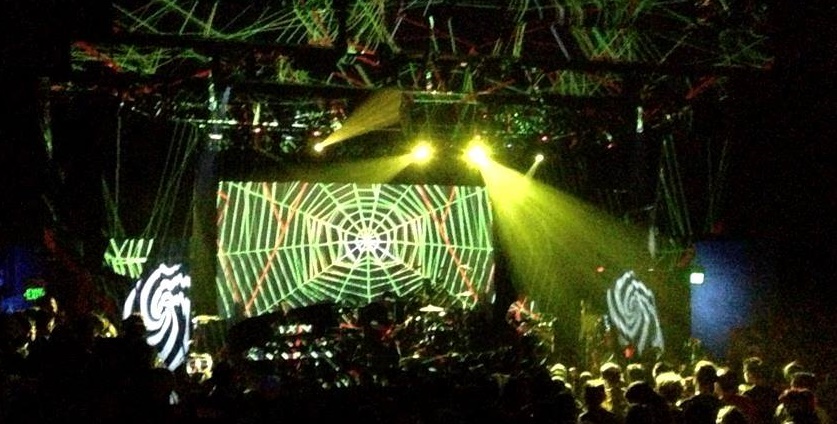 After a much needed set break, since every song went into one another in the first set without even a pause, Conspirator came back on. This set was even better than the first. "Retrograde > Tamarin Alley > Liquid Handcuffs > Saw Sir > Gypsy Lane > Right Wrong" blew the roof off of this place and everyone was dancing. This set was so much fun! We were perched up on the left side of the stage on the balcony, and the view of the crowd is so great from there, especially when there is a band that gets the crowd going such as this one. The show ended with two Disco Biscuits songs, "Onamewa" and the encore, "Mirrors." These are always crowd pleasers. It is always a pleasure when these friends come to town. The vibe back stage was mellow, friendly, and inspiring. And the night that capped off Phish/Biscuit side project weekend was as usually the highlight of the debut of spring in the foothills.Check out more photos from the show.