Describe them anyway you want; whether it be glitch, trance, trip-hop, ambient, dub-step, or electronica. The fact remains that the explosive improvisational duo known as EOTO are just plain badass. Multi-instrumentalists and sometimes String Cheese Incident members Jason Hann and Michael Travis continue to explore the universe and conquer galaxies with their house-pounding beats and cosmic rhythms. What was born out of the extended SCI hiatus as an experimental project has grown to a full-on club headliner. With the release of their third album entitled Fire the Lazers!!!, and a never-ending tour in support, the group seems poised to take this design even further into the stratosphere.
Their approach to recording an album is not much different from performing a live show. After all, the music is generally made up right on the spot and things are left up to the moment to see where it goes. However, Fire the Lazers!!! seems to have a little more direction than their previous efforts, meaning there is more a general theme to the songs, even if it is all improvised. And that theme definitely revolves around space and time, which they capture perfectly not only with the album art and title, but with the actual songs themselves.
The cartoonish, 50s-style artwork of the disc (think "Lost in Space") and accompanying cool hologram insert set the visual tone for the project. Song titles such as "Time Saw", "Contact", and "Circuit Bent" lend weight to the overall outer space feeling EOTO was shooting after. It all sets up the audio portion perfectly, even if the tracks themselves are not all that ear-catching.
That is not to say this is a bad mesh of music here; in fact the ambient sounds and spacey glitches layered over precise percussion work perfectly for the theme. It is not exactly the soundtrack for a new Flash Gordon movie, but it is another excellent representation of what two talented musicians and technology can put forth under the right circumstances.
It is more that this group excels in a live setting, where they can feed off the energy of the crowd and really see where the improvisation needs to go. The music tends to be more dance and beat heavy during their live performances, making it slightly more interesting to the listener than a CD would be. This was especially evident from EOTO's late night performance this past weekend at Denver's Gothic Theater, which had the packed house grooving to the thumping sounds of these jamtronica heroes.
This night came on the tail end of an ambitious, 33-consecutive-day fall tour. It also happened to be the day before Halloween, so most of the nearly sold-out crowd were in costume and especially festive. A largely young crowd this evening was buzzing inside outfits of zombies, werewolves, naughty nurses, and cosmic butterflies. The harsh Denver wind was chilling on the outside, but inside the scene was smoking hot.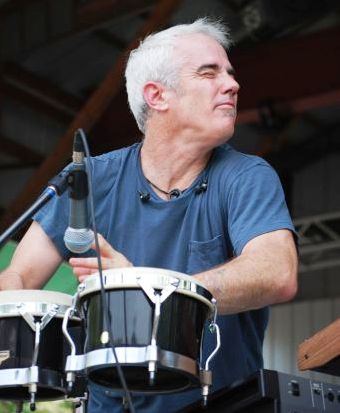 Fans were treated to not only EOTO, but a handful of other local electronic-style opening acts. Essentially the whole evening was born out of one of Travis' original side projects, Zilla. His cohort from that group and local musician Jamie Janover, started the evening with his collaboration with folk-hop artist LYNX. After their short set Janover welcomed Travis and Aaron Holstein to the stage for a set as Zilla, another improv project ripe with potential. With Travis on drums, Holstein on bass/keys, and Janover on his trademark hammered dulcimer the group ripped through an hour-and-a-half of eclectic grooves and improvised, instrumental dance. It also proved that no matter what group Michael Travis performs in, it works superbly.
Their unique set finished and the stage emptied to nothing but Holstein and his Mac Book, essentially known as Vibesquad. Techno beats streamed from his computer into the ears of the audience, and although it was nothing real special it was more to keep the crowd warm for the headliners of the evening.
For the next two hours, EOTO showed exactly why they are headliners these days. From the upper balcony, to the bar area, and down to the dance floor not a body was still as these purveyors of electro-improv shook the house with dub-step grooves and high-intensity drum beats. Considering all of the music was improvised, it was amazing the continuity seen between song structures. Even most DJs would have trouble seamlessly moving from trance to glitch-hop, or house to dub; yet EOTO as usual pulled it off with focus and energy....all while doing it with instruments in real time.
This impressive duo is taking the simple idea of jamming into the electronic field and is doing so pretty brilliantly. Music lovers are taking note as these guys have gone to playing in front of 25 people to selling out clubs across the nation in just a few short years. Today's music world is crowded with too many DJs, industrial acts, hippie-jambands, and Disco Biscuit-wannabes; which makes a uniquely talented project such as EOTO so refreshing to hear.