Until I arrived at this year's Gathering of The Vibes Festival in Bridgeport, CT, I didn't know I was looking for something. Until I left, I didn't realize that I had found it. The following is a recounting of that journey. Along the way masters in the field of musical entertainment will appear. All were influential, some more than others. But as you read this recounting of GOTV 2010, remember that this is one man's quest. This is not a heartless coverage of every band at the festival. Where is the love in that? Where is the passion? What I am offering is a first hand account of a true gathering, an expression of a musical ideal better than any other that the east coast has to offer. And reader, I offer no regret, but I must offer a brief explanation as to why I need to be a part of this story. For, how could I not? Am I an omnipotent writer-bot programmed only to spit out set-lists and unexpected sit-ins? Fuck that. You need to know me to know what I heard. Interested? Then let us begin.
THURSDAY
Time was our enemy for the first two days of GOTV, deciding that the first band we would be allowed to see was Thursday night's headliner Dark Star Orchestra. Before the show started, the venue felt like east coast bootlegs used to sound. The energy in the air was excited and nervous. People were clapping in unison to the pre-show music. The glow sticks were flying before the first note was struck, popping the countless soap bubbles moving inconsistently across the still plush grass of the concert field. There was a man dressed in a dirty, well-traveled bunny suit; it's yellow fur mangy from too many trips up and down the rabbit hole. And tonight, this six-foot hare, seven including the ears, looked glum as he bummed a cigarette from his buddy. No pockets, I suppose.
"Everybody wants to be part of the show", Laura noted as we saw all ages, from 'yet-to-bes' all the way up to 'hangers on', playing instruments, wearing their fandom on their shirt bought minutes before and clapping, clapping, clapping along to any and all music they heard.
DSO started a little flat, but so goes the territory when you are challenged with the task of playing someone else's set list. But when, early on, they broke into 'Half Step> Franklin's, their reason for choosing this particular show made sense. Recognizing that at a festival, a band is playing for a lot of new ears that are going to leave the festival and travel in a lot of different directions, Jeff Mattson, aka: "The New Jerry", needed to be showcased early for all those that had not heard about the change in the band's line-up. A rocking 'Man Smart, Women Smarter' a few songs later featured a melodic vocal jam, drawing from the style that Jerry and the boys used at the end of 'Not Fade Away', and yet the melodic choices that DSO had made, specifically those parts sung by the new Jerry, showed that, since the departure of Jon Kadlecik, DSO was on a new path. No longer are they bound to the music that was already created. They are stepping out of the music as themselves.
In the second set, out of 'Drums/Space' the band blasted into 'Throwing Stones> Going Down the Road Feeling Bad> Wheel> The Other One' that stayed all the questions I had been mulling over regarding what the focus of DSO should be. And yet, when they slowed back down and the voice of the new Jerry was all alone on 'Wharf Rat', I once again grew tense. He was intentionally distancing himself from the original. Despite his and all of DSO's musical prowess, I am not sure I am ready for such ingenuity when the music is not theirs to begin with.
FRIDAY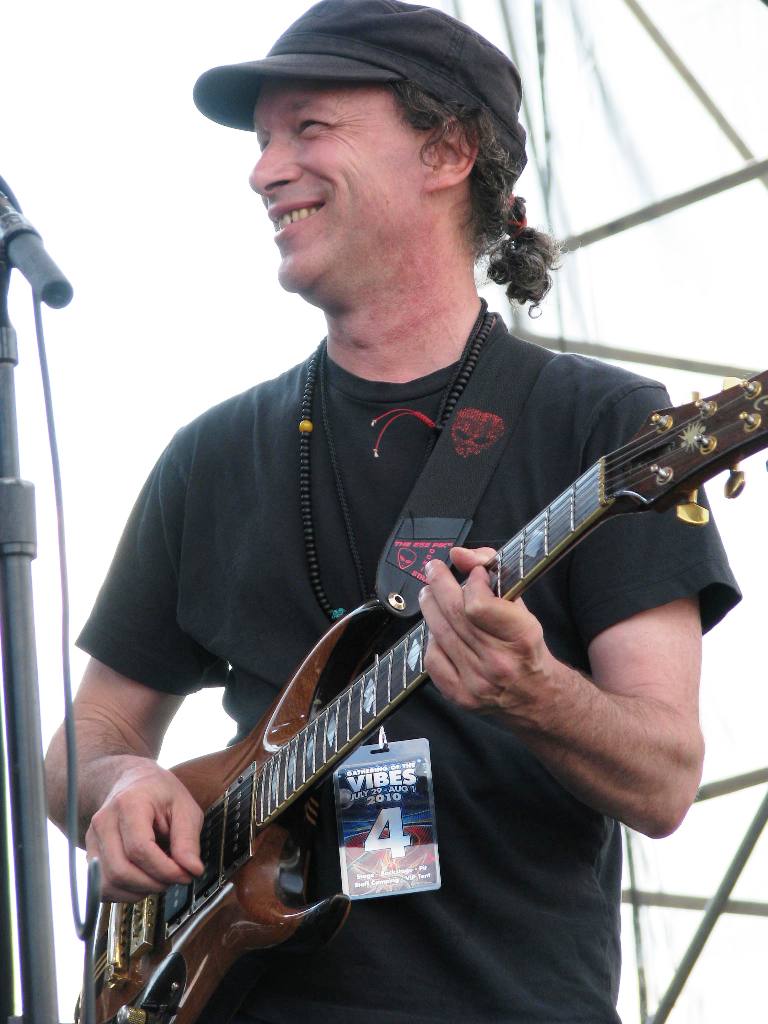 I woke up having missed my first of many late nights that I knew would not be in the cards for our familial unit, and I woke up focusing on the many slight disappointments that had marred the first day and a half of the festival. Getting pulled over 30 miles from home and getting a $110 ticket for my inspection sticker being out of date, too much time spent at check-in, being turned away form the showers because I didn't have the proper armband (although I was camping in the section where these showers were) and being told that I had to carry my baby approximately 2 miles each way to get a $5 shower on a trailer. But, a positive force prevailed. If you had asked me about it that day, I would only have been able to describe it as the energy just out of my reach. I was puzzled as to why I couldn't be angry with these trivial matters. I chalked it up to the collective conscience and let it slip from my thoughts. So reader, this grizzled veteran, who is going to be able to tell you very little about the late nights, but will happily go on for pages about how kid–friendly this festival was, started out the first full day at GOTV looking on the bright side.
Early in the day, as we made our way from the campsite to the concert grounds, it was evident that people were showing restraint. After all, a festival is a marathon, not a sprint. Sun screened, hydrated, clean people were emerging from their shady tent homes. I was hard pressed to find a person of whom I could point at and assure Laura that, "Him, the red head with no sunscreen washing down his pharmaceuticals with a warm Coors Light at 9:30 AM. He won't make it past 6:00 pm." Typically, no less than 1 out of 10 festival-goers fills this role. Yet, despite it's collective benevolence, the crowd seemed focused and unwilling to yield to the powers of the sun, substances or any other influences as they strived for musical Shangri-La.
Starting the day off with The Radiators, pioneers of New Orleans swamp funk, felt right. These guys have been around long enough to have been instrumental in starting their musical genre, seen its death, only to see it reborn again. And yet, The Radiators have never given up the ghost. As their set pushed on, my understanding of the positive energy that was lifting my spirit became more apparent. We were all here for the music, right? I know that, in theory, all festivals are all about the music, but in its infancy, GOTV 2010 actually felt like it was living up to this ideal.
I have been hearing and reading all of the good things people have had to say about Jackie Greene for years now, but by cosmic fortune, have never been in the right place at the right time to see him play. As soon as he took the stage, his commanding presence affirmed that the hype was founded. Yes, there are overt comparisons to be made to Bob Dylan. They both play harmonica while strumming their guitars and they both sass you from the stage in a way that doesn't truly let you know if they are fucking with you or not. But in his songwriting, you see where Jackie sets himself apart from any comparison and stands on his own as a musician. Blending funk and country, Jackie brought the new San Francisco sound to this east coast crowd. There is an optimism infused in his lyrics and his music. Greene moved to the piano and did not miss a beat. The soulful songs had tight improvisation that did not delve deeply into itself, instead just hinting at the musical prowess of Jackie on both guitar and piano, before quickly returning to the repeated and catchy hooks. When he returned to the guitar and put a psychedelic spin on the Beatles' 'Taxman' before tipping his hat to the weekend's unofficial host with 'Scarlet Begonias', he splashed further into the deep end of musical exploration. As the set reached its climax , Greene always was always in control, even when the heavy-handed John Molo joined them for the last few songs.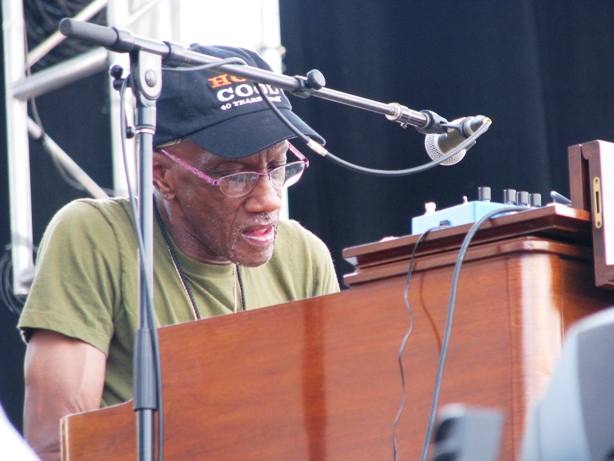 My list of musical heroes is short, but Steve Kimock is very close to the top. Whenever I hear his music, it leaves an indelible mark. A tattoo of sound. As time passes between Kimock shows my thoughts turn back to the musical mosaic he created and I feel a tinge of doubt. With time my belief in the strength of his music fades. Then, every time I serendipitously find myself in front of a stage where he is playing, doubt is forced out of my mind to make room for the purist of the sound. So began my relationship with Steve Kimock in 1999 and it continues every time I see him play.
A few years ago I would have told you that musically, it seemed like Steve Kimock was searching for something; someone to help ground him and, until he could find that thing, that person, he was not going to be whole. He has found it playing with his son, John Morgan Kimock in Crazy Engine. John Morgan is an "old-soul" and has all of the confidence necessary to play not only with his father, but as part of a rhythm section with the legendary Bobby Vega, who always sounds his best and makes Steve sound better when they can put aside the rumored problems of their on-again-off-again, tabloid-esque relationship. Steve has once again become a band's leader. He is once again the focus. But, as he had been nearly 10 years ago, Steve is allowing his play to bring the gaping looks of disbelief from the crowd. It has little to do with his volume or the recognized peak of his songs. Instead, it is about the basic elements of sound and how, simply put, he is creating in a way that few had seen before this day.
Steve is comfortable again. He is playing many of the same songs that he played with the first incarnation of The Steve Kimock Band, evident in the soothing tones of 'A New Africa' to start the set and the swagger of 'Five Before Funk' before delving into new covers and new territory. He didn't let the bad mix at the beginning of the set get him down; that being the kind of thing that may have ruined his entire show way back when. He embraced Bernie Worrell's well-known riffs, laughed at being upstaged by the rapper who joined the band, all the while looking down his nose and through his reading glasses. Steve stepped out of his comfort zone and past his atypical onstage persona and it caused me to think about the effect that this festival was having on me. Was he feeling it too? Was he letting the little things run off his back for the sake of the music? Was GOTV, this festival in the cradle of humanity, normally a legendary and frightening place on the festival circuit, as good as it set out to be?
As many sets before it had, and many sets to come would do, Crazy Engine's set progressed towards more funk driven tunes, with Bernie taking a crack at singing a version of 'Red Hot Mama' before Crazy Engine called it a day.
Yes, Sharon Jones & The Dap Kings are the cat's pajamas these days and yes, I should write more about them. But when they came on, the sun unleashed its power upon me and my daughter and I spent the better part of their set trying to find quality shade under one of the trees near the back of the venue so as to protect little Natalie's skin. You see reader, the life of a laissez-faire web journalist does not provide the endless flow of wine and roses you may expect. Laura and I were only allotted one press pass and, she being the photog of the family, left me pulling double duty- Gonzo journalism from Mr. Mom himself. Despite the grandeur of the tightly choreographed entrance of Ms. Jones that harkened back to that of James Brown, with all of the accouterments of the Godfather to boot- a band dressed to the nines, a soulful introduction during the third song, a juxtaposition in wardrobe between the snappy yet drab colored suits of the backing band and the flashy and provocative ensemble of the lead singer, which in turns draws your eyes at all times to the talent- my head wasn't in the game. So I apologize if you had your heart set on hearing my opinion of Sharon Jones and The Dap Kings, but I had a baby who I was not ready to see sun burnt and I was pretty sure that smell overpowering the body odor of my fellow concert goers was coming from her diaper. You see where my priorities lie.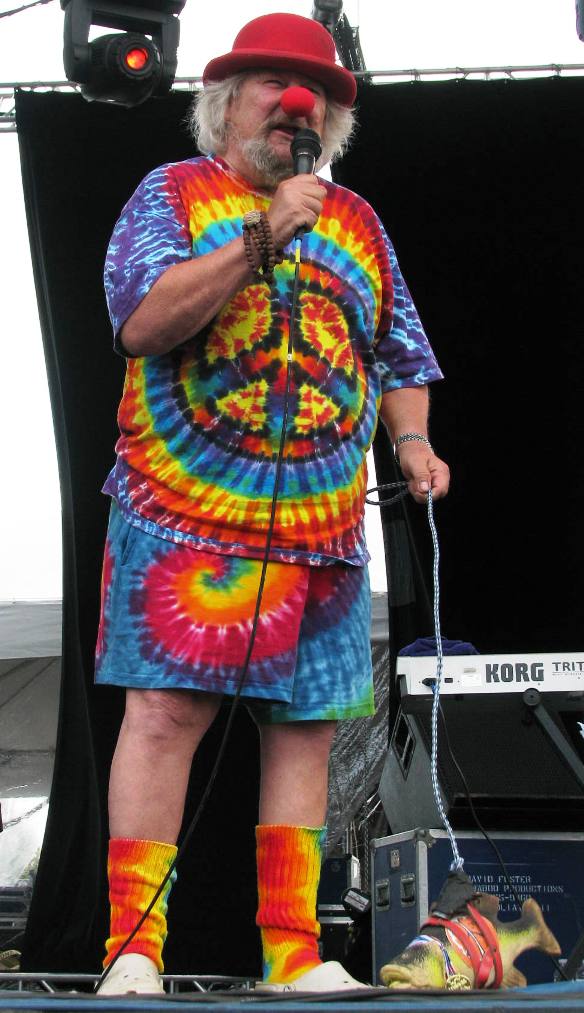 Even before Sharon Jones and The Dap Kings set had ended and before Laura returned to find Natalie happily shaded and changed, I had realized that Wavy Gravy is an institution. He had been emceeing between most every set through the weekend, although it became clear as the days wore on, that Wavy is not in the best of health and needs all of our, for lack of a better word, good vibes to be sent his way. Still, there are not a lot of people in this world who you can ask "What do you do for a living" who can answer, "Well I'm me." Wavy Gravy can. He is just he and he is in demand for being him. He brought campy jokes, timeless gags and twisted stories that went nowhere and left you asking "is he serious?" only to realize that the butt of his joke was you for listening. Before I left the main stage to check out a bit of the Caravan of Thieves set on the second stage, I could hear Mr. Gravy, as he is known in the professional world of acid dropping clowns, leading the chant "too weird too arrest!" Indeed you are and forever may you be.
There is never enough time to give each band its due and this is never more evident when there are sound problems. Such was the case when I arrived at the second stage, knowing that we were running on a tight schedule if Laura was going to make it back for the escort into the photo pit for the first three songs of Furthur, and duly escorted out. So when I saw the Caravan of Thieves still tuning 20 minutes after their scheduled start, I knew that I was not going to see enough of this intriguing quartet. I first saw them open for Ryan Montbleau Band last year and was captivated by their self proclaimed "gypsy music", so boisterously expelled from 2 guitars, a violin and a stand-up bass. The band was chomping at the bit in the hot Connecticut sun once they finally started. Playing this close to home seemed to strengthen their already highbrow, hard driving vaudevillian rock. Fuzz ran up and down the neck of his guitar and every time he intentionally faded, another member of the band stepped up. In the short time I was there, I rode the rollercoaster that is their music. I can't wait for another turn.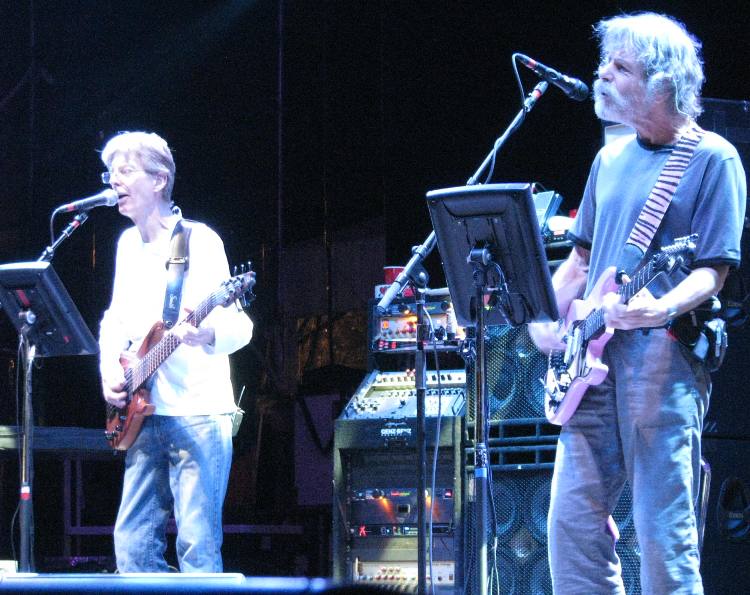 At last, it was time to see Furthur. It did not seem like this band and I were destined to be in the same place at the same time. For reasons I chalk up to shitty communication, we got shut out of another festival they were headlining and when we were all set to see then on the shores of Lake Champlain, the venue cancelled the show citing security concerns. So, when the hour chimed 9, I thought that something terrible was going to happen. How wrong, how wrong.
Despite the name change, this is the closest thing to the real thing still playing. DSO can sound more like The Dead and Rhythm Devils carry as many original members, but after Jerry, the two most definitive personalities making up that merry group, both musically and spiritually, were Bob and Phil. We have all heard 1001 too many rumors about who these guys have become off-stage. I choose to think of them as they show themselves to me every time I see them, as two of the greatest accompanying players that improvisational-rock will ever see.
As Furthur began their set, I was pleasantly surprised to hear drums and keys so predominant in the mix, even if they still were blown away by the intentionally disingenuous tone of Jon Kadlecik. What of Phil and Bobby? They occupied pockets. They supported.
Although it wasn't first, 'Jack Straw' set the bar for the remainder of the first set. 'Ramble On Rose', 'Dupree's', and 'Estimated' reached the same level. As 'Estimated' unfolded, I was forced to consider this song against the version I had heard only 24 hours ago on this same stage. The difference between DSO and Furthur lies in ownership. Furthur owns the songs. We want them to push the edge of each composition, so as to avoid becoming stale. With DSO, we hope that they are able to concoct the magic from some specific date again and again with precision, not independence.
'Playin' In The Band' as a second set opener always makes me feel like the set will have a specific style, one that focuses on the flow of the music, the interconnectedness of all songs chosen. And as the rest of the set unfolded with 'Althea', 'Wharf Rat', 'Scarlet' and 'Wheel', coincidentally all songs played the night before, the ability to rise above a comparison was lost. We were all listening to tonight's show but thinking back to the versions from Thursday and comparing the two. It couldn't be helped. Finally, with a raucous and dark 'Terrapin Station', Furthur put a stamp on the night all there own and sent me off with mystic battle scenes fading in and out of the fire that was in my head.
SATURDAY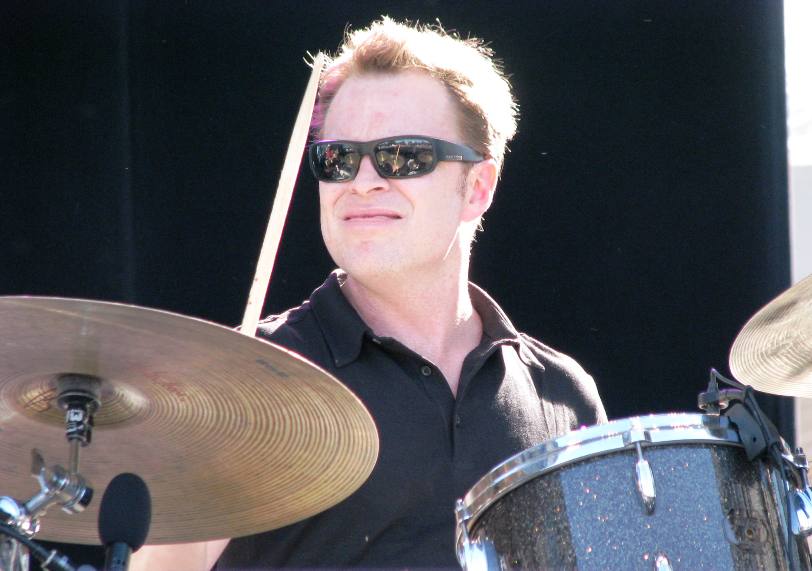 We sucked it up and went for showers. No, we did not do yoga under the shade of the grove of oaks in the main venue, but the walk to and from the shower trailer made for sufficient exercise as did the complexity of holding a soapy baby while trying to rid myself of festy-feet in a cramped shower stall. As we walked back through the general population camping, I scoffed when I first heard the sound of Zach Deputy playing on the radios of those that were still in their campsites. But my cynicism was quickly transformed into embarrassment as I realized that they were listening to the broadcast from the stage. With the power of digital radio, the broadcast was reaching their boom boxes before the actual sound from the stage could travel the old-fashioned way, via sound waves. It was technologically magnificent and unnaturally creepy at the same time.
Deputy's set had ended by the time we made it into the main venue, on this the third of four beautifully sunny days. But, my mind was elsewhere. Through a friend, we had finally secured a second press pass. I was allowed through the tallest most heavily guarded of temporary fences. We made our way backstage. There were small juices and waters and oddly flavored juice and water combos. There were dingy couches. There were big screen TV's displaying the very images I could turn and see only 100 feet away. There was a masseuse and a masseur, both working for tips. There were niblets of free food and fruit and beer a bit more reasonably priced then I had yet seen. But not even this was satisfying to me as I marched right through this tented wonderland for the over-indulgent concert-goer and straight into to a smaller tent, with a simple sign reading 'Media'. I strode in to find a man flipping through the 'Life' section of yesterday's 'USA Today'. Another was complaining about the latest updates to Firefox. Still another was reading what looked to be a sci-fi adventure book for tweens. These were my comrades? These were the other men tasked to cover the feel of something that they were as far removed from as I quickly found myself feeling from them? Clearly the internet has given rise to more and more people like me who write simply for the love of writing for an audience, any audience. But, although 'writing about music is like dancing about architecture' may indeed be the case, what I think this quote from Elvis Costello is missing is the fact that I write about what I love. Still, I left heavy hearted, knowing I needed the energy of the music to pull me through and would not be sharing it with these cynics linked like some cybernetic organisms, unable to leave the comforts of their recharger, this media tent, this nerd base.
Max Creek and Assembly of Dust didn't just give me energy; they took it back and refined it, only to send it back to me once more as a stronger more efficient version of itself. This symbiotic relationship with the audience has long been the case with both of these staples on the Northeastern live circuit. Look back at any festival in the this region occurring in the past 15 years anywhere near the jamband scene and you will be able to count on one hand those that don't have some representation from Max Creek or AOD. Their legions of fans are loyal and festival planners know it. Despite being the hottest part of the day, people had flocked to the stage early to sing along and smile. AOD picked up the beginning of their set where Max Creek left off. They are the perfect compliment to one and other.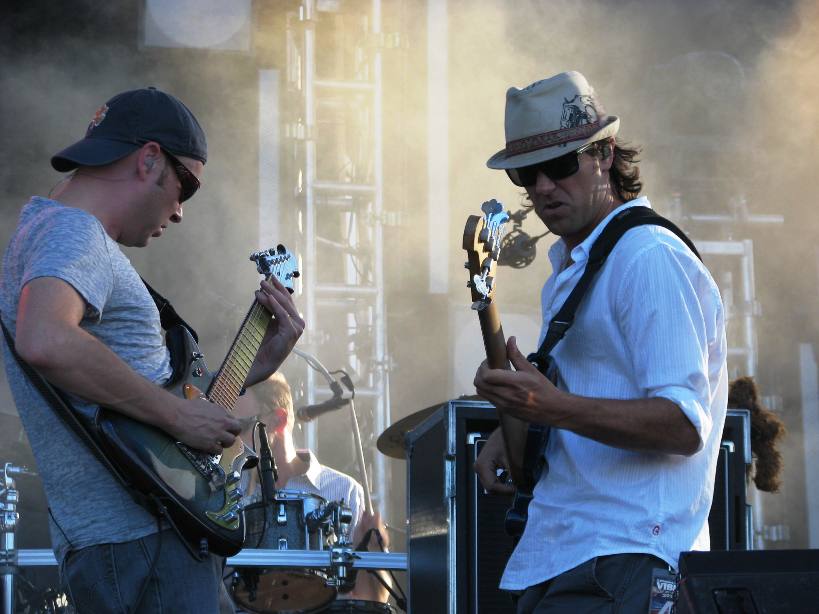 The focus on musical variety in this festival had begun to sink in and made me smile as I thought about the focus on variation that defined the band GOTV has always celebrated.
The afternoon wore on. Galactic played, but just as the mid-afternoon from Friday was a hazy time for me, fair reader, so was this time on Saturday. My thoughts bounced from my daughter and her ability to sleep in my lap amidst all of this chaos to the ever-elusive energy that was fueling this festival. Around 4:20 the grounds crew sprayed down the clay road passing through the venue with a slow moving, water spewing truck to keep the dust clouds down while the crowd collectively created a cloud of their own. We were all working together- the fans, the musicians, the beer guy, the toilet cleaner. Our orbits were all aligned.
Why do I always doubt Umphrey's McGee? Every time I see them, I am in the presence of 1000's who get it, who are there for UM's version of syncopated, concerto guitar rock. In 2002, they stopped me dead in my tracks as I cut through their performance, intending to make my way to the main stage at Bonnaroo. That day, they broke onto the national scene and have never looked back. For the rest of 2002 Umphrey's played 3 set affairs at mid-sized theaters charging a paltry $5 per ticket. Since then they have explored dozens of different ways to bring the audience into the show, making the experience more and more unique for those who attend. All the while, UM has never lost focus of the music they are creating. In the past 8 years, I cannot think of a band that has worked harder on crafting itself while never taking its foot off the petal musically. Saturday, I finally got it. Soundscapes that entrance the fans, authentic energy that pulses from the stage, and a noticeable sense of fun from the band make Umphrey's McGee who they are. I found myself needing to be in front of the stage while Umphrey's was playing. All around me people were throbbing. Strobe lights were stabbing through the already thickening darkness of night. Men dressed in 10-foot puppet costumes were dancing with Joe Six-Pack and were promptly joined by a pair of dirty hippies. All of them were dripping with sweat and dropping inhibition. The power was frightening. On this, the third day, it appeared that the madness had taken its grip upon us all.
During the Rhythm Devils set, we tip-toed along the slippery slope between what is sane and what is not. As a one man band, Keller Williams can often explore the outer reaches of music, but he is also a strong supporting player when just part of the band. So, with Mickey Hart and Bill Kruetzmann on drums and Andy Hess on bass, Keller was just one of the guys…one of the guys living his ultimate fantasy. An admitted Jerry freak, Keller is truly putting reality in the place of dreams he probably had as a teenager. How many of us can say that? But the true surprise of this set was the songwriting, singing, stage presence and all around chops of 23 year old Davy Knowles. On The Dead tunes they covered he infused each with his bluesy guitar riffs. Keller sang the tunes as Keller, not as an imitator of Jerry. Again, ownership has its privileges and, like their brothers in Furthur, Billy and Mickey own these songs.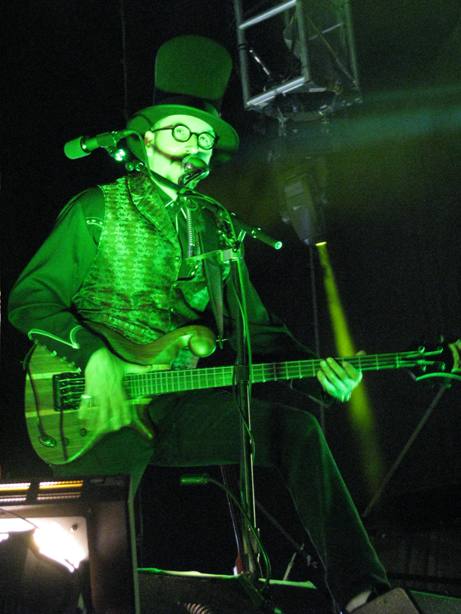 Perhaps by the time Primus took the stage, the wheels truly had come off of this bus to Nevereverland, but when we went crashing into the Cliffs of Insanity, there is no doubt that Les Claypool was at the wheel. Dressed is an oversized top hat and round dark glasses making him look like the villain in a silent movie, Claypool shook all sense of normalcy from our bowels with each pluck of his lead bass. Flanked by two oversized inflatable astronauts, Les unleashed his deftly choreographed show; deeply rooted in the theatrics he creates, not only with his stage set up and wardrobe, but with his unique voice and its multiple amplifications. Through his driving rhythms he devilishly entrances his listeners. His right hand strums but his left hand taps out progressive jam-rock symphonies. We made our way home through the pools of crazy pouring out of Claypool's bass, collecting all over GOTV. Who knew if they would ever wash away?
SUNDAY
Life at a festival can sometimes confuse your sense of reality. On Sunday morning, it was as if someone had hit a reset button. Trash? Gone. Port-o-lets? Clean. The small paintings and overly-pasteled animal cut outs lashed to the chain link fences and the tie-dye windmills that make a festival feel good? Still standing. People were up and moving by 9:30. But the people…they gave it away. Some were clearly still up. Others were looking for a place to crash, even though they had only been up for a few minutes. Most of the couches backstage hosted gaping mouthed snoozers. But those that really gave it away were those that had a look of regret and confusion about the person that they became the night before.
The tireless work of the grounds and cleaning crew over night from Saturday to Sunday didn't help me to quite feel clean again, but the baptismal magic of 'The Harlem Jazz Choir' washed over me like a cool breeze. Nothing makes me feel good like musicians that applaud me. As the HJC clapped their way through multileveled 4-part harmonic arrangements, the audience danced and looked to the heavens to grant them the energy for one more day. Yet, looking only to the stage, I found all the salvation I needed. Amen. Just as HJC's song with only these lyrics attested, this was starting out to be a "Happy Day".
Although I was standing in line for breakfast burritos during the 'World Peace Prayer' on Sunday morning, I did see the path. But my enlightenment did not come from above. It came when I saw a Hassidic Jewish man in traditional wears throwing a Frisbee with a Parrothead. This festival has something for everyone.
Little Feat's renditions of their hits were new and challenging and more complex than their old records would suggest. In and out of 'Dixie Chicken', which became less of a sing along and more of a phrase that came through the first part of their set. Although some of these players have more stories than you and me combined fair reader, Little Feat still has a collective band memory stronger than anticipated within their high-steppin, fast-pickin, blues-rock. They were intelligent arrangements- coupling sing-alongs like 'Fatman in the Bathroom' with some of the most unabashed, psychedelic guitar riffing heard through the weekend.
The breeze began to pick up later in the day and so did the music. The beats quickened from loose blues to jazz-rock. I've made the following statement before and I'll make it again. I'll scream it from the mountaintops and I won't be alone because our numbers are growing. Ryan Montbleau Band is built for the big stage. Sunday, with the space between the players, the sound was separated, complimented by the magnitude of a sound system that truly allowed each virtuoso's harmonic contribution to be heard in its entirety; a defining characteristic in The Grateful Dead when then began playing stadiums. A GOTV vet, Ryan paid homage to the Gods for the good weather they provided while keeping one eye on the past. As only an optimist like Montbleau could assess, "the tides are changing" for the Vibes. Twenty five minutes did not allow RMB to gather too much steam before they welcomed Martin Sexton to the stage and then the backing band for Ryan Montbleau welcomed Ryan to their numbers and the lot of them became the backing band for one of Ryan's musical heroes in Sexton.
Super groups like Martin Sexton and The Ryan Montbleau Band are as bittersweet as they are awe inspiring. There is too much individuality on stage at one time for it to ever be a committed relationship, but seeing Sexton get off on the ease with which he slid into such an amazing band helped me to see that he too was a fan just like me. But who knows? If last year you told me that avant-garde, prog-rock innovator Joe Russo would be playing in anything except a sit-in with Bob Weir and a guitarist who cut his teeth mimicking Jerry Garcia, I would not have listened.
The Sexton/ RMB set developed beautifully. The joy that Martin brought to the stage was controlled and amplified when he dismissed the members of RMB to watch him become the first and last solo guitarist to captivate the entire audience. Sexton invited RMB back to the stage. These players were all pouring there all into this set. We needed the energy and they were providing. As the set grew to a close with an original that sounded like a mash-up of Kanye's 'Goldfinger' and The Dead's 'Lovelight', I realized that this was the last gig for Sexton with RMB. For both, I cannot wait to see what's next.
The longest changeover on the mainstage thus far came between Sexton and Jimmy Cliff. The technical crew, running on what must have been the fumes of fumes by this point, put as much effort as they could into getting Cliff's mic to sound just right. Once they completed this seemingly endless task, Cliff took the stage in a jumpsuit so yellow you could see it form space. Since his induction into the Rock & Roll Hall of Fame earlier this year, Jimmy Cliff has been everywhere. Thousands of teenagers that have listened to Bob Marley, but never heard of 'The Harder They Come' are finally getting the chance to here a legend of reggae and appreciate the power of his performance. The set started with an ambient cloud of music coming from the stage, confusing those that were paying attention as to whether or not sound check was over. Our query was quelled when the band played the opening phrase of 'You Can Get It If You Really Want'. Just as quickly as he had put a reggae bounce in the step and arm outstretched to Jah into all of his fans, old and new, Cliff pulled back on the throttle, melodically working through the oft-covered and always beautiful reggae ballad 'Sitting Here in Limbo'. Laura came back form the photo pit, only inches form where this heartfelt original was being played and gasped that she "started welling up." We all felt it. After some ska-influenced newer songs and a slightly reggae influenced cover of Cat Stevens' 'Wild World', Cliff finished strong. Changing the name of his classic 'Vietnam' to 'Afghanistan' helped to remind us of the reality that awaited us on the other side of the fence. This weekend had been an escape, but just like those firemen posted at every entrance to the fairgrounds, collecting money for the families of their fallen brothers, we all had issues that we were escaping through the music. But Cliff knows that reality all too well. So when he finished his set with 'Many Rivers To Cross' and "I Can See Clearly Now', he eased the tension surrounding the inevitable transition we would all be experiencing soon going back to the real world.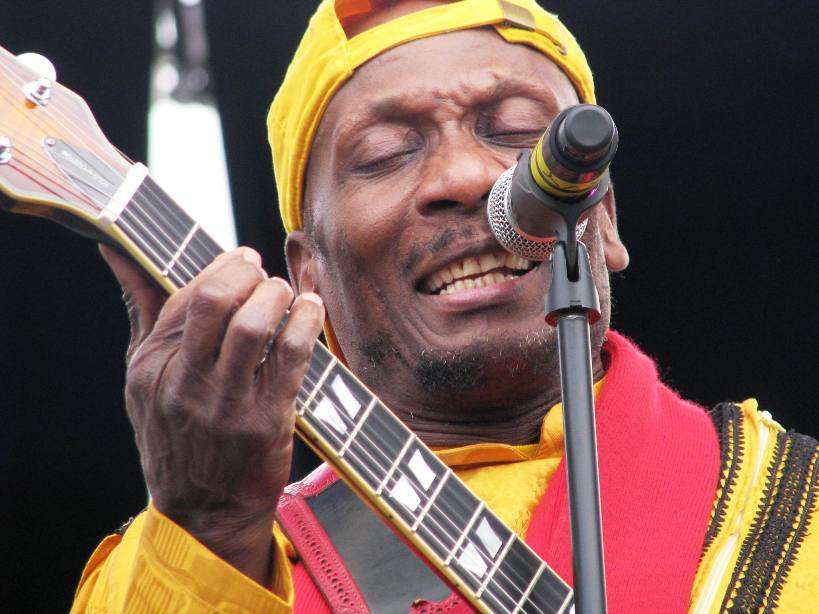 It only took the amount of time that we stood in line for a falafel to make the decision to skip Naz and Damian 'Jr. Gong' Marley's set. We had left the mainstage to be pleasantly surprised to see Ryan Montbleau on the Kid's Stage playing both originals and covers with any and all comers; a list that included a stand up bass player, a flautist and a little girl who had won a talent contest singing the RMB original 'Eggs'. Seeing Ryan get off singing a duet with this 8-year old while an intimate crowd of 100 looked on was "the best moment of the weekend" said Laura. I suppose many of those that shared the smiles and tears of joy in that moment would agree. But when his set ended and we realized that 90 minutes after they were supposed to take the stage, Naz and Damian 'Jr. Gong' Marley hadn't taken the stage, we decided to feed our bodies and begin the long trip home.
All weekend long I had been immersed in the essence of Gathering of The Vibes. But, before Sunday, if you had asked me to put it into words, I would have been lost. But all along, I felt something that set it apart from other festivals. Perhaps I have just been away from a really good festival for too long, or maybe it was the shade provided by the backstage tents, or maybe it was the air-conditioned bathrooms. I mean it- these were one of the best perks of the entire weekend. There are so many things about the combination of sweating and going to the bathroom that I don't like. Whatever the explanation, everywhere I looked, I saw happiness in faces. Every group of people I saw at every set was smiling. All of the differences that were visible in the outer appearances of this, the most diverse festival crowd I have ever been a part of, were not as fragmenting because of this festival. As Laura said in the car as we pulled away, "that all went surprising smoothly." Agendas and personal issues faded when the music started. We were all there for the music. Thankfully, the music was there for us.