In the burgeoning jamband era of the 1990s, one band from Minnesota set out to take the world by storm. This of course is the Big Wu, one of the more unsung heroes of the jam scene who have arguably displayed some of the best songwriting to come out of rock in the last 15 years.
However, like many before them the band has gone through its share of highs and lows. The band had garnered a devout fan base and was performing nearly two hundred shows a year leading up to 2001, yet still hadn't managed to climb out of debt. Then, the stresses of the road caught up to founding member Jason Fladager, who ultimately decided to leave the group that same summer.
The remaining four members carried on without him with some moderate success, but it became obvious that their sound was missing Fladager's guitar. Though the band never officially split up, they have been on an extended hiatus over the last three years, playing only a handful of shows around the Minneapolis area.
Now, it is becoming quite clear with the resurgence of other reuniting bands that a little time off can do the body and mind some good. Thus, the Big Wu has decided to give it another go, which essentially started with the return of their Wu Year's Eve performance this last December in the Twin Cities. And to make things right, a renewed Jason Fladager is back with the group.
It seems as though the band is ready to once again woo the Midwest and beyond with their excellent blend of Americana roots, bluesy jams, and straight-through-the-ear rock n' roll.
Recently, Grateful Web writer Tim Hurley spoke with bassist Andy Miller and guitarist Jason Fladager to discuss what the band members have been doing with their time off, the importance of playing as a five-piece outfit again, and why the Big Wu might just be destined for movie soundtrack stardom.
GW: The band has been on an extended hiatus over the last couple of years, with only a handful of local shows thrown in there. What has everyone been doing with the time off?
JF: I can't speak for everyone, but I've been doing a lot of playing with my other band God Johnson. The most fun I've had in the last year playing music was doing a full cover of Led Zeppelin IV at a GJ show back in October. We worked hard on the arrangements and pretty much nailed it. It was really fun to finally play the Stairway to Heaven solo for a crowd. I used to try and copy that solo up in my bedroom in high school.
I also am currently the Director of Development for VEGA Productions. We put on concerts and events which rebuild music and art education programs in Minnesota's neediest elementary schools. I'm very passionate about this work.
AM: I've done some playing outside of Big Wu. Usually with trumpet freak Willie Waldman, or with Willie and Stephen Perkins' project Banyan. Both are variations on high-test improv.
But rent happens to everybody, especially musicians. So I got a job. My boss used to live in the same part of Hollywood I used to and he plays bass. He used to do those chicka-chicka-waaahh soundtracks for pornos.
GW: You guys decided to do another Wu's Year Eve performance this winter in Minneapolis. How exciting was it for you to take the stage again on one of the most anticipated dates for music fans?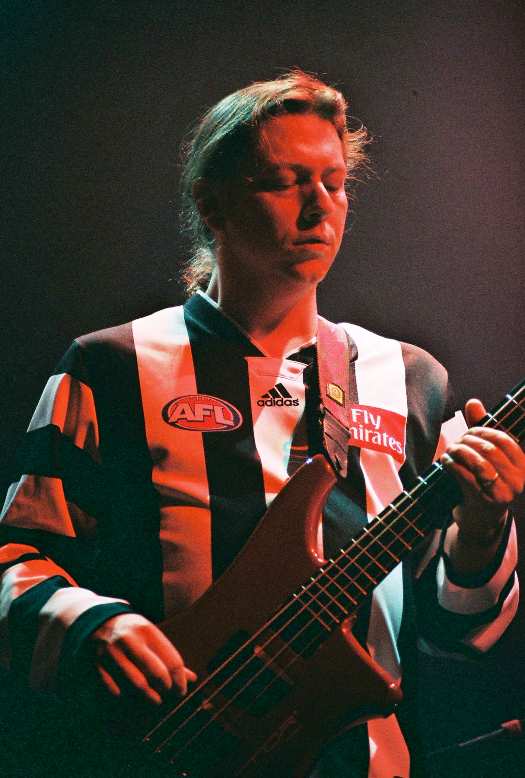 AM: I'm goddamned glad we did! I really don't know what else to do on New Years. The Minnesota chapter of the smoke Nazis took that particular avenue of pleasure and vice off the table so going out to a bar full of loudmouth yahoos just to drink would be its own punishment.
But seriously, WYE is an honor to throw and a joy to play, with the Wu Family and all. Plus, the other bands are all great folks and they rocked. It always comes back to the community, the connection. It's always there to engage in, we just have to set the stage and mail out the invites, so to speak. Put it this way: WYE is bigger than the Wu, and that's what makes it special.
GW: How was the crowd reaction to that performance?
AM: Sweet Jesus, the crowd came to party! And I was really pleased with the way the band played. It just feels good to have the five-piece together, having fun playing together and so on.
JF: I was really surprised at how many people turned out at that show. Everyone was in full party mood. We had a blast. It was more fun that technically brilliant. But the band is currently on fire and I'm not just blowing smoke up your ass. Maybe its maturity, maybe it's the stars...I don't know, but everything seems to be aligned perfectly. We're tight and playing like one giant brain.
GW: The Big Wu Family Reunion used to be one of the Midwest's hottest mid-size festivals. Recently you guys announced that you would be putting on another Big Wu Family Reunion this summer. What was it about this year that prompted the return of this local festival favorite?
AM: Just a matter of timing and general circumstances. First off, promoter (and Down Lo guitarist) Mark Grunhoeffer really knows his shit. Promoting festivals is for organizational fanatics. He's kept his vendors paid, staff and volunteers in the loop and understands the golden rule: People want to help, they want to have a great time, they want be a part of something. Someone just has to show them how to help. Mark is a godsend in that way.
Beyond that, Jason's renewed involvement has kept the process on track. He's hosting the planning meetings and babysitting the finances among a hundred other things. So you add it all up and we'd be crazy not to bring it back. Besides, it's time.
JF: We did Big Wu Family Reunion IX two years ago and we couldn't just end it at nine! We all got together and decided that we needed to at least do Big Wu Family Reunion X this year. One of the main reasons is we wanted to give back to the local community that has allowed us the space to have festivals at Harmony Park over the years. We teamed up with Vega Productions to produce the festival this time.
The way Big Wu puts on a festival is not like other festivals. It's about taking care of the bands and the patrons and making sure it's an affordable experience in which they feel part of the vibe. The vibe that is created at a Reunion is like no other festival. It really is in the spirit of community and family and not big corporate sponsorship and high ticket prices.
GW: Any specific reason that this year's will not be held on Memorial Day, as it has been in the past?
JF: First of all Bella Madre Festival had the dates on hold already at Harmony Park. When Big Wu stopped in 2007 with Reunion 9, Bella Familia came in and set up shop for their festivals. But really, in Minnesota, it can get damn cold at night even in May. We thought middle of summer would be better. Also, that weekend there really aren't any regional festivals going on. Rothbury is the weekend before and because our ticket prices are so low, we're hoping to get a few people from Rothbury to stop in after their weekend.
GW: What can fans expect from this year's Reunion? Will anything be different from past Reunions?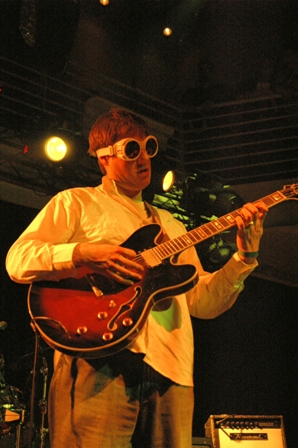 JF: More regional representation and artists who have been a part of Reunion's gone past. We are hoping our extended family gets back together one last time to help us celebrate 10 years of Big Wu Family Reunions. Right now we have people flying in from all over the place to be with us...Arizona, Florida...even Japan. It's really more about us all being together one last time more than what artists are going to draw in the people. We think the vibe is going to be what draws people. You will see a lot of the same things you've seen from Reunion's past. We'll have a marching band going through the Campground at 10pm on Saturday night. This year's theme is "Roman Numerals"...so big white Parthenon type pillars, toga party perhaps. Band in Toga's on stage maybe?
We'll have Dean McGraw and Willie Waldman as special guest throughout the weekend. Vince Hermann will be joining us on Friday night with Great American Taxi. I imagine he'll be up some late night sit-ins. I think one of the biggest differences is the price. Tickets are only $40.00.
AM: We changed the approach in that we're out of the market for "bigger" bands. I'm not crapping on any of the folks that we've hosted at previous Reunions. Leave it to agents to screw up a good thing.
You see, when we had it on Memorial Day, booking agents would see the Big Wu Family Reunion in Minnesota and Summer Camp over in Illinois taking place the same weekend. It didn't take long before they started playing the two festivals against each other, financially speaking. "Well, Summer Camp is paying Band X this much, so if you want them at the BWFR, you have to pay this much…" And then they would turn around and play the same game with the dudes over at Summer Camp.
I'm not against bands getting paid…and paid big. And I'm not harboring any grief against any of the terrific bands that gave the Family terrific performances. But booking agents are paid on commission; usually 10% of the gross, so they get creative when it comes to earning their dough, even if it means indulging in reckless and short-sighted shenanigans for kicks.
I'm not shocked about this, it's just business. But I tire of this bullshit quickly and there's nothing that says I have to participate.
GW: Jason, you left the band in 2001 to focus on your family life. I know you have performed with the band off and on since then, but how did this permanent return to the band come about?
JF: Last December I basically swooped in like a hawk and established presence (laughing). Honestly, I was going through a lot back in 2001-2002 and maybe not in the best shape mentally and physically to continue with Big Wu. Today, I want to be 38 the rest of my life. I'm healthy, happy, and excited for the future. I'm having so much fun and I think maybe it reflects in my playing. I've always thought of myself as a support player to Chris and Al Oikari, who are amazing. I think Terry, Andy, and I churn up the band and get it grooving hard so the other two can showcase their skills.
Honestly I have so much respect for everyone the Big Wu. I'm happy to be back and look forward to raging some great shows all the way through the Reunion. I may even try and put together a Fladager Family Band showcase. My daughter Emma (11) is an amazing singer. My daughter, Talia (9) absolutely rages on the drums. If we can convince Andy Miller, we'd all like to attempt a cover of Eye of the Tiger for the Reunion Fans.
AM: He's actually been playing with the band as his schedule affords for quite some time, but I think we're at the point that if the five can't commit to a gig, we're not going to do it. It's come around full circle as far as I see it. Big Wu is a five piece.
Nobody can change the past, and I'm fine with that. Besides, he started God Johnson and did some amazing things with it. They've played a million shows, put out CD's, rocked BWFR and 10k Lakes, etc. I'm proud of him.
GW: Jason, will you still be working and performing with your other project God Johnson?
JF: Right now our keyboard player Tim Carrow took a touring gig with Jason Shannon Band so we will be...how you say it...on "hiatus" for a while. We're not done playing; I'm just focusing a lot of energy on Big Wu and Vega Productions right now. Plus, my wife and I have a new baby coming end of August so it will be extra busy.
GW: How have the band and each individual member changed since the height of your popularity years ago?
JF: Well one of us is now a grandfather and I'll let you guess which one. My family keeps growing and growing. I now have a strong interest in doing more non-profit philanthropic work with Vega Productions. I like being healthy and active and maybe that is different from the "dreaddie headdie" guy I used to be. I'm less angry at the world and more motivated to make differences where I can. I can't speak for everyone else, but generally I would say we've all matured nicely with age. Well, maybe not Padre (laughing)!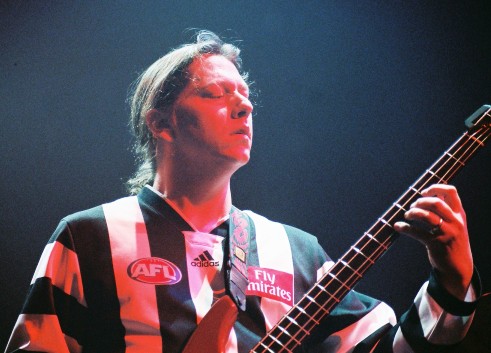 AM: What still amazes me is how far the joke went in the first place. You're talking about a band that never knew how to set any goals, or standards for that matter, in the first place. I thought that if I could play at the Cabooze or First Ave Main Room just once, my life would be complete. It never occurred to me that I would spend a decade-plus playing over 1500 shows, logging in over 500,000 miles on the road. I never thought Bonnaroo would honk our horn. I never thought that we would kick ass all over Japan.
Now that I look back, I'm glad that I never treated Big Wu like a popularity contest. If I did, I would have big bag full of mixed emotions and an even bigger tab at the psychiatrist's office. However, nothing rivals the feeling of walking on stage with a big crowd ready to get their rocks off… Cures whatever ails ya!
Besides, popularity is a reaction to circumstance, not the prime motive. Terry VanDeWalker could write the theme song to the next James Bond movie and bam!, we'd all be more popular than ever. But that wouldn't make us any better as musicians or people, just more… ummmm… recognizable, and that's not always a good thing. Plenty of people know who Hitler is.
GW: Have you guys been writing any new stuff, and can we expect any new songs this time around?
JF: We all have been writing. I have a ton of songs I wrote with God Johnson that I would like to try performing with the Big Wu. I know Terry and Chris both have a wealth of songs that never got recorded. We have been tossing the idea around of putting out a CD in the next year, but no definite plans. We have an archive of tracks we recorded that have not been released yet, so that is another consideration.
AM: Man, we're still relearning songs that are ten years old as a five piece! But I know everybody has been writing; not because I've heard any of it, but because that's what these guys do: They write songs. It's like asking John Madden if he still watches football. But unlike John Madden commentary, I'm interested in hearing some new material.
GW: What do you see for the future of this band?
JF: Honestly, what I see happening is some indie-movie producer is going to catch on that the Big Wu has written some classic American songs that could be used for a really cool movie. We are just waiting for the offers (laughs). The closest I came to Hollywood was having one of my GJ Tunes on MTV's "The Real World: Denver". I love West Hollywood though. I could live there in a heartbeat. A cool movie with all Big Wu music...I think it would rule.
However, for real you can expect more Big Wu shows after the Reunion. We are looking at some options including a run to Colorado and some additional Midwest dates. We are also trying to figure out what to do NYE next year. Maybe something huge.
AM: One thing going for us is that we're almost out of debt. Please understand that at one point, we were down $130k. Adding to the fun, the rights to our records was tied up in NY bankruptcy court, inner-turmoil abound, general pressure to out-do ourselves, etc. Basically, Big Wu wasn't what I did; it was the whole of my identity. As an aside, this is the recipe for drug-fueled madness and moderate psychosis as a lifestyle. Bake at 350 for an hour and serve.
So now that we've crossed the abyss, I'm looking to take this on one show at a time. If all we have to do is prepare ourselves to play well and have fun, there's no reason to piss gas on the fire. In a way, I feel like we're starting over with a sort of clean slate. Arguing petty bullshit after a dozen beers and a gig is not allowed. It doesn't mix well.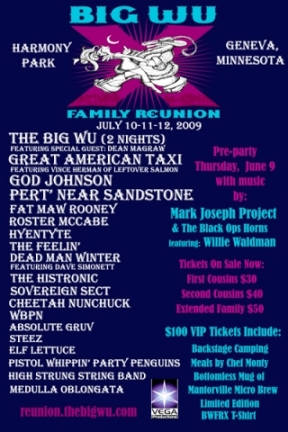 Let me give you an example of why it's important for us to nurture our fragile inter-personal treaties: When we were recording Spring Reverb with producer Bill Cutler, some squabble broke out in between takes. Now Cutler, sitting in the control room behind the mixing board has been in rock-n-roll for forty years. He's worked with everybody; I mean Jerry Garcia plays guitar solos on his records. By the time this brawl de jour broke out, he had already witnessed fifty of the same. He hit the talk button from his bomb shelter and just started screaming: "Jesus Fucking Christ! You people are the Worst! You're even more dysfunctional than the goddamned Grateful Dead! Fuck!!!"
We all got a good chuckle out of that one…poor guy.
GW: Are you motivated to get the train moving again and see how far you can take this?
JF: Totally. Big Wu wrote a lot of classic, timeless songs with amazing lyrics by both Terry VanDeWalker and Chris Castino. I think those two deserve to be recognized for their songwriting ability and someday they will be. It's all about the songs those guys wrote. Someday, a producer will hear those tunes and wonder how they never got in to the CD players of millions of people.
AM: It's a hard life, riding that train; most people couldn't do it for more than two weeks. The few of us that can, and do, go nutters at some point anyways. The way I look at it is that I hope to be able to share this experience with the guys for many years to come. If that's five, fifteen or a hundred and fifty shows a year, then so be it. It's important to take into consideration that we no longer have to play to pay off some monster debt. We're free to play because we want to, and in that resides the difference that makes the difference.