Multifaceted singer/songwriter/musician Drew Emmitt appears to have finally found the right balance of music in his life.  Not only is the co-founder of jamgrass pioneers Leftover Salmon entering his 22nd year fronting that band, but he is busy at work with his other project, The Emmitt-Nershi Band. This year he will also find the time to unshelve his original solo group The Drew Emmitt Band.
Not many artists would be able to handle such a daunting schedule of tours and studio sessions, but Emmitt appears to feed off of it.  He has even decided to squeeze in a few dates with the Travelin' McCourys next month at a mini-festival called the Bluegrass Ball, proving that you can't keep an eager mandolin master down.
Last week, The Grateful Web's Tim Hurley caught up with Drew from the road to discuss his plans for 2011, the future of Leftover Salmon, and why it is essential to schedule road gigs close to ski towns.
GW: So Drew, tell me how you got to celebrate New Year's Eve this year and how has your 2011 started so far?
DE: We (Emmitt-Nershi Band) had a little gig up in Victor, Idaho at the Knotty Pine for a couple of nights, and that was really cool.  It's a cool little roadhouse, and we got to ski Grand Targhee.  Kind of a more mellow New Year's, since I am used to doing the big Leftover Salmon production.  Last year we had our big 20th anniversary New Year's, so this year was a little more down-home.
It was really good, and so far 2011 has been going well.  This is our first little outing we are on right now for the year, just playing ski towns.  Saddle up!
GW: Sounds great!  Well, let's first talk about this mini-festival called the Bluegrass Ball that you are participating in with The Travelin' McCourys, Jeff Austin, and Head for the Hills.  Tell me a little bit about how this short tour came to light.
DE: Our booking agent, Barron Ruth, has been putting this together for awhile.  He also books the McCourys, Head for the Hills, and others.  Then we got Jeff Austin involved too.  He's really quite a go-getter; he's really had a lot to do with getting my solo career launched.  He's quite a visionary, and he kind of put this whole thing together.  It seemed like a really fun thing to do, just come out and do a few shows.  It's something different, and I am always in for that.
GW: What can fans expect from this collaboration?
DE: That's a good question; it's a complete mystery (laughing)!  I don't know, but I guess expect the unexpected.  All I know is that we are all good buds, and we have played a lot of music together over the years.  Jeff Austin is a good friend of mine, and we have done shows together for years as well.  Head for the Hills are kind of our new friends; I produced their last record.  They actually just opened for us in Park City, Utah, and that was cool.  We all have kind of a history together, and it should all come together real easily I think.
GW: I imagine with Jeff Austin, Ronnie McCoury, and yourself all sharing this bill together that the audience can probably expect one helluva mandolin show down.
DE: Yeah, I'd say so!  I may end up even having to play some guitar because there will be so many mandolin players.  So, we'll see how that goes.  Yeah, should be cool.
GW: At this point it's only scheduled to run through Chicago and St. Louis next month.  Why play in these cities and those respective venues?
DE: I guess it just seemed to be the easiest way to put it together.  The Midwest is always eager for music, and it is probably the easiest place to put stuff together, especially with not a lot of leeway and front end time.  It's kind of a no-brainer area to go to.  Hopefully we will do some more of it, if things go well, and we can do some more shows in the future.
GW: Do you anticipate doing any further dates?
DE: That is a good question, because we are all pretty busy doing other things.  But if the opportunity arises we may put some more together.  We'll just have to see how it all goes.  We are always up for doing things with the McCourys, and we do plan on doing some more shows with them this summer at festivals of course.  You never know, it could turn into something cool.
GW: What would you say the music of Del, and the rest of the McCoury family, has meant to you as a bluegrass artist?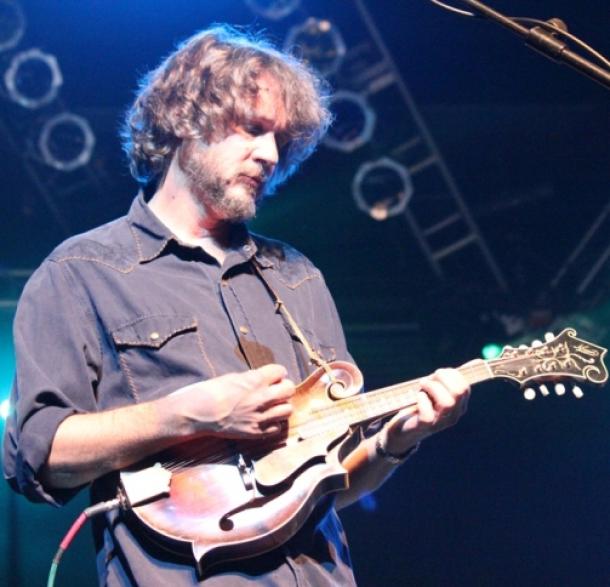 DE: They are the greatest!  Such a great group of guys and the Del McCoury Band is, in my opinion, probably the best bluegrass band on the planet right now.  They just do it right.  They are the real deal, and Del is one of the last real deals out there.  They are all such great musicians, and they are so great together.  There is Jason Carter, who was on our Emmitt-Nershi record.  And I have had Del on a couple of my records, and on one of our Salmon records The Nashville Sessions.  They have been a huge influence, and we've toured with them before and have had a lot of great times.
I really feel honored to be kind of accepted into their circle.  It's been really inspiring the opportunities we've had playing with them.  And to sing with Del on the stage has been one of the best honors of my life.  They are just a huge part of what makes us go.
GW: You mentioned Jason Carter performing on the album New Country Blues released by the Emmitt-Nershi Band.  That is fantastic collection of songs, by the way.  Are there any plans for you and Billy to get back into the studio, as well as some more road dates for the ENB?
DE: Oh yeah!  We just played Sun Valley, Idaho last night and Park City the night before.  We are getting ready to head up to Missoula, Montana and then down to Jackson Hole, Wyoming.  We are also gearing up to play Vail and Telluride in Colorado.  We are just doing a little ski town run right now.  But we have a bunch of stuff coming up; some festivals going on like Springfest in Florida, MerleFest, Old Settlers Festival, Del Fest, Telluride Bluegrass Festival, and Northwest String Summit, so we have quite a busy season coming up.  We are definitely planning on going back into the studio next winter and making another record.  We are cooking right along!
GW: Are you a big skier Drew?
DE: Yes, I am.  I live in a ski town, in Crested Butte.  I ski a lot.  In fact we are planning on skiing at Jackson Hole on Super Sunday.  We are going to hang out there for an extra day, ski, and then watch the Super Bowl.  That will be our recreational weekend.  We will also probably ski Vail and Telluride.  It's kind of part of the deal to be able to go out and try to ski as well, as much as we can.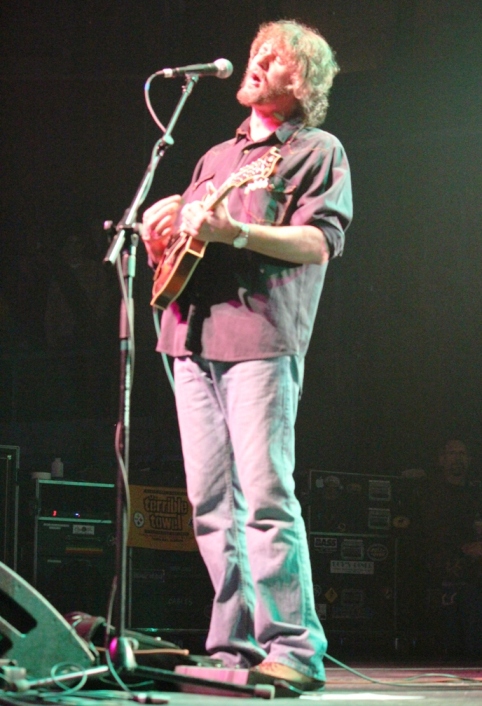 GW: Let's talk about your other side project, your fronted group the Drew Emmitt Band.  Do you have plans to play with that band this year?
DE: Yeah, we actually did a show a couple of weeks ago in Crested Butte at The Center for the Arts, and we have a couple of shows coming up in the spring; one in Denver and one up near Fort Collins at the Mishawaka Amphitheater.  We are also hosting a festival in Crested Butte called Bluegrass in Paradise.  So yeah, that band is still there.  It's not my main thing right now; it's a bit of a backburner thing.  But I can pretty much revive it at any time, and do shows with that band as well.  It's good to have options, you know.
GW: Let's touch upon having those options a little more.  What do you, as an artist, get from playing your side projects outside of performing with your usual group, Leftover Salmon?
DE: Well, Salmon took about a three year break, and we are back doing a few shows here and there.  That actually feels like a side project now more than anything.  But it has been really great to get out on my own, and kind of find my own sea legs.  It's empowering to take control of your own career, and know that whenever you want you can get out and do your own band, and not be dependent on doing the usual stuff.  It's been really great for me making solo records; I love it.  It's invigorating and challenging.
GW: Speaking of Leftover Salmon, with the exception of taking those few years off you mentioned you guys are essentially going on your 22nd year as a band.  Coming up the group is doing a short tour through the Colorado and Utah Rockies later this month, so it would appear the band is still content pushing on.  What do you see for the future of Leftover Salmon?
DE: Well, we are also going to try to make a new record next winter.  Probably another concert run next fall too.  I think we can keep it going, although probably not a whole lot of shows.  We'll do a few runs, and some festivals.  It's good to keep it going, because we really weren't sure if it was ever going to come together again after we split up.  But it has come back around in a nice way.  It has been low pressure, and we don't have the huge organization and stuff going on.  We just sort of get together and do some shows then go home.  I think we will just keep it going for as long as we can.  I think when we get into the studio it will be a cool thing after all of these years, and just see what happens.  We are excited about that.
GW: Have you or Vince Herman been writing any new songs for Leftover Salmon?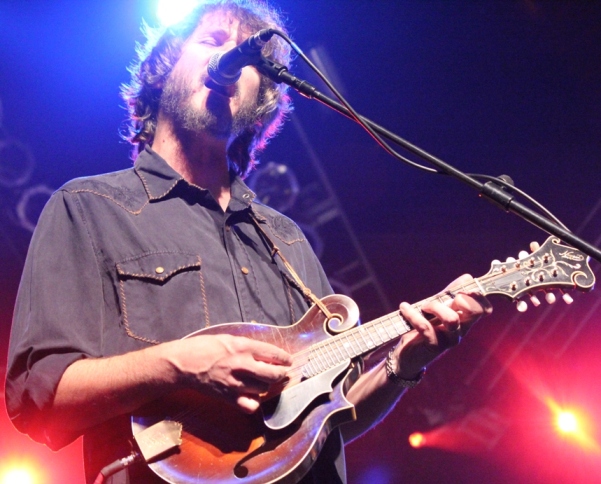 DE: Not at this point.  But it's good to have a reason to write together, and see what happens.  It will be interesting, and it is definitely in my mind right now; writing for that and for the Emmitt-Nershi Band.  That is kind of what it takes for me to get writing new stuff is to have an impending album coming up.  It gets the juices flowing.
GW: You guys put out a really great concert DVD last year called Twice in a Blue Moon.  It was also a neat retrospective of the first twenty years of Leftover Salmon.  Do you mind sharing how the idea came about to film the performance?
DE: We thought we should commemorate the 20th anniversary, and weren't really sure how to do it.  But then our manager had the idea to put a DVD together.  It wasn't planned as much as it could have been; it was a little spontaneous.  It is a pretty good representation of where the band is at now.  It was just cool to have something new out; something that fans could have to take home and show their friends, or for those who maybe haven't seen us before.  It was a good way for us to keep things rolling, to have something to put out there.
GW: Drew, I want to jump back a little and talk some more about performing at the Bluegrass Ball with Jeff Austin.  You and Jeff are such prominent Colorado musicians, as well as mandolin freaks.  I know you two have played a lot together, but could the time come where you two finally sit down and write and record some stuff together?
DE: It's always possible.  I've thought about it before, yeah.  I think it would be awesome, and I would be totally open to that.  And I've always thought Ronnie McCoury and I should do a record as well.  Maybe we should all get together and do a mandolin record with a bunch of us crazies (laughing).
GW: You guys will all be together here real soon, so you never know what will happen, right?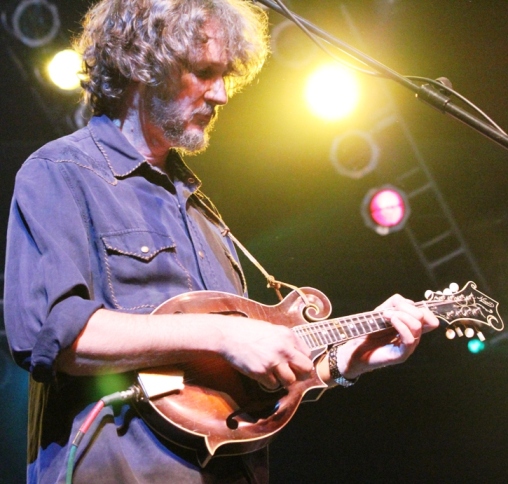 DE: Exactly!
GW: Now you have had the opportunity to play and record with all sorts of great musicians throughout your career.  What I would like to know is if there are any other artists on your radar that you are just dying to play with someday?
DE: Eric Clapton, for one.  It's kind of a long shot, but I do have friends who have played with him.  Somebody else would be Carlos Santana.  Those are pipe dreams, but you never know.
GW: The classic greats, I can't blame you there!
DE: Stranger things have happened I guess (laughing)!
GW: One last question, Drew, and that is what other events do you have planned this year that you are excited about?
DE: We are probably most excited about MerleFest, because that is a festival we have not been to in a long time.  Then of course Telluride Bluegrass Festival, as well.  Those are probably the big ones we are excited about right now.  MerleFest is such a definitive bluegrass festival right now, and I think it is going to be a really great event for us.
GW: Sounds great Drew.  I know you have a busy month of music ahead of you, so I will let you get back to the grind.  Good luck with everything.
DE: Alright, thanks a lot.