Graber Gryass, a collective of musicians from Memphis, has put out an album that's far from your standard bluegrass fare. Their latest release, entitled Waking Up, boasts a peculiar and offbeat character that's hard to pin down. When asked about the inspiration behind the new album, guitarist and vocalist, Michael Graber, shared that the band aimed to push the boundaries even further with Waking Up. "We wanted to stay song-centered, but we also wanted to explore new sounds and styles," he said.
Graber Gryass is made up of Michael Graber (guitars and vocals), Kitty Dearing (vocals and saw), Andy Ratliff (mandolin and vocals), Andrew Geraci (bass), Clint Wagner (12 string and fiddle), Randal Morton (banjo), and Caleb Ryan Martin (high-strung guitar and baritone banjo). For the album, the band collaborated with Jesse Dakota (percussion), Hope Clayburn (flute and sax), and Joe Mahanahan (vibraphone). The album was recorded at High/Low, engineered by Pete Matthews, mixed by Matt Qualls, and produced by Michael Graber.
The group has been making music for several years, and their unique blend of bluegrass, folk, and rock has garnered attention from critics and fans alike. In fact, Glide Magazine has compared their sound to Edward Sharpe and The Magnetic Zeros, while Rock 'n' Load Magazine has likened them to the Basement Tapes outtakes.
The album, Waking Up, kicks off with the energetic and playful "All the Time," which is followed by the introspective "Morning on the Water," featuring lead vocals by Kitty Dearing. "Taproot" follows, featuring saxophone and hand percussion, with guests Hope Clayburn and Jesse Dakota. The title track, "Waking Up," is a dreamy and ethereal song that evokes the spirit of Astral Weeks in Memphis.
Graber Gryass showcases their funky side with "Living on a Faultline," before Kitty takes the lead again on "Hardcore Heartbreak." The album closes with "Faultline," a Carter-family inspired song about living on the New Madrid Faultline.
Graber reflects on the recording process of the album, saying "It was a joy to work with such talented musicians and engineers. We are excited to share our new music with the world, and we hope that our fans enjoy the album as much as we enjoyed making it."
Candice Dollar from Grateful Web had the opportunity to sit down with Michael Graber to discuss the release of  their third LP, Waking Up, which will be available on May 11th, 2023.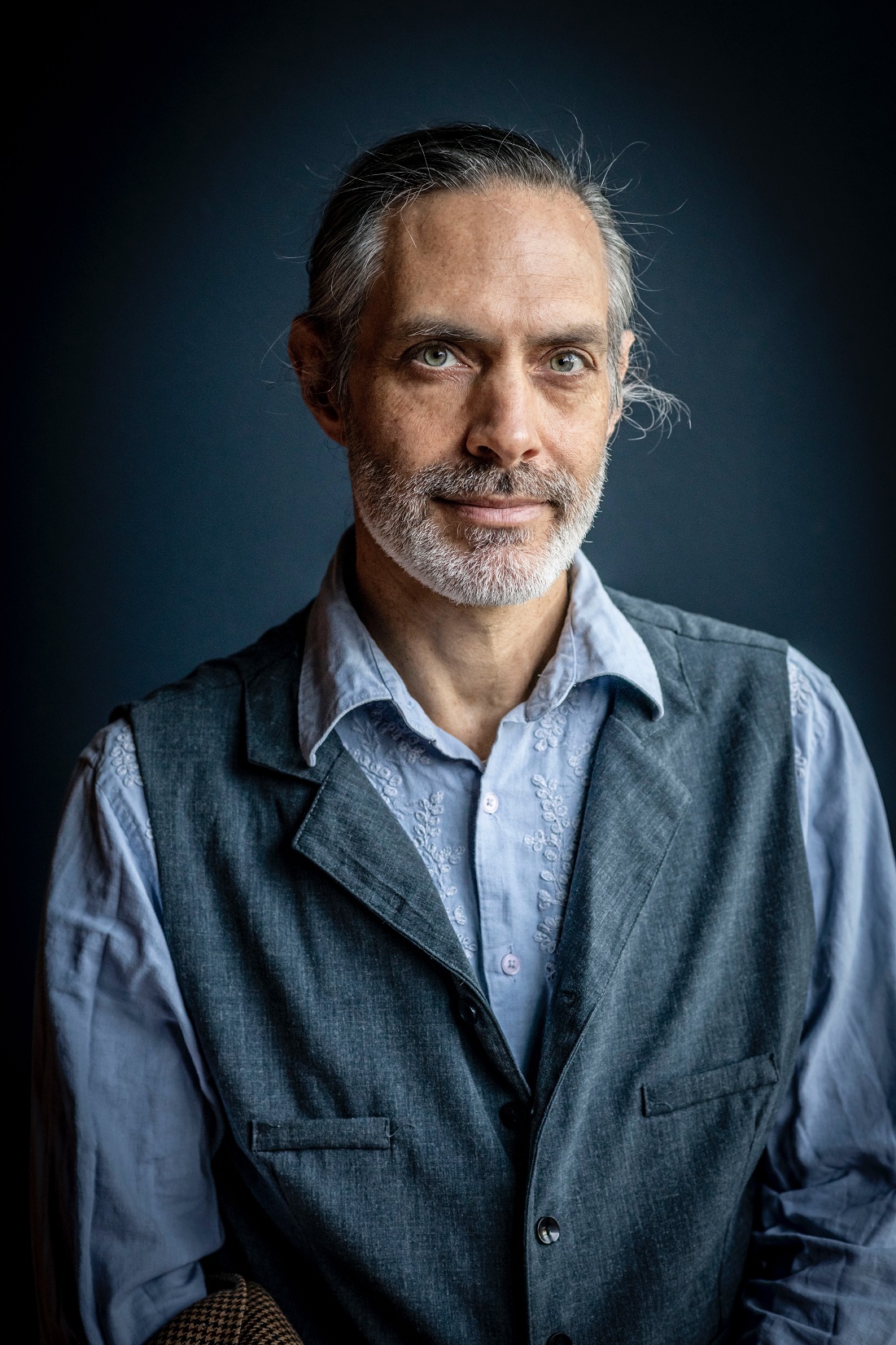 GG: Hi, Candice. I'm Michael, and they call me Spaceman. I still haven't figured out why.
GW: I bet I can guess. Are you a little out there?
GG: Well, yeah. And sometimes my eyes will roll back in my head when I'm playing. But you know what? While I'm out there, I'm probably the most responsible of all the band members, so it's a great paradox.
GW: I love that. I call it guitar face. I don't know what it's actually called, but when a musician is playing guitar, and they are getting really into it, they make all these crazy facial expressions. It's great. So, what do you have going on in Memphis this weekend, Spaceman?
GG: Well, this weekend is a little quiet, thankfully. We had three gigs last weekend,and then we got offered a couple gigs for next weekend, but my wife and I already had tickets for Jazz Fest in New Orleans, which is going to be excellent. Then we have our record release, and some parties, festivals and things like that coming up.
GW: I would love to go to Jazz Fest. I didn't jump on it early enough.
GG: You can still do it. There are still tickets.
GW: Well, Nebraska is kind of far from New Orleans. There's always next year though.
GG: Yeah, it's so fun. There's Jazz Fest, but then there's also the events that are happening at every single bar, and even house parties all around. It's great. It's only a six hour drive from Memphis. The old saying is that all the crazy people are born in Memphis and end up in New Orleans.
GW: I absolutely love New Orleans. One of my favorite places. My kind of people. Are you playing or just visiting?
GG: We are doing both, but informally. We've got tickets to all kinds of things, which will be great, as well as Jazz Fest, but then some friends of ours all converge there each year. My wife sings and plays a little bit. She's not in Graber Gryass, but we play together too. We also just got back from Costa Rica, where we played. We were the entertainment for some friends of ours from around the country at the Grateful Hotel. So, those folks will be there, and we're going to play. We've already got it arranged on the porch of their Airbnb on Elysian Fields Avenue. So basically, we are meeting up with friends for some jams, but these are professional musicians. They just happen to be there because they are music lovers.
GW: The Grateful Hotel, is that related to the Grateful Dead at all? Are you in that circle?
GG: Yeah. I met all these people Playing In The Sand. When we went to Mexico two years ago, the band didn't show up because of COVID, and so we all got to stay for free. So what are you going to do with 4000 deadheads, 30 of which are musicians?  We became the entertainment all night every night. On the beach. Musical orgies. I met these wonderful people, and so now I've got connections all over the country. We just get together and play Dead family tunes, here and there, as well as originals and other things. It's great. I love it.
GW: Lovely. I accidentally fell into this circle, and my entire world has opened up. I have met so many great people, and have been introduced to so many great artists. One of my first interviews for Grateful Web was Peter Rowan, and can you believe I didn't know who that was? I will be seeing him in Maryland at Delfest this year.
GG: My God. Peter Rowan. We got tickets for next Saturday night to see Peter Rowan in New Orleans playing Old and in the Way material. That will be such a great experience for me. I love all the electric stuff, the Seatrain stuff, and all the wild experiments he did in the 60s.
GW: Yeah, he has really done it all. He's the man. So tell me about this latest single you just released. And you have an album coming out soon?  
GG: The single is coming out first in Glide Magazine and hopefully Grateful Web will run a different one. I also think The Bluegrass Situation is going to run one. This is our third album, and it's called Waking Up, and it's due out May 11th. We recorded it about a year ago. I've just been sitting on it, waiting for it to hatch, but we're very excited. We have a record release party here in Memphis, which is sort of the premiere spot for doing that, and then some regional festivals, and other things. But "Waking Up," I'm happy to say, is the title track, and without boring you too much, it is about getting up at like 4:30 in the morning, getting into a deep meditation routine, while at the same time, the microdosing is kicking in, and the sun's coming up, and you're like, I'm a part of all this, this exotic taproot of existence.  This is wonderful, and beautiful. It's one of those moments you try to capture. Almost like John Denver on acid, you know?
GW: Well, I don't find that boring at all. I do this for a reason (laughs). I'm interested in all of the inner workings.
GG: Well, more importantly, I guess, "Waking Up" is about waking up on the planet, and waking up to the planet. The last thing I'll say is that it's waking up to realize we are the planet. Nature is not another. So as we wake up on planet Earth, we realize that we are planet Earth. We have to take care of this habitat. It is us and we are it, and it's very symbiotic, this relationship.
GW: Have psychedelics always been a part of your life or your creative process?
GG: When I turned 50, I had been kind of abstinent from drugs and alcohol for a long time, and then right when the pandemic hit, I started experimenting with micro dosing mushrooms and LSD and started using cannabis again. I was like, "Oh, shit, I got all these songs, and they're gonna die within me if I don't record them". So that was the whole genesis of Graber Gryass, and moving to an all organic and original format. Even though I do have to give psychedelics credit. I don't do this for any kind of fame or fortune; it's just to participate in the flow of life.
GW: Would you say that you are primarily a bluegrass band?
GG: No, and that's why we intentionally spelled the name we did, so we could fuck people up (laughs). Gry-ass, because most people down here, if you go to a festival, they say it in two syllables, right? Plus, I love The Byrds, the old 60s band, and they had the "y". We have bluegrass instrumentation, and a lot of people mistake us for a bluegrass band, and while I respect and love the tradition— it's how I used to play, in formal bluegrass and old time band— it's just a little boring to hear what I'll call a museum representation of "Rocky Top" or some of the old standards. I don't really want to cross the street to hear somebody do "Nine Pound Hammer" again. I love the song, but what we do is all original jamgrass music is probably what it is—  it's really just organic music. And what I like to tell people is that it's influenced by country music from every country.
GW: Can you tell me more about the influence of country music from other countries and how you incorporate that into your own sound? And how do you set yourself apart from bluegrass?
GG: We record with different instruments. We have a vibraphone on this album, and we had a sax flute on the last album, and a homemade erhu. We're looking for what Bill Monroe called those ancient tunes, but not just with the traditional bluegrass standards. There's a lot more variety and there's so much more you can do outside of the conventions. And so while I love and respect bluegrass, I find that I'm more satisfied the further we get away from it. I'll just say the staunch traditional bluegrass people hate us, because we have songs you know about drugs, marijuana, and about alternative lifestyles, and then we also draw from all types of things. Grateful Dead is kind of the template. They took from bluegrass, old time, jazz, avant garde, classical—  they didn't filter their influences. They just let it  flow. And the most important thing to me is that you let the songs carry you on an adventure. It's not only the story and the songwriting, but I would be really bored playing songs the same way every time, and you kind of have to listen to where you are metabolically, biologically, and spiritually, and then meet the crowd where they are, and then some kind of alchemy happens. That's what we're chasing.
GW: What kind of experience might someone expect to have at one of your live performances?
GG: We have a big time, and a big following, and fortunately, I don't know how or why, but we've got some fans, and I've gotten to know them. They'll write to me or talk to me, and they say it's a very spiritually uplifting time. They will often say to me that they have been carrying around all this weight, and all this stuff, and they can just leave that behind and get healed in the moment. I'm not selling religion here, but that's the power of music, and the power of intention. There's a palpable sense of community and love. It's very positive. We're not looking for anything other than community. And we want that community to be helpful and positive and well intended.