One wonders how the members of an elite band can go from playing sold out amphitheaters to nearly empty bars.  Almost one year into the hiatus the artists who comprise the well-known Colorado jam-band The String Cheese Incident have all busied themselves with numerous side projects and guest appearances across the music scene.
None of those projects have been as ambitious or as unique as EOTO, the electronica duo formed by percussionists Michael Travis and Jason Hann.  Their unique sound of mixing traditional drums with guitar, bass, and keyboard loops to create a 100% improvised music experience has been dazzling fans across the states.
It can be difficult to forge a bold, worthy sound with just two members, but these guys play and sound like a full-on band.  The group is currently on the verge of wrapping up their rigorous spring tour, and will begin hitting the summer festival circuit soon in hopes of turning some more heads and moving their feet.
In the midst of this extraordinary tour Grateful Web had a chance to catch up with Jason Hann to discuss the power of this new improvisational project, the Tao of Isaac Hayes, and why it's not so easy being Cheesy.
GW:  Hey Jason, how are things going today?
JH:  Really good Tim, thanks.  We just got done playing a show last night in Urbana, Illinois opening for Umphreys McGee, and that went really went well.  It was show number 93 out of 96 days on this tour.  We are kind of in the home stretch now.  It feels really good.
GW:  How would say the current tour is going?
JH:  It's been very positive.  We had a little bit of trouble with some dates out Northeast, but there have been some great turnouts.  And all the cities we have hit before, our numbers have gone up.  Everyone seems pretty enthusiastic.  All positive!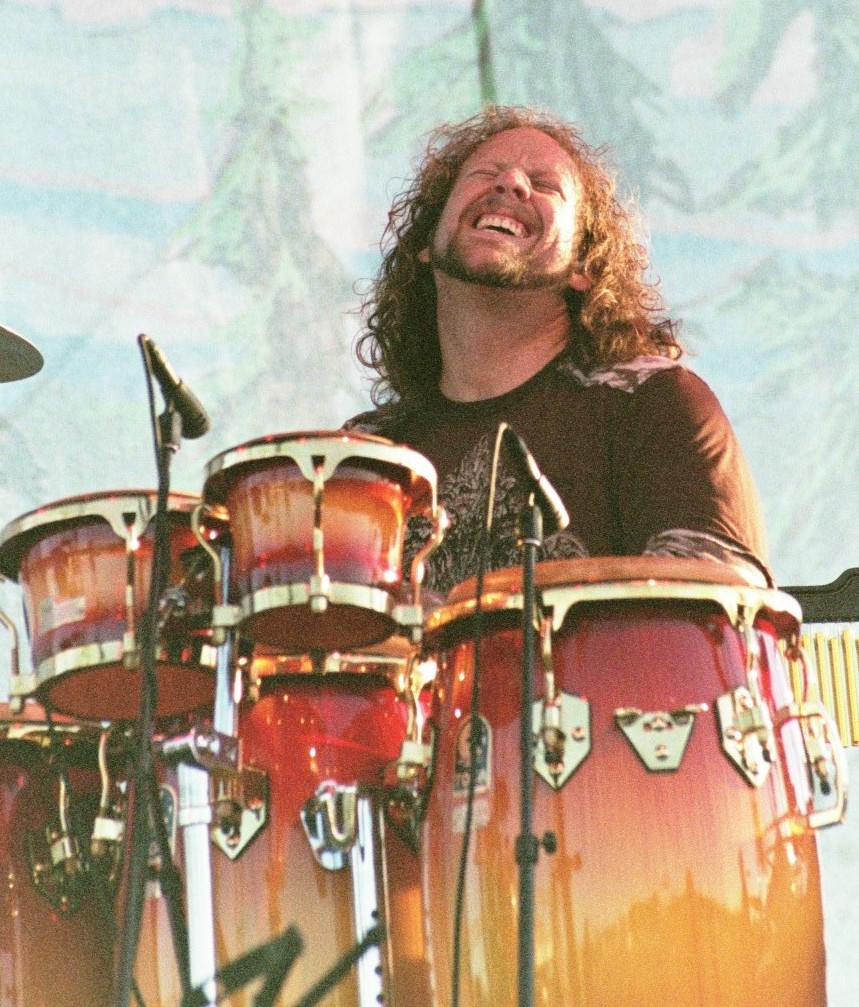 GW:  You know I finally had a chance to see you and Travis play last month at Quixotes in Denver, and I thought it was just an amazing show.  Tell me a little bit about how this project originated.
JH:  Basically it started back when I initially joined The String Cheese Incident.  When I first began playing with them I was staying at all the guys' houses, mainly with Travis.  After String Cheese practices we would head down to Travis' and set up a drum kit and a bass, and we would just stay up and jam out until like 4 or 5 in the morning.  It was really fun.  Travis never really got the chance to play bass or guitar live in front of an audience.  It was something he had always kind of done, but not much in front of people.
GW:  Yeah, obviously with the both of you behind drums and percussion kits in SCI, I wonder how you both found the time to learn some of those instruments and looping machines.
JH:  It's something we've always been into.  Travis has been playing guitar for as long as he has been playing drums.  He has always really liked guitar.  As for me, I started playing percussion and drums when I was eleven.  A lot of my studio stuff has been behind drums.  Being a percussionist is definitely more specialized for the live situation.  But being behind the drum kit has been such a great outlet.  And these late night jam sessions were not intended for us to aim towards any project, it's more like "hey, what are we going to do for the next six hours?"  Little by little we kept finding new ways to make it more fun, and we kept adding little pieces of gear, and eventually began to take it more seriously.  Particularly using a computer program called Ableton Live, which takes this a lot further than any other recording software program, as far as live where not only can you loop yourself but you can have access to all these individual tracks and you can put effects on those tracks.  You can really do a remix session in a live atmosphere, and that type of playing lends its self so well to electronic music, and I think that is why we ended up gravitating towards that style.
GW:  That's really cool.  So in this collective you are actually sitting behind the drum kit versus your usual percussion set up used in String Cheese.  Do you find that to be a refreshing change, or do you have a preference?
JH:  I think as far as the situation goes and with this type of music, it's the perfect thing.  I wouldn't say I have a preference.  Whatever I am playing on any type of gig I really dive deep into.  I love the different subtleties, and the secrets that sort of unveil themselves the deeper that you get into a certain style of music, and with whatever instrument you are playing.  So I would say in that sense it is refreshing for both of us, because we are learning new ways of playing music and for me that sort of carries into whatever we are doing in the studio, or live.  It's finding that way to stay inspired.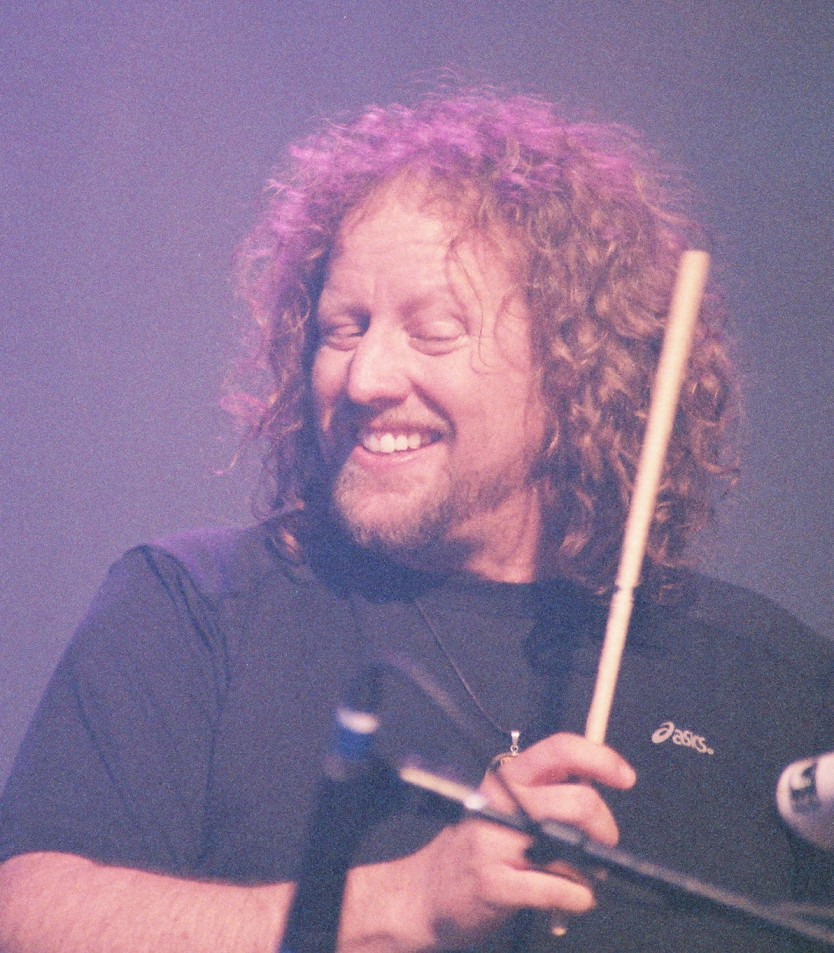 GW:  Nice, I understand.  So you guys just released a new album called "Razed."  Since your music is based wholly on improvisation, how did you approach the recording process?
JH:  We approached the recording basically the same way we do playing live.  We set up our equipment our Travis' house, which is pretty much the same as our live setup.  The only difference is that when we do each song we would do a little bit of research, so if we were going for a particular style like break beat or something, we would sit down and listen to some other songs that we liked and find a way to emulate that.  After we have collected all the sounds we would try to get the groove right and dive into it.  We would actually do one song, then stop, then go back to it.  If we wanted to give it another go, we would give it another go.  In the same way of making it up, but sticking to that particular style and using a selective group of sounds, rather than playing live where we just keep playing without stopping.  It's a little bit different of a process, but we still wanted to do what we do live but in the studio.  Its super challenging, but very rewarding too.
GW:  What would you say has changed for you musically between this album and the release of your first, self-titled project two years ago?
JH:  Oh wow, really big changes.  The thing about the first CD is we cut it before we had even ever played live.  We knew we had some gigs booked and felt we needed to have something else to offer, so we would actually look like a real project.  And those songs were recorded in like two days.  We mastered it a little bit, but we didn't get really heavy into multi-tracking in that process.  For the new CD we recorded the whole thing in about three days, and probably had recorded about fifty or so songs.  We then selected about twelve, and for about six months Travis spent that time mixing and mastering each individual track.  We started recording the album during the summer of last year and it was released in February of this year.
GW:  Time well spent it sounds like.  So tell me, what kind of relationship do you have with Travis outside of playing together?
JH:  Well we've been with each so much now that in our off-time we try to spend just catching up with our lives.  Spending time at home and then just occasionally checking in.  I mean, we have just spent the last 108 days together.  But this project is still really fresh, and it has been easy to make decisions as a band since we are our own road managers and booking agents. 
GW:  That must be easier to handle than the usual process of a large scale groups.
JH:  It really is!
GW:  So I know you have spent some time studying music internationally first hand.  How would you say that influence translates to what you are doing now?
JH:  In more ways than might be apparent.  Especially when writing traditional music versus playing in ceremonies.  The common thing you find in traditional music, especially traditional percussion, is that you never play like a set of music; you are playing like a day-long event.  You play for hours and hours and hours, and getting the community involved.  You are not just performers on the stage.  You are merely supplying the vehicle for the rest of the ceremony or celebration.  So although electronic music may seem like the polar opposite, you are still playing like in a trance state, playing layer upon layer. So that is how I see the correlation.  Some people will come up to me ask how we can play for three and a half hours on end, and I tell them that it is more about looking at how people are reacting to what we are playing, and use that to decide what we should be playing next.  It is a quite similar approach, and that is how I see the resemblance.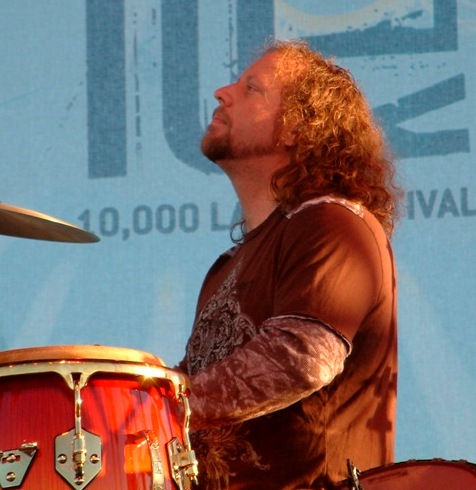 GW:  That is a very interesting way to put it, and I can see the relation.  Do you still try and find time to get to other countries and learn new style of music?
JH:  Well last January I went up to Mali, for about a month.  And when I am able to do things like that it is such a recharge.  It is so interesting to be amongst different cultures and see how they do things.  But since starting EOTO we have been touring pretty relentlessly, and I haven't much time to go do that.  But I am hopefully looking at trying to go to Brazil or Cuba by the end of this year.
GW:  What other artists or music are you listening to right now, electronic or other?
JH:  With the electronic music I listen to a lot of house DJs, like Derek Carter, Dave Tipper, and some Bassnectar, Drum & Bass, Gobi.  Then of course some Vibe Squad, who is Aaron's project who also plays with Travis in Zilla.  As far as other music, I still listen to a lot of traditional music from Cuba, the Congo, Senegal, and others.  Another guy I have been listening to a lot on this tour is Joe Zawinul, the keyboard player from Weather Report.  He was one of the most amazing musicians on the planet before he passed away in September.  He had his own group together the last ten years, and they were some phenomenal musicians!  They have a disc called "Vienna Nights", and it just burns.  I got to see him a few weeks before he passed away, and that old man was still drumming well.
GW:  How great you got to see a hero right before he passed, and to see him still playing well!
JH:  It was awesome!
GW:  So getting back to the summer tour, it looks like you guys will be doing quite a few festivals like Wakarusa, Rothbury, and some other high profile gatherings.  Are you excited to performing at some of these festivals outside of being in String Cheese?
JH:  Yeah, it's a different thing.  When were doing them with SCI we were always one of the biggest deals happening, and it was large.  It wasn't necessarily overwhelming, because hey, that's a lot of love!  So it is going to be a unique experience.  With EOTO, we are sort of in the grind and have some things to prove.  We feel like we are really primed to do well, especially with some of the late night slots like at 10,000 Lakes and Rothbury.  There is a lot of work to do and we are ready to dig in, and play the best we can and make this thing fly.
GW:  I understand you were also slated to sit in for a set with Hot Buttered Rum at Wakarusa this June.
JH:  Yes, it was originally set up to go down like that but unfortunately that has changed.  It was taking a long time to get confirmed, and we ended up getting an offer to play in Baltimore.  Originally we were just going to hang out and play all weekend, but this festival in Baltimore called Starscape was too good to pass up.  So it didn't quite work out.  It had gotten to the point where Nat had given me a setlist of songs that we were going to get into, but now that is not going to happen.  We had sat in with each other before, and it worked well and the fans really dug it.  So maybe somewhere down the road we can make it happen again.  But we are still going to do our own late night set there, so that should be sweet.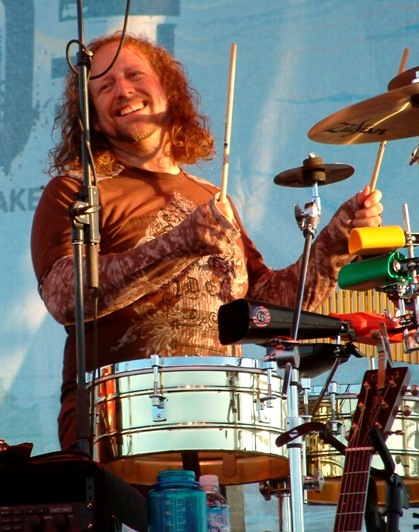 GW:  Was it more of an excuse to get some bluegrass in?
JH:  Ha ha ha!  Maybe!  Hey, when it's good music then its good music.
GW:  Speaking of good music, it appears that all the members of String Cheese will be performing with their respective projects at the Rothbury Festival this summer.  Do you anticipate any collaborations happening with everyone there?
JH:  I can say that it is possible, and it probably won't be talked about until we are all there sort of hanging out.  If any of that goes down, it will be impulsively.  It definitely won't be all six of us….well; I can't say definitely because who knows what can happen.  It would be hard to picture all of us playing together, because we've talked about if we all do get back on stage as String Cheese, we want it to be really special and rehearsed, and not just be a show.
GW:  No impromptu reunion?
JH:  Proably not.  If we do it, we want it to be strong and inspired.  But this festival, as well as Yarmony Grass, is set up to if we want to play with some of the other guys we can.
GW:  Do you still talk pretty frequently with the other guys, or have you been distancing yourselves from one another?
JH:  We don't talk much, but it is not really purposely.  Everyone is mostly on tour, or spending time with their families.  I mean, Travis and I have been on tour since mid January.  When we are on the road we try to check in with each other and see how things are going.  And when people are at home, they are pretty focused on their families.  That can be enough work as it is.  But we check in every now and then.
GW:  Do you miss playing with String Cheese, or are you comfortable doing what you are doing now?
JH:  A little bit of both really.  But we are so busy doing EOTO that I have not had much time to think about anything else.   Being on the road is so active, and it's hard to focus on other projects.  But I can that yes, I absolutely miss that experience of all us playing together and performing in front of so many people.  But since we have no solid plans for getting back together, it is easier not to think about it.
GW:  Speaking of other groups you have been a part of, do you foresee any plans to tour again with Isaac Hayes or even your old group Zoo People?
JH:  I actually do have a few shows planned this summer with Isaac Hayes.  It is not a bunch but I know I am doing a show in June with him in Brooklyn, and then another festival show in Illinois.  We are also doing a show in Pittsburgh with the Pittsburgh Symphony, and that should be pretty cool.  He was basically one of the first R&B artists to include these symphonic elements, even before guys like Barry White were doing it.  So we will sit with a conductor and play Isaac's songs.
GW:  That's sounds cool!
JH:  It really is!  And as far as playing with Zoo People, we are going to do one private show out in northern California for a gathering of friends.  We might do that with Melvin Seals too, which will be fun. It might be weird playing again, but when those chances come up you can't pass them up.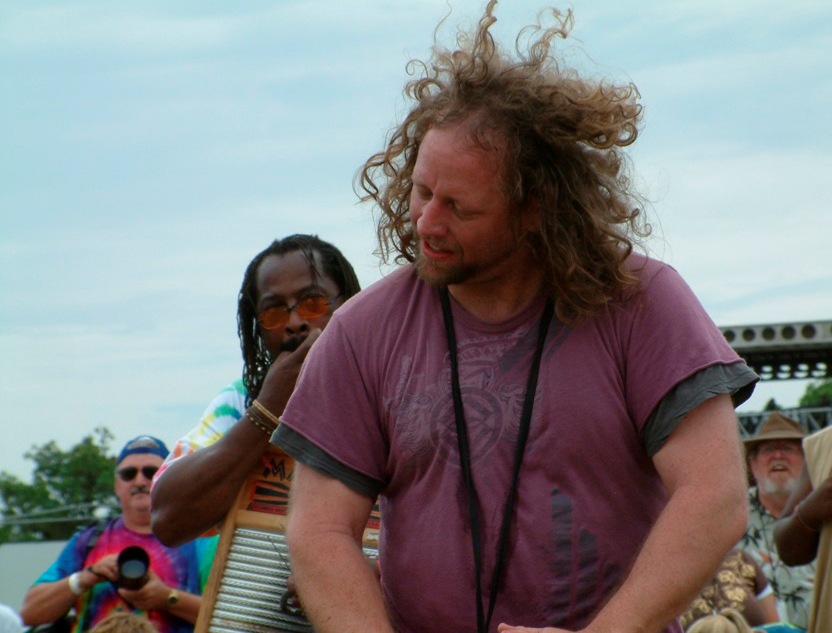 GW:  I can understand that, I am sure it is great to play with whomever you can.
JH:  Yes... And when Isaac calls, I try to do whatever it takes to play with him.
GW:  Do you look at Isaac in a different way since he spent so many years voicing the character of Chef on South Park?
JH:  It's funny, because for a long time I wasn't necessarily a fan of South Park, and I thought of it more of a cool trivia question about him.  And I knew him way before he started working on that show.  I still have this image of this guy who would wear chains and no shirt. 
GW:  Like the days of "Shaft?"
JH:  Yeah, that cool R&B icon.  And he is just one of the nicest people, and he still considers himself a musician first of course.  And it is always an education when I get a chance to play with him.
GW:  For sure!  Jason thanks so much for talking with me today, and good luck with the rest of the tour.
JH:  Very cool, thanks so much for your support!