Last year was monumental for veteran prog rockers Umphrey's McGee, who hit the road for over 100 shows with stops at familiar haunts and some new markets.  Their unique concert events including the Stew Art Series and UMBowl allowed the audience to connect with the band like never before, and proved that the band remains dedicated to finding new ways to interact with their rabid fan base.
2011 is already shaping up to be another banner year for the group.  They just wrapped up another successful run through paradise with their annual "Holidaze" getaway, this time in the Mayan Riviera area of Mexico, and will soon embark on their late winter tour which is sure to see the debut of a host of new original songs.
With a little downtime before the next tour starts, the Grateful Web's Tim Hurley had a chance to speak with drumming extraordinaire Kris Myers about the success the band earned in 2010, thoughts on a potential new album, and what lies ahead for one of the most innovative bands in America today.
GW:  Let me first start by saying Happy New Year.
KM:  Thanks, Happy New Year to you too!
GW:  Tell me how the New Year's shows in Chicago went last month.
KM:  They were great!  One of our best runs yet, for sure.  A lot of great memories, the setlists were really strong, we did some new covers which entertained the fans who really love the cover songs we do, and we did a new original.  We have some really cool things coming up in the next year, and that really set us up good.  I even played a late night show on the 30th with my new electronic side project called Digital Tape Machine.  Everything went smoothly, which is all I ask for.
GW:  Did you get to do any celebrating outside of the concerts?
KM:  Honestly, we didn't.  We were so submersed in all the work and putting the shows on that there was very little time to hang out afterwards.  Most of us were just so tired at the end of the night that we just wanted to go home.
GW:  I understand you guys are considering moving your annual NYE run outside of Chicago and into a new city next year.  What prompted that decision, and have you given any consideration to where that might take place?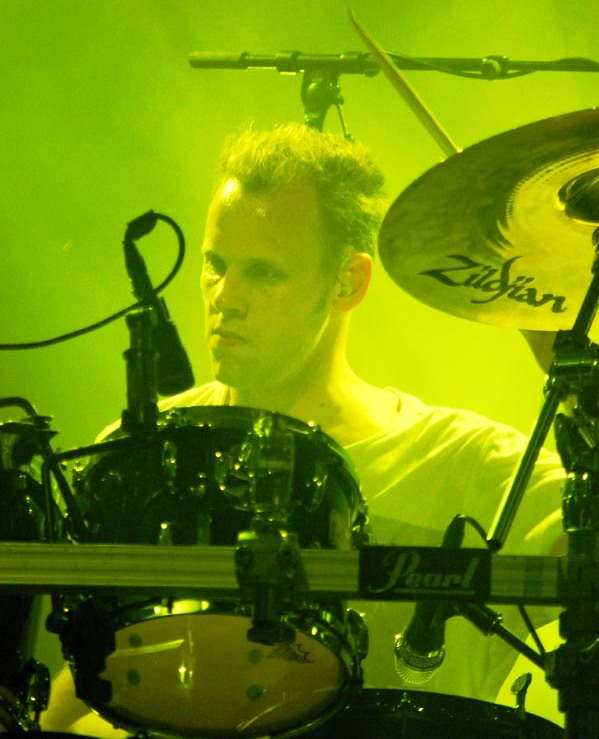 KM:  We are feeling that is a possibility, but we are not ruling anything out yet.  We are definitely considering it, as a lot of bands do that have been playing such shows in one city for so long.  Expanding into other markets and other parts of the country would be great for more fans to travel, and to keep it interesting.  But at this point, we're really not sure what we are going to do or where we are going to be.  There have been discussions about maybe doing it in the South, or somewhere in the West.  It's really a big question mark right now.
GW:  2010 was a huge year for you guys, as far as touring goes.  What were some of your highlights from the past year?
KM:  The highlights for me would have to be the UMBowl, which was a really cool, new event we did.  And also the Stew Art Series (S2) events we did.  These are things that no band that I have ever known in history has ever done, and we are definitely setting the bar for new and innovative ways to get our fans engaged, and I am excited and very proud of that.  They were really cool events that got the fans involved, whether is was picking setlists, picking the shows, and sort of being a part of it and having that close of an interaction with the band.
None of this has really happened in the past, well, because it was really never needed with the status of the way things worked with records, hit songs, and relying on the major labels to take care of the rest.  We are taking the initiative now with the way the industry is economically to try these new events, and I think we have been very successful with them.  And it should set us up very well for the years to come, and 2010 was crucial for that.
Another notable one includes the Red Rocks show from the summer, which was of course epic.  I love Red Rocks; it is my favorite venue anywhere.
GW:  I agree, it is mine too!
KM:  It's a very special feeling and experience there.
GW:  Well, 2010 might have been your best year of touring as far as actual performance, song selection, and of course your energy.  How do you guys stay so focused and energized after playing so hard year after year?
KM:  Lots of Red Bull (laughing)!  But really for us, it comes down to the natural hunger to play and give out as much as we can.  Another thing is to stay healthy, and to realize what's important in life.  We have to be of good sound mind and body, and not encourage excess.  We've all been through things here and there, but it's all the matter of coming together with a group of people that make great music and an extraordinary experience for other people, so we keep that in the back of our minds and do what we can to stay in shape.  We eat right and try to get enough rest both before and after shows.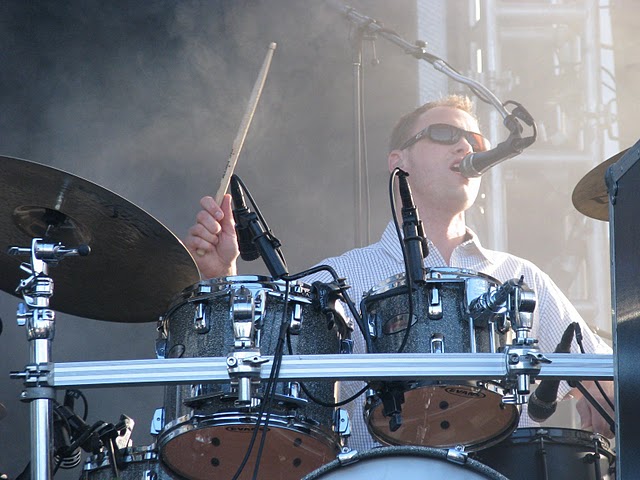 But also, after playing so many shows during so many years it just sort of becomes a part of you.  You become a well-oiled machine all the time from playing, and there is a certain routine we get used to that helps us get through each day.  Like a certain rotation of songs, and a certain way of playing them; that is what keeps us interested on our end.  Not only for the fans, but for us as well so we don't get burned out playing the same setlists over and over again.
GW:  Speaking of not playing the same stuff all the time, the band just released not too long ago a great new single called "Wellwishers", and some of your recent shows have seen some debuts of other new material.  Have you guys written a bunch of new songs that fans can expect to hear in 2011?
KM:  Absolutely, we are constantly working on new songs.  We've got some irons in the fire and just need to put the arrangements together, and put those songs to work in practice.  They will come out soon enough.
GW:  Do you think you will continue to release singles, or are you looking at doing a full studio album?
KM:  We are trying to figure that out actually.  Certain industry sources have suggested releasing either singles or something like 3-song EPs because, I hate to say it, the era of the album is becoming endangered or even extinct.  With record sales down around 57% since 2000, the world has changed.  Downloading music has become the norm, or standard.  Smaller volumes of music is suggested because it's just the way the medium works now.  You kind of have to go with the way the current flows.
GW:  Yeah, it's definitely a different ball game out there now.
KM:  No doubt.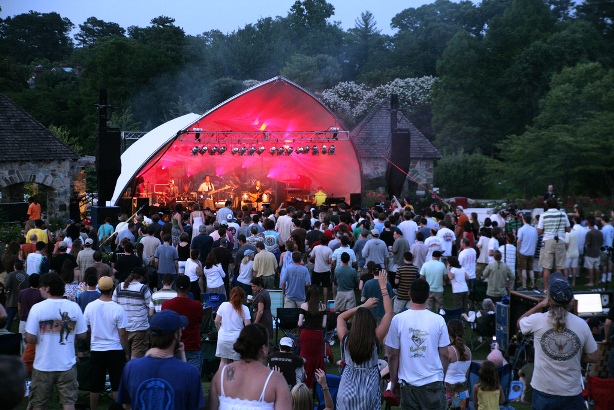 GW:  Well the new year has started off on a good foot for the band.  You guys just wrapped up your annual winter getaway festival which this year was dubbed Mayan Holidaze.  In the past, you had done the Caribbean Holidaze in Jamaica but this year decided to move it to the Mayan Riveria in Mexico.  Why the move, and of course how did this experience compare the ones you have done in the past?
KM:  We, and Cloud 9 Productions, thought it just crushed and far exceeded the past experiences on an organizational and production level, as well as with all of the events and excursions.  One of the reasons for doing the "Holidaze" trips is to expose everyone to a level of cultural diversity in different areas, but also just the means of picking a great place to play in a great location.  This resort was also better for the family atmosphere.  It was a great way for families, especially with kids, to celebrate.
GW:  What was your favorite part of the experience this year?
KM:  I would say getting out every day in the sun!
GW:  It's not like being in the January Chicago weather, right?
KM:  I don't want to brag too much because I know most people in the real world of Chicago were suffering with bad weather this time of year.  But it couldn't have been more perfect to get away and get some sun, and enjoy the white sand beaches.  It was paradise!  The workers and the service people couldn't have been better or more courteous.  It is something anyone should consider, really.
But along with that we did some excursions like seeing the Mayan ruins, which was pretty amazing.
GW:  I understand you and Brendan played some tennis matches with each other and the fans.  How did you fare?
KM:  I really enjoyed the tennis.  We did pretty well.  I won one, and lost two matches.  It was some tough competition, but it was a great deal and we had a good time.
GW:  Nice!  Well speaking of yearly festivals, you and the band moe. will be returning to the 11th annual Summer Camp festival in Illinois this summer.  This will mark the 9th year in a row that Umphreys McGee has been featured at this gathering.  What is it about that festival that brings you guys back each year?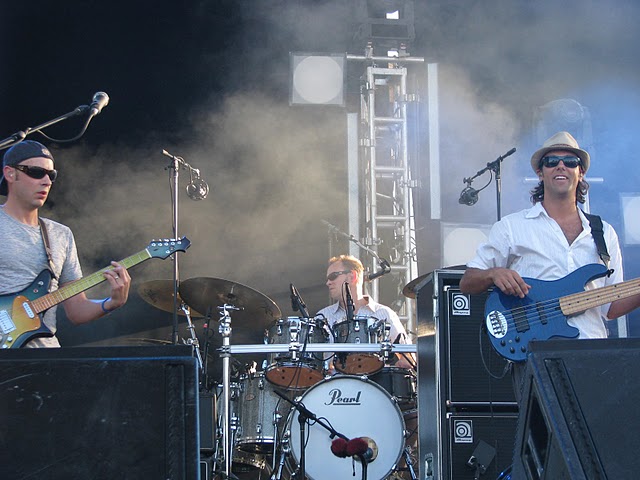 KM:  Well, the fact that it is so close to home makes it a strong root for us and our fans.  We really enjoy being a part of it, and coming back each year to be part of the whole festival lineup.  It's very serendipitous to see how it grows each year, and Ian Goldberg and his father Jay do such a great job of putting it together and keeping the festival pure in its form; not letting it grow too big and make it commercialized.  Its always going to be a great grassroots festival; the way it is supposed to be.  It is just the right amount of media attention and good vibes.
GW:  Touching on "just the right amount", the band experienced a pretty big explosion around 2005, seemingly overnight, where you went from playing small clubs to selling out large auditoriums.  Collectively, are you hoping that 2011 will see the same type of explosion in popularity where maybe you move from auditoriums to small arenas?  Or are you content with the level of progressive success the band has seen in the last few years?
KM:  I'm not really sure how to answer that (laughing).  But of course, growing is not a bad thing and we are not afraid of it. We will embrace it, and whatever may come our way.  We will do our best with it no matter what.  All we care about is giving the experience to fans, whether it is 200 people, 2000 people, or even 20,000 people.  Things will still always be true to our creed of what we do in relation to the setlists, shows, and the vibe.  We are happy to take anything that comes our way.  It's kind of up to the fans to see they want it to multiply in numbers and get us into bigger rooms!  But what we have now is great, and we are very grateful for that.
GW:  What other avenues do you feel the band can take that will allow you to progress the next year and beyond?
KM:  I think maybe continuing to use the social media networks to engage with fans.  Continuing with that, and taking it to higher levels.  There is of course always the possibility for doing more music for TV and radio, or anything like that.  It is just on the radar for any band looking for new ways to get their music heard rather than just being on stage.  Also, continuing to do our blog "The Floor", which is a great way for fans to see what we are doing on more of a daily routine; a "day in the life" kind of thing.  It's not an egotistical thing, it's just a way to share our everyday experiences that go along with our job.
GW:  Another great thing I think you do for fans outside of the blog is the podcasts.  You guys just recently released your 100th episode, and these things are just fucking brilliant!  Fans get a great sounding live mix, obviously thanks to Kevin Browning, and it is a great medium for fans to keep up on how the band has been playing of late.   How do you feel the podcasts have affected your fan base?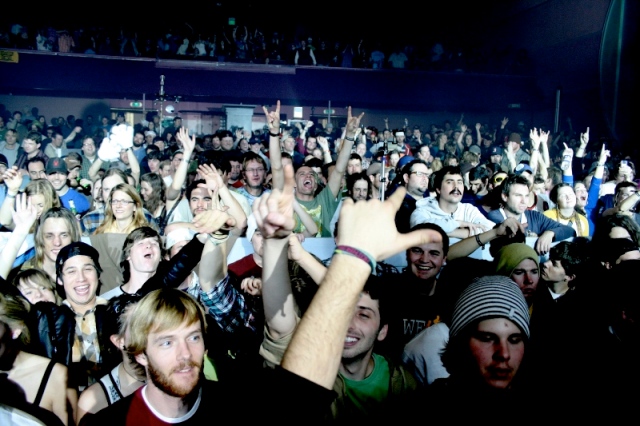 KM:  It seems to me that the podcasts make sense because it exposes our music to a larger audience.  It shows in the numbers; people are very interested in the podcasts.  People get excited to get the new ones.  It is another good way to expose our music in an efficient way. We are throwing out every means of getting our music to people.
GW:  They seem to be a great way to find some of the unique cover songs the band does.  You have an incredible knack of performing covers at your shows, and personally I feel you do it better than most anyone.  You are not afraid to cover any genre of music either, whether it is classic prog-rock like "Roundabout" or indie-pop such as "Listomania".  Could you describe the process of how the band picks which songs to cover, and the approach you take to learning them?
KM:  We pick them based upon everyone in the band's views towards how the song will be received, and how much we like the song ourselves.  We pick them carefully based upon the musical aspects of it, such as what is in our pitch range vocally, or what is identifiable to us and our audience.  For example, playing a song that is way in left field can be tricky, or hit-or-miss.  It could be well-received or not.  Maybe it is a surprise for our younger fans to hear an old Genesis tune, or a tune from Huey Lewis; something that maybe some young kid has never heard before.  We like to expose the cool music of the past, and show what a lot of today's music has been influenced by, indirectly.  It is important for people to understand who Yes was, or who King Crimson was, or Frank Zappa.  But is also cool to play the newer stuff to get an idea of what that new sound is.  The sort of post new-wave, pop thing is fun to do once in awhile as well.  It has a great fun factor to it; I don't want to play just the intellectual music.  You want to throw out some of the fun stuff that an intellectual band can do.  Then it becomes fun for everyone.
GW:  I know you end up singing a lot of the cover songs, especially like Van Halen, Metallica and others.  Have you and the band ever discussed you doing any lead vocals on some of the original Umphrey's songs?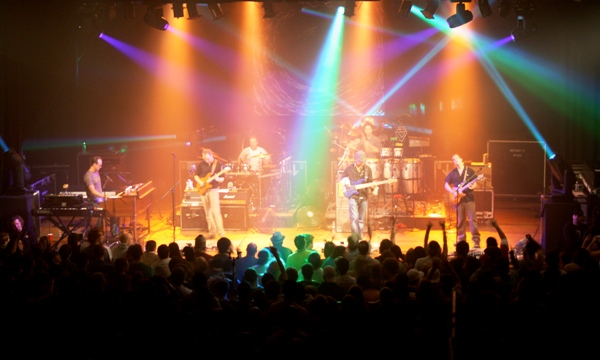 KM:  I think anyone is open and welcome to me doing that, it's really just a matter of me pushing or wanting to do it.  You know, putting my efforts into really doing the song and remembering the lyrics (laughing).  If I can do that and prove to everyone that this could be a new avenue, I don't think they would rule it out.  The one thing that is a part of us is that we will try anything at first, and see how it goes.  I still have yet to write any music or material that would be geared towards me singing.  It is always a touchy subject for some bands, and even for us.  There is a thought that certain individual members are the lead singers, and I totally respect that.  For example trying to keep up with Jake and Brendan; they are excellent singers.  They are badass singers, and they have an original sound of their own.  I am better at imitating voices; I'm good at doing impressions.  But maybe someday, we'll see.
GW:  What are some other artists you are listening to do these days that might influence the UM sound in the future?
KM:  That's a really good question. You know, I've always been into Arcade Fire.  I don't think we sound like them, or ever will, but I just love listening to them.  Some of the textures of how the guitar work is done, or how some of the keyboard work is done, are great.  I also really like some of the contemporary metal stuff that's around.  I like continuing to hear what my friend Mike Portnoy from Dream Theater is doing.  Whether you like that style or not, you need to pay homage to the musicianship.  They are progressive in nature, and I take a lot of inspiration in artists like that.  I also love the funkier, New Orleans-style players, and also like Adam Deitch, who is a huge influence on me.  The electronic stuff is great too, like LCD Soundsystem.  I am really excited about the new live Soundgarden coming out soon.  We love listening to music that is influenced by great producers too like Brian Eno, Todd Rundgren, or even Rick Rubin.  We take in a lot of volume of stuff.  It is hard to say what actually influences us these days.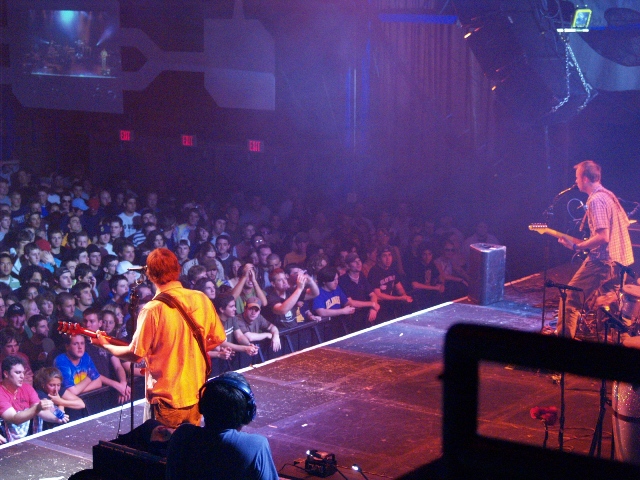 GW:  And how about your influences as a drummer?
KM:  Definitely Adam, but I like to listen to a lot of contemporary jazz drummers of today like Ari Hoenig, who is incredible.  And also Keith Carlock is a big influence and a good friend; I really respect him immensely.  He has played with Steely Dan, Sting, and is now currently working with his own group called Rudder, which I would love anyone in the community and our scene to hear.  Keith also plays with Wayne Krantz, a New York guitar player I love listening to a lot.  Wayne is creating a very innovative style of New York fusion.  It just grooves, and he does it in a very eclectic way.
I also love Vinnie Colaiuta, who is still one of the best recorded drummers of all time.  Then on another day I will listen to Jim Keltner, or Matt Chamberlain.  And even a good friend of mine now Jimmy Chamberlain, whom most people will recognize from the Smashing Pumpkins.  I also dig hip-hop guys like ?uestlove with the rock-steady beat; the Clyde Stubblefield way.  Steve Jordan, same thing.  You know, but I also love the metal drummers.  Guys like the drummer from Lamb of God and Meshuggah; those guys are just sick!  What they put together is truly menacing, very wicked and dark.  Sometimes I just love that darker music.  Like Nine Inch Nails and such as well; big drum sounds.  I like rock drummers with big produced drum sounds, really focusing on their kick and their drum and their snare and cymbals.
GW:  Touching on the darker stuff, the band also does an annual Halloween show, which tends to be another revered evening of music for fans.  You guys love to mix it up, literally, on that pseudo-holiday.  I remember in 2007 you performed at the Fillmore in Denver and did some video mash-ups of classic horror movies along with the songs.  Since then you have done the costume and song mash-ups each October.  With so many other artists kind of doing the mash-up thing, especially in the hip-hop and club scenes, have you guys given any thought to maybe trying something different this year?  What might the next phase of Halloween shows for the band?
KM:  You know what, I really don't know.  That is a good question, and something we should definitely consider.  It is always difficult to try and come up with new and greater things.  We were doing this thing before most other artists were.
GW:  It must be a pretty difficult process having to come up with what songs you want to mash-up for those shows.
KM:  It is definitely pretty tricky.  The only way you can really do it democratically is to sit down in a room together with a pad of paper and sketch it out.  Write out the idea, and go over parts on guitar or piano and find out what works over each other, and find out its most suitable form.  And of course do it tastefully, not just slop it together.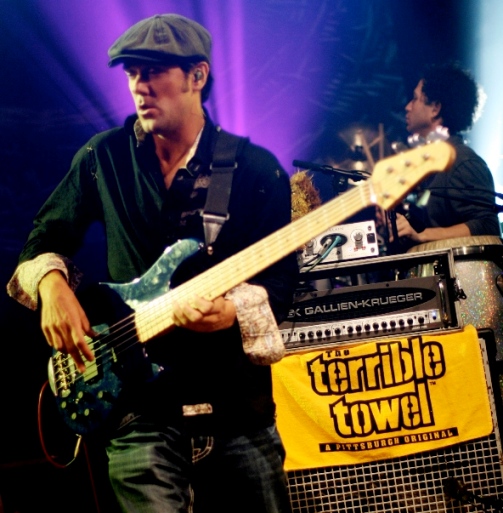 GW:  Tricky indeed.  So tell me, what other plans or endeavors does the band have planned for this year that you are excited about?
KM:  You know, we are just getting started for the year and getting out there with some great opening acts is kind of exciting.  And continuing to work on our release dates for the new material, which is exciting right there.  Stay tuned for that, we'll see what happens!
GW:  Oh yeah, should be a very exciting year!  One final question Kris, and I am going to go a little off base here.  It's just about Super Bowl time, and I know you guys are pretty big sports fans.  God knows bassist Ryan Stasik has got to be stoked to see his Steelers back in the Super Bowl.  I'm just curious if the rest of you Midwestern natives will be pulling for the Packers even after the Bears loss, and if you have any predictions for the big game?
KM:  Let me say this, and you can put two-and-two together:  Most of us reside in the Chicago area, so you can figure out who we are rooting for.  It just says it right there (laughing).  But I want to see the Steelers for Ryan, because he bleeds black and yellow.  So hopefully they will give the Packers a good whoopin'.
GW:  Indeed!  Sounds great Kris, thanks again for taking the time to speak with me today, and good luck with the rest of the tour.
KM:  Oh yeah, thanks a lot buddy!