With their recent explosion on the jamband music scene, a cross-country tour and musicians lining up to play with them, The Werks keyboardist Norman Dimitrouleas could easily go the route of other rock stars and become inaccessible and cocky.  But spend five minutes with him and you'll feel like his best friend.  I recently had the opportunity to sit down with the keyboardist with an infectious smile nd humble demeanor following the second night of their music festival the WerkOut.  We were able to chat about the three-day throw-down where he was able to play with some of the finest musicians in the game today, his life with the Werks, and his life growing up.
Norman grew up in Dayton, OH and started playing piano in grade school.  "My parents got me lessons from a teacher skilled in teaching classical music.  I was pretty good at it, but I wanted to play some rock and roll.  She had me playing Bach and Beethoven, so one day I brought in the Beatles Let It Be and another song and asked her if I could learn it," he stated.  "She ended up telling me that he 'wasn't ready' for that type of thing and she gave me Bach's second to learn.  I went home and worked on playing Let It Be and just barely touched practicing Bach," Dimitrouleas said almost shamefully. "When I went back to practice the next week she asked me to pull out Bach.  I got through about two bars of it and she said, 'That's it?'  I told her, 'But look what I did learn,' and I played a ripping Let It Be," he exclaimed with a toothy grin, seeming to remember the day it happened. "She looked at me kind of blankly and said, 'Well, I guess I didn't understand the direction you wanted to go in and what you'ce come here for.'  And from then on I've been playing rock."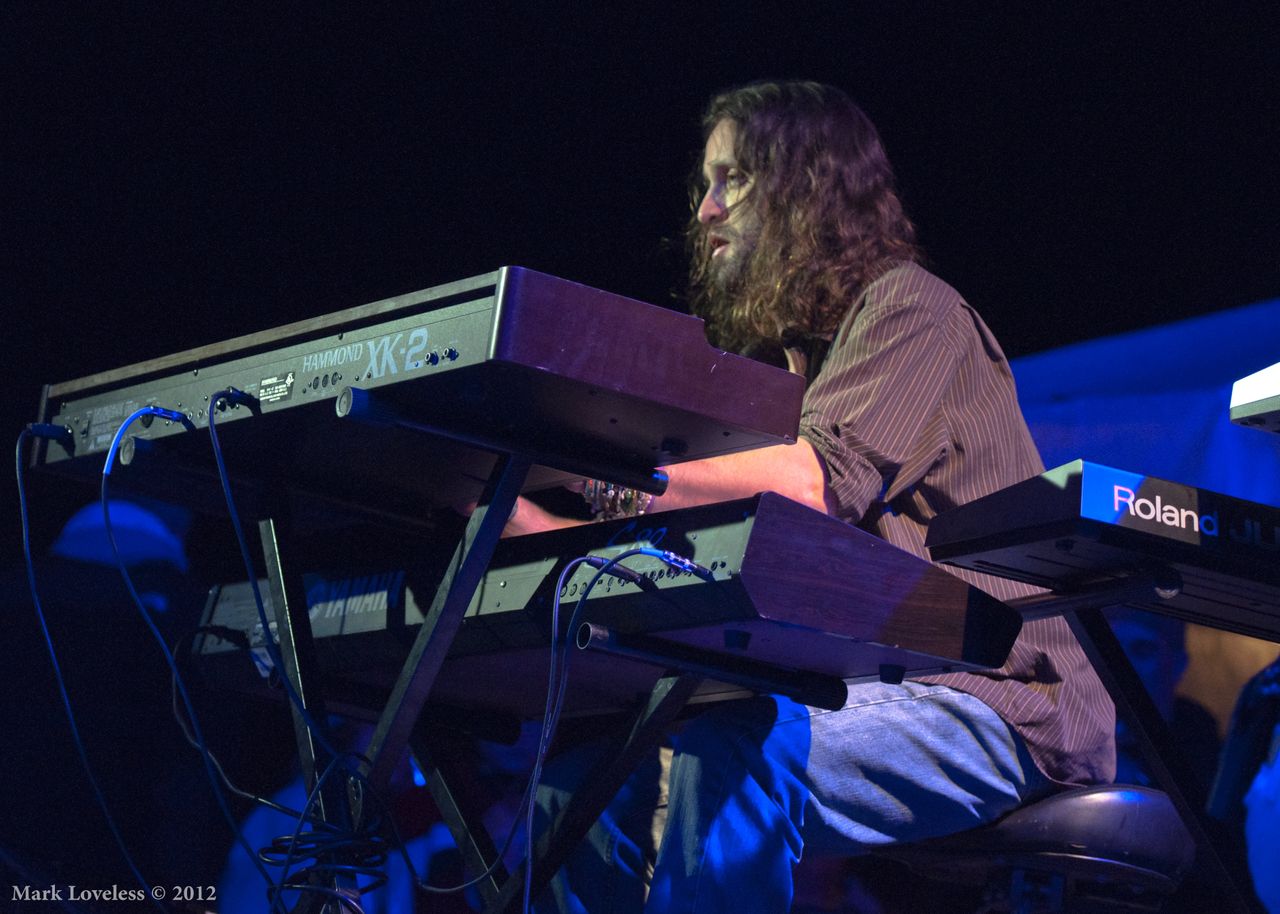 The lanky keyboardist went on to recall a time earlier in his life when he almost quit playing the keyboard.  "Do you remember that girl in high school that made your knees buckle and your heart pound out of your chest every time she was around?" he asked me.  "Of course," I proclaimed, picturing the girl in my mind.  "Well, at one point I wanted to quit playing keys and one day after school they had moved the piano out front and for some reason, her parents were late picking her up so we were alone together, and she came over to me.  Well I panicked, not being able to talk, so I just started playing," he said. "When the song was over, her parents were there to pick her up. She leaned over to me and kissed me on the cheek and said, 'That was the most beautiful song I've ever heard.'  And from then on I said 'I'm playing the keys!'"
Dimitrouleas was diagnosed with cerebral palsy at birth, a disorder that can involve brain and nervous system functions, including movement, but his parents never told him.  I asked him if he believed his life would have been different, and he said "I might have used it as a crutch, and I think that's what they were afraid of.  But I couldn't understand why I would have trouble in school in some subjects but in math and science, I'd be the first one done." Even though it still gives him a few pains today, you'd never know.  Watching him at the WerkOut rip up the keys showed his dexterity and passion, and you could feel it.  "I'm just so extremely touched that all these people come here to see and play with us," he stated, realizing the magnitude of the weekend for a brief moment.  At that moment, Todd Stoops, keyboardist of the band Kung Fu, who had performed with Dimitrouleas and Everyone Orchestra earlier in the night sat down and said, "I love this man – he's the best – and you can quote this - everybody wants to be the next guitar prodigy, but not many people grow up saying, 'I want to play the keyboard.'  We're a rare breed man."  Watching the two interact on stage during the impromptu set led by Matt Butler entertaining and joyful.  Stoops went on to exclaim, "This is how good of people the Werks are -  I was in the production trailer with the stage manager and there was a storm cell heading straight for the site.  It turned right before it got to us, went 20 miles north, and then turned and just missed us.  Now that's KARMA."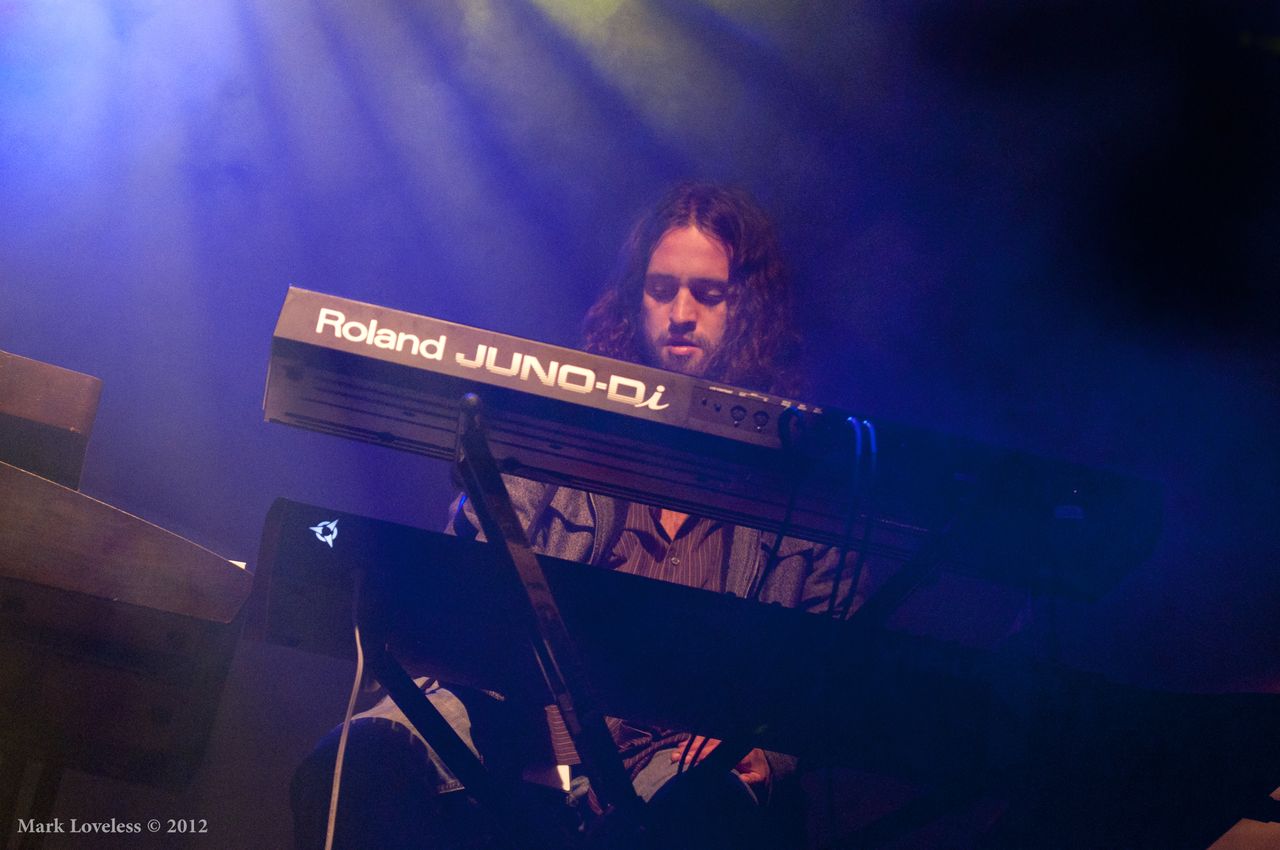 Norman lists one of his major influences as Dave Katz, keyboardist for the Ohio jam-vets Ekoostik Hookah. "He's helped me out a lot," he said.  The keyboardist used to play in the band The Maji with his brother and bassist for the Werks Dino Dimitrouleas, but started playing with the band in 2008 when Dave Bartoletti left the band.  He's been with them through their meteoric rise on the festival circuit, and his playing reflects his classical music background with a funk that not many keyboardists can bring.  In the world of Livetronica, a talented keyboardist is one of the most important thing a group can have going for them, and the Werks future in this growing genre of music are in good hands with Dimitrouleas.  As long as they continue on the path they're currently on, we may overhear many more kids saying, "I wanna play the keyboard!" thanks to Norman Dimitrouleas.