Joshua Radin's new album "The Ghost And The Wall," released July 23 is filled with soul and lyrics that bind listeners to his storytelling, something his music has been known for in the past. With ten impressive tracks, Radin's new album follows his previous release "Covers, Vol. 1" more than a year later. Written during the trials of this past year, Radin showcases his inexcusable talent for meaningful songwriting.
Accumulating 1-million records sold and more than 1-billion streams, Radin still views songwriting as a healing force, where acoustic eloquence and dyed-in-the-wool Americana storytelling is capable of soothing the roughest of seas. Due to his earnestness and transparency, Radin has been compared to artists like Elliot Smith and Paul Simon. He's sold out shows on four different continents, performed alongside artists like Ed Sheeran and Sheryl Crow, and earned super-fans like Ellen DeGeneres, who invited him to perform at her wedding.
On his latest collaboration with producer Jonathan Wilson (Father John Misty, Conor Oberst), he explored the "walls we build to protect ourselves," a theme that feels especially relevant these days. He wrestled with the sense of longing and loneliness that hovered over all of us this year, in turn producing an album during quarantine without ever seeing his producer face-to-face. "It's a theme I'm fixated on," he explained in a press release. "I'm trying to heal myself and others in the process."
Healing is a pinpoint word to describe the whole of "The Ghost And The Wall," where each track focuses on the importance of meaningful and fulfilling human connection on the other side of the same walls we build around ourselves. One of my personal favorites, "You're My Home" fully conveys this with its lyricism.
"If everybody, is making you think you're small
And you need somebody, I wanna be the one you call
I can be the one you need, I'll knock down that wall
I'll be that body to catch you when you fall...
...To say let's go
You sing my soul
It's such a long road when you go it alone
Come ride with me, you're my home"
Radin has affected countless listeners with his palpable transparency, landing north of 150 film, television, and commercial syncs, including being personally handpicked by First Ladies Michelle Obama and Dr. Jill Biden for a campaign in support of the troops. He also remains a committed philanthropist, supporting charities like Little Kids Rock and North Shore Animal League America (NSALA), among others.
In the end, Radin finds a way to heal once again on 'The Ghost And The Wall.' "I have to get these songs out of my head, or I'll go crazy," he leaves off. "When I'm touring, it's a symbiotic relationship between me and the audience. I focus on the weaknesses I have, sing about them, and I'm renewed. Hopefully, others feel the same," Radin said in a press release.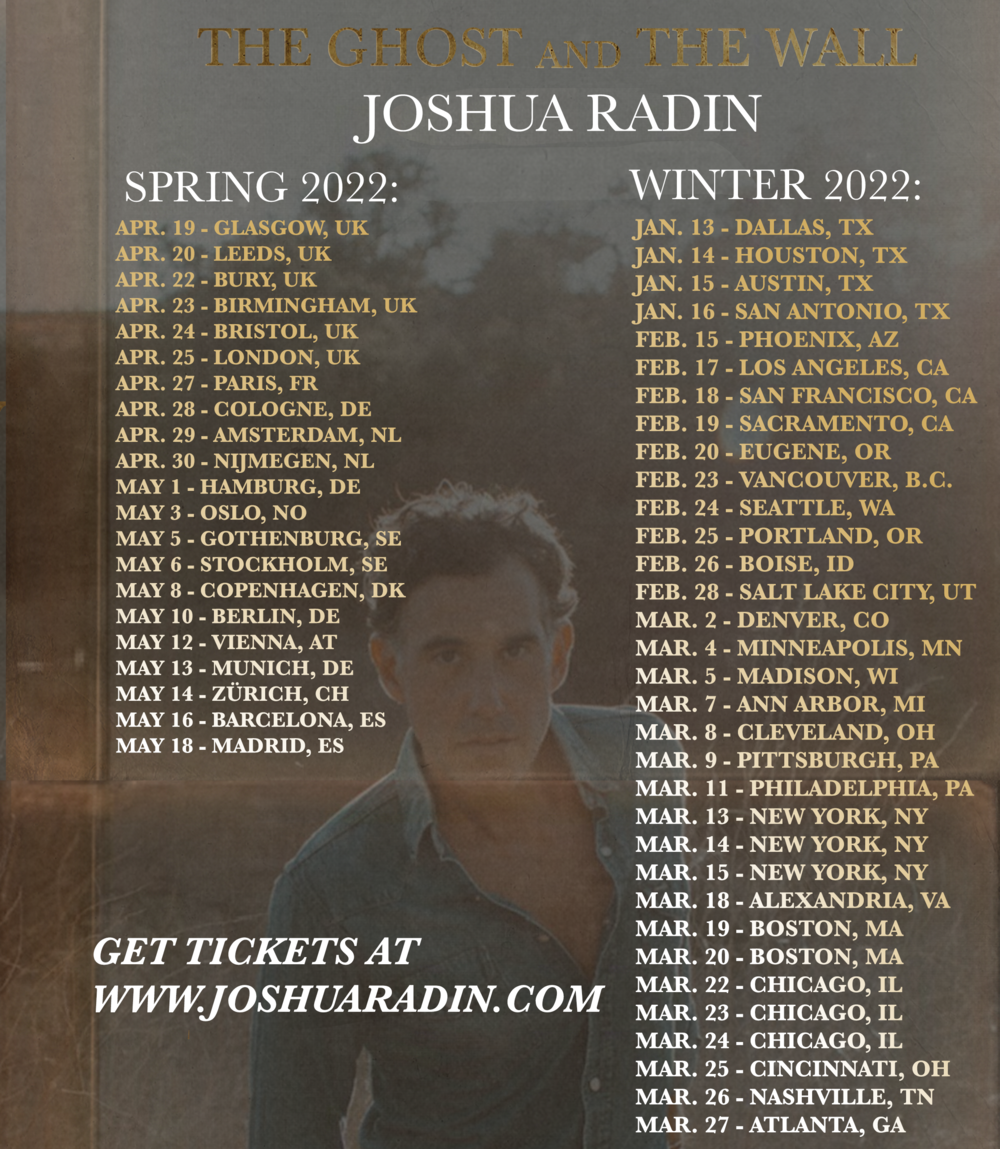 Radin will be celebrating the release of 'The Ghost And The Wall' with a performance at The Stephen Talkhouse in Amagansett, NY on Saturday, August 7th. For more information visit www.joshuaradin.com
'The Ghost And The Wall' by Joshua Radin
1. Goodbye
2. Better Life
3. Fewer Ghosts
4. Make It Easy
5. Hey You
6. I'll Be Your Friend
7. You're My Home
8. Not Today
9. Till the Morning
10. Next to Me