Over the years I have found Keller Williams' live shows to be an exciting spectacle of his unique musical talent, full of interesting and catchy songs.  However, I have felt that his studio releases have lacked the same energy and substance.  His vocal style can sometimes be redundant and his signature guitar playing has lost some variation.  With the release of Dream that has all changed, mostly in part to the dream team of artists he assembled to collaborate on this project that give his usual one-man-band sound a serious shot in the arm.
As the saying goes, those things worth having don't come easy.  Nearly four years in the making due to scheduling conflicts, this album proves to be worth the wait for both Keller and his fans.  The sixteen tracks on Dream keep in line with Keller's extraordinary musical ability and songwriting, but gain significant weight with the help of his musical heroes such as Bela Fleck, Victor Wooten, John Scofield, Martin Sexton, Charlie Hunter, Bob Weir, Fareed Haque, The String Cheese Incident, and many more.
The album begins with "Play This", a hard-rocking parody of modern indie songs, complete with gritty guitar and simple drum beats.  Nevertheless, it grabs your attention right away and lets you know that this will not be a typical Keller disc.  This is followed by a Prince inspired funk tune entitled "Celebrate Your Youth", begging listeners to do just that.  There is excellent saxophone work by Bobby Read (Noisemakers), giving it life not usually heard in the common Keller arena.
Another early gem on this disc is the slow reggae rendition of "Ninja of Love", which benefits considerably by the addition of Michael Franti, whose vocal rap gives the song more authenticity and less folly.  According to Williams, he has long been inspired by Franti's energy and truth in music, and absolutely had to have him perform on this track.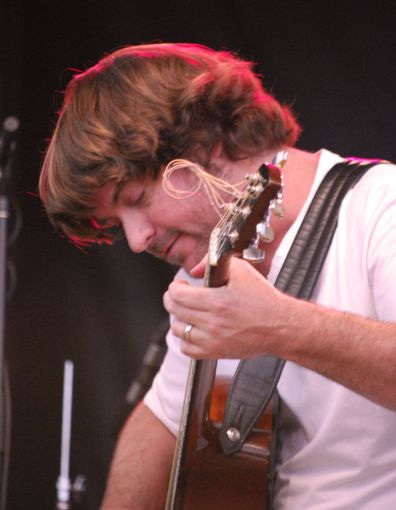 People Watchin", an otherwise conventional Keller tune also benefits greatly from the inclusion of Bela Fleck and Victor Wooten.  Williams credits Wooten as the greatest bass player he has ever seen, which is evident on the silky bass solos provided throughout this song.
Anymore, a KW project wouldn't be complete without the help of his long time friends and collaborators, The String Cheese Incident. The Colorado boys lend their collective effort on "Sing For My Dinner", a fun bluegrass tune that turns into the Cheese-style dance and trance with pounding beats and spacey strings.
The overall best track on Dream is the breezy "Cadillac", which features Bob Weir on guitar and vocals.  The tempo is smooth and although the lyrics are a little on the goofy side, you can't help but smile when you hear Weir croon "Santa is sitting shotgun....and Jesus sits bitch, 'cause he is good like that".
This is easily Keller Williams' best studio project to date.  The songs are very well written, and the general production of this disc is phenomenal.  The tracks are very crisp in sound and come off very clean compared to previous endeavors.  And with so many musical giants lending their talents, this will remain a pinnacle of Keller's studio albums.