Six weeks ago I read about the Life Is Good Festival, that took place this past weekend in Canton, MA, and the two of me that are this Gemini started to have it out as they always do. Corporate sponsorship for a festival? Yes, but the corporation started out as a grass roots effort that is trying to give back now that they've made it. No late nights? That's not whom this festival is geared to please; its family oriented, with an emphasis on kids that no festival I have ever considered going to has had. With every answer the me that I want to be could provide, the me that is cynical and too often the true version of myself continued to ask condescending questions. No matter, the good side won out and the family set out for our first festival aiming to please us all. And yes, I was skeptical.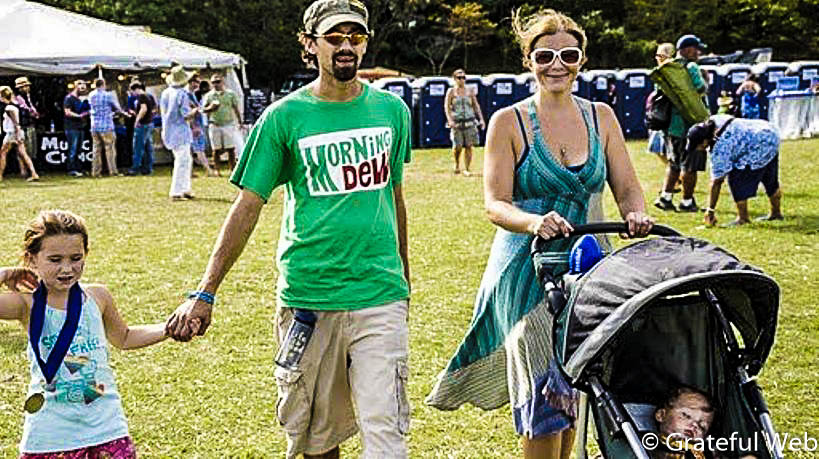 This year's L.I.G. Festival took place at the foot of Blue Hills, on the sprawling Prowse Farm in Canton, MA. Less than half a block from an urban thoroughfare, you would never know your connection to society when you get to this historical treasure. Prowse Farm is sustained by events; corporate gatherings, weddings and this past weekend's annual events, but it still does all that it can to keep its foot planted firmly in the history that has kept it alive for over a century. The concert fields literally spring out form the dense hardwoods that surround the area, surprising me and my fellow concertgoers as we made our way from the offsite parking to the first few minutes of L.I.G. 2011. The local accommodations that night before and Natalie's propensity to rise with the roosters got us ready to go quite a bit earlier than most, so when we hit the festival, only the other parents of toddlers and newborns were exploring alongside us.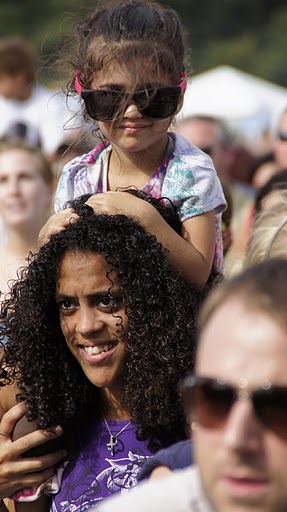 The list of companies partnering with Life Is Good at this year's festival awoke my cynical-self. More corporate sell-outs, I thought. But the more I looked at the partners, the more I gained the strength to silence my cynic. Many of the companies that were represented at the festival have made it; REI, Myer's Cleaning Products, Magic Hat, Cascadian Farms. These are all companies that define mainstream, but does that lessen their value to those companies looking for a template of how to make it big without selling out? The cynic was only quieted. He was not gone for good.
As quickly as the cynic lost one battle, he geared up for another. The skies were grey, Barefoot Truth sounded like Jason Mraz, except Jason Mraz has more of an edge, and then I noticed something that shook me to my foundation. Every sign at the venue, every fucking sign, was in the same font, and it was the font from Life Is Good T-shirts. Vendors had no personality, they all looked the same. There were only a half dozen colors in all of the cryptograms I could see. The intentional flaccidity of the entire grounds, complimented by the horizon that offered only varying shades of grey helped the cynic within me stand up, take a breath and ask if the only flavor of ice cream available was vanilla. But, as quickly as the cynic found power in the overt difference in this festival versus most others, the better me saw simplicity, and simplicity is good. My senses were at the festival to be overwhelmed, but not by the Indian food vendor competing with the Italian food vendor. My senses had no time to waste because I was going to see and hear and taste everything that was already included in the price of admission. That was the plan that Life Is Good had for me and I was ready, willing and able.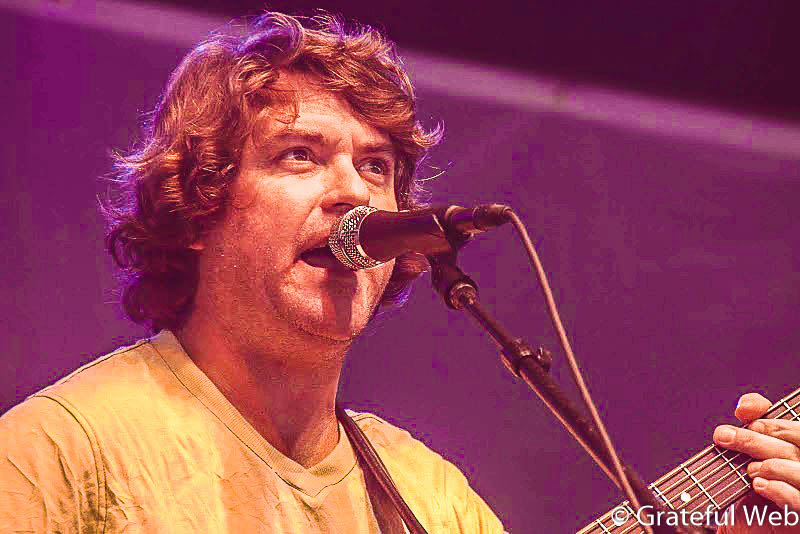 The first music we saw was the first set of music I have ever attended that was designed for a child. Keller Williams, proud family man, has recently released a kid's album and, early in the afternoon on Saturday, played his first of two scheduled sets at the festival featuring most of the songs from that release. The conventional wisdom for modern kid's music has moved away from the mind-numbing repetition of Barney and reshaped the music much in the same way that good music is written for all listeners. The guitar picking and sweeping verses followed by rhythm heavy choruses were all characteristic Keller, but the lyrics that take an ironic and off-kilter view of adult life were been replaced by simpler themes; mom's who fart, having a goat, riding in a car seat and the amazement one might have when witnessing the flight of a turkey. These subtle changes in context made it easy for all of the young parents to walk out hand in hand with their children, both singing Freaker By the Speaker, Celebrate Your Youth or any of the kid friendly songs that also lit up Keller's hour long set. Conventional wisdom in the kid's music scene has changed because it's parents who keep bringing the kids back, so its parents that need to be equally impressed with what they see and hear. As a parent, Keller recognizes and achieved this need.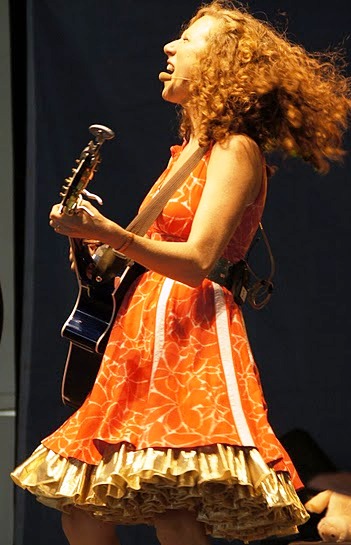 I stepped out of the kids tent for a moment before the next band started to catch a few songs of the Dirty Dozen Brass Band's set and after taking in their Dixieland crunk version of "Papa Was a Rolling Stone," complete with echoed trumpet and heavy wa wa guitar riffing, I found my way back under the canopy of the kid's tent to the visual and musical stimulation of Laurie Berkner, an established professional in the realm of kid's music. If Keller's one-man set was my first step into the realm of kid's music, the Laurie Berkner Band pushed me all the way down the rabbit's hole. My baptism by bubbles. There were dozens of unattended kids singing along with every word in a swarm at the foot of the stage, but I did not pay them any mind. There were eye-popping colors all over Laurie and her two band mates, but this is not what I took from Laurie's set either. It wasn't even the musicianship and silly themes that kept me interested. It was what I immediately perceived from Laurie that I couldn't stop seeing. Just as every professional athlete would love to try and break in to the world of acting and just like every actor wants the chance to play a professional sport, what I saw in Laurie was a rock star wannabe who had made it as a kid's musician, bound to the fame that she has found. So many people have gone the other way, from mainstream to kid's musician; They Might Be Giants, Medeski Martin and Wood, Johnny Cash and Keller Williams just to name a few. But how many artists that have established themselves in the spit-up and poopy pants demographic have left that behind and began writing songs about sex, break-ups and hardcore drug use? And yet, with each song that she played aimed at the kids, I could not stop feeling that Laurie wants to write songs for the adults in the crowd.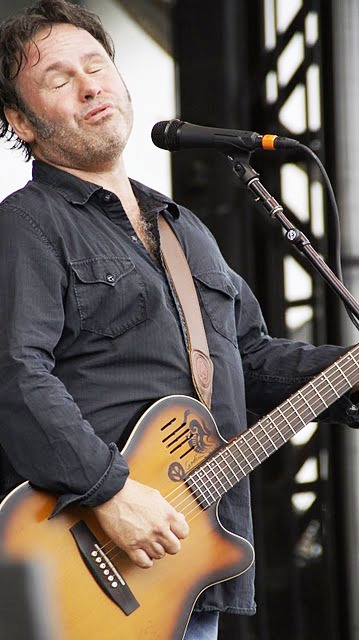 Early in the next set on the main stage, Martin Sexton let us know that he appreciates the little things, As he dedicated a simple strummed ballad with his northeastern rhythm and blues intertwined within every phrase, the sun came out. I too was appreciating the simple things. The crowd was filling in as the afternoon got later. These were familiar faces, outnumbering the parents and children who had made the most popular accessory of the first part of the day a child under five. Now, bearded young men with cigarettes, tanned twenty something ladies and the presence of a harder living community that all of these parents had chosen to leave behind the day they got pregnant was integrating themselves into our good life. Still, the mood remained in control, as these newer attendees recognized their future in all of us who had been there all day, wearing t-shirts that were only as ironic as Life Is Good phrases can be. "Trail Food"? "Play Hard"? Hilarious. We showed them hope for the days when nights are spent appreciating sleep, not longing for more hours awake. Martin Sexton's one-man revival medley of "Turn On Your Love light," "This Little Light of Mine," a clapped peace prayer and "Amazing Grace" drove home this connection between all comers at this festival.
If the idealism within the message of Martin Sexton did not bond the generations at the festival, the upbeat modern rock of The Hold Steady was able to show us, at our simplest, that we all love to dance. How can you not when the stage is filled with well-dressed men, 3 guitars, a bass and a drum set? Loud, in your face and a bevy of songs is what these guys were built for, and the crowd was ready for a little action. The irony in this bands name became apparent this late Saturday afternoon as this band was doing something that no one else had done at this festival, a sound unique to all the others, and they were completely comfortable doing it.  Their modernized take on the sound created by so many American artists that came before them, Bruce Springsteen in particular, was the tipping point for the day. A sense of something different filled the air.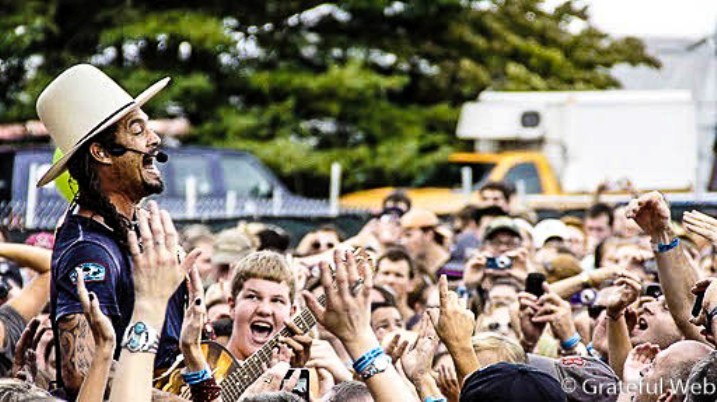 When I used to see Michael Franti, he was angry. He played in small dark bars all over the country and the state of things pissed him off. The Iraq war, the republican government, the control that those in power tried to exert over him all cam through in the blunt messages of his songs. Like Marvin Gaye, his songs drew most heavily on two topics: war and sex. But today, Michael Franti is happy. You can still hear disappointment in the state of things in some of his music, but almost exclusively, he is sickeningly positive. At least, the Michael Franti that is overplayed on the radio is sickeningly positive. The live version of the artist still has that edge that I remember from the days before Corona bought his songs for their commercials. Still, it is clear that he has found happiness and that is what his main intent is today: to share the happiness he has and help create more in all who see and hear him. Perhaps the same disappointment from all of those years ago is still within him, but he has taken to remedying it in a different way.
The sun was setting and I was happy not to see glow sticks and a crowd that felt like they had to be a part of the show. The Avett Brothers took the stage as the day's headliner and delivered an incredibly polished set. All of their hits were played, dropped intently throughout the set. I have seen them twice now and cannot give them a fair review until I am able to get a little closer to the stage to see what, from a far, appears to be the most energetic young men pounding their stringed instruments out there. What I hear is hard-core roots music, yelling over beautiful melodies, dirty beards and cello, strummed banjo and piano ballads. The juxtaposition makes me want to see them again to understand how all of these seeming contradictions create their strong and beautiful sound.
The lack of onsite camping forced us all of the grounds for the evening, but being a writer for the biggest website that will employ me, I am granted a few perks. Namely, I was able to put the family up in the cheapest hotel that didn't have terms like "heroin addict", "home for the homeless" and "regular car break-ins" in the descriptions. Once we were behind the deadbolt, we felt safe and were able to get a good night's sleep.
Well rested, I immediately wondered where the day was going to take me on Sunday. Natalie woke up happy, triumphantly marching around the hotel room bed. We packed and got out of the hotel before 9 and headed to the home of a friend of a friend who invited us over for brunch. After nearly 3 hours of scrumptious food, piles of kids, laughing, talking, fort building and disassembling, we tore ourselves away from what I was sure was a sign of more good things to come and made our way back to Prowse Farm for day 2 of the Life Is Good Festival. Arriving at the festival felt comfortable, unlike the feeling you get when you awake at our destination, roll out of your tent and try to collect yourself, feeling as if that may be an all day quest. Today, we were showered, fed and the car was packed- all after 8 hours of air-conditioned sleep. Life is good.  The influence of the eastern hemisphere on the festival began with the Chinese parade we witnessed near the entrance, complete w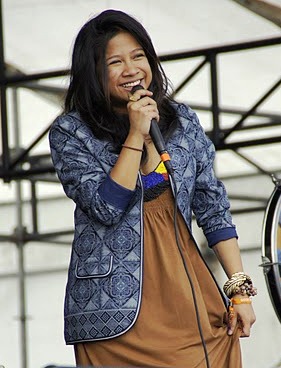 ith ornate dragons and cantopop  musicians playing their music that sounds to have no time signatures, and was then drawn a bit off the main Asian continent with the Polynesian groove-swing of Zee Avi and her take on the summer anthem "Pumped Up Kicks". The hollow bodied guitars and mellow mood of the players made the acreage around us feel like an intimate lounge.
Despite a few changes in the set list, Keller's second kits set was as strong and captivating for all generations as his set had been the previous day. Walking from the kids stage to the second main stage, I could hear the strength of Maceo Parker riding the wind from the primary main stage, but my attention was on the small band of men waiting off the second stage, only to seamlessly take their places the moment that Maceo finished, just as all players on both of the main stages had done all weekend; another feather in the cap of the festival's organizers. These men were the Ryan Montbleau Band and I am aware that I have written more about these festival mainstays than any other band that I have seen over my many years, save Mountain of Venus under a pen name, but that is for good reason. Ryan Montbleau is a great songwriter. He was born to write songs. Many years ago, as a young man, he went on one of his first national tour. He had pieced together one album, but already had hundreds of originals written, waiting to be worked out. People who know what they are born to do are blessed and Ryan is doubly so as he was born to please an audience and, in turn, be pleased by their responses. Today was no different as a large crowd of Bostonians familiar with Ryan's sound gathered alongside me to see the man who was second only to Life Is Good in t-shirted representatives in the crowd. As always, Ryan played to the crowd, interacting in a way that made us all feel like we were having an exclusive conversation. The band's new guitarist shares with Ryan what appears to be total comfort in his place as a musician, and yet his appearance and style stand in contrast to the urban-folk that defines the history of Ryan Montbleau. This newest member of the band plays a guitar that sounds like Jimmy Page is mixing it, he looks like what we all think we remember musicians from the 70's looking like (if you don't know what I mean, re-watch "Almost Famous") and he thrusts his shoulders when he plays in a way that you can see the music coming out of his every pore.  It's a thrust that calmly lets you know that he knows what to do when its time to be done. It's a thrust you want to see a lead guitarist do as naturally as he does it.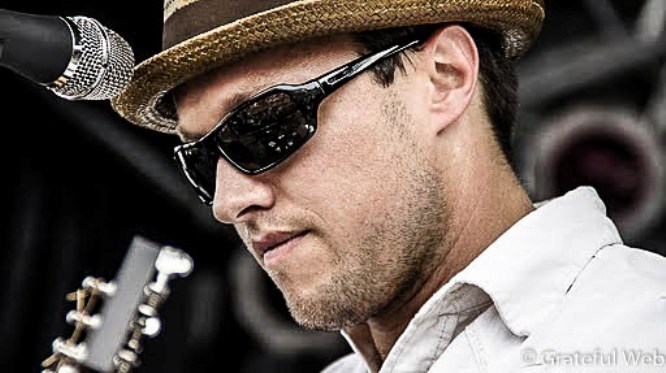 On the main stage, Brandi Carlile surpassed many of the refined acts that came before her. Her studio quality sound was only elevated with the presence of the Boston Pops on stage and in her songs; where her touring band left intentional holes, these classically trained musicians filled in with elegance and professionalism and gave this set one of the most atypical audible experiences that anyone had experienced through the weekend. I know that Brandi is on a long list of people who cover Leonard Cohen's "Hallelujah" but when she was emphatically and truthfully pushing that song from her diaphragm blasting her gritty vocals over the smooth strings of the Pops, I got chills. So what if I've heard it a thousand times. I can like what has become mainstream if what has become mainstream is good. Hallelujah, right back at you, cynical Stites. I have seen the light.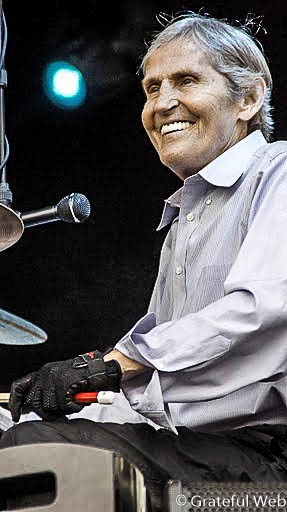 Levon Helm was up next on the main stage and, mercifully, Ray Lamontagne came to the rescue of what was a Levonless Levon Helm Band set. Thankfully, Levon no longer suffers from cancer, but the damage to his voice cannot be undone, so whenever you see him play, you know there is a chance that he may not sing at all. This day, he tried a few verses, but it was not his night, so he put the load on his incredibly talented band and they accepted it freely. While nobody ever likes to see one of the very best falter, to see one of the very best is still a magical experience.
The festival was in the home stretch and everything was functioning at its highest levels. Robert Randolph played a set so full of energy that I can't tell you anything more than I left my notebook in my pocket to dance for the entire hour. He later joined Raphael Saadiq for the country-smooth portion of his, otherwise, pop and R&B heavy set.
This high-energy portion of the night came to a screeching halt when Ray Lamontagne took the stage with only his bassist and opened the final set of the festival with "Burn". The emotional roller coaster caused by such a drastic change was only further thrown for a loop by the intense passion you can hear in both Ray's voice and his lyrics. The hatred and love that exist simultaneously in this lover's lament make me feel sorry for Ray, any of his ex's and any of his ex's new loves. As his set grew, so did his band and so did his sound. He welcomed Larry Campbell who added a heavy handed violin to Merle Haggard's classic "Mama Tried" and as his set and the evening wound down, Laura and I found ourselves wandering away from the main stage, contemplating what this weekend had brought to us and to so many others.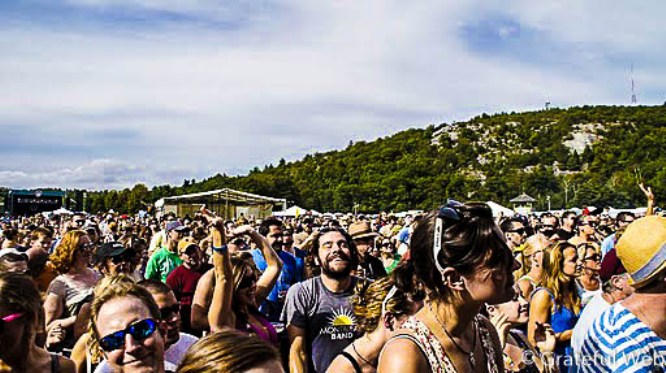 One million dollars. One million dollars is what this festival brought to a small group of people. No, that money was not going to the promoters and, no, that money was not going to the artists; and I hope that they were playing for less than their normal asking price, due to the festival's underlying cause. One million dollars went to kids in need, specifically kids with life threatening challeges. For them, life may not be so good and this festival did as much as any festival can relatively do to help the lives of others. One million dollars worth of good. Money may not be able to buy happiness, but for those who have little to look forward to, it can blur the vision of impending badness long enough for them to feel good. I wandered towards one of the weekends interactive projects, a tiled mural with every small tile having been decorated by festivalgoer when, put together, was a two story picture of Jake, the Life is Good man, and his dog. And, while this emblem is so common it can seem overdone, taking a closer look at each tile, I was touched. Tiles had inspirational messages for everyone, though few would ever see them. But whether or not they were ever going to be seen was not the point of their creation, nor the point of this mural, nor the point of this festival. Simple mantras: may you get all that you wish for, positive mental attitude, be happy and love life. People were genuinely creating these messages that we only haphazardly look at when walking past a Life is Good shirt. What I realized was that sentiments like these cannot be overdone. They will never equal anything but what is right and what is good and what should never be reduced to a battle over what is cool and what is not. Goodness will always supercede any classification such as cool or hip or now. Thank you Life is Good for creating a place where we all could help to see that life is good if we're willing to make it so.
Check out more photos from Life is Good 2011.