2009 has been one helluva year, hasn't it?
We all started out in January, with the electric energy of a pending Inauguration of Barack Obama as President of the United States. And we also had the knowledge that Phish was gonna tour again. I for one, recall standing outside on NYE, and holding my hands wide to embrace what was 'next.'
But this sense of joy hadn't come easily, in either venue. Certainly the most expensive political campaign in American history, the nation greeted the New Year with near-equal parts jubilation and despair. And like the do-rags of the Crips and Bloods, your mood essentially matched what color you preferred, be it red or blue.
And for Phish, and most possibly Trey Anastasio specifically, the recent past also revealed signs of turmoil and conflict, and the feeling of near exhaustion from having just made a 'hard climb.' But thankfully, the sum of his recent journey -- was manifesting in a consistently positive direction, for all involved. Plus, I think he ate a lot of Wheaties..
By this time last year, I'd already seen Trey Anastasio's Classic TAB tour closer in Richmond. It was evident then, how much clarity had returned to Trey's playing. And it was equally evident how much clarity had returned to Trey. I prowled the rail with my camera all night, watching for a sign that this new Trey was really a ruse. I didn't find any. He assaulted his Languedoc, and kept it coming straight into the audience for well over two hours.. But yet on that October night in 2008, you could see something different, especially round his eyes. He'd 'seen' things anew. Recently. He played like he had something to prove..
Flash-forward to the reunion shows in Hampton, with scalper tickets going for more than $1000 each, in some cases. The insanity of the scene in 2004 seemed to have only grown bigger, and more un-Phish-like. A few news outlets valued tickets to the three night stand at Hampton Coliseum as just as hard to obtain as those for the recent Presidential Inauguration. Signs held up offering $500 for one ticket to the Friday night show were openly laughed at. The reunion was abound with "musical carpetbaggers," anxious to make the Phish scene, and see what all the fuss was about. Remind you of all those fair weather political wonks, of either party?
The ticket on-sale debacles of the summer fueled more bad energy between longtime phans and the ticket scalpers and brokers. But by Fall tour, many of those kinks were sorted out. The carpetbaggers had moved to the next big thing, and some semblance of normal started to return. More fans started to get lucky on the ticket lottery again. There were fewer instances of non-tapers snatching up all the taper tickets than had happened during summer tour. Some of the ticket brokers even took losses on tickets to shows like Detroit. I read anecdotal reports of unused, and apparently unsellable extra tickets found on the ground at some venue entrances. This is not to say that the Phish phenomenon has ended.. Not in the least.. But the scene seems to be normalizing, at least to the extent that it's possible.
With a preschooler in the house, I felt particularly lucky to have made six shows this year. I ended my own musical year with the fall tour closer in Charlottesville, Virginia, the home of Thomas Jefferson, James Monroe, and James Madison. And as I stood watching the show, I had moments of my own clarity, about how our collective experiences at shows this year, all watching this group of men re-create themselves, as individual musicians and as friends, paralleled what was happening this night in Charlottesville, and to some intangible degree, the nation at large. I found myself wishing that everyone would find a live stream of the show, and just chill out.
Mark Skeens, of Hickory, North Carolina, could perceive a sense of continued regrowth at Charlottesville that had begun anew at Hampton, just a few miles away and several months, earlier. Attending his 144th show, the thirty-something manager for a retail/wholesale based auto parts supplier suggested that a '1995 vibe was present in C-ville' on Saturday night.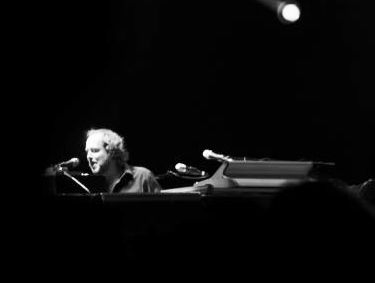 "Charlottesville was a good show with a very solid set list. You could see the progression of the band from where they were 10 months ago," said Skeens. "The energy levels are high on stage, and there was lots of good banter between all the band members. Lots of smiles, and probably most important -- we had a FIST PUMPING TREY!! he said, with a smile. "The vets will understand that last part," Skeens added, laughing.
Cheryl, from Boulder, Colorado, was attending her third Phish show; her first two having been the Red Rocks performances from this past summer. And she wanted to hear two specific songs. Divided Sky, and David Bowie.
"You can't even imagine my shock and disbelief when they were both played in the first set; which left me completely open and ready to listen to anything else after that," she said. I think I even said to my friends, "Okay, we can go now" after both were played - before set break! Of course I was kidding, but I was already so happy, so anything else was gravy."
The newly-minted Phish-head from Colorado initially thought she recognized more of the songs than she actually had. "I just counted, and I knew 13 of the 24 songs, so just more than half. That's surprising, because I felt like I knew 75% of them during the show, Cheryl said.
But while Cheryl explained that she does typically like to know a musical composition before she sees it interpreted live, there is also value in just accepting something fresh, with no preconceived notions. Cheryl continued.
"I have to say that I don't know Free, and when it started, I was utterly amazed by the joy and energy of the crowd. THEY knew it and THEY loved it, so I leaned back on my heels and took it all in. I knew it was going to be big, perhaps it was a song they hadn't played in 10 years...I didn't know what it was all about, but I knew it was going to be huge. And it was. And I danced, and I love the song."
I have to agree with Cheryl on the musical transcendence that took place during Free. Well, to be specific, it all began with the second set opener and built from there: Tweezer>Light>Piper>Free. What took everything to that next Dionysian level of existence? The playing was surely spirited and open. But the conductor on that part of our ride, was Chris Kuroda.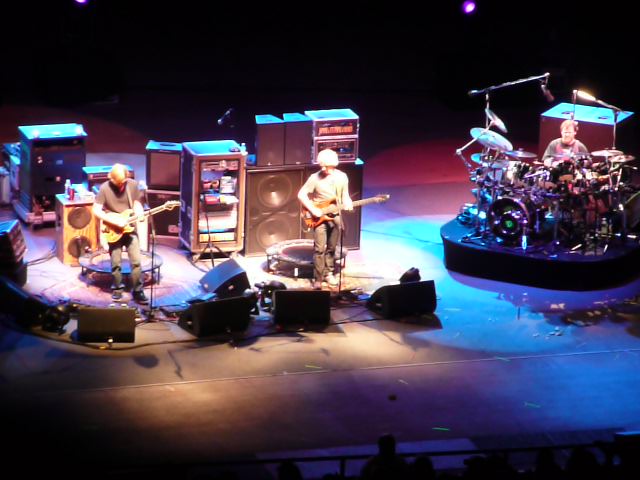 I spent a good deal of time watching Kuroda during the show. I was back in the taper's section, and could easily see how much fun the lighting master was having at his console. He was practically dancing as he worked. Our taper friend from North Carolina agreed.
Skeens explained that Kuroda's console, "now has a keyboard set up and it is programmed so that it slaves off his main console. Certain keys cue certain lights or starts a certain sequence," he said. As for the lights themselves, I really like the LED's he has added to the rig along with the new colors." Mark thought that Kuroda must be pleased with the current setup, because "He was all smiles in Charlottesville. Whenever he would tap a button -- everything just went POW!"
Skeens also offered that he thought Garry Brown's sound work since taking the reins from the brilliant Paul Languedoc to be the perfect choice for Phish 3.0. Brown had done extensive work with Anastasio's solo efforts. "He's already familiar with Trey's sound and rig. The tapes that came out of those shows are fabulous," Skeens said. And true to his remarks, the sound was pretty-much dialed in, from the beginning.
The same could be said for the playing. Out of the gate, the energy was strong and focused. I always laugh when Phish opens with AC/DC Bag – especially in a college town! And while there were some flubbed guitar leads in Chalkdust, the band got back on track relatively quickly. The Robert Palmer cover, Sneakin' Sally through the Alley and Funky Bitch, stand out as my first set favorites. Cheryl, the Coloradan told me that Divided Sky felt like her 'theme song and that Saturday night's version was particularly beautiful. I agree. The pause alone in Divided Sky was haunting in its' timing. Silence within music, when done properly, can stop your heart, it's so captivating.
Richmond, Virginia's Matthew Steven Rooks likely wasn't as alert to the nuances of that Divided Sky performance the way Cheryl, and others were. He was busy looking for opportunity. The 21 year old unemployed musician has come to be known as "The Naked Guy." And if the Facebook fan page and countless odes to his greatness online are any indication, he will live forever in the annals of Phishtory. His 45 second naked streak across the stage during Phish's cover of the Mustangs' Yamar, and the Keystone Cops pursuit by stage crew is one of the funniest things ever witnessed on a Phish stage. And that says a lot.
Rooks didn't walk into his first Phish show planning to 'drop trou.' He told me that he did it to "make people smile." He was wildly successful.
Rooks said he was standing right beside the stage and watching till a security person was distracted by a conversation. Rooks continued, "Well I already had my shirt and shoes off, and yes, one of the guards was talking to a dude which caused his back to be facing me, so I pulled my boxers and pants down in 1 motion and jumped the railing, then booked it up the stairs!"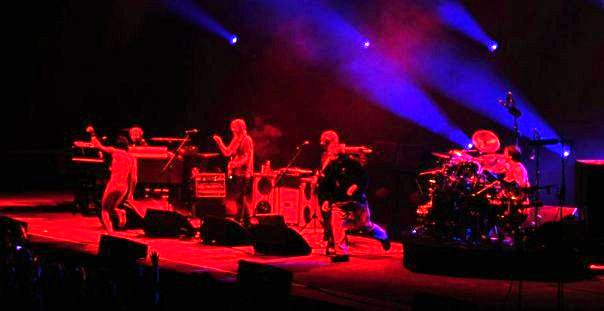 Rooks said he couldn't reach every member of the band, since he was being pursued by so many people. He did make it to Trey, "And he gave me a funny face when I asked if I could kiss him. So then I said, "Not in a sexual way", and he complied. So I kissed him on the cheek and we hugged.
Some audience members were so dumbfounded, they weren't sure if what they were seeing was real. Cheryl from Colorado offered, "Here's this guy, he's so into the moment, he takes off his clothes and runs up to the stage to hug and kiss Trey! You know it's a story he'll tell his grandchildren," she said. "It was so bizarre that I thought I might have imagined it, but I was pretty sure it really happened. Seeing the videos on YouTube makes me laugh out loud all over again. I love this crowd," Cheryl added.
Mark the Taper wanted to give "Naked Guy props, because he lasted up on stage for what seemed an eternity," he said, laughing. "I'm still baffled how he got up there. Looking at it after the fact, it seems as if he comes up from the rear of the stage -- which should have been a secured area? I smell a White House State Dinner type conspiracy here!" The Secret Service, had no comment.
It's important to note that while all this madness was happening, the band hardly missed a beat. Anastasio was heard to quip that the stunt "took some big balls," to pull off. No photo exists of the lead guitarist's eyes, and whether they ever looked 'down,' while Rooks was onstage.
Yes, the band seemed to find the whole affair amusing, and it informed the goofy atmosphere, for the rest of the show. They played a whopping six covers of songs ranging from the aforementioned Mustangs, to The Rolling Stones, Robert Palmer, Jimi Hendrix along with the bluegrass standard, Old Home Place.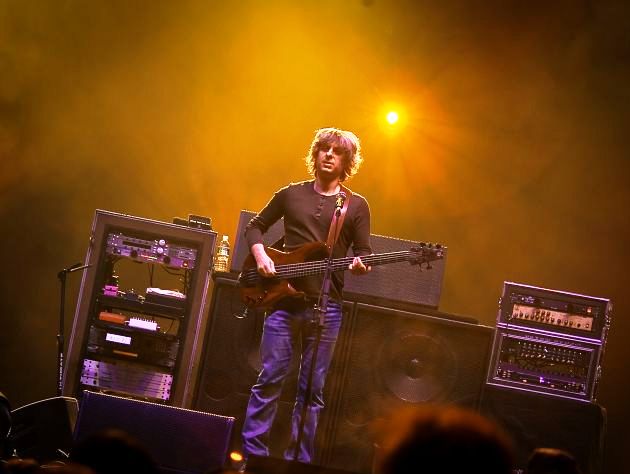 Later in the second set, during Golgi Apparatus, Gordon's bass amplifier, blew. Stage personnel immediately set to its' repair as Trey announced that they'd now be playing the song as a trio. Then Trey spontaneously began to skat-sing parts of the bassline, and laughing at the same time.
But it was Run Like an Antelope that launched our young Mr. Rooks even deeper into Phistory as Trey purred, "Bid you to have any….. Naked Guy?" And the rest of the song is performed with the chorus "Run Like a Naked Guy, out of control!" I can already see the tee shirts, next summer in the lots..
Phish's cover of the Rolling Stones' Loving Cup is most typically considered lyrically to be a song about two lovers. Saturday night's performance, or maybe the energy of the show itself, seemed to assign a different meaning to the song. This rendition felt more like an entire band pledging its love for their fans.. It wasn't about sex. It was about music. And gratitude. It was the perfect start to the encore at the tour closing show. A commanding and near- triumphant Reprise followed, ending the show.
As for The Naked Guy, he's alive and well, and home in Richmond, no doubt planning his next move. It just won't be at Charlottesville's John Paul Jones Arena – ever again. Rooks said that the security personnel were actually "extremely nice," to him. He was escorted back into the hall, as a guard retrieved his clothing from the crowd. (It was easy to see from where he had jumped onstage.)
As for the legal aspects of his actions, Rooks said, "All I got was indecent exposure; they let me go after they wrote the summons. I just have to pay a fine, that's all." I asked him if he had any regrets. Rooks reply was "I feel extremely blessed and it was definitely worth it!"
And as for his friends' reactions that night, who had no idea what he was about to do?
"My friend Nathan told me that while it was happening he said something like, "Oh no, that's my ride!" Rooks said, laughing.