Did you ever see the movie, The Blues Brothers? I saw it back when it came out, in a theatre.. It's one of my favorite comedies of all time. And one of my favorite scenes is at the honky-tonk bar, where John Belushi's character asks the waitress what kind of music is played there. She replies in a happy chirp, "Oh – we've got both kinds.. Country – AND – Western.. "
It's very telling how her character delivers that line.. And it compares to rigidity in definition that can sometimes manifest, when the makers and listeners of music are stuck in one era or style.
No such rigidity exists in the music of Del McCoury, or that of his band. No such rigidity exists either, in the range of talent -- and the acceptance of that evolution, of bluegrass into the twenty-first century on a DelFest performance stage.
The 4th Annual DelFest, in Cumberland, Maryland brought everything from the traditional to the cutting edge in bluegrass music. Some playing styles came closer to ska and thrash, even – only performed on the classic instruments of bluegrass. This festival, is becoming the go-to place to see and hear the latest and brightest in this genre of music. Del seems to attract the best of the old and the new. And he welcomes them all, as if it were his back porch on a Sunday afternoon.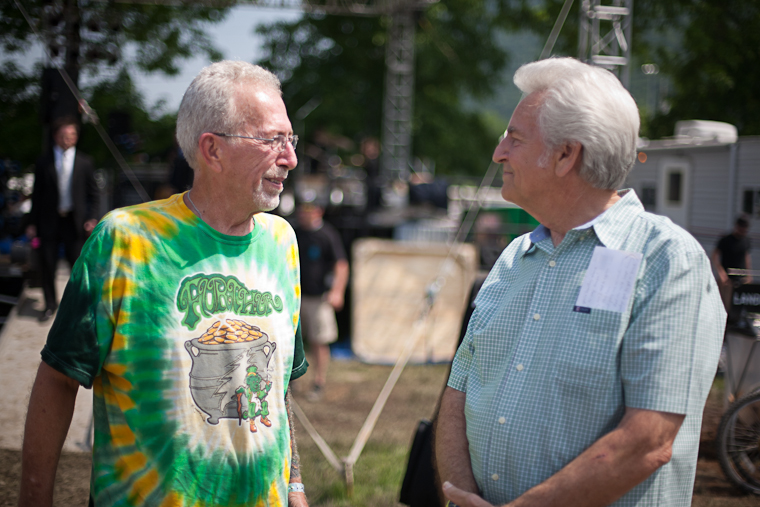 It was this openness that struck me, as I watched Del chatting with fans on the side of the Potomac Stage. Mike Harrison, of Northern Virginia, had the same impression.
Mr. Harrison, who counts the music of the Grateful Dead, Blues, Bluegrass, Gospel, anything from New Orleans, and Rock n Roll amongst his favorites told me why he has come to DelFest for three of the last four years. And while he certainly enjoyed most, if not all of the artists, the key for Mr. Harrison, is Del McCoury, himself.
"I first saw Del when I was a graduate student in Nashville in the late 70s. There was a place near campus called The Bluegrass Inn...It was a cinder-block dump with the most incredible music and cold beer. Del sat in one night after a gig and I've followed his work ever since. Back then, it was strictly traditional bluegrass. I'd never heard it before and was hooked."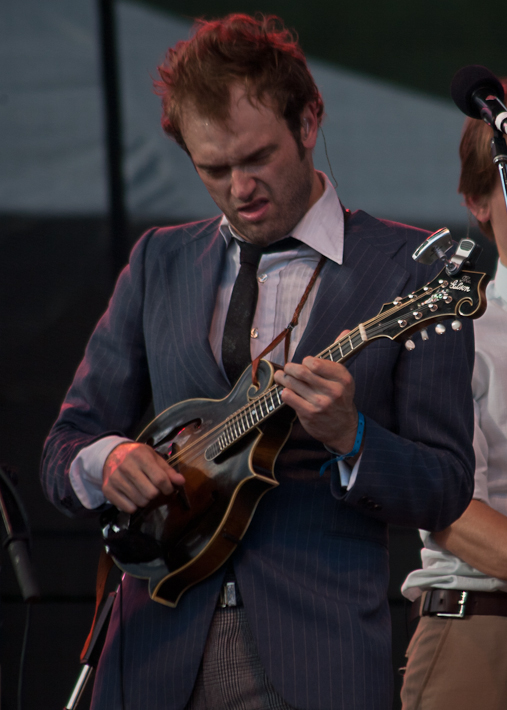 Imagine being in a small club and having Del McCoury walk in and just sit down and play? Astounding, I thought -- to have one's first entry into bluegrass have been stewarded by someone who would become a national musical treasure. And then, 41 years later – stand and chat with him on a humid Sunday morning at a festival that bore his name. I tried to imagine what they both looked like, back in Nashville – at The Bluegrass Inn.
I felt really lucky to have run into Mr. Harrison. His thoughtfulness about the music and respect for it was immediately apparent. But I found my new friend no stuffed shirt, when it came to traditional versus newer bluegrass playing styles.. Mr. Harrison continues.
"When Jamgrass started to appear in the 90s, I loved the way some artists were morphing traditional bluegrass into a jam band kind of style...taking a song out there and playing with it, stretching it, seeing where all it can go and how. I noticed that Del was out there working with these folks. An example was seeing him and the band share a stage at The Birchmere with Leftover Salmon years ago. Rather than resisting change in "his" music, Del was supporting the effort and those who headed in new/bold directions. I had a lot of respect for him because of that."
I thought a lot about that Mr. Harrison said. I thought also about a friend who recently described, in his relatively-layman manner, that bluegrass music was really 'hillbilly jazz.' And trust me, he meant that courteously. I came to believe that Del McCoury is really providing a service to bluegrass that's very similar to Wynton Marsalis, and his efforts to respect the heritage of jazz, while nurturing its' evolution. Del McCoury is the keeper of the bluegrass flame, and the one who will pass the torch, too. Since the beginning, DelFest has been about preserving and sharing the old, and giving opportunity to the new. Mr. Harrison agreed. "The nature of DelFest and its programs reflect his active support for this expanded notion of bluegrass. He has strong, nurturing Elder energy that serves others well, and a big vision of how bluegrass can reach more people while getting even better."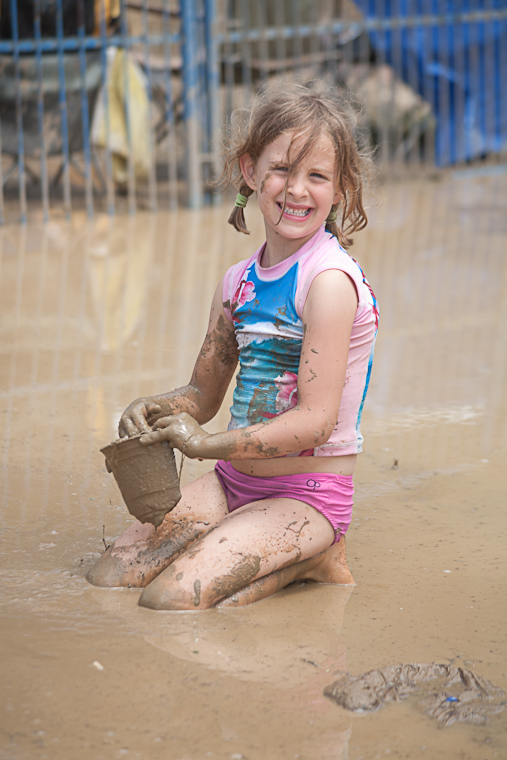 There is indeed something about Del, and this festival that attracts the most unlikely looking, and sounding fans. And McCoury never wastes an opportunity to educate such a dynamic musical demographic. Mr. Harrison recalled.
"Last weekend he taught from the stage...about Bill Monroe," Harrison said. "Imagine that, a man starting a whole genre of music all by himself. Just think of that." [said McCoury from the main stage.]
"He teaches us about the Old Masters...Jesse McReynolds this year, Bobby Osborne last year...by putting them in our faces on the main stage where they show us their magic. To some, I expect, this is the first time they've heard traditional bluegrass. And these traditional artists meet whole new audiences as well. Win/win." Harrison added.
But for all the 'Yin' of Del's respect for tradition, there is also his healthy sense of 'yang' in his acceptance and interest in all kinds of music, and how such intersections with bluegrass can help the genre continue to evolve as 'music of the people.' This kind of exploration typically is the most surprising on The Potomac Stage. Last year, that stage brought to a larger audience, and to my ears --Trampled by Turtles. This year, I found the energetic set from Hoots and Hellmouth to be the most pleasantly surprising.
But musical adventure was not limited to The Potomac's stage. Mr. Harrison agreed. "Scythian [main stage performers,] has a physical energy that left me exhausted when they were done. It was a great feeling. They are talented and fun. I like the immigrant notion they honor. "And I felt the same way about this band.. But I missed the 'immigrant' energy, til Mr. Harrison pointed it out.. To my ear, it sounded more ska-like, but with bluegrass instrumentation. I think Mr. Harrison's impression may be more accurate, actually..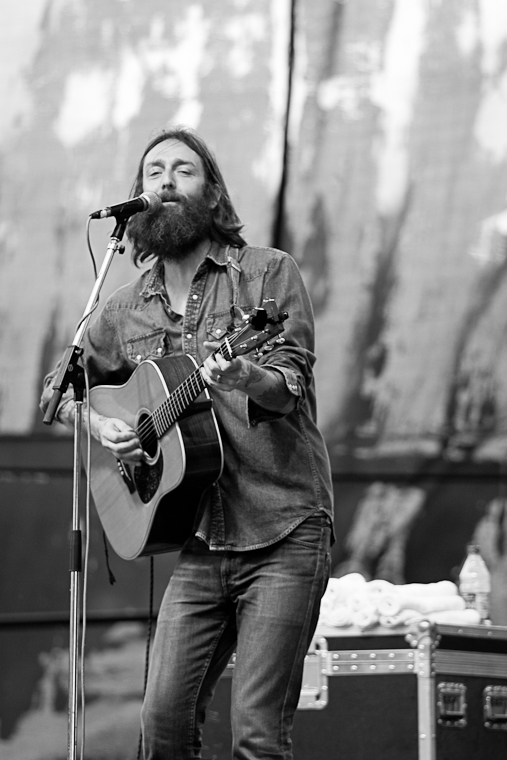 Indeed the main stage acts were a wonderful mix of old, new, surprising and tried and true. Chris Robinson, performing sans 'The Brotherhood,' or 'The Black Crowes;' and rockers like Warren Haynes, shared audiences with bluegrass stalwarts like Dailey and Vincent and Jesse McReynolds. Mr. Harrison was particularly impressed with Haynes and McReynolds. He referred to one of his highlights of the festival being, "standing in the mud at the lip of the stage while Jesse McReynolds sang Ripple. I love the song but many bands seem to shy away from it because it is seen as a "Jerry" song. I thanked him for playing it later in the VIP tent."
Yes, it looks like Mr. McCoury does indeed have a stage that brings out the best in everyone on either side of it. And apparently it brings things out of the clouds, too.. I'd be remiss if I didn't mention the weather, which in previous years has been everything from broiling to dangerously-tornadic. This year, we got some hail, again, and some serious rain.. And of course, we got the mud..
I hesitate to say too much about the mud.. I'm not sure what kind of reaction I may get. I can compare the lure of mud to the lure of the record over the CD. There are obvious differences in being muddy, versus being clean. Just like the 'sound' of a record over that of a CD. I'm sure we all know, or perhaps are, 'that guy' who can't stand anything but a record.. CDs are too cold sounding for him.. Or the Flac versus mp3 people..
For the mud aficionados, mud interaction is just as spiritual, I think. So I risk drawing some ire, here. But with allowances for that energy, let me tell you – it was a mess in front of the main stage.. The Potomac was a little better. I was grateful for advance notice of this weather, and came well-prepared for it, with mud boots, and camera protection. After surviving Coventry mud, I learned what to bring that actually works.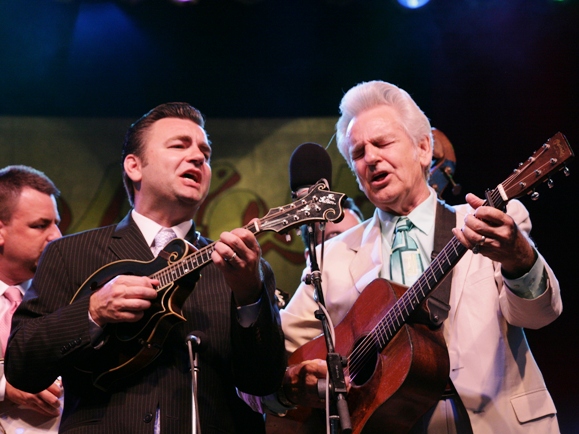 What surprised me was the limited reaction to the mud that happened in the stage area. Great effort was made to ensure walkways up to the music meadow were kept as dry as possible. And eventually they caught up in those areas, and pathways became very easy to navigate. But I can't credit organizers with as targeted an effort at mud mitigation at the main stage. I saw, and photographed hard-working crew members in gators, bringing sawdust to spread.. But it was nowhere near enough. It merely made the bog more oatmeal-like.
Mr. Harrison disagreed, although I don't think he takes being in mud as spiritual, either.
"Sometimes it rains, even at a festival. Rain makes mud. If you go to a festival, be prepared. I felt no discomfort because of the mud, and at times it was kinda fun.
Check out more photos from DelFest 2011.