My father used to call it 'blowing out the carbs..' I was a little girl, in Northeast Texas, in the middle 70s. We had old cars, my entire childhood, often hotrods, or in leaner times at least a family car with a big-assed surprise under the hood..
Some of those older hot rods of his were high-performance cars that had four-barrel carburetors. If you drove slowly around town, you'd use only two of the barrels. To exercise the other barrels and keep them from sticking, you'd have to get the car on the highway and accelerate hard for at least a short time.
The other explanation is that, since carburetors ran so rich, the extra fuel they poured in would lead to carbon buildup on the pistons. And the thought was that by running full throttle, you could heat up the pistons and burn off some of the carbon. So the carbon may have been the "carbs" that my father was referring to.. I never asked.
But, like clockwork, my father along with whatever kid who was around – often me – would take a drive out on the interstate, about an hour northeast of Mesquite, Texas to simply: drive very fast. In an age of cheap gas, high speed limits, combined with no seatbelt laws, and a social acceptance about Open Containers, one can imagine how interesting these rides could often – be.
But he was quite serious about the 'need' to burn off something – be it carbon from unspent rich fuels, or to limber up those unused barrels. He believed there was value in it. So he did it religiously. I thought about this concept unexpectedly, as I took in the best double bill I've seen in a while, The Avett Brothers, with Grace Potter and The Nocturnals.
One of the last outdoor shows of the year, at Charlottesville's Pavilion Amphitheatre, proved to me, to be one of the better ones.. Crisp clear air, perfect temperature, the smell of fresh apple cider doughnuts in the air, and music from two ensembles poised for much bigger things in the near musical future..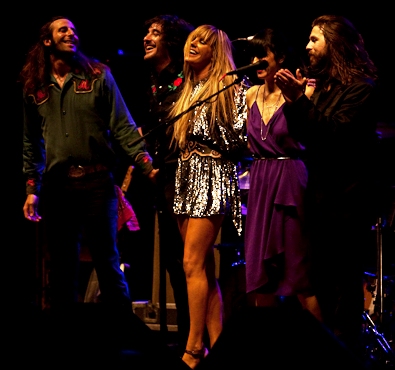 Vermont's Grace Potter visited nearby Richmond, this summer, at a very successful city festival. Tonight's sold out venue was already busting at the seams with fans, as she and her band, the opening act for this tour, took the stage. The early gridlock under the shed was an impressive statement of fan interest, one that she noted from the stage with appreciation.
Ms. Potter never ceases to amaze me, when I see her perform. I first caught her, ironically, at a city festival in Burlington, Vt. – in 2008, I think. She was great, then. She's grown into an even more electrifying performer each time I've seen her, since. A commanding stage presence and just the right amount of playful sexuality.. Ms. Potter knows exactly what she's doing, and she's surrounded herself with a wealth of musical talent in her band. The Nocturnals are: Scott Tournet on guitars and harmonica; Drummer, Matthew Burr; Catherine Popper on bass and vocals; and Benny Yurco on electric and vocals. Ms. Potter herself brings the heat with Hammond B3, Fender Rhodes, Wurlitzer Electric Piano and electric and acoustic guitars.
The intensity of her show surprised much of the audience at first. I was walking around the venue, taking photographs and more than once overheard surprised remarks akin to ' I had no idea her shows were this good.. 'Indeed this band is being exposed to a new audience through this double bill. And the new audience is pleased.. At least they were on this night. A Grace Potter and The Nocturnals show is better to me, at those higher RPMS, utterly screaming at top speed down the highway. Ms Potter's voice can handle it, with ease.. And her band is solid and gifted. She was a brilliant matchup, with the main event to come.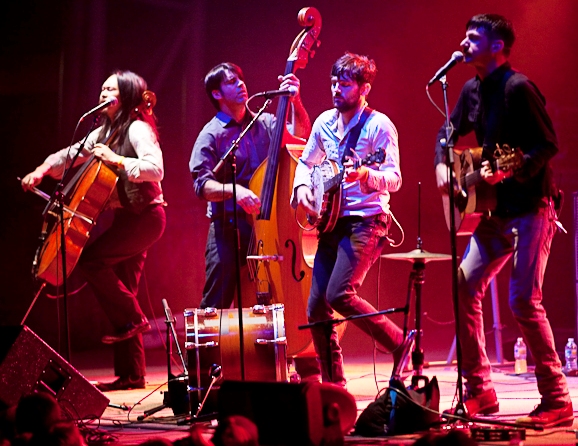 The Avett Brothers were, for me, an un-known quantity.. I'd heard Shame, on satellite radio, a few times.. Somehow I never paid deep enough attention to it, though. There is a definite schizophrenia to the band's music. But, if possible, I mean that in the best way. I've read plenty of press on the band.. The most used phrase I read was their: 'indefinable' sound. Is it Bluegrass? Punk Grass? Alt Country? Modern Americana? Ultimately it doesn't matter what you call it, but labeling it, when combined with use of one's common sense, helps me wrap my head around something I don't commonly hear. And no one out there, sounds like The Avetts.
I had a definite preference for their lower-tempo work. The songwriting on those ballads is just too amazing, not to savor. Yet, in retrospect, I think they/we in the audience needed to hear those higher tempo acid-string-band kinda songs to 'blow our carbs out' in preparation to truly listen to the quieter and earnestly-sincere ballads to come. Brothers Scott and Seth Avett, who play the banjo and the guitar, respectively, Bob Crawford, on stand up bass, and Joe Kwon on cello make up the lineup. To call their live show high-tempo is quite an understatement. But for instrumentation, it could have been a Ramones show. A raucous show, musically, that would all at once segue to an elegantly written and splendidly delivered ballad that caught me off guard, more than once, with its' heart-breaking eloquence.
This was an excellent double bill, as I mentioned earlier. After an evening with both of these bands, I suspect your own carbs shall have been blown out, too.