I was beginning to worry about the health of rock and roll.  I grew up on mid-late 70s rock.  At that time rock  was the music, [along with disco,] that was really the 'pop' of the day.  A lack of Internet and MTV surely helped assist this reality.  My reality, anyway.  I lived in a number of areas as a little kid where -- regardless of demographic -- the main music blaring from one's house would be blues-rock-based.
Time marches on, and music changes.. I'm glad for that, actually.  I crave variety.  But my musical-genre-soul-mate: rock and roll, seemed to no longer be the radio's 'go to' music anymore.  Rock never went away, mind you.  It just got less attention.  But, perhaps that is about to change, a little.  Bands like The Congress, who are woodshedding nightly on stages all over the country are proof of this.
I had barely previewed the band on YouTube before arriving at The Clementine, in Harrisonburg, Virginia.  I caught their relatively-brief set as an opening act to The Hackensaw Boys.  Beautiful place, but not the most conducive to listening to music.  In truth I may be a harder sell than others -- as I never care for seeing a show where people are also ordering and eating dinner, etc.
Regardless, Richmond natives and current Denver residents The Congress, were a great surprise to this rock loving listener.  Bassist Jonathan Meadows, Guitarist Scott Lane, and drummer Mark Levy played like it was standing room only, from the first note.  I only wished they'd played longer.  Straight-ahead rock and roll isn't something one hears regularly these days, especially rock and roll that isn't trying to sound like a nostalgia act.  These guys play like a single thought, and it's an aggressive, blues-soaked thought, at that.
And they can indeed -- PLAY.. It takes a great deal of ability for a three-piece to sound as big and full as this band did, last Friday night. For me, the drumming was a highlight all night.  But everyone was well-abled and remarkable on stage.  Mr. Meadows' pure bell-toned voice is a strong and clean alternative from the sometimes screaming style of rock vocal delivery.  [Not that screaming lyrics is a bad thing.. Just different.] Guitarist Scott Lane was also of note, and like the GWeb reviewer for the recent DC show, I felt his solos were furiously-respecful homages to Neil Young, and Chris Robinson, among others.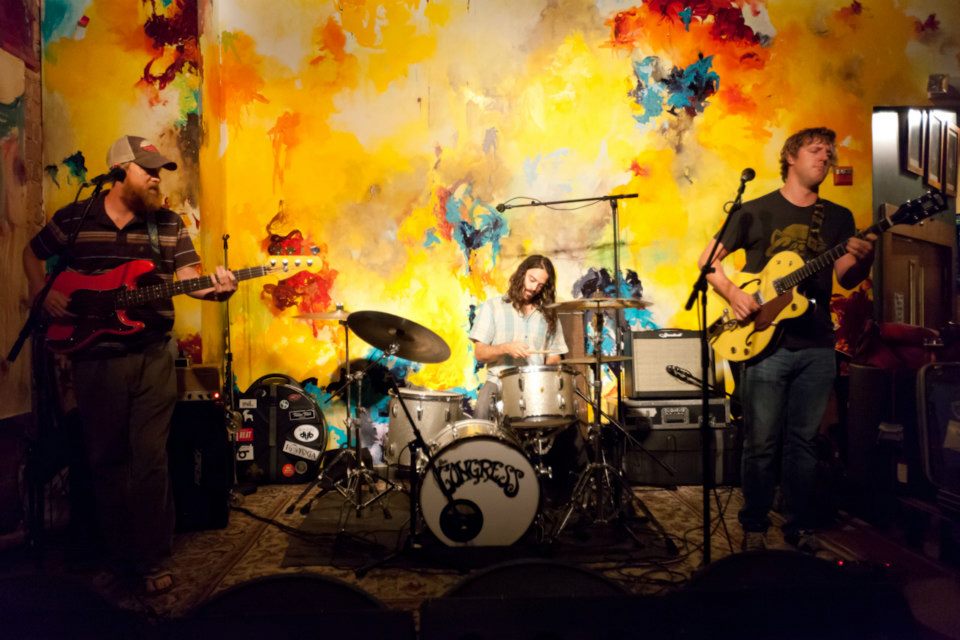 They are still touring for their debut release: 'Whatever you want.'  Strong tracks on this disc like, 'Keep Virginia,' and ' Reason' make this disc worth the money.  Strong performances by all members of the band, making your decision to catch the band worth both your money -- and most importantly, your time.