I almost don't want to tell you how cool a festival FloydFest has become.. I don't want to risk ruining it.  Long past the growing-stage of a fledgling hippy-fest; FloydFest, now in her 9th year, is fully-realized and a true contender amongst events in the Central Virginia and mid-Atlantic region. Our music-loving young family found this event to be one of the best run, cleanest, and most diverse weekend of music and entertainment we've attended in a long while. This was despite the oppressive heat, that made us grateful for renting a generator for our pop-up's air conditioner.
Event organizers expected a record 14,000 or more for this year's festival, and while a final attendance count wasn't available at press time, large crowds flocked to FloydFest from Thursday to Sunday and a capacity crowd packed the grounds Saturday to see traditional favorites like the Old Crow Medicine Show and new-to-the festival acts like The Levon Helm Band.
On stage for nearly two hours on Saturday night, the 70-year-old Helm drove his band with the same power and dynamic touch he displayed when he was a member of The Band. His drumming skills were evident immediately, as he and his band launched into "The Shape I'm In."
Levon Helm took the lead vocal a few tunes in, singing and swinging on "Got Me A Woman," from his 2007 record, "Dirt Farmer" — the first of two Grammy-award winning records Helm has made since his recovery from throat cancer.
Of course, it wasn't all about Helm. While he provided deep rhythms all night, the other 10 members of his band each got time to shine on a wild variety of horns, keyboards and more. Campbell was key to the proceedings, playing electric and acoustic guitars, mandolin and fiddle and turning in solid lead vocals. Singer Teresa Williams also shined on "Long Black Veil" and the spiritual "Keep Your Lamp Trimmed and Burning." Jim Weider, who took the guitar slot when Robbie Robertson left The Band, was also on hand for complementary rhythm.
Helm only emerged once from behind his red Gretsch kit, to strum on a mandolin during a rousing "Deep Elem Blues." The show built to the predictable but still exciting closing number, "The Weight." Alexis Suter, who has performed her share of Midnight Rambles, took the first verse, showing her deep and rich tone. "I Shall Be Released," with Helm taking a couple of verses and daughter Amy harmonizing family-style with him, provided the encore.
But the weekend festival was not without some challenges, handled well I might add, by festival organizers.
A shifting load jackknifed a tractor-trailer south of Floyd and blocked Virginia Rte. 8 – a primary route to the Parkway and FloydFest – for several hours Thursday just as attendees began arriving. Floyd County volunteer firefighters not only had to turn vehicles around as they headed both south and northbound on Rte. 8 but also had to give out-of-town visitors directions on how to reach the FloydFest site by alternative routes like driving south on U.S. 221 to Canning Factory Road and then using Black Ridge Road to reach the Parkway.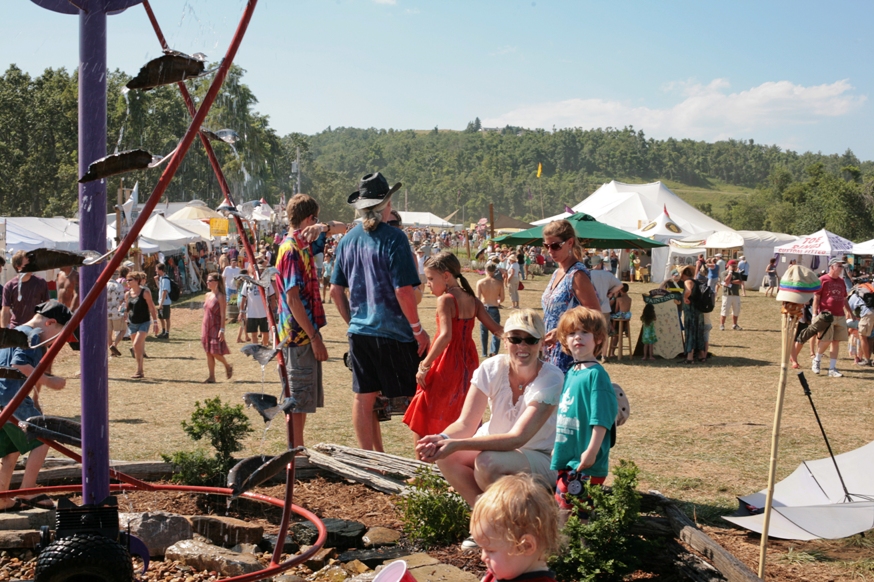 On Thursday, blown circuit breakers plunged much of the festival site into darkness just before the evening showcased a concert of Railroad Earth, but a generator provided power to the Dreaming Creek Stage so the show could go on.
On Saturday, a hit-and-run accident on the Parkway near Mabry Mill brought emergency vehicles speeding past the festival site along with a bulletin to Patrick County deputies to be on the lookout for a male suspect "without shoes or a shirt" who fled the scene."Yeah, right," said one deputy as he looked over the crowd with dozens of men without shirts or shoes. The suspect was later captured as he tried to hitchhike on the Parkway.
The sheriff's department reported only minor incidents, most involving public intoxication. Emergency medical personnel treated several people for heat-related problems as temperatures climbed into the upper 90s on Friday and Saturday. FloydFest organizers and Floyd County police and rescue personnel deserve a round of applause for how well they reacted and prevailed over successive challenges without manifesting unreasonable delays on festival attendees or the residents of the area.
Had the challenges become un-prevailable, organizers might have called in a little help from a giant monster, already parked inside festival grounds. Dubbed 'Davina,' by its' creator, Charlottesville, Va., artist and musician, Christian Breeden, it was originally a 1989 Mercury Grand Marquis.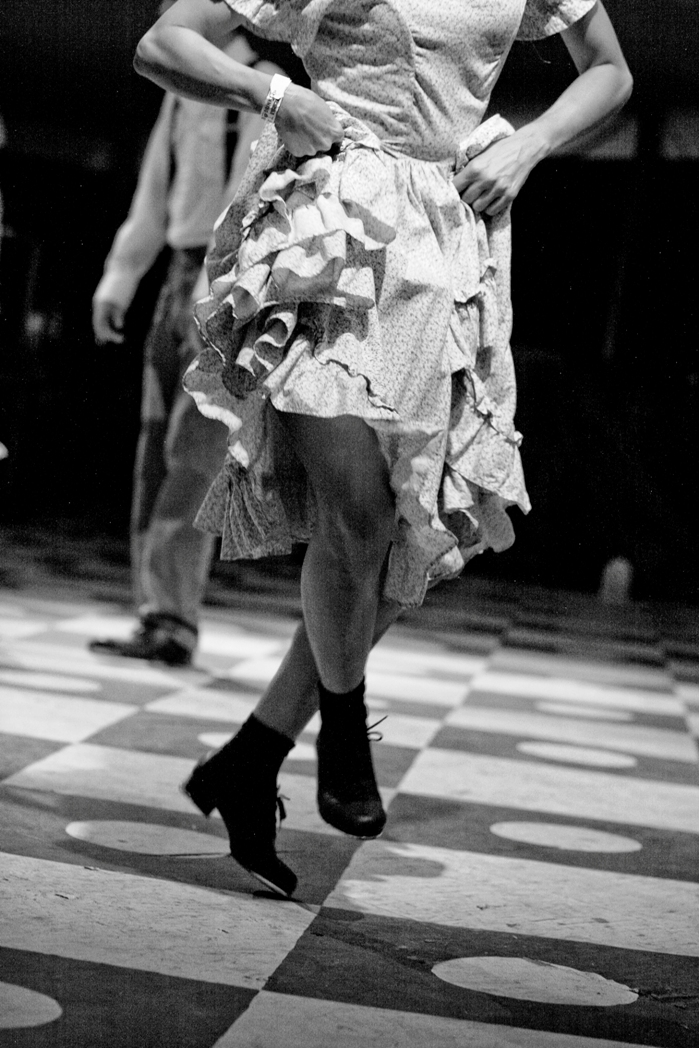 An aluminum and steel skin covers the Grand Marquis chassis. The beast took 10 weeks to build. Breeden started the project on May 1 and had it ready for Transformus, an event near Asheville, N.C. Mr. Breeden told members of the press that he loads the 3,000-pound monster onto a car trailer after removing the head and tail, then folding the neck back into its back/dance floor.
And it does indeed 'breath fire.' Davina's breath of fire is propane-fueled, apparently, though Breeden is thinking of switching to methane. Levers and pullies control the head's movement.
Early Sunday morning, Breeden could look out the windshield at the Pimps of Joytime doing their thing as folks danced and bounced above him.
And the incongruity of such a sight is in a nutshell, precisely what the energy of FloydFest is all about.. Music AND Art AND fantasy AND healing arts AND something for the family, too. Driving home Sunday, we resolved we'd be back, no question.