With so many high-profile tours and new releases competing for our attention in the early half of Summer 2023, it's more than forgivable if you've let a few of them get by you. (We here at Grateful Web certainly feel the 'crush of the new', and we sense all too well the summer shooting by, bullet-wise. Y'know, sometimes, we just have to shoot backward to catch up!) However, one rock album that you shouldn't let slip off your personal radar – especially if your head and heart favor a well-percolated mixture of Classic and progressive rock, blues, jazz and folk – is Peace. . .Like a River, the new release by Southern blues-rock jam veterans, Warren Haynes and Gov't Mule.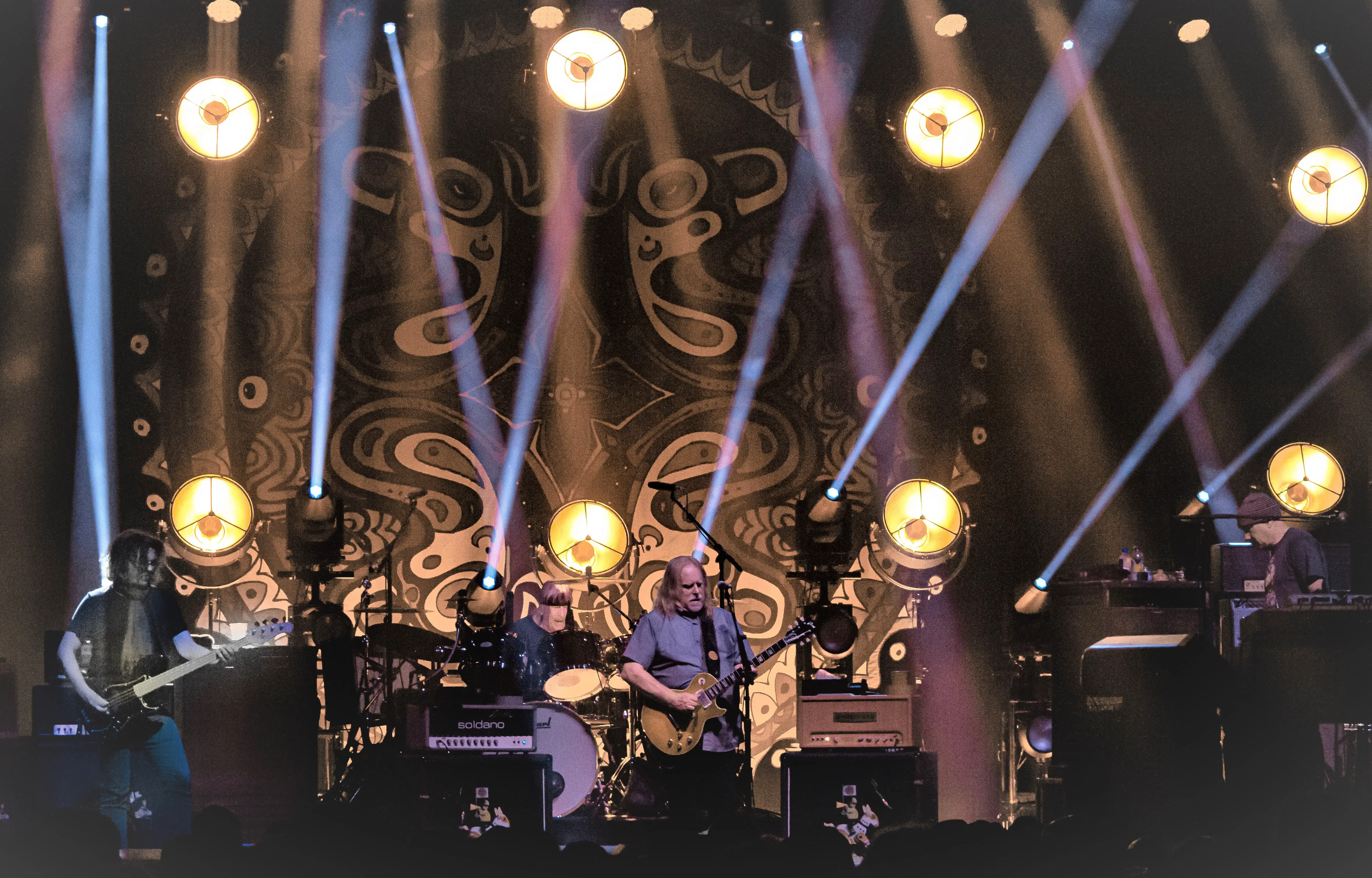 This new album – released on Fantasy Records on June 16, close in time with the kick-off of the Mule's Floyd-flavored, soon-to-launch summer Dark Side of the Mule tour on July 22 – is the band's 12th studio collection in nearly 30 years. And in contrast to its immediate predecessor – the deeply-blues-based Heavy Load Blues in 2021 (that title says it all), River finds acclaimed guitarist Warren Haynes and his Mule bandmates in a very exploratory and eclectic mode. Apparently, Haynes had a lot bottled up in him from the last few years that needed to come out, and the band has succeeded – splendidly, we might add – in matching the music to their primary songwriter's many messages.
Interestingly enough, the river theme runs through the entire album in both lyric and title, while the album title itself appears to be a hat-tip to the nearly-identically titled song, "Peace Like a River" (no ellipsis), from Paul Simon's 1972 solo debut album, Paul Simon. (The Mule's album does not actually have a matching title track. Only several songs with river references in the titles or lyrics. But more about this later)

Indeed, in music as well as the title, the album seemingly touches on a wide variety of musical styles from the 1970s to now. In one moment, you might find yourself flashing back on Zeppelin, Skynyrd, or Humble Pie riffage, and then, in another, catching a whiff of twinned Wishbone Ash guitars, Tom Petty-like Americana uplift, some funky Steve Winwood/Traffic keyboard wizardry or even proggy-blues guitar a la David Gilmour. And then, a Gospel moment lands in your ear, stirs your soul and makes you think of the Staples Singers or Sly & The Family Stone. Overall, there's a strong feeling of musical history in this album which shuffles the deck on what you might think a Mule album should sound like.
Certainly, blues has always been the currency of the Mule's sound, which the band has been plumbing deeply and perfecting since the days of the mid-'90s when they began as a Warren Haynes' offshoot of the Allman Brothers Band. And while themes and undercurrents of frustration, betrayal, and survival are more than obvious on various tracks throughout River, there are also more obvious lighter, acoustic-driven melodies, smoky grooves and swinging jazz vamps on this collection than on the Grammy-nominated 2021 Blues set, which is a pot-boiling batch of all things blues. In any case, the pacing of River allows the listener to wade into the water and splash around a bit, so to speak, with the Mule's harder and more angular Southern blues rock rising up unexpectedly and conking us on the head. And don't worry – You will be conked!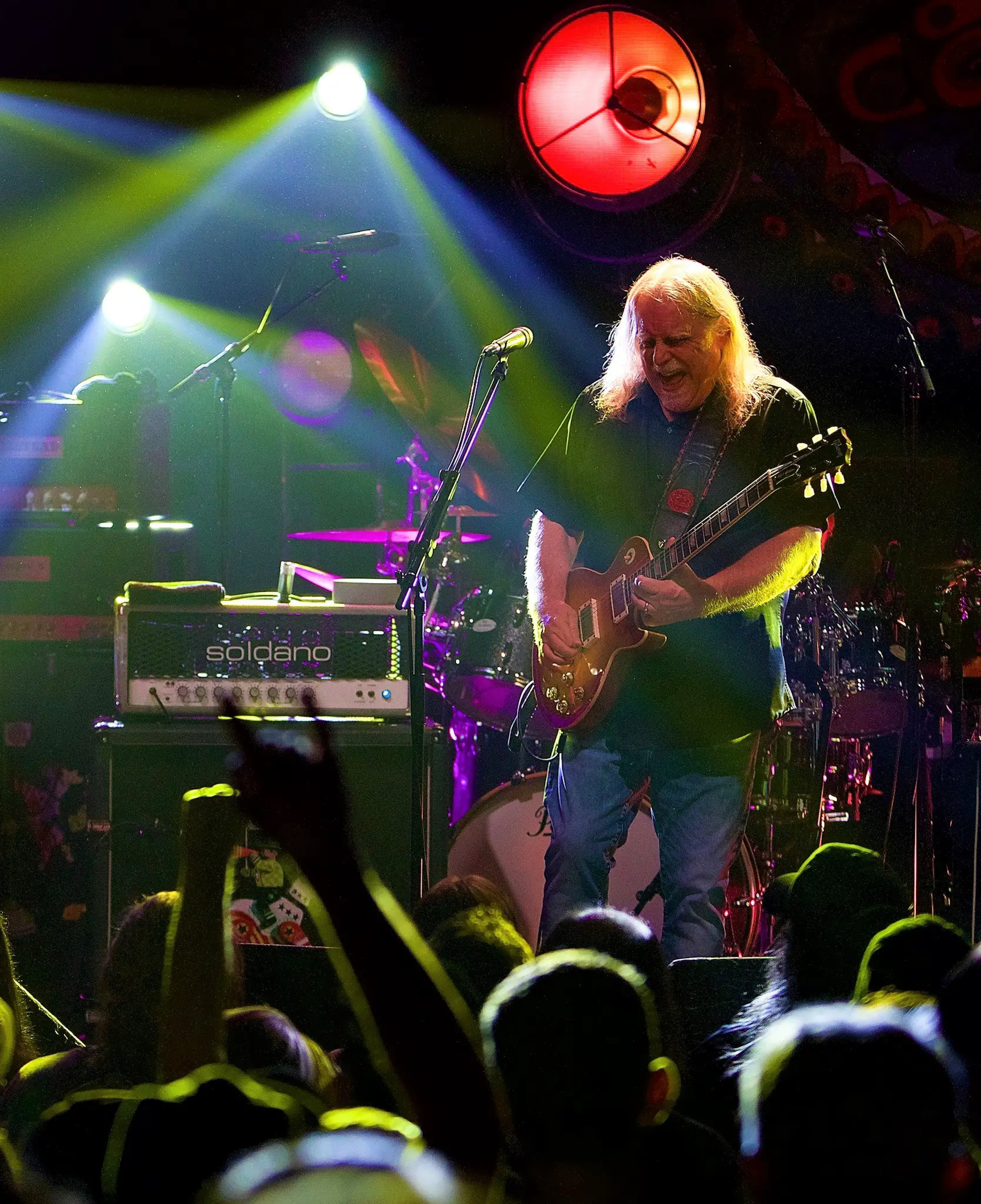 Quite by intention, River and Heavy Load Blues were hatched and incubated more or less at the same time, during the 2020 Covid lockdown. In fact, the band sought out – and found! – a studio with a hybrid design of large rooms for a bigger sound for certain material, and smaller spaces where a different mood would entwine with the musicians and songs. They shifted gears on a nearly daily basis while in that one studio (Four others were reported as also being used at some point.). At the main one, however – Power Station New England, in Waterford, Connecticut – they could go from work one album to the other in the same day. And they used entirely different instruments and gear in these separate spaces, achieving distinctly different moods and expressions.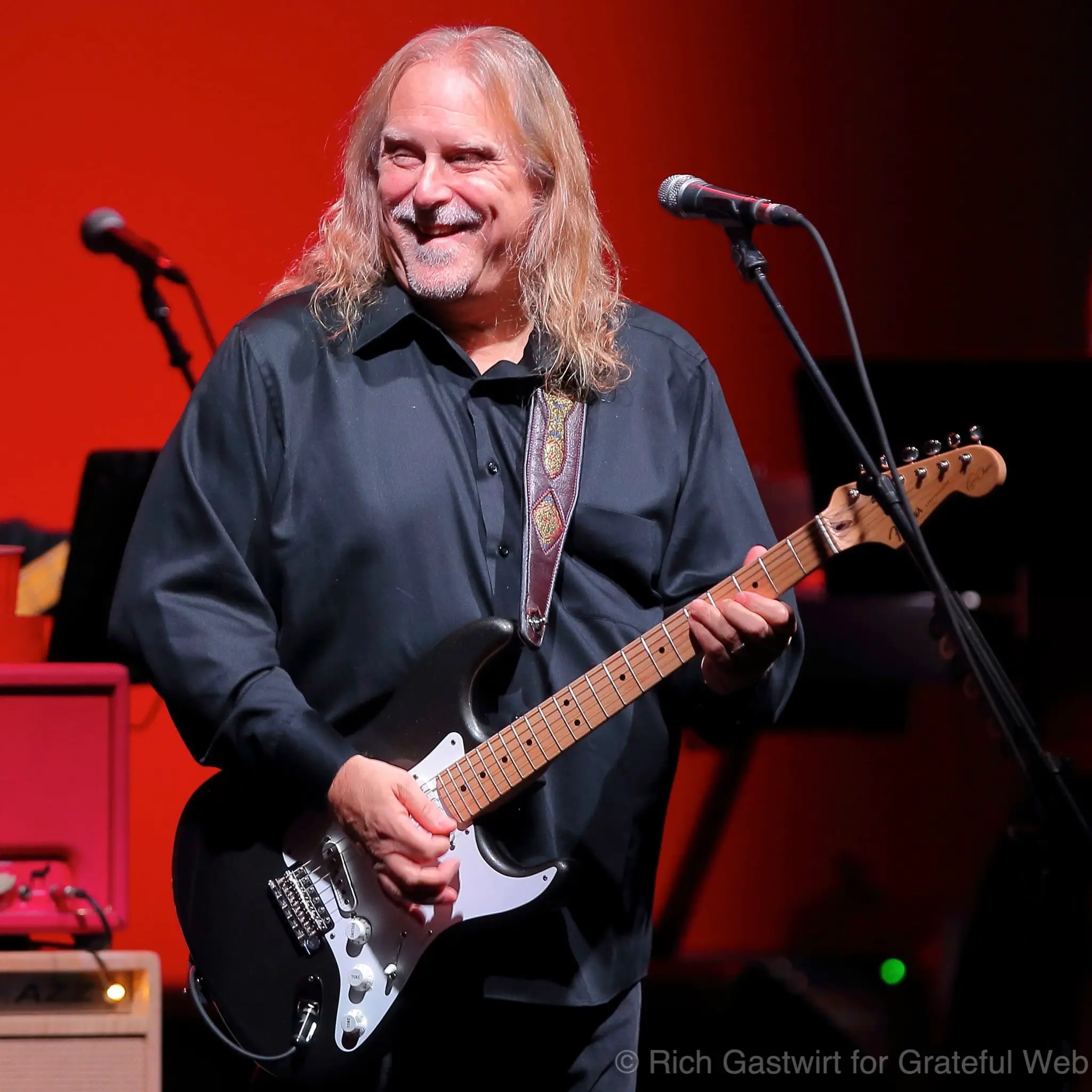 Haynes – armed with a thick stash of new songs from the early days of the Covid lockdown – seemingly had a keen sense of mission as recording began. (The band joined in with him on co-writing two of them.) In a special promotional interview for the release of the album, he acknowledged that no one in the band had expected how the lockdown would put a freeze on so much work. "I wasn't thinking about making a record," Haynes said in the interview, noting that they had no idea when the embargo on touring would end. "Fortunately, I had a lot of time to write, and I had written more than I had written in decades."
Haynes also noted in that video interview that the Grammy-nominated Heavy Load Blues album owed its existence to this same period of time and recording. As he explained, his wife Stephanie – also the band's manager – had reminded them of their often-verbalized desire to record an entire album of blues. So the group realized that this break was going to be their best chance to get that done as well, and that led to them realizing they needed a special environment for doing the two albums side by side. And so they zeroed in on the Power Station.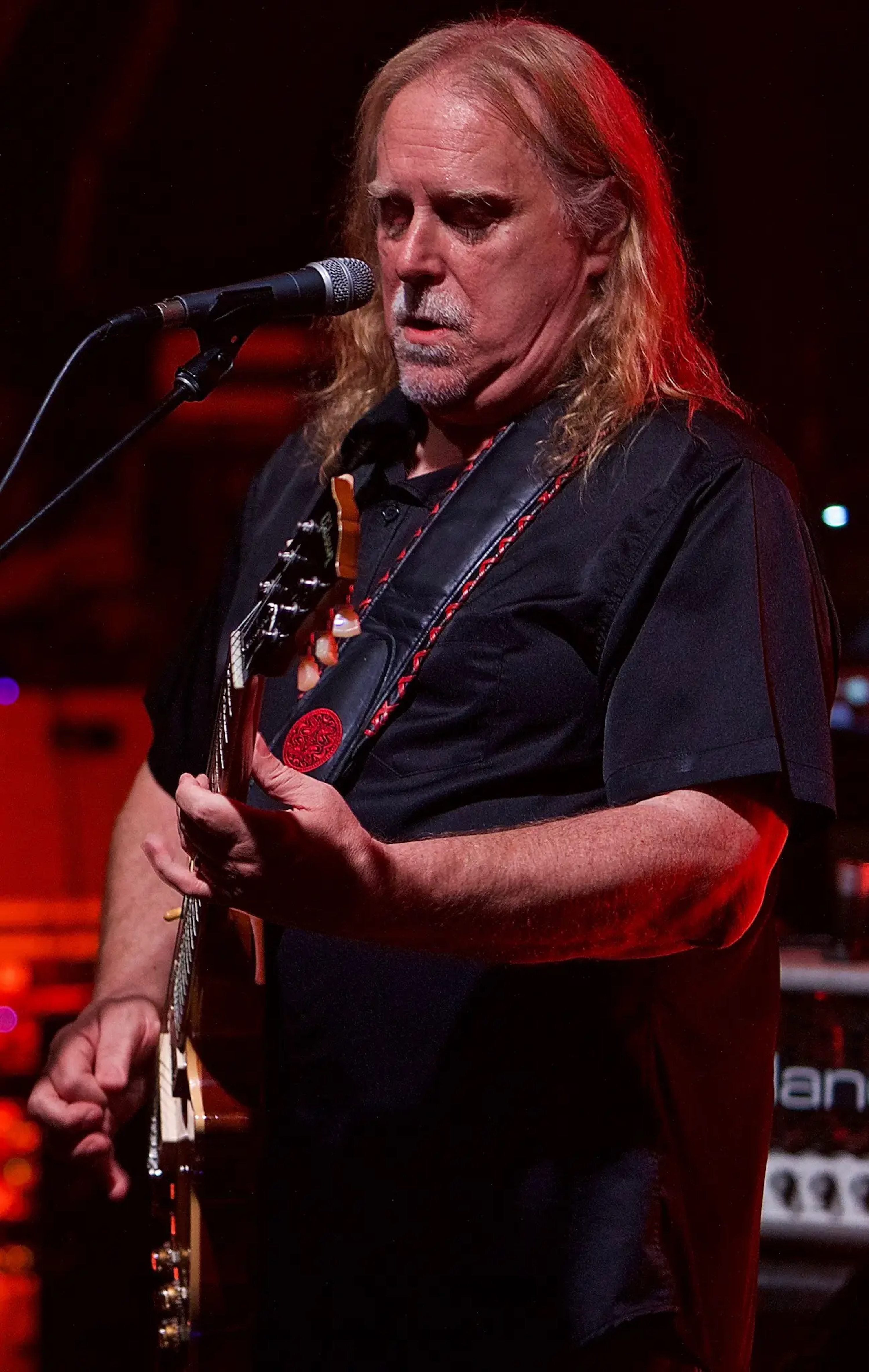 Along with his co-producer John Paterno, Haynes and his three longtime partners – keyboardist Danny Louis, drummer Matt Abts and bassist Jorgen Carlsson – would work daytime hours on the raw tunes of River, before taking a dinner break. Then – because there were no gigs or other external activities during this period to cut into their time – the musicians would often go to that other part of the studio and switch over to the more primal side of their brains after evening break. There, they let their musical instincts and well-trained muscle memory help them to exorcise their gnarlier demons during the Blues sessions at night.
In spite of the exorcisms that the four-man Mule team accomplished in their nightly blues jam and recording sessions, they didn't burn away all the blues when it came to the songs on River. If you look at it right, you might call the mood of the 12 tracks on River more of a 'thinking man's blues'. There's an obvious weariness – and a hint of hard-earned wisdom that arises from the blues – that's still the emotional core of the album. The song structures, textures and instrumental arrangements are very fluid, changing throughout the album. (At times, it's even within one song, as in the case of the highly dynamic opening song, "Same As It Ever Was". ) You might even call the album's tone at times more spiritual, with themes of confusion and sometimes finding direction.("Hey, look at me. I'm the prodigal son. . .", Haynes calls out on the third track in, "Made My Peace".) But, yes, amid these stories of missed connections and opportunities, there's – in the end – resolution and redemption. Containing both moments of joy and suffering, the songs carry you through some darker and more twisted channels before emerging into sunlight again. (Or is it moonlight or starlight? Regardless, it's still light!) Truly, the end result of the album is a river of constant change.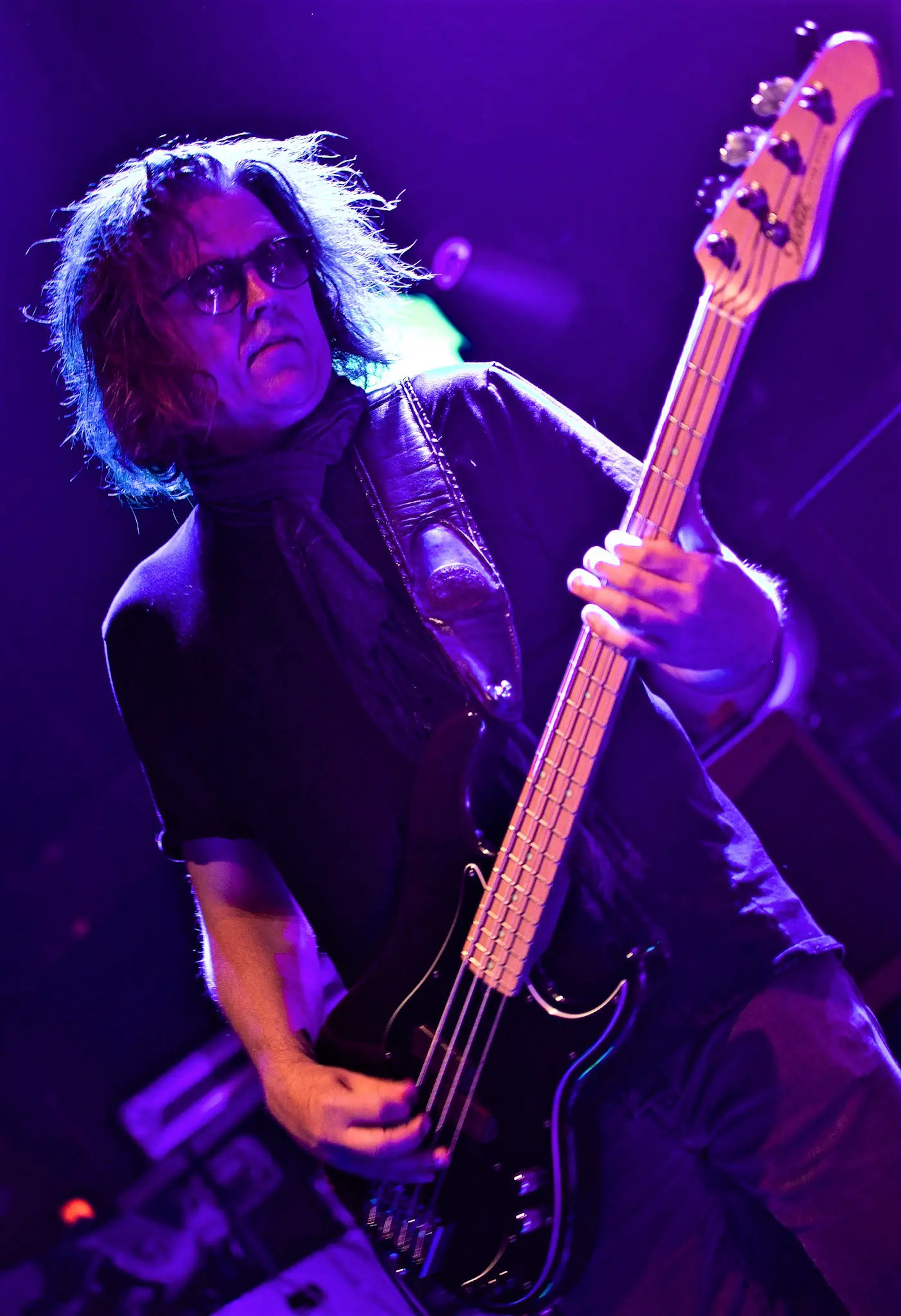 Strictly speaking, this album is many things at once, distilled into a flowing, seamless whole. It's not 'pop' music as such, not pure blues or progressive rock either. Trending longer but still packed with ideas and action, the songs reflect a proggier, more artful approach to the material than either Heavy Load Blues or the preceding 2017 studio album, Revolution Come. . .Revolution Go.
No song is shorter than four minutes, and the longest – the highly layered, Prog-Meets-The Beatles "Made My Peace" – clocks in at just over nine minutes. (This track is tricked out with orchestral grandeur, complete with George Harrison-style slide guitar and chromatic runs in unison over symphonic layers.) Horns also figure in prominently on selected cuts, such as kick horns. modulated sax solo and hot trumpet outro on the groovy "Dreaming Out Loud". And with Haynes making no secret of his deep admiration for the blues-filled guitar artistry of Pink Floyd's David Gilmour, there are other undeniable formal art-rock moments coloring the instrumental mix of other songs.
Most important, because of the natural-as-breath feeling of flow, none of the songs feels long. In fact, as I experienced in my repeated listenings, the songs lead you onward with the desire for them to keep on bubbling and chugging away, as most of them do. One can imagine that generous extensions will happen with at least a few of the songs when they are played live over the next several months.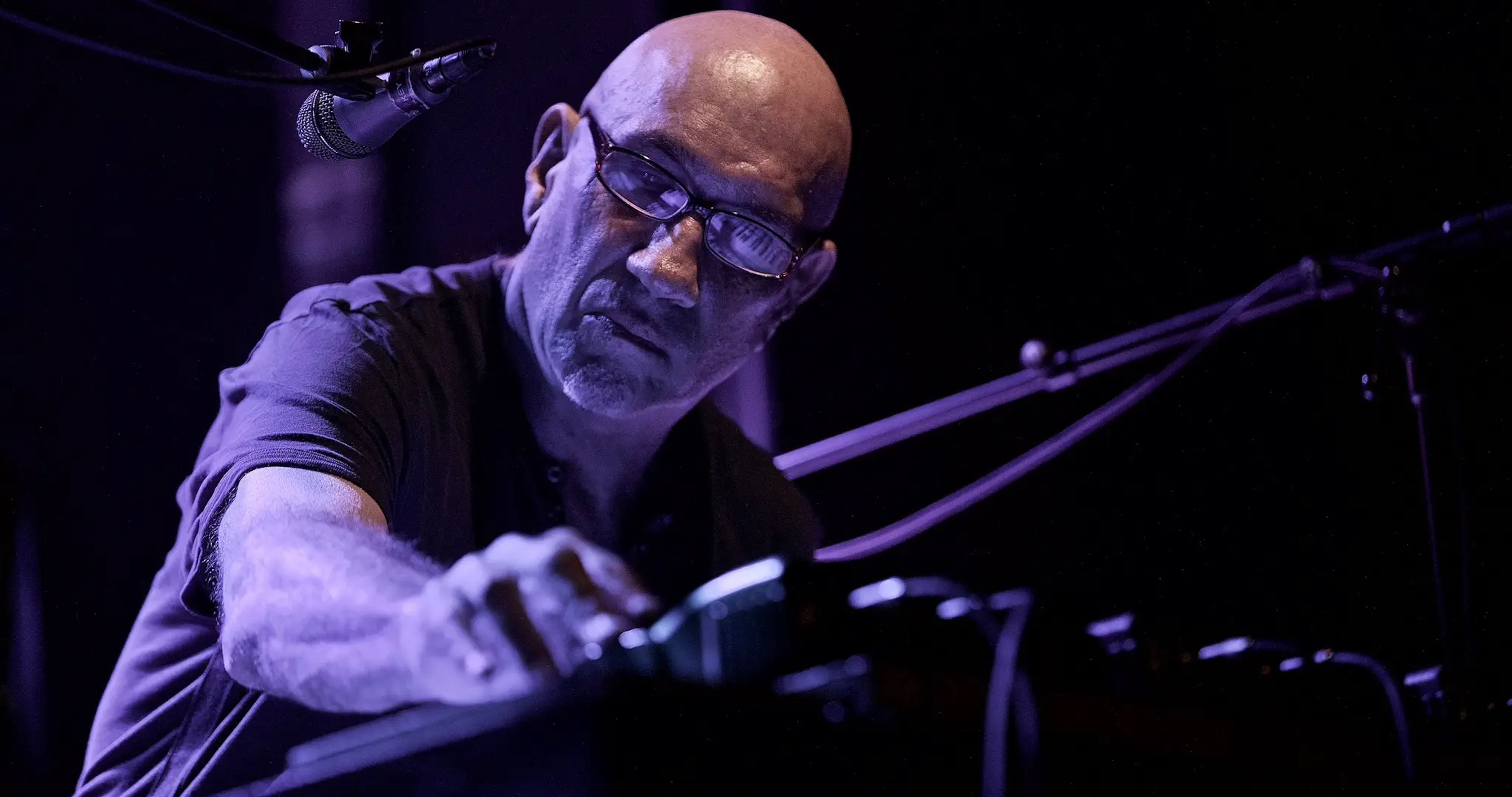 There's so much packed into the 12 songs, but – if you can believe it – the band's cup overflowed with even more songs, which they included on a bonus disc in the special two-disc edition of River. And, as it often seems to happen for me, I felt more gravitational pull with some of these songs versus some on the main disc.
In spite of the experimentation on this album, you're never far from trademark Mule hooks and habits, including Haynes' distinctively soulful vocals, his voice-like slide guitar and razor-sharp riffs, and the band's fully interactive sound of active bass lines and piano/organ-led vamps. But the main album tracks, which boast a number of highly varied guest stars — from Celisse (Henderson), Ivan Neville and Ruthie Foster to ZZ Top guitarist/vocalist Billy Gibbons – seem aimed at achieving the perfect emotional balance. In case you were wondering, Mr. Gibbons does sing on, the ZZ Top-flavored tune "Shake Our Way Out" but left his guitar at home. And Celisse brings a yearning lead vocal to the river-themed slow-jam, "Just Across the River".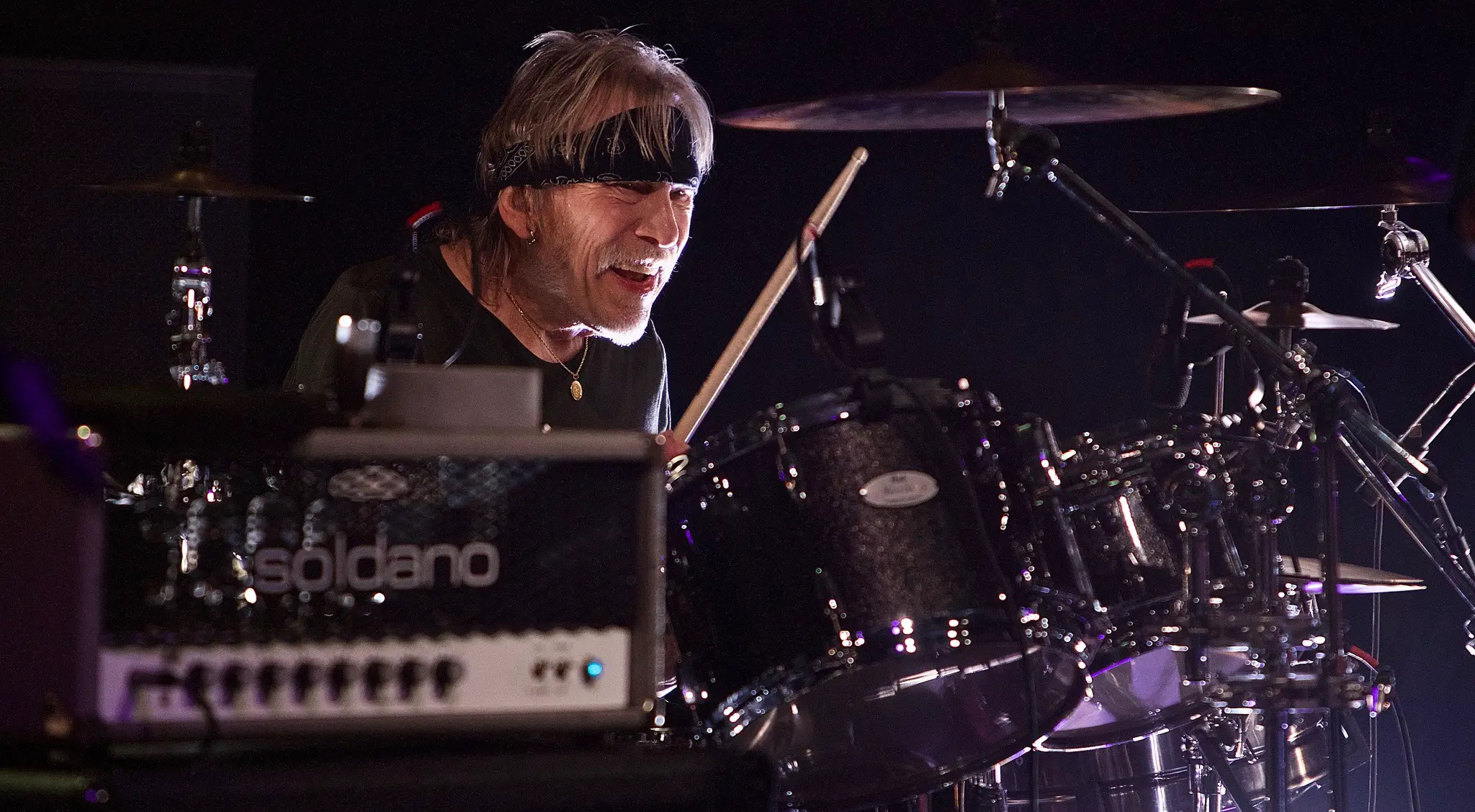 To my ears and mind, though, the true centerpiece to the album – is a guest appearance by actor/musician Billy Bob Thornton, who delivers a harrowing, latter-day Johnny Cash-type narration over the dub/trip-hop groove of "The River Only Flows One Way". (A second version of this track, with Haynes' original vocal is included on the bonus disc in the two-disc version of River. But Thornton's dead-eyed zombie vocal delivery hooks you into a chilling sense of disillusionment.) Because of this vocal variety of all these guests, it becomes obvious why some of the excellent tracks not included on the main album ended up on the bonus disc. Two tracks worth checking out are "Blue Blue Wind" and "Time Stands Still".
Although one clearly gets the feeling that the lyrics are largely personal, you can hear Haynes make both oblique and direct references to the stress of the times in which we live. While he reflects the struggles of existence in the modern world, he also points us toward hope with the song, "Dreaming Out Loud." For this track – which cites historic quotes from Dr. Martin Luther King Jr., Robert and John Kennedy, and the late civil rights leader/U.S. Representative John Lewis – he brought in special guest vocalists Neville and Foster. Interestingly, this socially-conscious song may also be a sly historical cross-link to the lyrics of Paul Simon's original "Peace Like a River", the lyrics of which were obviously written in the context of the late '60s-early '70s Civil Rights Movement. So, truly, both the music and the politics on this album are progressive, and some of the lyrical themes are a historical reminder that there is still many a mile to true freedom and equality.
Overall, the music of Peace. . .Like a River breathes and flows from the first song to the last, taking the listener on a river-like journey that isn't entirely peaceful in nature. (Remember those dark and twisted channels we mentioned earlier?) But what the album does deliver in the end is a feeling of closure and resolution, rather than just leaving the listener with more questions about living in the world. No, the journey on this river is not peaceful, but it seems to carry you to a place of peace in the end.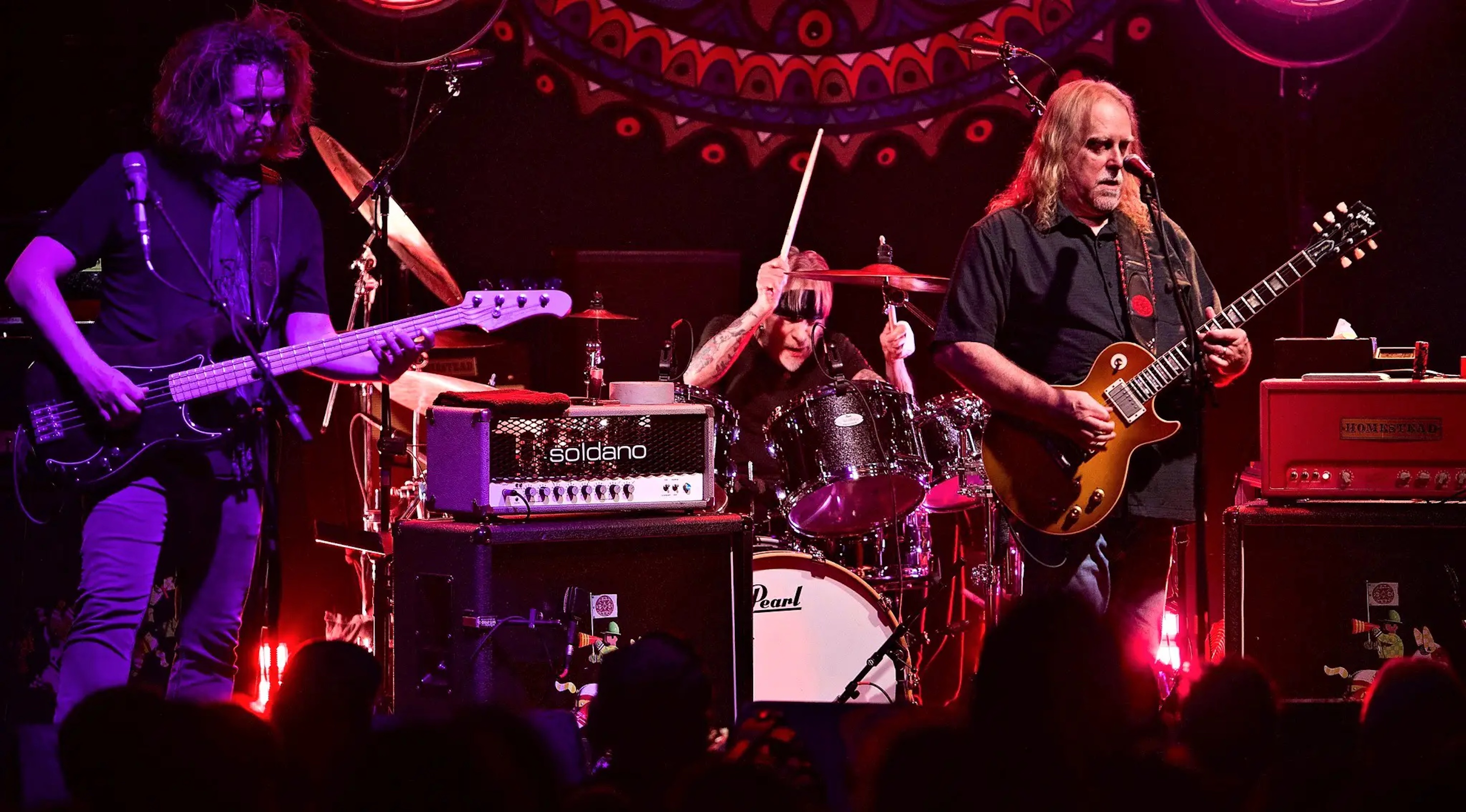 The Mule on Tour, Summer 2023 and Beyond
Coming up in Atlantic City, on July 22, Gov't Mule – in collaboration with Live Nation – will kick into their mid-summer Dark Side of the Mule tour, with a full-length performance of Pink Floyd's 1973 masterpiece, The Dark Side of the Moon. Depending on whether the date is a stand-alone Mule gig or a festival or a warm-up slot, they will sometimes play longer shows with more of their own originals or tasty cover choices. On some dates, the Mule will serve as the opening act for Jason Bonham's Led Zeppelin Evening, and on selected dates, they will be taking part in the Willie Nelson package tour known as The Outlaw Music Fest.
The Mule first performed DSotM in full, along with other deep Floyd tracks as a surprise Halloween set in 2008. In time, this blues-heavy performance was released as a live album, naturally titled Dark Side of the Mule. And a deluxe edition of the album included additional Mule songs from the same three-hour performance. Since that time, Haynes and the band have performed the full Moon set on occasional dates. "This all started so organically with what we thought would be a one-time Halloween performance," Haynes remarked in a press release this year. "Since then, Dark Side of the Mule has grown into something else. It's a blast to perform this material but our intent is to do it for one final tour in celebration of the 50th anniversary of Dark Side."
It must be noted that longtime Mule bassist Jorgen Carlsson, who has been a staple of the Mule's sound since 2008, announced his departure from the band in early June, just prior to the band's first summer dates. So taking on the bass duties temporarily for the summer tour will be Kevin Scott, a friend of the band known for his work with John McLaughlin and Bruce Hampton.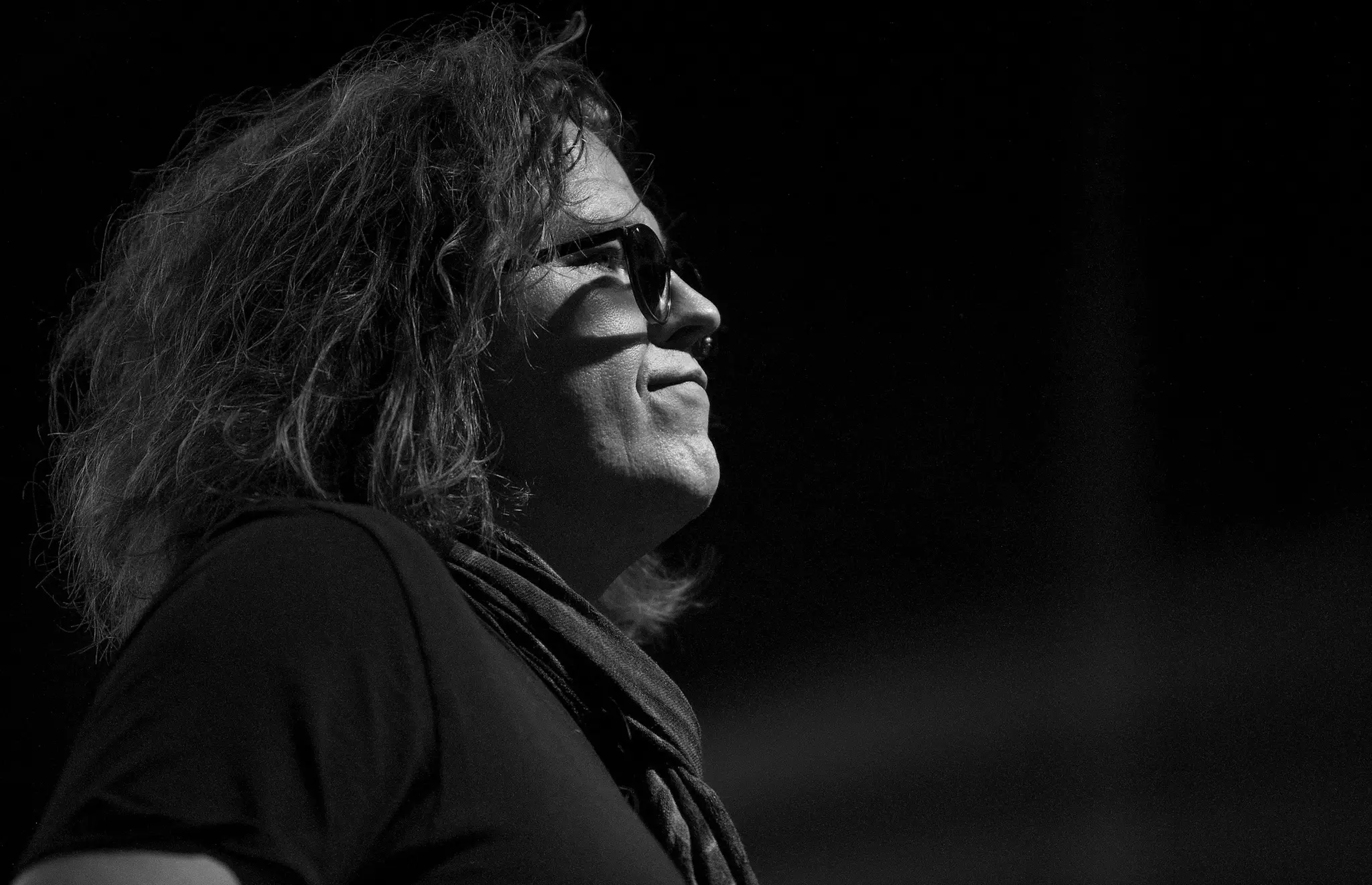 The Mule have been breaking out songs from Peace. . .Like a River at their shows over the last year, a few at a time. Among those in heavy rotation are "Same As It Ever Was", "Made My Peace", After the Storm" and "Dreaming Out Loud". And, there are always the numerous songs from the band's own deep catalog and brilliant cover picks, from Neil Young to Jeff Beck. They always seem to deliver the goods, and yet they'll leave you wanting more.
After the Dark Side of the Mule tour wraps up, Gov't Mule will continue with more dates in Europe and North America, as listed below. Special dates are marked as follows:
** Opening for Jason Bonham's Led Zeppelin Evening
++ Outlaw Music Fest, with Willie Nelson & Family Headlining, also Nathaniel Rateliff & The Night Sweats, Kathleen Edwards, Particle Kid.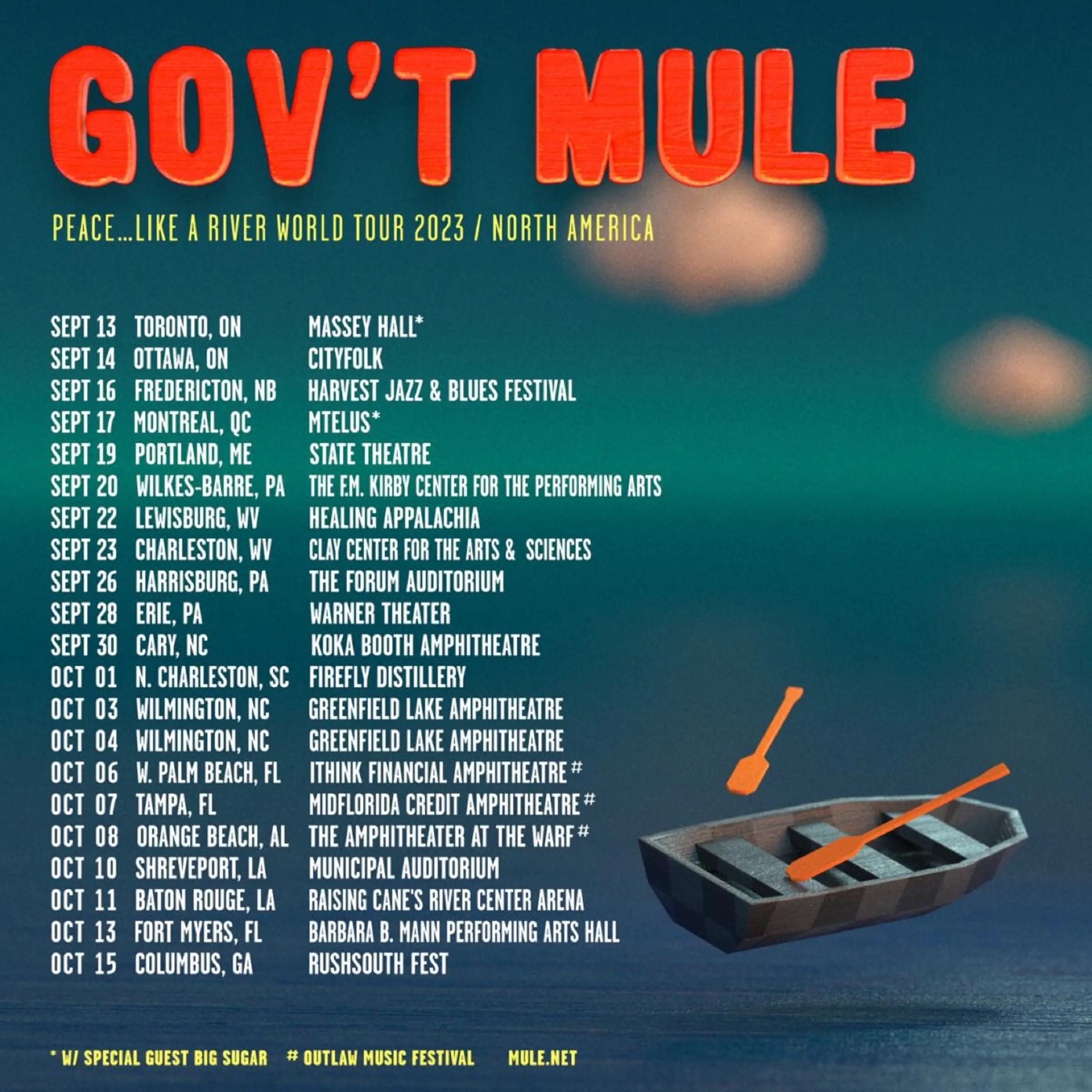 Summer and Early Fall 2023 Dates
July 22, 2023 – Hard Rock Live at Etess Arena – Atlantic City, NJ **
July 23, 2023 – Great South Bay Music Festival – Patchogue, NY **
July 25, 2023 – Stage AE – Pittsburgh, PA
July 26, 2023 – KEMBA Live! – Columbus, OH
July 28, 2023 – Saratoga Performing Arts Center – Saratoga Springs, NY
July 29, 2023 – Bethel Woods Center For the Arts – Bethel, NY ++
July 30, 2023 – Darien Lake Amphitheater – Darien Center, NY ++
August 2, 2023 – Pine Knob Music Theatre – Clarkston, MI**
August 3, 2023 – Ruoff Music Center – Noblesville, IN**
August 4, 2023 – Credit Union 1 Amphitheatre – Tinley Park, IL**
August 5, 2023 – Stir Concert Cove - Harrah's Council Bluffs Council Bluffs, IA**
August 7, 2023 – Red Rocks Amphitheatre – Morrison, CO**
August 9, 2023 – Dos Equis Pavilion – Dallas, TX**
August 11, 2023 – PNC Music Pavilion – Charlotte, NC**
August 12, 2023 – Cadence Bank Amphitheatre at Chastain Park – Atlanta, GA**
August 13, 2023 – PNC Pavilion at the Riverbend Music Center (Riverbend Music Center) – Cincinnati, OH ++
August 15, 2023 – Hartford HealthCare Amphitheater – Bridgeport, CT**
August 17, 2023 – Bank of NH Pavilion – Gilford, NH**
August 18, 2023 – Leader Bank Pavilion – Boston, MA**
August 19, 2023 – PNC Bank Arts Center – Holmdel, NJ**
August 20, 2023 – Wolf Trap – Vienna, VA**
September 13, 2023 – Massey Hall – Toronto, ON, w/ Very Special Guests Big Sugar
September 14, 2023 – CityFolk Festival – Ottawa, ON
September 16, 2023 – Harvest Music Festival – Fredericton, Canada
September 17, 2023 – MTELUS – Montreal, QC, w/ Very Special Guests Big Sugar
September 19, 2023 – State Theatre – Portland, ME
September 20, 2023 – The F.M Kirby Center for the Performing Arts – Wilkes-Barre, PA
September 22, 2023 – Healing Appalachia – Lewisburg, WV
September 23, 2023 – Clay Center – Charleston, WV
September 26, 2023 – The Forum Auditorium – Harrisburg, PA
September 28, 2023 – Warner Theater – Erie, PA
September 30, 2023 – Koka Booth Amphitheatre – Cary, NC
October 1, 2023 – Firefly Distillery – North Charleston, SC
October 3-4, 2023 – Greenfield Lake Amphitheater – Wilmington, NC
October 10, 2023 – Shreveport Municipal Auditorium – Shreveport, LA
October 11, 2023 – Raising Cane's River Center Arena – Baton Rouge, LA
October 13, 2023 – Barbara B. Mann Performing Arts Hall – Fort Myers, FL
October 15, 2023 – RushSouth Fest – Columbus, GA
European Dates, Fall 2023
November 6, 2023 – The London Palladium – London, England, UK
November 8, 2023 – Alte Kongresshalle – Munich, Germany
November 9, 2023 – Globe Wien – Vienna, Austria
November 11, 2023 – Le Trianon – Paris, France
November 12, 2023 – De Oosterpoort – Groningen, GR
November 14, 2023 – TivoliVredenburg Grote Zaal – Utrecht, Netherlands
November 15, 2023 – Hugenottenhalle – Neu-Isenburg, Germany
November 17, 2023 – Cirque Royal – Brussels, Belgium
November 19, 2023 – Teatro Celebrazioni – Bologna, Italy
November 20, 2023 – Teatro Dal Verme – Milan, Lombardy, Italy
November 21, 2023 – Politeama Rossetti – Trieste, Italy
U.S. Dates, Winter 2023
December 29, 2023 – The Met – Philadelphia, PA # ALL PREVIOUSLY PURCHASED TICKETS WILL BE HONORED
December 30, 2023 – Beacon Theatre – New York, NY # ALL PREVIOUSLY PURCHASED TICKETS WILL BE HONORED
December 31, 2023 – Beacon Theatre – New York, NY # ALL PREVIOUSLY PURCHASED TICKETS WILL BE HONORED
For more information about Gov't Mule, Warren Haynes or the tour dates, please visit these related websites: https://mule.net/tour/ and http://www.warrenhaynes.net.