It's always exciting to be caught off guard by the abilities of a band you've never seen. Having heard amazing things about Rocktin Grove—a group out of Boulder—I was excited to finally see them play, especially at their biggest headlining show yet: The Fox Theater.
Friday night began with a Washington DC based trio Mission South, whose sound could be described as bluesy rock with a lot of soul. Playing songs that made you want to close your eyes and feel the power and fervor of the band, they eased their way through their music, never rushing into or out of a jam, always taking the time to allow the tune to flourish. Even when they pulled Wilson Howard, the banjoist and lead guitarist from Rocktin Grove on the stage, these practiced musicians never lost the integrity of their style or abilities.
The second band to grace the Fox's stage was Green River Vibe, a six-piece band from Denver. They primed the crowd for a long night of dancing with groovy reggae tunes. Despite their rhythm guitarist's broken arm, he was still able to contribute his music abilities by rocking the keys in conjunction with Ableton. After some dancy beats and a couple covers, including a fun rendition of "I Shot the Sheriff," GRV left the crowd in good spirits and excited for more music.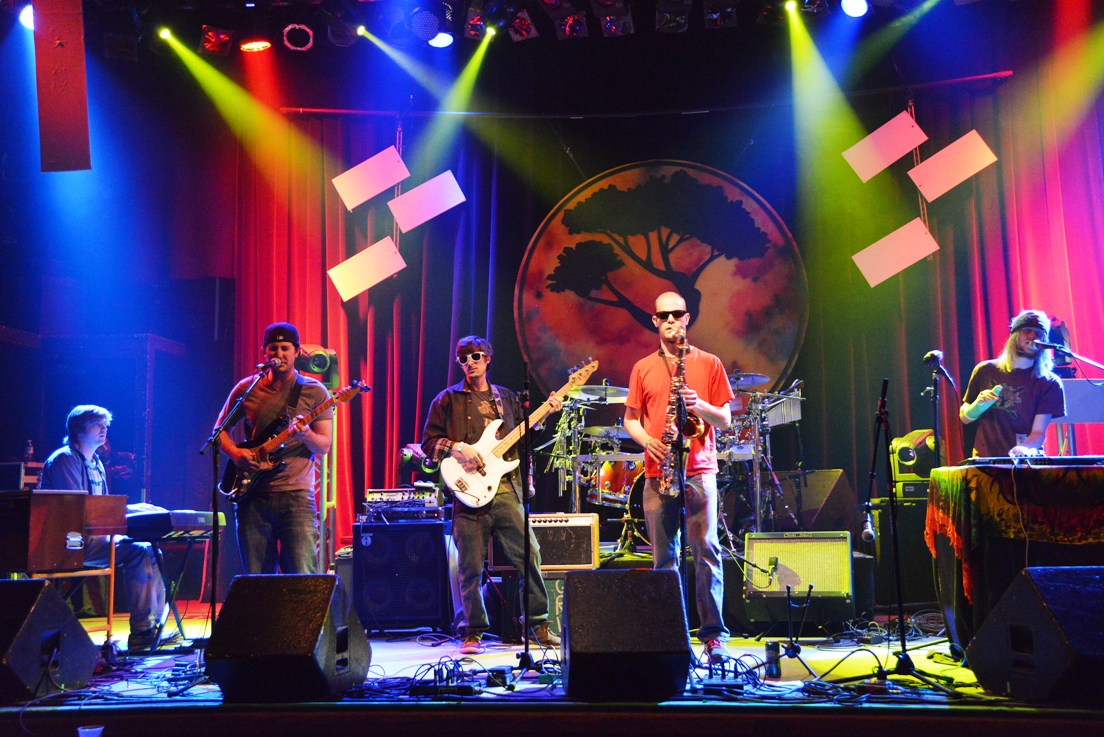 When Rocktin Grove appeared on stage, Jon Kimbell (mandolin/vocals), Will Viitanen (drums), Wilson Harwood (guitar/banjo/vocals), Adrian Flynt (bass/vocals) Nate Luebbe (mandolin/violin), Theo Farver (acoustic guitar, percussion, harmonica, vocals) and Garrett Cropsey (saxophone/vocals) found themselves in a nearly full venue. Spirits were high and the floor was packed with excited locals who had been waiting for this moment the entire night. Starting off their set with a mellow tune, they brought the energy of the crowd into their hands through slow and controlled melodies, before dropping effortlessly into "Garden Song," a fun, hip-swinging song that made you feel a little like you were in the tropics.
What stood out most about this band from the very first song was their ability to play in a way that complimented each other's abilities. Through all their incredibly tight playing and all their quick changes in both genre and tempo, the boys never crowded one another's sound. Each member ebbed and flowed with the other members' energy, allowing each individual a chance to highlight their musical capabilities.
Rocktin played through the night keeping their devoted followers entertained and wowing those who'd never seen the group with smooth jazzy numbers and fast picking bluegrass. But they were particularly impressive second set when they revealed to the crowd their adventurous habits. Pulling guest guitarist and roommate on stage to perform "Loving Flow," dancy vibes flooded the venue and everyone was spinning and shaking to this fun, groovy tune. Luebbe, took this opportunity to break out on his own and divulge in a high energy shred session. Later in the set, the audience was rewarded with Cropsey's beautiful baritone voice as he set up the well timed moment where the band broke into heavy funk, again making the entire venue wiggle and swing. Before the night was over, we heard a fun, unexpected rap bust out, more bluegrass picking and saw the appearance of their guest guitarist one more time. By the end of the evening, Rocktin Grove stimulated every one of the senses you could ask for, proving to be a fun, diverse and high caliber group of musicians.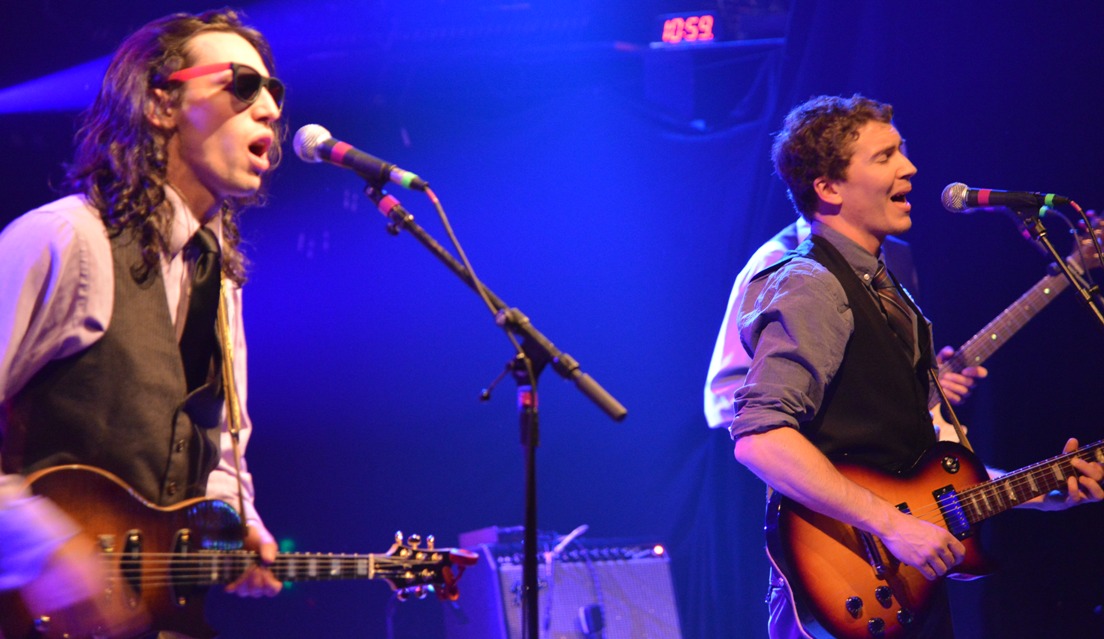 I find it rare to see a band with such a strong command of so many genres while simultaneously continuing to showcase their musical talents. With their ensemble of string, percussion, keys, woodwind, and brass instruments interacting so naturally, plus their creating a groovy, fun atmosphere, you can be sure I'll be going to see them again and again. If you missed them this weekend, then make sure to catch them at their next scheduled show at the Oskar Blues Brewery in Longmont this July. I promise you'll be disappointed if you don't!