A light blanket of snow settled on the still-green trees around the amphitheater, thin layers of ice coated wooden planks and steps, and expertly positioned heaters scattered the stage. It was October 4th at Red Rocks, and it was cold. But timing wasn't much of a choice for Lotus and their supporting bands BoomBox and Break Science. After having to reschedule Lotus's September 13 show because of the recent flood that devastated Colorado's Front Range, everyone hoped a new month would bring better weather. And it did to some degree—cold is definitely better on electrical equipment than water—but the temperatures weren't for the feeble. Looking around the venue—dressed in goose-feather jackets, silly hats, onesies, and sparkles—you saw the real Lotus fans. The fans who were preparing for an incredible night of their favorite band.
It wasn't until close to 9:30 that The Rocks began to really fill up, but some came for the very beginning to see Break Science start the night of music. The two producers, Adam Deitch who previously toured with Pretty Lights (among other national acts) and Borahm Lee, keyboardist for names like Kanye West and Matisyahu, teamed up in Brooklyn and have since created an electronic duo with dancy, synthetic hip-hop beats. Their base heavy tunes hit just the right spot for some of the crowd and got the people moving.
BoomBox was the second act to brave the cold. Zion Rock, son of the Grateful Dead's Godchauxs, held down guitar while Russ Randolf maintained a steady flow and great change ups on the keys. Together they brought a really groovy sound to the stage where each song seemed to build the next, feeding the energy throughout their set. People everywhere stepped into a solid groove that kept them moving at a steady pace during the hour. An element of their sound I really enjoyed was Godchaux's voice. It blended into the style of music that Boombox is, creating an all-encompassing feeling of cool, mellow vibes.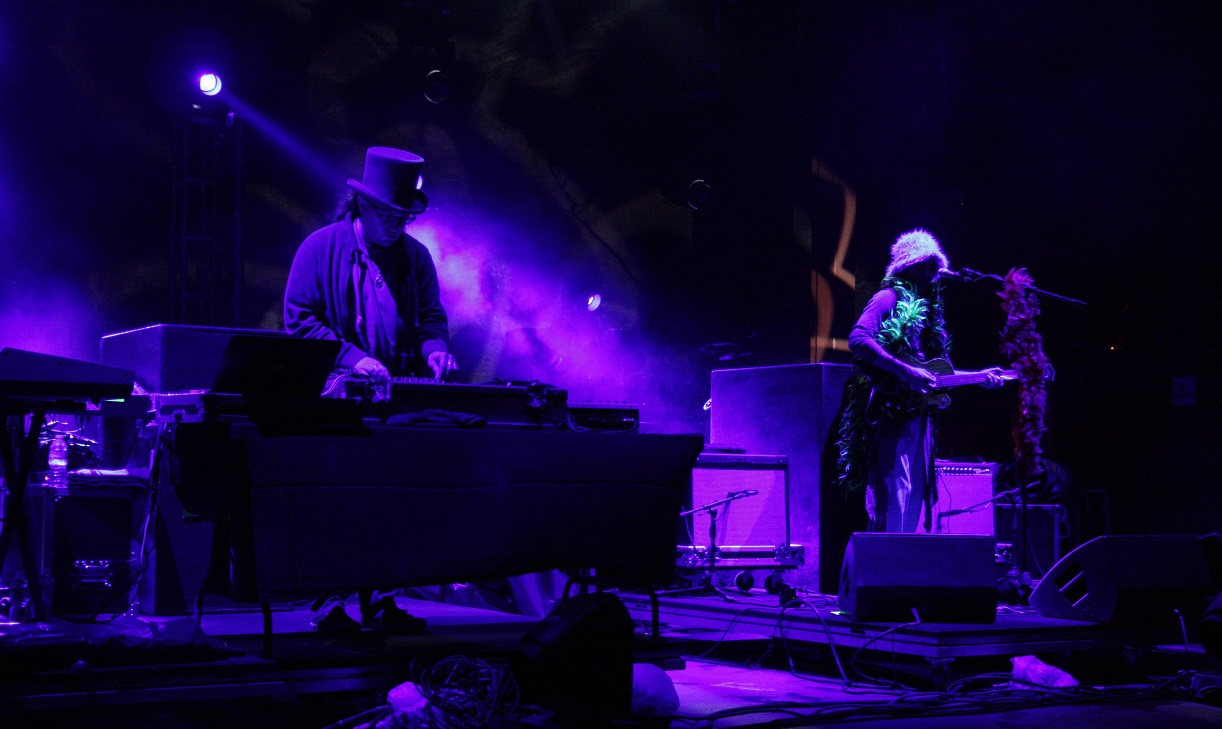 After BoomBox and a quick moment to warm up in the Red Rocks Museum, Lotus appeared on stage at 10:15 opening with Wax, a relatively old school song from 2007. It got the entire crowd back on their feet, moving and smiling, finally getting what they've been waiting for for the past month, never mind the night. After Wax, Lotus jumped right into Bush Pilot then pushed into some of their newer tunes. Middle Road was the first of the songs to hit our ears that was released on an album this year. With a lot of bands, I feel like devoted fans don't always like new releases, but I never had this feeling from this group of people. Even in Lotus's evolution as a band, they maintain their underlying groove and flow while adding an edge to their music. May it be a heavier synth, vocal recordings, or guest rappers, there remains a noticeable commitment to the quality of the music they are producing and a devotion to keeping their relationship with their fans.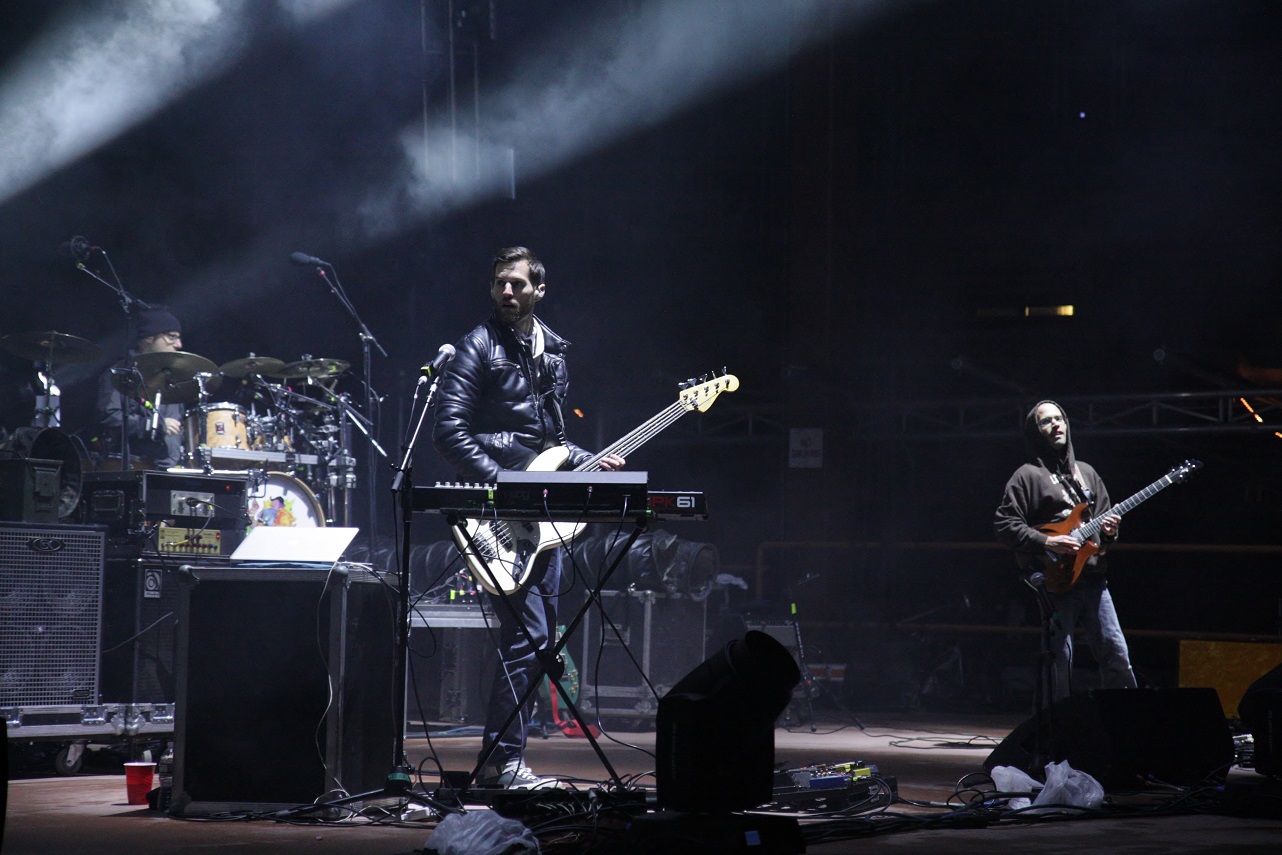 I especially noticed this to be true when Lotus hit the first notes of Gilded Age. The entire crowd's energy exploded and the amphitheater of puffy parkas and animal suits turned into a bouncing sea, surging with bliss. Lotus then brought the energy back to something a little darker with Neon Tubes Part 1 before surprising the audience with guest rapper, Ras Arcane for Cloud 9 (a song from their newest album, Monks).
The rest of Lotus's set was stacked mostly with older favorites like Plant Your Root, Wooly Mammoth, and Umbilical Moonrise with just a couple new songs threaded in. It was really cool to see that the band was still more than capable of playing music they created nearly ten years ago (in some instances), yet we were also able to witness their progression and enjoyment of experimentation. One thing is for sure; over the years Lotus hasn't lost their talent for perfectly timed transitions. Their music remains crisp, conscious, and enlightening.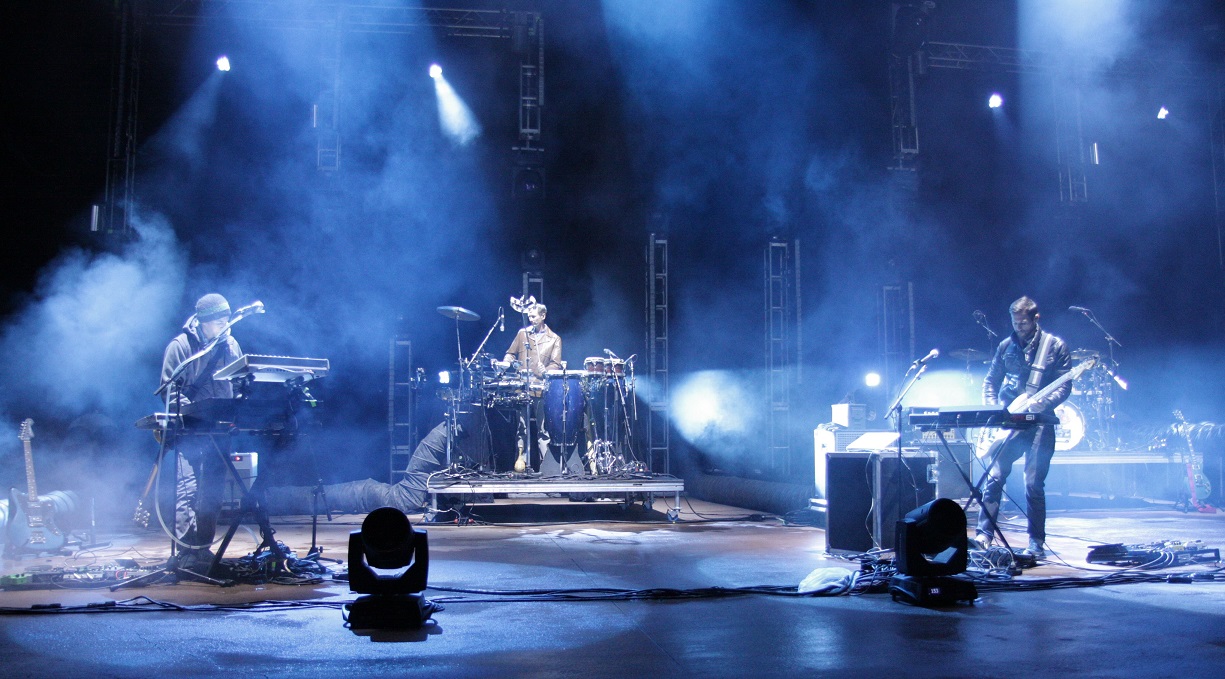 The five musicians dazzled us with Shimmer and Out for an encore, leaving the crowd in high spirits as they left the icy amphitheater. Seeing amazing musicians perform well in below freezing temperatures leaves a lasting impression. Lotus truly put on a good show and regardless of the weather, I think everyone who was present is still vibing on that night.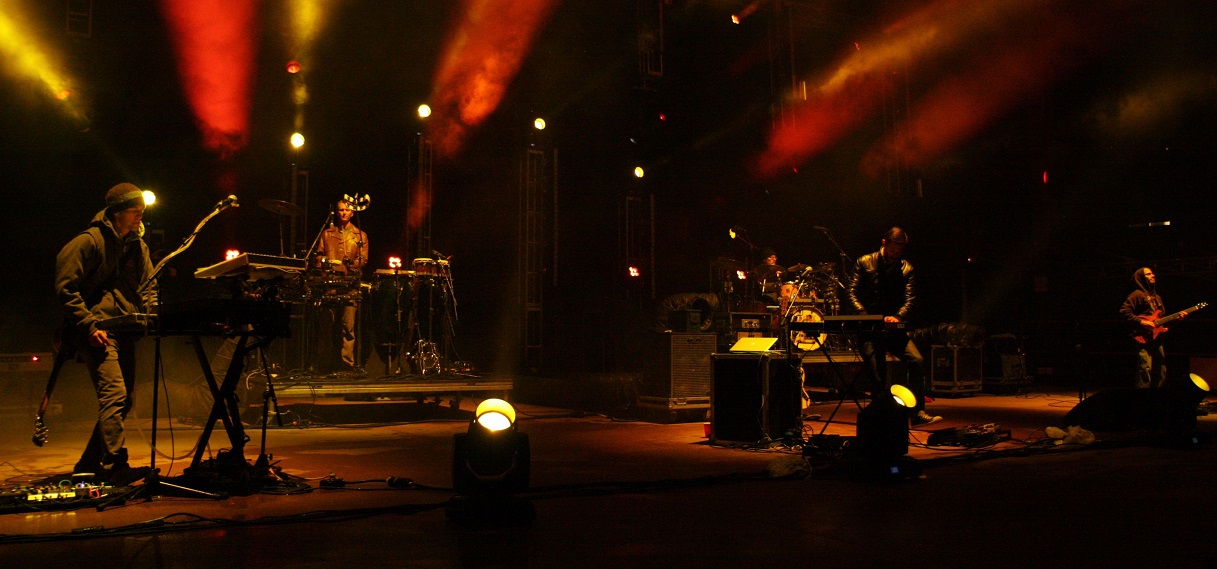 Check out more photos from the show.