The same day I saw Slash in Oakland, he tweeted "@slash: If u made the faces u make whilst playing lead guitar to people in everyday public life, they would have u committed. #fact iiii]; )'" That night he played a show at The Fox Theatre with Myles Kennedy and the Conspirators, and I saw those faces firsthand. He's right. During the three songs that I got to see from the photo pit, mere feet away from Slash, I saw all kinds of faces. Faces reflecting nightmares and unseen monsters. Faces reflecting anger and conviction. And mostly, during the solos, faces of anticipation and attainment, followed by comfortable relief. They were entertaining faces. But Slash was right—no one should make those faces in everyday life.
I've been obsessed with Slash since I can remember—cutting out magazine photos, scouting old GNR issues of Rolling Stone on eBay, calling every single Guitar Center to ask how much they want for their Slash cardboard cutout...and eyeglasses store for their Slash for John Varvatos posters. (They keep telling me your PR team makes them send it all back—what's up with that, Slash? Cut a girl a break here.) Having the privilege of standing so close to Slash was a dream come true. I just wish he'd shaved for the occasion.
If you've ever been any kind of Guns N' Roses fan (pre-Axl's transition into a curmudgeonly Dog the Bounty Hunter), then you'll want to catch Slash live. Apart from him spewing pure legendness all over the venue, his band ain't so bad. Singer Myles Kennedy doesn't hesitate to take the spotlight, energetically delivering his own songs and, when performing GNR songs, giving Axl an impressive run for his money with his live vocal abilities (although he was slightly under the weather in Oakland). The enormous balls he must possess to think he can try to fill Axl's shoes should earn him an award alone. Sure, Axl has tragically gone fully mental but during GNR's heyday, shit did he have it all—the voice, the look, the moves...and those songs. But Kennedy steps in like the songs were written for him, not missing a note. I've seen Slash in various forms and surprisingly, every time he's performed a handful of GNR songs. Oakland's show was no different. I was lucky enough to experience "Night Train" while pressed up against the stage—though to be honest, with Slash two feet from my face, I couldn't exactly focus on the music so much as Slash, the real human, two feet from my face. Suffice it to say that if you stretch your imagination just a smidge—or if you're drunk enough and your vision is slightly blurred—it could almost be the original GNR onstage. Slash has certainly still got it, at least.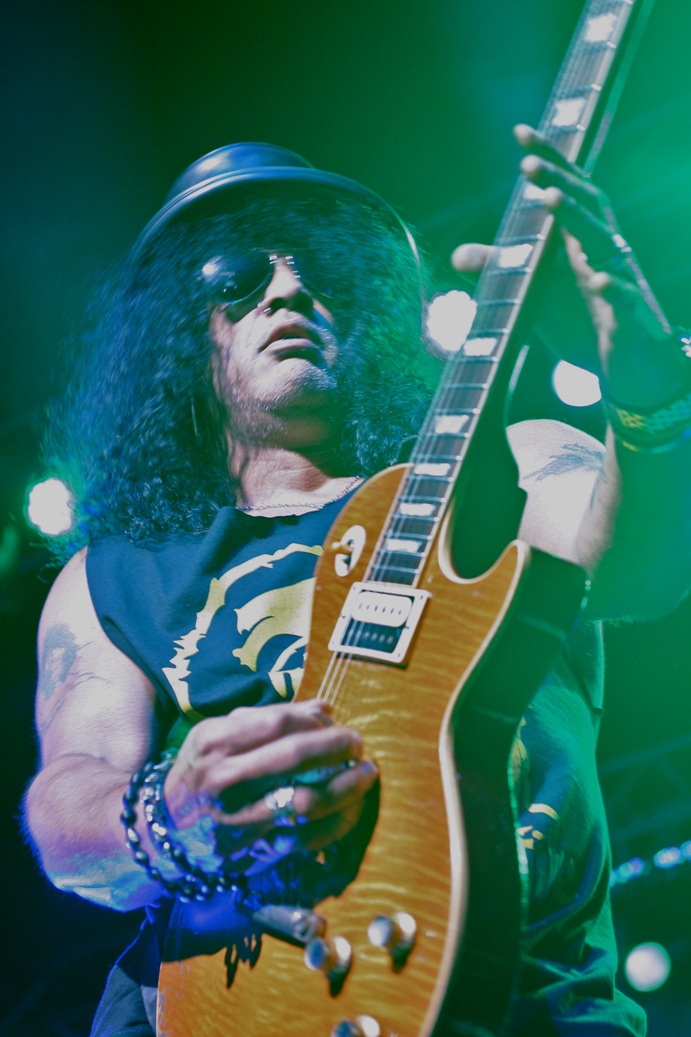 With the exception of his guitar-wielding faces, Slash is physically stoic onstage. He gets the entire right side of the stage to move around, but aside from two-stepping here and there and occasionally pairing with Myles or bassist Todd Kerns to jam out together, his guitar stays in place and his body forms to it. There is no knee bouncing or head-banging (maybe a little head-banging, but he's got a pretty important hat to take care of). No arm swinging or cheesy pointing. Yet at the same time, there is no question that this man is invested. The only emotion that Slash exposes is released from his fingers and reflected on his face. And that's ok. His closeted absorption and concentrated expression are not boring because they're real.
I wish I could tell you more about Slash's show in Oakland. Because I had a photo pass and therefore, a camera, I was told I had to leave after the first three songs, only allowed to reenter without my camera. Because I hadn't been told this before the show, I'd traveled by public transportation from San Francisco—and I don't keep a spare apartment above The Fox Theatre. Since I was not allowed to even check my bag in the coat check—"Slash's rules," they told me—I was forced to leave with my camera in tow and only a small taste of Slash. What kind of BS is that, Slash? Some of us are just trying to RnFnR.