"Buy a flower crown, they're tacky!"
As soon as I heard the guy selling flower crowns charmingly belittling his own product, I knew I was exactly where I was supposed to be. Despite the cool fog that hung over the weekend, taking in the towering eucalyptus trees that encase Golden Gate Park, I felt warm. Back at Outside Lands for my third year, it almost instantly felt like I was home again.
Amidst all of the new music festivals being born every year, it's not uncommon to hear stories of cancelation and flat-out failure. Given that so many are just skating by, it's downright inspiring to see a beloved festival like Outside Lands come back even better year after year. (Now if they would just drop Ticketmaster and support a little local business by the name of TicketFly, they might not have the scalping issue they ran into this year...)
If you had asked me after my first Outside Lands what could be improved, aside from the inconvenience of the tickets required for comedy acts, I would have come up empty. The stages are nicely spaced; the lineup diverse; there's more gourmet food and drink available than you'll ever have stomach space to try.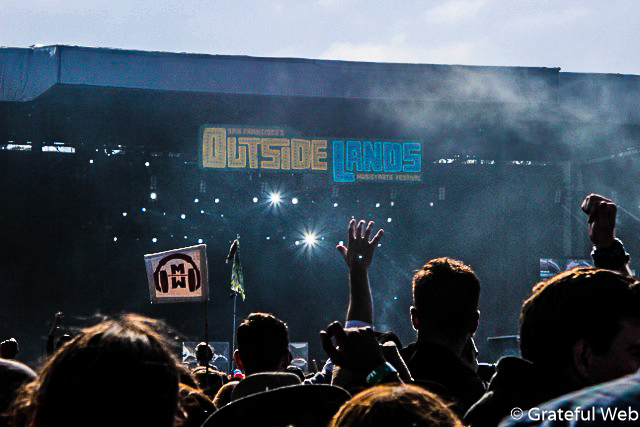 Despite two very fulfilling years in a row, this year Outside Lands managed to top their track record. For the first time, I felt like I didn't even have enough time to experience the full festival because there was too much to do, including enthralling sets by Arctic Monkeys, Ray LaMontagne, Greensky Bluegrass, Run the Jewels, Jenny Lewis, John Butler Trio, and Deer Tick, among many more.
Between Beer Camp, Beer Lands, ChocoLands, Wine Lands, and Cheese Lands, it was hard not to get distracted on your way to a different stage. Throw in the impeccable placement of a few choice food trucks and a tent offering bacon flights and you could quickly forget that music was even a part of the festival. This year they also added the GastroMagic Stage, which was used as a platform to combine culinary offerings with musical acts in the form of discussions, tastings, and panels. With shows like "Beignets & Bounce Brunch with Big Freedia" and "Duck Sauce Soiree," it's safe to say the GastroMagic stage will be back—and probably bigger—next year.
In terms of size, both by headliners and attendance, Outside Lands just keeps getting bigger with an estimated 200,000 people passing through the gates this year. The growing audience can be partially attributed to the enormity of the headlining names. In particular, 2014 boasted egomaniac Kanye West, along with the legendary Tom Petty and the Heartbreakers, Macklemore and Ryan Lewis, Tiësto, and the Killers. (Who knew the Killers had such a big following? The size and intensity of the crowd at their Sunday night closing set—although deserved—surprised the hell out of me.)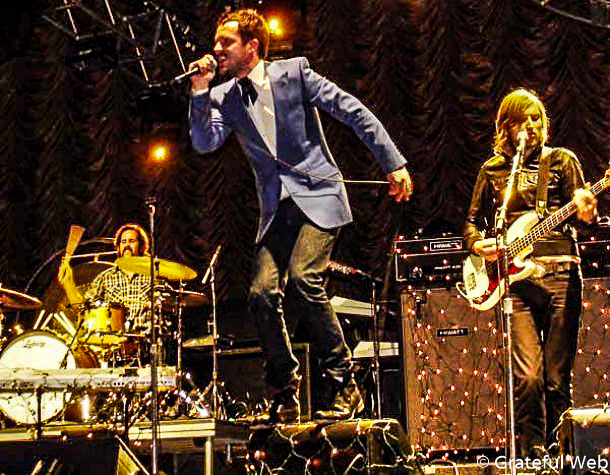 The best thing about Outside Lands expanding its girth is that it ensures there is always something to entertain everyone. If you can't find your happy place in a spaghetti sloppy joe like I did, you can head down the row a few tents and make your own chalkboard sign. (My "What would Beyonce do?" elicited many responses, while a confused woman looked at my friend's "Laura Palmer" sign and asked if she was looking for her friend.) Need a break from the bass and the never-ending elbows of the crowd? You could find some zen watching artists create the ever-changing pieces that are positioned throughout the grounds, or head over to the Digital Detox and regroup under a shady canopy of trees with the promise of no digital distractions (that includes your phone too!). The Barbary comedy tent is also a safe bet for a good break, nearly guaranteeing a seat if you grab a ticket and get there on time—plus you never know who will show up for a surprise set. This year Sir Patrick Stewart joined the Improvised Shakespeare Company onstage. He seemed to thoroughly enjoy his "first music festival," as he subsequently stayed the whole weekend.
It may have been a first for Sir Patrick, but there were a lot of seasoned attendees in the audience. This year's festival-goers proved that Outside Lands is full of only the brightest, as reports came in of people who had buried alcohol bottles in the park weeks before, only to track them down according to their GPS coordinates and dig them up.
Aside from those who wreaked a bit of havoc on the park, even more people showcased their Bay Area love. Rapidly-rising rapper Watsky put it best when he said, "I feel so fucking lucky to be a product of this city." Tom Petty, who eerily played on Jerry Garcia's death date, paid tribute to the guitar god with a cover of "Friend of the Devil." The next night, the Killers expressed their gratitude for San Francisco—in particular CCR—before launching into a cover of "Bad Moon Rising."
Despite the changes that Outside Lands introduced this year, the weekend festival brought more than a few constants.
What is San Francisco summer without that thick layer of fog? It would probably be as unrecognizable as Outside Lands without winter jackets. It's pretty bizarre to see your typical festival-goers walking around in their open-backed shirts with their ass cheeks out and a coat and scarf draped over their shoulder. The consistent gloom of August in San Francisco never misses a year of Outside Lands. I'm not complaining though—my fair skin is grateful for the shade, and there's no denying that the lack of sun increases the frequency of trips to Beer Lands tenfold. Anyone walking around without a few extra layers stands out clearly as a rookie.
Sound issues commonly plague many live events, and with the combination of thousands of people, the plethora of trees, and that damn fog, chances are Outside Lands won't be able to have a perfect-sounding event without building walls into Golden Gate Park. The sound this year flustered many, resulting in a muffled set by Macklemore and Ryan Lewis and prompting Ben Gibbard to rip his earpiece out and storm offstage early after their spotty-sounding Death Cab for Cutie performance.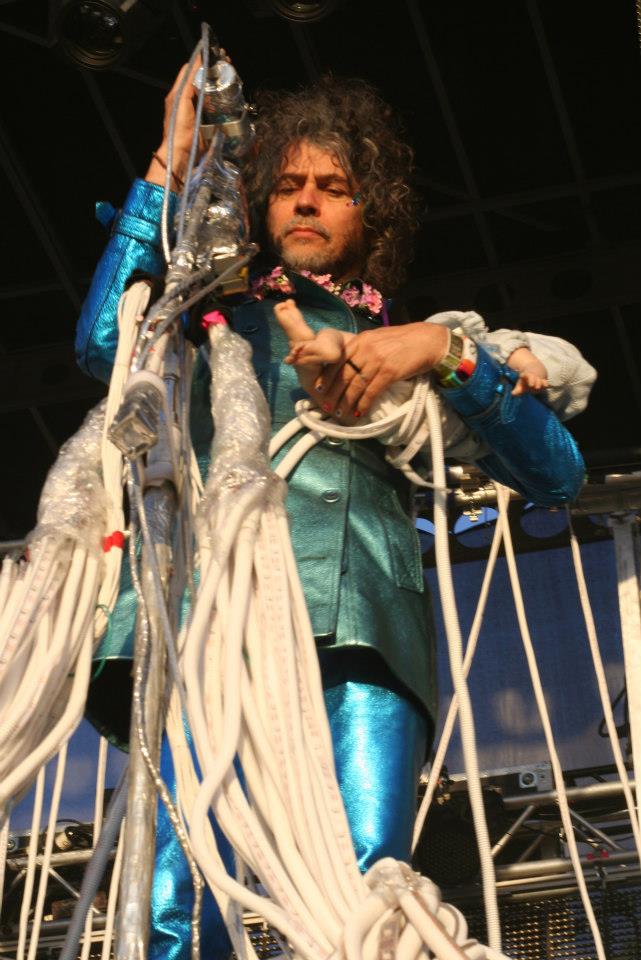 The Flaming Lips are still, and will always be, weird as fuck: I've seen the Flaming Lips a handful of times during a few different phases. I've seen Wayne come out in the ball; I've seen cannonballs of confetti; I've seen the fake baby stunt; I even saw Wayne dress up as Carrie for Halloween last year. At their Outside Lands performance this year, the Lips pitched their favorite gimmicks together and unleashed them all (including some blow-up suns, aliens, and animals that frolicked around the stage). The excess of hubbub seemed to take away from the energy of their performance, if anything, but the crowd didn't seem to care. They can do what they want at this point; it's clear the Flaming Lips won't be going anywhere anytime soon.
Lately it seems like all that comes out of England are boy bands and DJs, but the Kooks reminded America that Brit rock is still very much alive. Although they haven't released a new album since 2011 and their 2008 album Konk received the most attention in the States, the charming foursome led the enthusiastic crowd through a fiery set on Saturday. The last time I saw the Kooks play was in 2008, and I was elated to see their live show has been perfected in the last six years. Keep your eyes peeled for their new album next month, as they've proven their staying power is very real.
Spoon is the best. I was lucky enough to catch this incredible group at three different music festivals this summer, and every time, I got more and more excited to see them. Beyond their biggest hits and their recent rock-solid release They Want My Soul, this is one rare act that never disappoints live. You hardly need to watch Britt Daniel whip that guitar around to confirm that they know it, too. And in this case, that's not a bad thing.
Tom Petty and the Heartbreakers may have lost a few audience members once they dove into some of their newer songs near the beginning of their set, but it's only because those departing people are fools. Say what you want about Petty's aging appearance, but once you see them live, you can't deny that these guys still deliver some killer tunes. Petty may not be able to hold some of the notes quite as long, but he's far from being at the Roger Daltrey stage in his vocal life. He won't back down till he's ready-and judging from his sound, that won't be for a while.