The year that was 2005 was definitely the breakout year for San Francisco rock 'n' roll outfit Tea Leaf Green.  They released the very well-received studio project "Taught to Be Proud", which even earned them a Jammy award for Best Song of the Year, and garnered a huge fan base by spreading their sound through more than two-hundred performances.
However, 2006 may prove to be the year that defines this pleasantly sweet yet ripping rock collective.  The band consisting of Josh Clark (guitar/vocals), Trevor Garrod (keys/harmonica/vocals), Ben Chambers (bass/vocals), and Scott Rager (drums) are coming off another highly successful year of touring, selling out large venues and playing major festivals all across the states.
In addition to their heavy tour schedule, Tea Leaf Green released another project, this time showcasing their intense and electrifying live shows. The result is entitled "Rock 'n' Roll Band", an artistically produced DVD/CD release filmed by former Grateful Dead member Bill Kreutzmann's son Justin Kreutzmann at Boulder, Colorado's legendary Fox Theater.
And what better way to celebrate the release of this amazing concert film experience than to throw down where it all began: Colorado.  This Halloween brought the band back for a three-night run, covering two nights in Denver at Cervantes Masterpiece Ballroom and, of course, an evening at the Fox Theater in Boulder.
As luck would have it I was fortunate enough the catch the final performance of this Colorado tour on a chilly Wednesday night in Denver.  Cervantes Ballroom has hosted so many incredible shows since its inception that it was only appropriate that Tea Leaf Green give it two nights worth.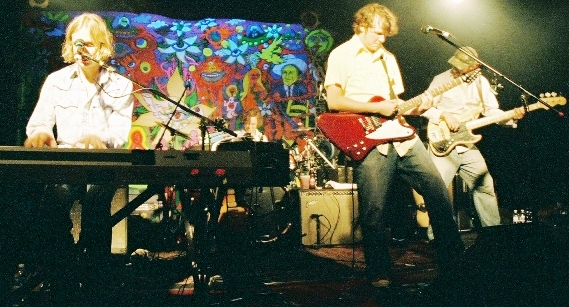 This particular show was billed as a split performance with newcomers Delta Nove, a rugged Latin funk-rock band playing at the next-door resident Quixotes True Blue (same owner as Cervantes).  The breakdown went something like this: after each Delta Nove set was completed, Tea Leaf Green would immediately come on stage at Cervantes as to leave no ear silent.  The audience didn't even have to walk outside to get to each performance as a dark door behind the bar lent its way to the other venue.  This was a particularly interesting effort as I had never seen a joint show produced in such a way.  I have to say that I hope more concerts at these clubs are done in this fashion because it really broke any possibility of monotony and gave it an indoor festival atmosphere.
The crowd was light at the beginning of the show, probably in part to it being a Wednesday evening following Halloween night.  However, by the time things got rolling an attendance of around 250 fans began to shuffle through the doors.  Tea Leaf Green took the stage around 10:00, looking a little exhausted thanks to a hard rocking Boulder show the night before.  The show began with "Asphalt Funk", a sleepy blues/funk fusion that really didn't manage to get the crowd moving quite yet.  This was followed by "Papa's in the Back Room", again not played with as much flame as previous renditions.  It was kind of tired and not real heartfelt, and seemed more of a warm up than a show stopper.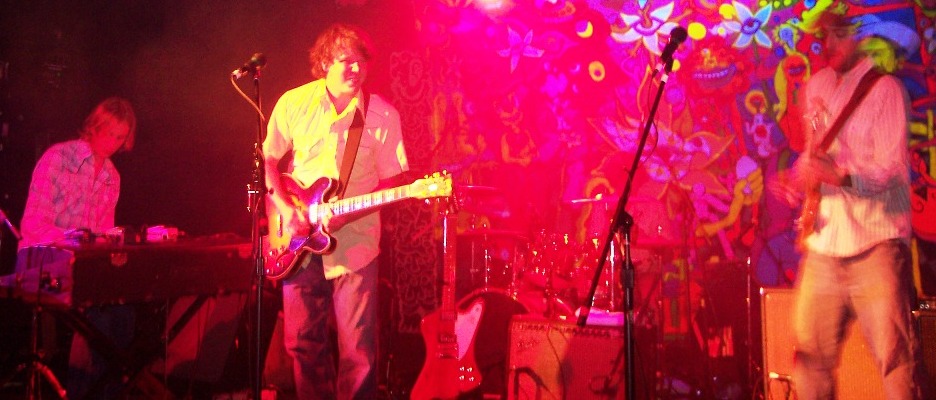 A warm up indeed, as the third song and new fan favorite "If It Wasn't For the Money" truly started this show off in Tea Leaf fashion with energy and vigor, and showcased Trevor's always improving vocals and keyboard chops.  The country-ish shuffle "I've Been Seeking" followed and also featured Trevor's exceptional musicianship.  Then like a shot in the arm, the band kicked into "These Two Chairs" which woke up not only the crowd but the band themselves.  Josh was all over his guitar, wailing solos and proving that he can hang with any other guitarist in the scene.  Ben's bass was thumping and his head was finally banging back and forth.  Scott all but violated his drum kit, making sure no extension was untouched and was the driving energy throughout this song.  The previous night's cobwebs had been shaken off the ceiling as well as the respective band members.
The dirty, slow yet trancey introduction of "Criminal Intent" soon gave way to an absolutely roaring and audacious jam in which Clark tirelessly strummed his strings at speeds some of his predecessors only wish they could perform near.  At this point there was no stopping the audience from dancing…everyone was into this.  The seventh song of the first set was the Americana rock anthem "Rapture", which captured the band's fondness for the artists of old like The Band or the Beatles.  Even the slightly excessive volume of the amplifiers couldn't drown out this wonderfully written tune.
The ensuing versions of "Loony Bin" and "Zoom Zoom" were so full of hot licks and climactic releases that I actually heard a glass break behind me at the very pinnacle of the jam.  It very well could have been the bartender dropping a pint, but I like to think it buckled under the pressure.
These high energy songs gave way to the set-ending and Jammy Award winning song "Taught to Be Proud", which was easily the best song performed all evening.  The jam was absolutely psychotic and probably should have been reserved for the show ender, but it sure left fans breaking on a high note, ready for some more music.

After another decent set next door by Delta Nove, the crowd slowly made their way back for the closing set of Tea Leaf Green.  By this time the diehard "Leafers" were geared up for their second wind.  Although I had felt that the band had pretty much spent their load at the end of the first set, I was proven wrong.  They came out with tour favorites "Baseball Jam" and "Hot Dog", continuing the up-tempo grooves in stride.  Garrod finally looked fully awake and was displaying some very excellent keyboard work on these songs.
"Packing Up" fell off the wagon a bit and gave way to a somewhat snoozy version of "Ride Together".  It probably didn't help that Trevor's microphone was cutting in and out, obviously frustrating him and the audience.  However, a much needed "Addressing the Community" put the band on track, showcasing the freestyle rap and bass talents of Ben Chambers.  Apparently there is nothing like a little hip-hop and rock to get a crowd moving again.
As if to make up for the technical and emotional break in the set, the closing songs were comprised of favorites like "Moonshine" and "Truck Stop Sally" in addition to the set-closing and rarely played gem "Tequila".  A thunderous eruption from the fans solidified another fine performance by one of California's finest exports.  An encore of the appropriately titled "California" shouted to the peaks of the Rockies that this band is for real and plans to take its West Coast rock 'n' roll to new heights.