While Phish was ending its musically-epic fall tour at John Paul Jones Arena, in Charlottesville, and while the world was being introduced to The Naked Guy, a new music venue prepared to greet guests for the 'Official Phish Aftershow, with Toubab Krewe."
The Jefferson Theatre played host to the event, and also the night's charity of choice, The Music Resource Center. The venue reopened less than a month ago after a multi-year closure and a multimillion dollar facelift, and is already proving its mettle as that all important mid-sized rock venue.
Blake Campbell, a chef from Palmyra, Virginia, "can't wait to see more shows at The Jefferson," and added, "Charlottesville has been missing this size venue ever since Trax closed." Indeed The Jefferson is a newly-reopened and welcome addition to the already vibrant live music scene in this college town.
Located on Charlottesville's historic Downtown Mall, The Jefferson Theater was established in 1912 as a live performance theater that played host to silent movies, vaudeville acts and a historic list of live performers, ranging from Harry Houdini to The Three Stooges. Add to that list, Toubab Krewe.
Originally formed in 2005, the quartet blends a cleverly assembled mix of American and West African influences, with a result that fan Catherine Hobbs felt made them "one of the most dance-able new bands to come on the scene in a long while." Her opinion seemed to be shar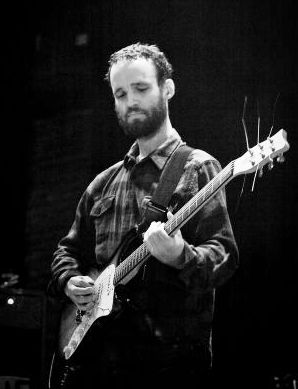 ed by many. Hobbs continued, "There was lots of space on the floor but everybody, from long dreaded hippies to older men with neatly trimmed white beards, was making the most of the space, to "get their dance on," she said. "Nobody watching the band was standing still. The lights were up kind of high, which was a little strange especially since the stayed pretty bright for well over the next hour, but even so, nobody was self conscious about moving with the music. It sounded good and it felt good and the crowd just relaxed into it."
In retrospect, Toubab Krewe was a near perfect choice for the crowd that poured from John Paul Jones Arena. Minds already expanded, and ready for the intricate rhythms and complex construction of music that Village Voice describes as "a futuristic, psychedelic, neo-griot frenzy" and Honest Tune hails as "one of the most innovative voices in music today."
It also made the band the perfect choice for an event that was also to benefit the local organization The Music Resource Center. Founded in 1995 by musicians and songwriters including John Hornsby, and also aided greatly by the Dave Matthews Band charitable arm, Bama Works, The Music Resource Center is a multi-faceted music education center for teenagers located in Charlottesville, VA. According to their webside, The center uses the recording and performing arts to create a sense of empowerment and accomplishment in the urban community.
This 'It takes a Village' tack in music education blends nicely with the creative paths the members of Toubab Krewe have taken in their own journey. Each member has spent not only time studying in West African nations, but also was immersed in the culture, and living in the homes of their teachers, often for months at a time. The dedication, work ethic, and respect of the band for the West African music is obvious. Guitarist Drew Heller told "Honest Tune" magazine, "In a way, our music is both familiar and foreign to West Africa and America. It exists somewhere in between."
Afropop Worldwide seemed to say it best. "Blending American and West African influences into a sound all its' own, Toubab Krewe has set "a new standard for fusions of rock and West African music."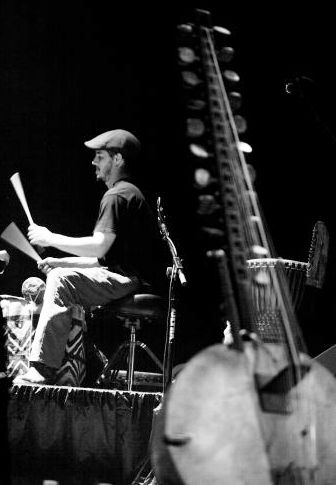 Campbell and Hobbs are convinced. Campbell said, "I think this my third time seeing them. We've caught a couple of their sets in the dance tent at Merlefest, where they always drew a big diverse crowd and once on the main stage. I liked them enough after seeing them the first time to buy a CD and a t-shirt, a rarity for me," he said. "The band seemed to be having a lot of fun and was making contact with, and seemed amused by, the chemically altered post Phish show crowd. The crowd was really into the music," added Campbell.
Both continued to sing praises for this new venue, as well. As a former movie theatre, the sloped flooring that was kept and refinished was a welcome aspect of this new, old structure. Campbell explained, "There isn't really a bad seat on the main floor because of the slopped floor. I didn't visit the balcony, but it appeared to have seats that might make it a nice chill out zone. The third and highest balcony isn't finished being renovated. The sound was great. Nice separation between the different instruments and you could feel the bass. There are speakers throughout the bar area and entrance tunnel," the chef said.
Hobbs agreed. "I loved that the gently sloping floor of the old movie theater was kept for the dance floor; everyone can have a nice view of the stage, even the short-legged. And, I thought the sound was clear and crisp even in the back at the tables along the mid-level rail."