"Hear ye, hear ye! From deadhead hippies to electro pop hipsters," screeched the harlequin gliding on rainbow roller skates, "come one, come all." And did they ever! Over 50,000 audiophiles packed into San Francisco's Golden Gate Park for Outside Lands Festival to sample a delectable smorgasbord of rock immortals, indie stalwarts, and rookie sensations. Directions? No need, just follow that sweet, pungent aroma!
Kicking off Saturday afternoon at the Panhandle Stage (sound and lighting 100% powered by the sun), country/folk quartet Dawes treated the festival's early attendees to golden harmonies and delicate, bluegrass finger picking reminiscent of Jorma Kaukonen.  Up-tempo rocker "When You Call My Name" featured frontman Taylor Goldsmith's focused stare and paint chipped Fender. On "That Western Skyline," a country ballad mourning geographic transience and the curse of bad luck, Goldsmith belted a gospel infused: "But I watch her father preach on Sundays / And all the hymnals of my heart."
Following a short round of introductions, Dawes jumped into "How Far We've Come," a folk-rock number off their forthcoming LP. Puckering his lips as if he chomped into a ripe lemon, drummer Griffin Goldsmith showcased his emerging vocal prowess, harmonizing with his older brother Taylor and keyboardist Alex Casnoff to usher memories of Crosby, Stills and Nash: "California's greenest parts / I reach out for my brother / To see how far he's come." New ditty "Fire Away" harnessed Taylor's smoldering, molten guitar skills. Riding rave reviews of their performances at Lollapalooza and Barnstormer, Dawes attribute their success to enhanced comfort on stage, refined instrumental chops, and solidified three part harmonies since recruiting Casnoff.
Red faced, veins straining against his forehead on "When My Time Comes," Taylor Goldsmith recaptures the profound ex post facto enlightenment of Dylan's post-protest awakening, "So I pointed my fingers, and shout a few quotes I knew / As if something that's written should be taken as true." Dawes finds little solace in the company of misery, "And now the only piece of advice that continues to help / Is anyone that's making anything new only breaks something else."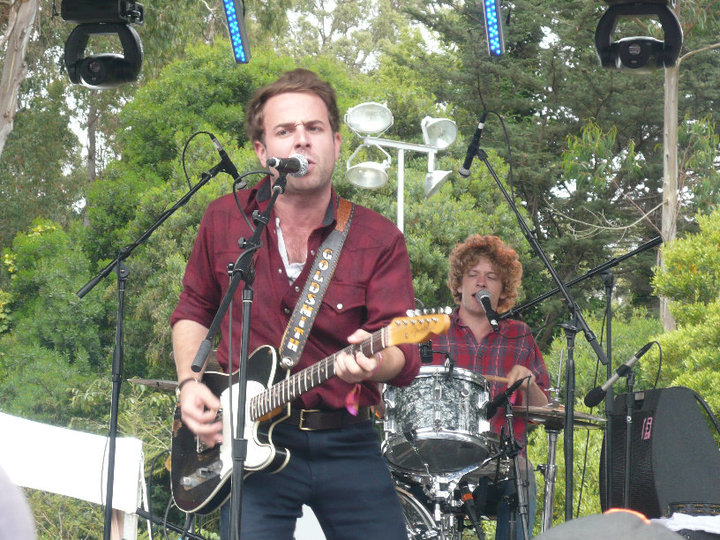 Immediately clear is that Dawes has evolved a rare communicative language that enables personality and deep sentiment to engulf its music while still preserving a spontaneous, youthfully exuberant vibe. According to Dawes, their first LP, North Hills, reflects a softer, greener band that had yet to embark on a national tour. The new record is "more like a live band, featuring a higher level of energy," strong low range vocal contributions from Griffin Goldsmith, and lyrically dramatic imagery.
Skillfully navigating through tents selling local oysters, slow cooked Argentine sausage, and organic soda, I arrive in time to grab some prime real estate for The Levon Helm Band. And wouldn't you know it? Here come the pipes: Sherlock Holmes replicas, one hitters, gravity bongs, oh my! Can't anyone roll a joint anymore?
Opening with "Ophelia," Helm unites horse, bluesy vocal with a swaggering jazz arrangement. The drummer begs us to defy time, age, and loss: "Ashes of laughter / The ghost is clear / Why do the best things always disappear?/ Like Ophelia / Please darken my door." Supported by a gargantuan 12 piece backing band, Helm's songs were augmented by titillating organ, a tin laced horn section, and Jim Weider's smooth, expressive electric guitar. Weider, "master of classic telecaster and traditional blues slide guitar techniques," has toured with Dylan, Paul Butterfield, Hot Tuna, and Bob Weir.  Covering Johnny Cash's "Long Black Veil," female vocalists Teresa Williams and Helm's daughter, Amy, paint a tale of dysfunctional relationships and the boundaries of the power of love.
Deploying a folksy ukulele to paint a picture of simple Americana, Levon Helm flashed his pearly whites at the crowd to the tune of thunderous applause. Twangy guitar powered "Greensborough Blues," as the band built a swirling hurricane with Brian Mitchell's golden B-3 organ.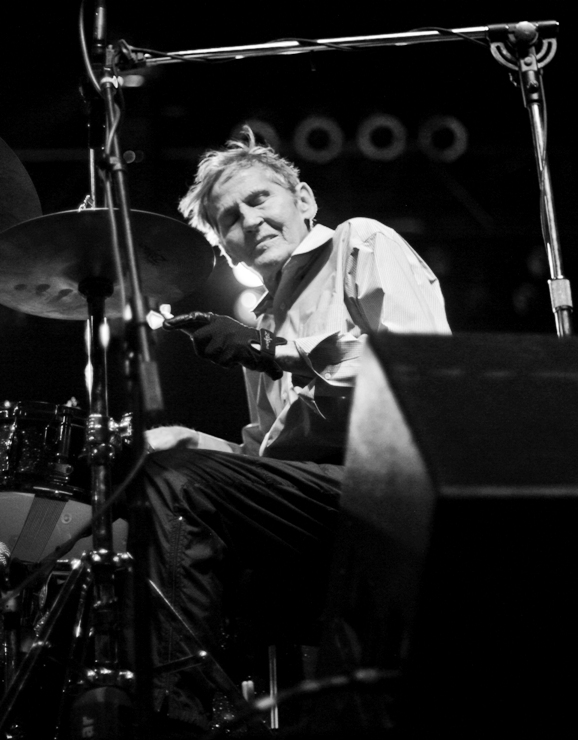 Never one to hog the spotlight, Helm drew the crowd's attention to the bandleader, multi-instrumentalist Larry Campbell. What do Paul Simon, Willie Nelson, and Bob Dylan have in common? Larry Campbell can be heard on the albums of all three. Not too shabby!
Turning to his fans, Levon Helm emphatically exclaimed: "What a beautiful day! Thank you all for your loveliness!" The silver haired drummer pounded out a tin laced version of "The Weight," testing his iconic vocal chords as he roared "Go down, Miss Moses, there's nothin' you can say / It's just ol' Luke, and Luke's waitin' on the Judgement Day."
Switching gears abruptly, Helm was followed by Ontario based band Tokyo Police Club. Employing rhythmic punch and adrenaline pumping hooks, Tokyo Police Club drew a crowd of ridiculously cute hipster chicks. Shoegaze rhythm guitar provided backbone for keyboard explosion on "Tessellate." As an 8-ball volleyball soared through the crowd, singer Dave Monks, sporting a flannel lined denim jacket, sang of class warfare and economic oppression, "We showed them what the backs of our hands is for / The divide is clear in the coming year / The rich will take the poor." Piano acted as mortar in "Box," uniting mumbled lyrics with sound.
After Cat Power pulled our heartstrings by wedding atmospheric, luscious vocals with turbulent verse, a barrage of prep school indie rockers stormed the stage, squealing in anticipation for the impending Strokes reunification.
The tension mounts as singer Julian Casablancas scans the clamoring crowd for prospects. He stands stone faced. Casablancas hums a few notes as his fans fall silent. Laughing to himself, he is taken aback by the explosive power he commands. Right on cue, intense high-pitched screams seldom heard outside of roller coasters erupt from the crowd.  He raises his right arm to the heavens, preparing to hurl a Jovian lightening bolt. The crowd is ready to explode. But, it's a false alarm. The frontman aborts, building anticipation by throwing the fans a confused look.
Amused, he chuckles softly to himself. Suddenly, Casablancas pumps his right arm forward, lunges toward the crowd, and belts out an erotic: "Last Night, Sheeeeeee Said!" Amidst up tempo percussion, "Hard to Explain" paired barely coherent whiskey empowered rattling with raspy, angst-ridden howls. Armed with triumphantly liberating hooks and one hell of a rock scream, The Strokes throw us off balance with inventive time signature shifts.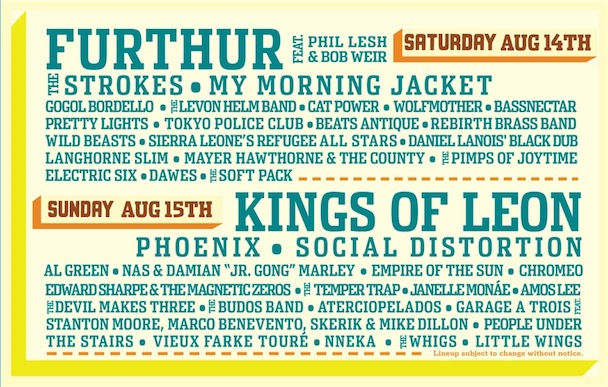 Guitarist Albert Hammond Jr. advocated the joys of "love and "drunken adventure" before setting a lawless scene of futuristic egotism in "Ize Of The World." The Strokes fused rock, punk, and psychedelic via dueling guitars and spontaneously interspersed one-minute jams punctuated by controlled distortion. The New York group, commenting on the venue's "crazy forest business," rhetorically asked the audience if they were "ready for some Grateful Dead Action after this." Of course we are!
At the main stage, equip with high definition projector screens and elephant sized amplifiers, Bob Weir and Phil Lesh plugged in.  There was an Age of Aquarius vibe in the air as bearded hippies draped in tweed, hemp and flannel floated into the meadow. Through clouds of pungent smoke, subtle jangly guitar picking on "Cassidy" captures the outside traces of consciousness, and, as with the pied piper, we follow the minstrel. This is a place where we no longer see, hear, smell, taste, or touch—we're transcendental. The only march is our own parade, and the lure of complete freedom is wholly compelling.
The golden age of rock icons crafted a sensory milieu in which one's only objective was to synch physicality to the aural sway. Grateful Dead inspired improvisational jams act as the glue between verses, as Furthur silenced the troubled minds of all in attendance, achieving the anticipated aura of Zen by tapping classics "Let It Grow" and "Death Don't Have No Mercy."
Concluding the magical, mystical journey with "I Know You Rider" over a sea of oscillating lighters and cell phones, a distorted haze enveloped Golden Gate Park as the night grew dark.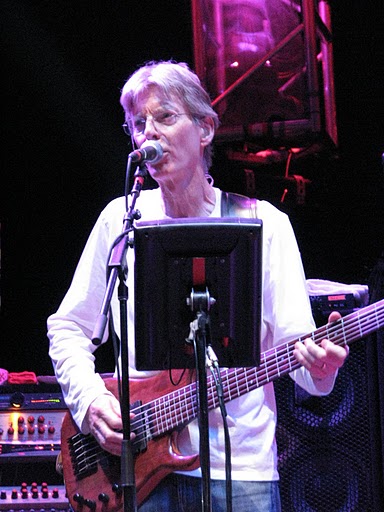 Sunday's Speedway section featured smaller stages and more intimate performances, enabling fans to see their favorite artists up close and personal. With the crowd buzzing about Edward Sharpe and the Magnetic Zeros' Coachella performance, I raced to the Twin Peaks Stage. Frontman/singer/songwriter Alex Ebert, after dropping out of a 12-step rehabilitation program, wrote a story of messianic Edward Sharpe, sent down to Earth to "heal and save mankind...but he kept getting distracted by girls and falling in love." Somehow, Ebert turned that half-baked premise into the best psychedelic folk album since Devendra's Cripple Crow. Props!
As the band gets into character, Ebert appears in white jeans, loose eggshell blazer, pink silk shirt, and a scarlet scarf. His hips sway scandalously as Ebert's shoulders bob fluidly to the building thump of the band's percussionist. The music's physically demands movement, thrusting the crowd into a jittery spasm. Transforming into Edward Sharp, without warning Ebert's eyes are lit ablaze as a spiritual, sexual possession bursts from his joints. Shifting weight from tiptoe to tiptoe, the frontman spastically raises his arms to the sky, gyrates his pelvis, and in orgasmic rapture, leaps headlong into the audience.
Donovan-esqe narrative and refined satirical wit meet psychedelic melodies on "40 Day Dream." Ebert, now crowd surfing barefoot, lets out a velvety warble in unison with his disciples, "I inhaled just a little bit / Now I got no fear of death / It's the magical mystery kind!" Remarking on the "fucking miracle" that he was alive and playing Outside Lands, Ebert unleashed "Desert Song," a blur of godlike echo and instrumental Armageddon. The enlightened demolition culminated at exactly 4:20 pm.
Hypnotizing chorus and alluring melody collide with wit and dramatic imagery in energetic "Home." Ebert and girlfriend Jade Castrinos waltz around the stage, backed by a painfully catchy vocal melody and carefree, country whistle. Genre-blazing across alt-country, psychedelic, and neo-folk, Ed Sharpe cried "Love! Love! Love!" atop thousand part harmonies.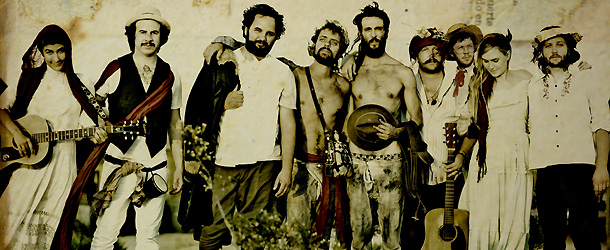 Just as the sun retreated behind the eucalyptuses, Phoenix brought the festival back from the ashes with exotic instrumentation atop cascading waves of lyrical audacity. Kings of Leon closed things out with a display of smoldering, molten guitar riffs.
Two days, 57 bands, 60,000 daily capacity, a plethora of tasty munchies, California wine, and plenty of secondhand smoke. The festivals heroes: Furthur, Dawes, and the psychedelic minstrel Edward Sharpe.