Despite torrential winds, hard rain and mud pits, I survived Yonder Mountain String Band's Harvest Music Festival along with about 5,000 other bluegrass lovers. The weekend was filled with fiddles, foot-stompin' and delicious falafels. Due to work restrictions, I was unable to be at the festival through its entirety; but I managed to see most of the bands I was really looking forward to and I also happened upon some great bands to add to my must-hear list. Even though the weather was rainy and sometimes a bit cold, everybody there was determined to have the best time possible. And we did.
Thursday's music began around noon with Pert Near Sandstone. I took a half day off work that day, so I arrived at the end of their set. I wish I had seen it all – the raw, energetic string chorus brought out the hillbilly in me (and a lot of other people, it seemed). Next up was probably my most-anticipated show of the festival: Delta Rae. I first learned of this band from their video for 'Bottom of the River'. It's a haunting, dynamic song that really grabbed me the first time I heard it. And their show far exceeded my already high expectations. The 6-piece band took the stage and held onto it until their final song. One of my favorite moments of the festival happened during this show; as the band was middle of their third (I think) song, the power on the stage went out. As any reputable band would do, they stepped to the front of the stage and finished the song. After that song was finished, they brought their most important instruments into the crowd and began playing the rest of their set. The audience circled around Delta Rae as they serenaded us with their first off-stage song, rocked the 'stage' with their next song 'Bottom of the River' and finished the acoustic part of their performance with another song. After the third song, the power was back on, so they finished their set on stage. I was so incredibly impressed by this band – they share the stage with each other perfectly and honestly. If you ever get a chance to see this band, please take it by the balls (or whatever).
After Delta Rae's performance I wandered around and ended at the Roost stage, where I heard Lauren Gray, who apparently was an American Idol contestant, perform. She has a beautiful voice and performed mostly covers, from what I could tell. A couple of the covers included John Prine's 'Angel from Montana' and an Adele song. On my way to the Roost, I caught Darol Anger's Republic of Strings (which I heard was amazing) for one song, which was a cover of 'Dear Prudence'. I wish I had been able to see all of the Darol Anger set, but the times just didn't work out because of Delta Rae's set. As an aside, one of the things I love most about the Infamous Stringdusters' festival, The Festy Experience, is that you don't have to make these difficult decisions about which shows to go to because there is no stage time overlap.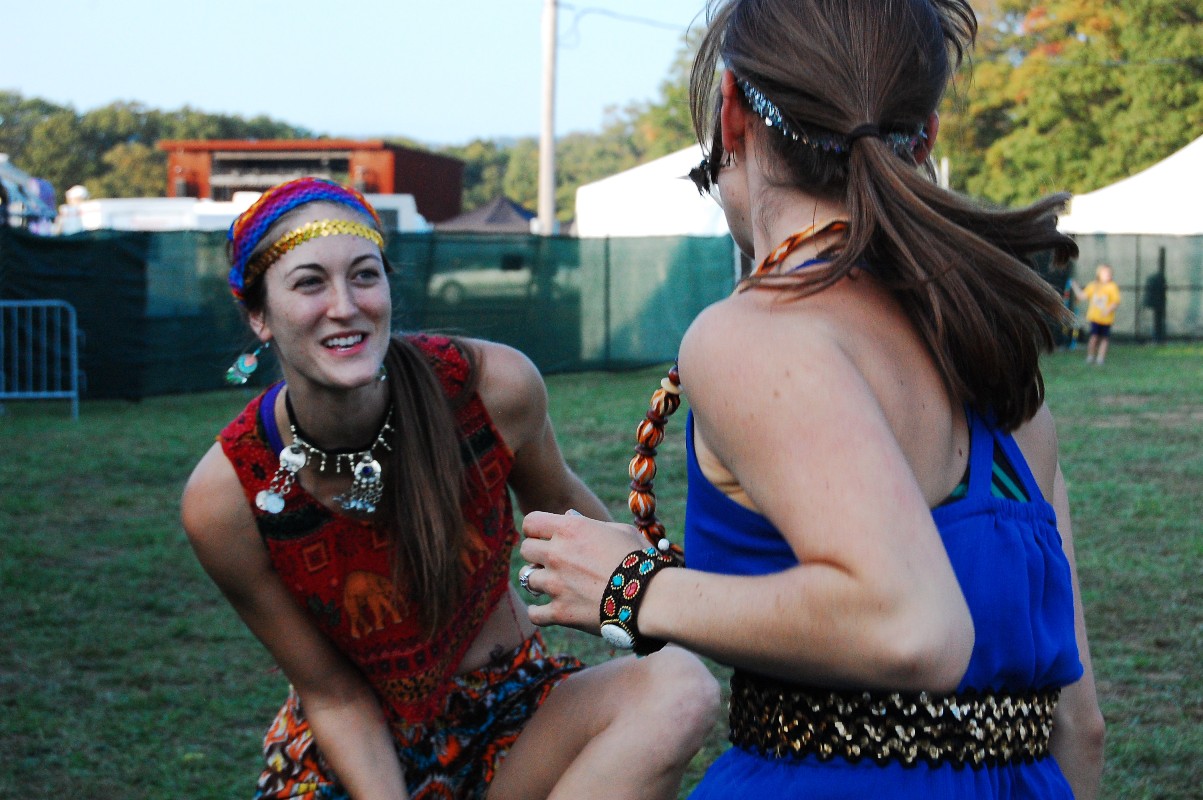 Next up was one of my favorite bands Don't Stop Please. This was their first appearance at Harvest, and it was well deserved. They rocked the stage and gained a larger audience from one song to the next. You could tell the band was picking up on the audience's energy and using it to their advantage. As the show continued, they seemed more and more at home on the stage. Wonderful! During the Don't Stop Please show, I bounced over to the Harvest Tent (a mere 30-second walk!) to catch some of the Delhi 2 Dublin set. I saw them play Wakarusa in 2010 and it was high-energy, dynamic and unique. The band mixes sounds from various cultures into a highly danceable electronic/bluegrass/Indian extravaganza. They performed to a much larger audience than during their Wakarusa performance, and almost everybody was up on their feet jumping and dancing. Everybody was smiling from ear-to-ear, and a lot of us even tried to dance along (poorly) to a small routine the band was showing the audience from the stage.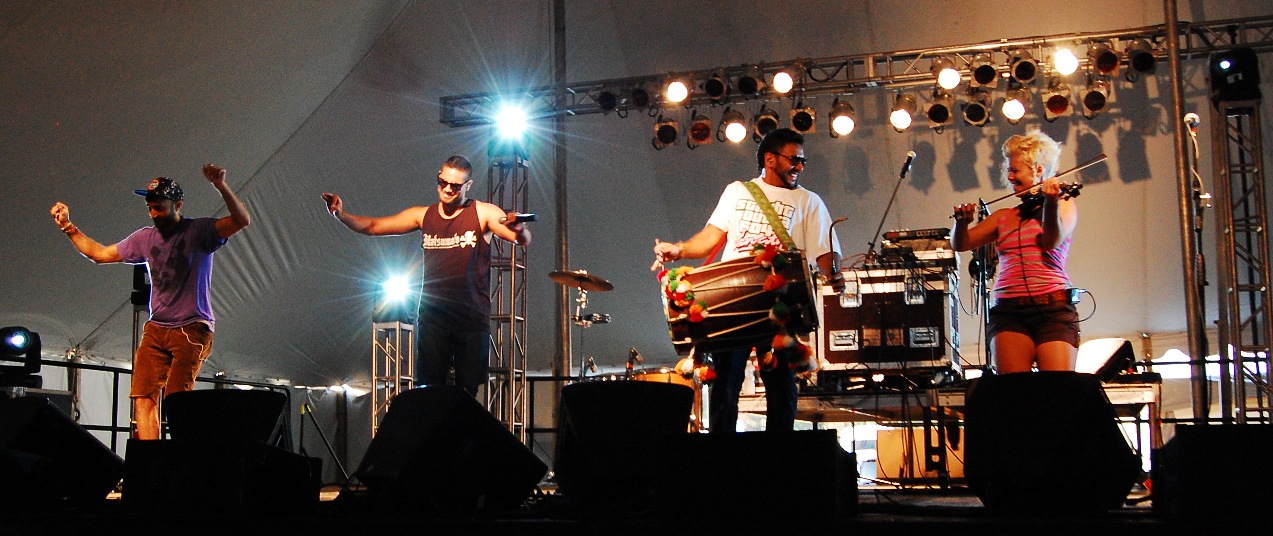 After returning to the Don't Stop Please show to check out their final two songs, I grabbed some tasty Chinese food with my girlfriend and we settled ourselves on the Main Stage area among the few dry patches of grass. Coming up on the Main Stage were Punch Brothers and a 2-hour Yonder Mountain String Band set. I honestly hadn't heard the Punch Brothers, so I was excited to see a band everybody else was looking forward to so much. The show was wonderful. As the band continued to play, I noticed a style I haven't seen in many other bluegrass bands. The only word I could come up with was 'sassy.' Their style isn't just the hard-rocking bluegrass that you see a lot of, although there was some of that. Instead, they have the smooth, collaborative style of a group of musicians who are experienced with their instruments, each other and playing for a crowd. Some of their songs were quieter, with beautiful picking and fiddling. Others were dark and haunting. One song included a harsh, almost demonic interlude which, my girlfriend speculated, seemed to be part of the song played backward. HELL YES. They also did a cover of Levon Helm's Ophelia, which was beautiful. Punch Brothers was most certainly a highlight of my weekend. And unfortunately, the last Harvest experience at all for that night, as I had to drive back to Fayetteville to work the next day. Luckily, it's a short 45-minute drive so I got to stay a fairly long time.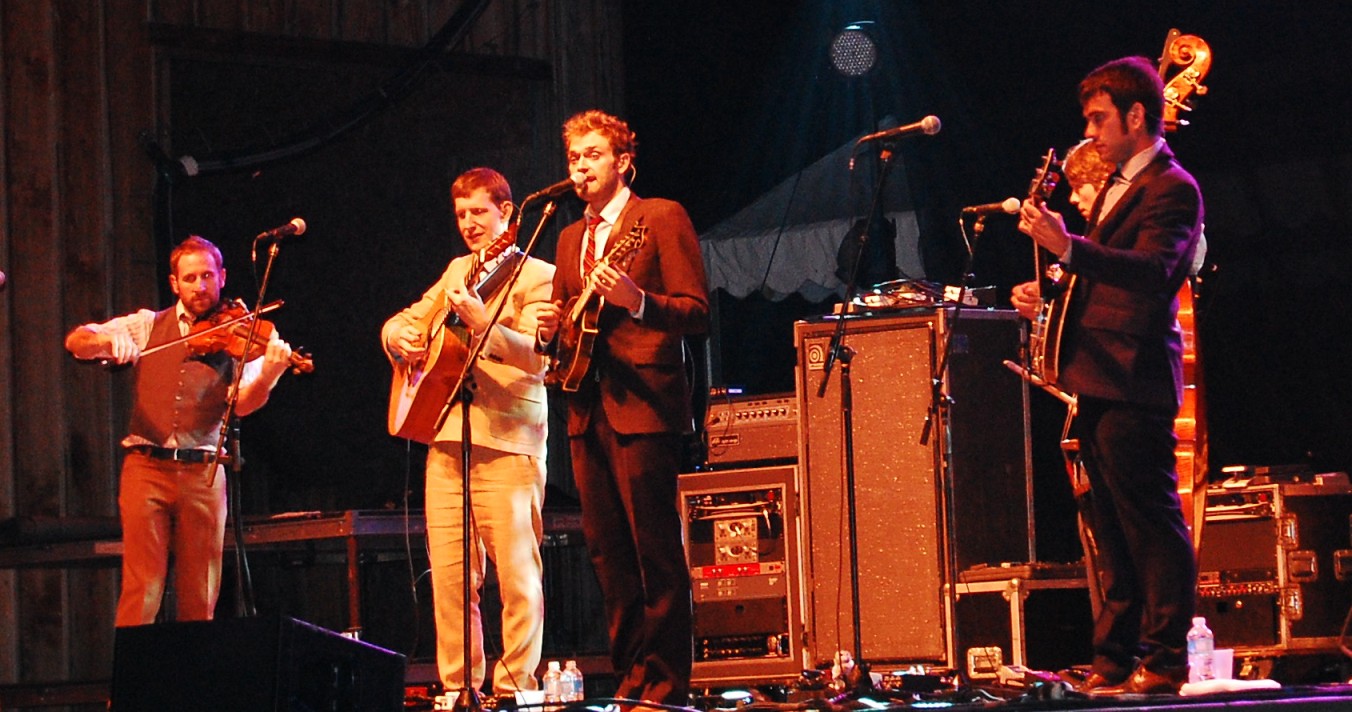 I missed most of Friday, but here's what I heard: Elephant Revival was great, as usual. Giant Panda Guerilla Dub Squad did not show up for some reason I'm unaware of. Darol Anger's Republic of Strings was amazing and breathtaking and I was especially sad to have missed them. Luckily, I saw Darol Anger share the stage with both Della Mae and Elephant Revival the next day; and given his talent, I'm absolutely certain his Republic of Strings is nothing short of awe-inspiring.
When I finally returned to the mountain, I had missed the sunset and Mickey Hart Band had already started playing. So I grabbed a beer, ran down the hill to the Main Stage, chugged my beer and entered the gates. I was about 15 minutes late for the beginning of the set, which was only about 5 minutes before their first song ended! As I was running down the hill, I was pleasantly greeted by Mickey Hart Band mixing their music with space sounds. Hart's experimentation with space sounds is what really got me into the band in the first place. I love space, I love music – why not combine them? And so he did. But unfortunately, I really wasn't that impressed. I guess I'm not much for tons of jamming, and that's what the majority of their show consisted of.  After Mickey Hart, I wandered around for a while, dropping in on bands and floating off to the next stage. Yonder Mountain String Band played on the Main Stage after Mickey Hart for their second set of the festival. I also saw part of Andy Frasco's show, which was a lot more dancing fun than I had energy for, but all of the audience members were having an absolute blast. I heard a cover of 'Ain't No Sunshine' and some hard-rocking midnight tunes. Friday night went over smoothly, with no bad weather and slightly comfortable sleeping situations - Praise the Bluegrass Gods and Goddesses!
Saturday was the only full day I was able to spend on Mulberry Mountain, and unfortunately it was cut short by tornado warnings and torrential winds. The first show I went to was Moonalice. It was really fun – just some older dudes playing their songs (and some covers) for an audience prepared to take it all in. After that show, I grabbed an amazingly tasty gyro and wandered back to camp, stopping in on a few bands along the way. Cas Haley – a fun, relaxing reggae band. There weren't many reggae artists on the lineup this year, and one of them (Dub Squad) didn't show up. Thank god Haley was there, or all of us rastajuanians wouldn't have gotten to commune at a reggae show!
Most of the rest of my day was spent at my favorite stage, the Backwoods Stage. It's nestled in the woods between trees perfect for hanging hammocks among. The stage is a wooden, homey place that perfectly surrounds strings music. Really, it's a beautiful stage. The first band I saw there Saturday was Della Mae, an all-female quintet that blew my proverbial socks off. You don't see many all-female bands, so this was an instant plus for me. They also invited Darol Anger and Tornado Rider's Rushad Eggelston to play onstage with them for part of their set, which was a wonderful complement to their sound. All of the women were incredibly talented, but I was especially impressed by both of the band's guitarists. The lead singer, Celia Woodsmith, had an enthralling, beautiful voice.
Right after Della Mae's set was Elephant Revival. They played in the day before, which I didn't get to see, but I imagine the Backwoods Stage suits them best. From the instant their set began, the band captured the audience. Bonnie Paine's lilting voice and washboard and djembe genius complements the strings played by the rest of the members. And Bridget Law, the animated and talented fiddle player of the band is always a joy to watch. She invited Kimber Ludiker of Della Mae, Darol Anger and Rushad Eggelston to jam onstage with them, as well as a woman I didn't recognize (if anybody knows, please comment). One of my favorite songs they played was a cover of Handsome Boy Modeling School's 'The Truth' - check it out on the YouTubes!
During the middle of the Elephant Revival set, I checked out Gabriel Kelley's set at the Roost. He's a singer-songwriter with a lot to say and skill for songwriting. There was such a variety of music at this year's Harvest, and Kelley was no exception. Snuggled between rock-stomipin' bluegrass and stringed choruses, Gabriel Kelley (and his notably awesome beard) strummed and sang his way into our Harvest hearts.
After the Elephant Revival/Gabriel Kelley adventure, a much weirder and bitchin' show awaited me. I saw a band voted Austin, Texas' weirdest band: White Ghost Shivers. From the start of the set to the end, I was entertained by their hilarious, raucous show. Fake mustaches, buttsex songs, piano solos and much more; apparently that's what you can expect from a White Ghost Shivers show! After that show I visited the Main Stage to check out North Mississippi Allstars. It was muddy and about to storm, so I didn't stay too long. The rest of my night was spent relaxing at my campsite, listening to the music wafting from the Roost. The Congress played and rocked the stage – unfortunately, I'm not sure they were able to compete with Leftover Salmon. Yonder's set on Saturday was their 1,500th – a pretty huge landmark. Unfortunately, they got rained out due to warnings of terrible weather. By the time the show was cancelled it was around midnight, I fell asleep in the back of a Subaru with the rain pattering on the rooftop and wind blowing against the trees. The music apparently came back on around 2 am, with Wookiefoot and Dirtfoot playing after the rainstorm.Harvest 2012 was wonderful. The selection of musicians was admirable, and I can't say I really missed The Jayhawks all the much. If you're looking for a wonderful fall festival, consider Harvest. You'll love the scenery and probably the drive there; and the music settles perfectly in the hills. Hope to see you next year!