Saturday, June 12, 2010
The heat resumed, but it felt so much worse after two days of partying and little sleep. I was appreciative of one thing on this sweltering morning wake-up; the showers had short lines for men, and they were only seven dollars. Therefore, although I really wanted to catch Baaba Maal's set, I felt more rejuvenated going into the press conference with a fresh shower, breakfast, and an iced coffee. I was ready for a new day at my favorite festival.
Press Conference: Stefan Lessard (Dave Matthews Band), Brian Bell (Weezer), Brandi Carliyle, Ulises (Ozomotli), Pepe (Nordic Collection), Bo Burnham, Jonathon Sexton (Broke record for most hugs in 24 hr pd.)
As I mentioned in Part 1, I really enjoy the press conferences at Bonnaroo. On the other hand, this one was slightly below average. There was not any controversy, attention hogs, or jokesters in this bunch. The most informative information came right in the beginning when Ulises was asked about the Latino stage. He was very good at articulating the excitement and energy that the Other Tent was going to provide. He was promoting the fact that the stage had a sort of genre to it, like the African stage last year. There was another notable moment that was unexpected. Jonathon Sexton (of Jonathon Sexton and the Big Love Choir) broke the Guinness Book of World Records record for most amounts of hugs in a 24 hour period. After hugging over 8,000 people, he came to the press conference to explain that he did it to raise money for Nashville's Restore the Dream fund helping flood victims.  Local Brian Bell gave Bonnaroo major props by saying, "I'm from Knoxville and one of the reasons I left is because there was nothing like this. There were no opportunities for musicians to do anything with a career in music. Maybe if this was here I maybe never would have left." Another quotable moment was when Stefan Lessard mentioned, "There's a lot of people coming up to me saying this is my first live show, which is great, because you know there's always new fans. It's as if you just walked into a club in Europe where you're playing to 50% new fans. So you're really going to try to work hard to win those fans over. So when you see the outskirts packing in around the crowd, you feel good."
I've been familiar with Jimmy Cliff for as long as I knew what reggae music was. For a long while, reggae music was Bob Marley, Jimmy Cliff, and Peter Tosh until I really dove into the genre. This year he was inducted into the Rock n' Roll Hall of Fame. Therefore, seeing Cliff live was something I have always wanted to do. These are the things that Bonnaroo provides its fans. Once I saw The Harder They Come, which to this day remains the most influential movie in Jamaica's history and stars Cliff as the main character, in addition to his creating of the soundtrack, I really understood his plight. Musicians in this time and place had to hustle, and it was not always fun and games. That is why the content of their lyrics are so real and passionate. This year he was inducted into the Rock n' Roll Hall of Fame.
This show started with one of his classic songs from the movie "You Can Get It If You Really Want," and later included, "Many Rivers to Cross" from the movie as well. During "Vietnam," which Bob Dylan called the best protest song ever; Cliff referenced the wars that we are currently involved in namely Afghanistan. The end of the show consisted of some famous covers that such as "Wonderful World" and "I Can See Clearly." It was a wonderful day time set to watch in the heat. There was something about it that worked to pass the hot day away.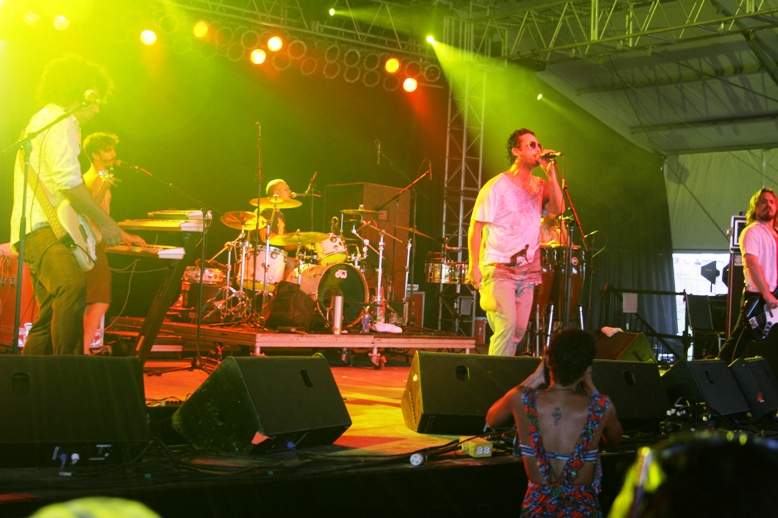 This is another thing I love about this festival. This band was recommended to me by a friend and musician, James Reeves that I was with. He told me that they were a must see, and that they were full of energy and fun. Ulises from Ozomotli also gave his endorsement to this group at the press conference. Their advice did not disappoint. This Venezuelan band throws down the Latin disco funk like none other. It was a party the minute they got on stage. No one could stand still, and people flocked to the stage. The great thing about this show was the band kept its intensity level up throughout the whole show. It really felt like a giant party in this tent. It was surely a fun afternoon energy lifter.
We were late, but I love Jack White, and I am always interested to see what he is going to do next. First, the posters that they made for this show were probably the nicest ones at Bonnaroo. As I approached the main lawn the vibe and song were very slow and bluesy, but I enjoyed it a lot. It was a stark contrast from the last show, but as a warm-up for Stevie Wonder, this hometown super group, may be just what the doctor ordered.
This was a dream come true for me, and the show that I was most anticipating at this year's festival. Stevie Wonder killed it! It was the best show of the festival, and anyone who ganders at the set list below could see where I am coming from. He came on the stage in his sequenced white jumpsuit confident as ever, and as soon as "Master Blaster" came pumping through that great sound system, the crowd was up and engaged. The best part about this epic performance is that he picked a great mix of old school, classics, newer songs, and covers to play. It was perfect. Wonder's energy does not cease or dwindle. He even covered a few classics by P-Funk into Marvin Gaye and then later a little peace chanting John Lennon.  Finally, he dedicated a song to U.S. troops stationed abroad, and added his extreme excitement for the next performer, Jay-Z. This set had it all. There were no weak spots, and I felt one step closer to musically complete.
This was the third time I have seen this show in the past three months so I was expecting a lot of what I have seen before, but this show was slightly different than the other two. They all opened with "Run This Town," which is one of my favorite songs of 2010. It was great to see the second song played with Stevie Wonder called "Diamonds from the Sierra Leone." Some new things he did for this show was mix a lot of rock songs into his background tracks such as: "Sunday Bloody Sunday," "Smells Like Teen Spirit," "No Sleep Till Brooklyn," and "Dream On," by Aerosmith.  Jay-Z was extra excited on this night. I think he was really happy with the crowd, and he even mentioned that, "Bonnaroo was his second home." But, because I saw him so many times recently, I took off to see Clutch. After hearing about what an amazing job they did at the last Bonnaroo show, I could not miss them again.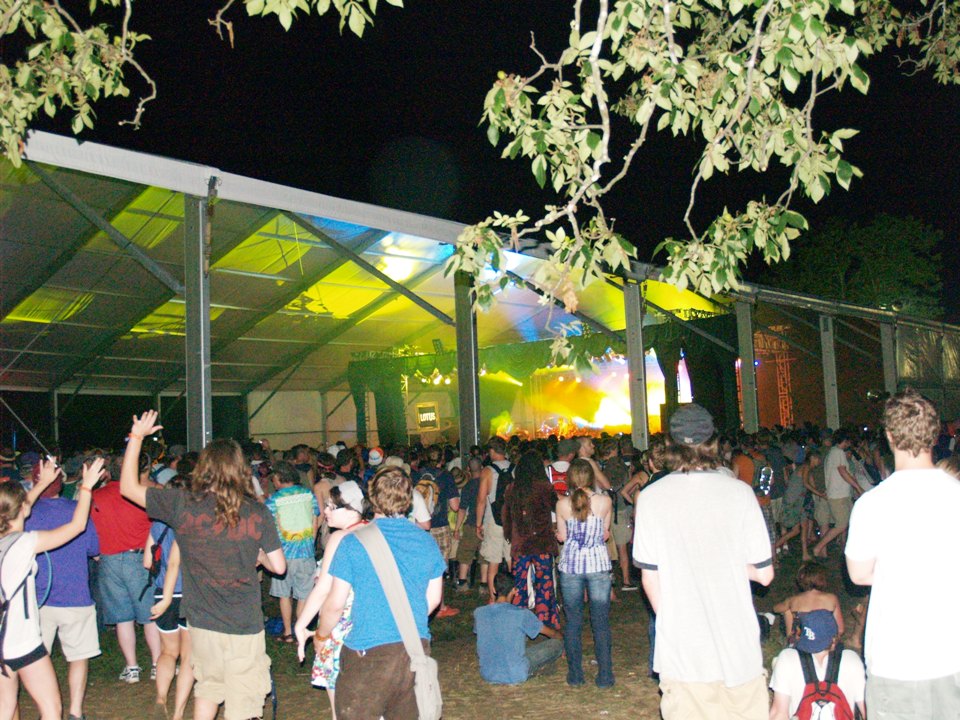 Clutch
I did not realize it when I got here, but I was exhausted. I know that no one wants to hear that while reading a review of probably the most exciting festival in the country, but it is the truth. The buzz from Clutch's last Bonnaroo performance is what drew me to this stage, besides the fact that I wanted to see GWAR next, but the show was just so-so. Maybe it's just not my style of music, but I kept looking forward to the next two bands to conclude my night.
On the year of the shock rock band's 25th anniversary, they decided to play the Roo. I saw them earlier on a golf cart cruising through the fields, and they of course looked ready to go in the large mean outfits. What a fun show this was! This show started with a VH1 Behind the Music spoof video called "Behind the Murder," and as it played the packed crowd inched forward, and the anticipation started. The band came out swinging, and the metal thumped throughout the corner of Centeroo. As the liquids spewed through the crowd, the bloodlike drips flew from the hair of the many fans close to the stage. At one point, the comedian Margaret Cho, came out on the stage and started going down on Oderus, who then shot a huge load of cum like liquid over her head onto the crowd behind her. It was fantastic and an emotional roller coaster. Their music is respectable as well. They shred through the music of their collection of metal from the eighties to the present as all kinds of fluids sprayed the crowd.
After seeing one of my favorite runs of the summer at Red Rocks this year, I was excited to see what the Biscuits would bring to the Bonnaroo stage. After a dub style "Mindless Dribble" sandwich with "Tempest" in the middle containing a "Bernstein and Chasnoff" fake-out, the crowd started getting comfortable and fired up. The beginning of this show started a little slow with some technical difficulties, but by the time they got to "Cyclone," they had hit their stride. After this, the show was full of dance party classics, which provided the crowd with more than enough music that they can handle throughout the rest of the night into the morning light.
Sunday, June 13, 2010
We once again awoke to another incredibly hot morning, but we were in no hurry on this day because Sunday provided us with the weakest line-up of the festival. As a matter of fact, the festival was cleared out big time, by the time we woke up on Sunday morning. We noticed that we had a ton more space next to our tents. It was a relief though for sure. This was a really mellow day of music, which was okay because we all were pretty drained.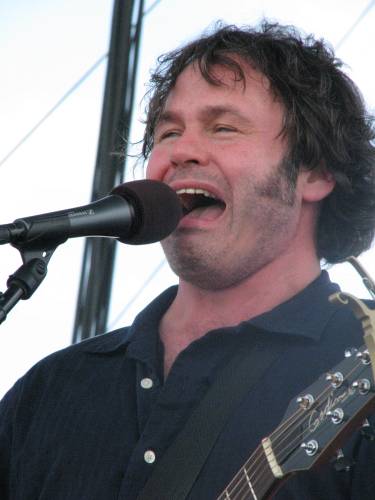 I have been told by a friend to see Martin Sexton live for a long time, but I never really paid much attention to his request. This was my chance to see him live in a festival setting. I am not really big into singer song-writers, but it was early in the afternoon, and there was not much else to see. Sexton did surprise me with his Led Zeppelin teases and his Michael Jackson cover, but his rendition of "America the Beautiful" was trite and unnecessary. I was hoping that the rest of the day would pick it up a bit, so I went over to an old favorite next.
In the mid nineties this band was steamrolling through the jam band scene, and I was a fan. After the death of bassist Bobby Sheehan, a lot was lost with these guys, although I did see an amazing John Popper solo performance at the Fox Theater in Boulder, CO about six years ago. The last time I saw the whole band was during their annual Red Rocks performances in the summer of 1998. I was excited to see them again hopefully happy and healthy. Everyone knows that Popper is the best harmonica player in the music industry, and his voice is amongst the elite as well. Therefore, any show that he is part of is a good one. This was not the caliber I usually hold Blues Traveler to, but it was okay. They should have played at a larger area because the show was way too full. The only big complaint I had with the show is they of course played their hits, "Run-Around," "But Anyway," and "Hook," which was slightly annoying, but they didn't play enough of their old stuff, the good stuff. Songs from Save His Soul, Blues Traveler, and Travelers and Thieves. They played "Gina," which is a classic, and they covered "Creep," which is over covered, but it lacked the "umph" that they used to pump. Discouraged again, I went to see another nostalgia act, John Fogerty.
Obviously at this stage of the game, I was not expected much more than his amazing list of hits, and I am glad because that is exactly what he played. But, for someone who has never seen Fogerty live, I was not too sad about that. There was one nice surprise mixed in. It was the Roy Orbison cover, "Pretty Woman," which got the crowd singing and cheering along. With a catalog like Fogerty's, it's impossible to play a bad show. That is why he is probably still rockin' even after all of these years.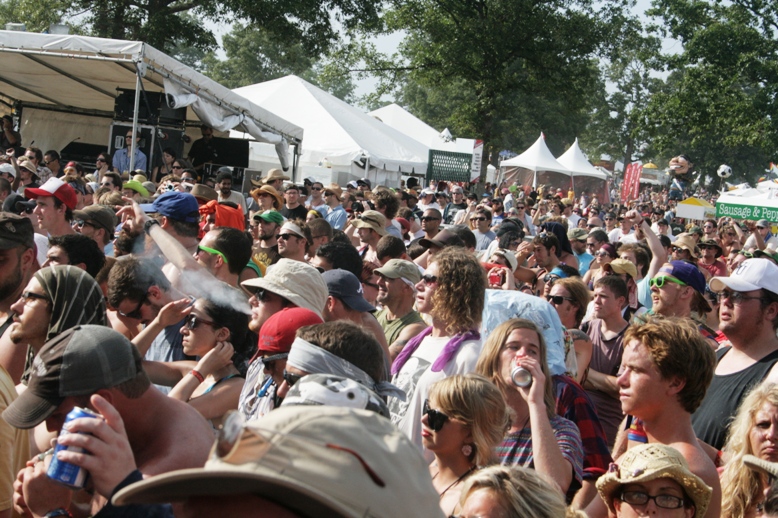 I know that this is going to make a lot of people angry, but no matter how many times I have seen Ween or know matter how many of my dear friends that absolutely love them, I still do not get them at all. I have seen them five times, and I still cannot get into them. Ween bores me. Now, I have seen their bassist, Dave Dreiwitz play a tiny show at the Khyber Theater in Philadelphia before, and I thoroughly enjoyed it. But even on the side of the stage, I could not get into it. I did enjoy two parts of the show a lot. I love "Roses Are Free," although Phish does it far better. And I really enjoyed "The Mollusk" and "Let's Dance" by David Bowie. Those are fun songs. Seriously though, how many times are they going to play "Bananas and Blow" at Bonnaroo?
On the way to MMW, I caught a little Kris Kristofferson, and I enjoyed the vibe at his tent. I was also reverent and pleased that he gave props to the late Dennis Hopper, who recently passed away. I did not see too much of his show, but here is the set list:
Shipwrecked In The Eighties, Darby's Castle, Closer to the Bone, Me & Bobby McGee, Here Comes That Rainbow Again, The Best of All Possible Worlds, Help Me Make It Through The Night, Casey's Last Ride, Nobody Wins, From The Bottle To The Bottom, Daddy's Song, Sky King, From Here to Forever, Billy Dee, Lovin Her Was Easier, Jesus Was a Capricorn, Come Sundown, Your Time's Comin', The Promise, Don't Cuss the Fiddle, Just the Other Side of Nowhere, Jody and the Kid,The Pilgrim, Chapter 33, To Beat the Devil. Sunday Mornin' Comin' Down, The Silver Tongued Devil and I, Moment of Forever, For the Good Times
MMW is classic jazz funk greatness to me. I have been seeing them for years, and this set was as good as ever. It was mellow at times, and it was a trip to New Orleans at others. But, my favorite set of the day came next, and it was a complete surprise to me.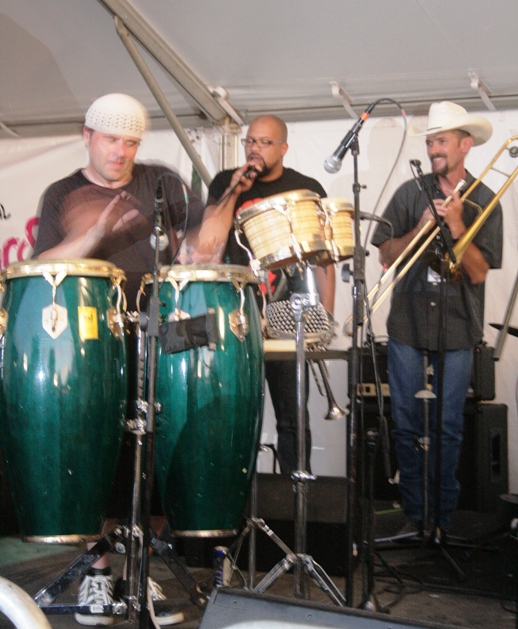 My girlfriend and musician (clarinet & sax) Ashley Touseull recommended this band to me. I think she discovered them through Pandora, and what a find they are. We casually walked over to the small Troo Music tent right as they started, and we were one of the few people there. First, I should say that the name of the band means a universal life force, a cosmic unit of energy, the creative force in nature. This is important because all of my notes from the show literally say those three things in my own words. It's unbelievable. This band was so much fun. Eventually a lot of people started to come over to join the party including none other than Beetle Bob, who just set some crazy record for seeing like 5,000 shows in a row or something crazy like that. They are masters of deep old school 70's funk combined with soul, dj music, and horns o plenty. It's really amazing the sound they produce. It's extremely retro and electric. If you're from the Denver area, go see them at Cervantes on Nov. 5th. I will be there for sure.
I'm not a big fan of the DMB, but I've enjoyed their other performances at Bonnaroo. This year I did not so much. They are extremely talented individual musicians, just not my style. The show was average at best, and for a closer to a festival of this magnitude, there could have been a much better selection.
Be sure to check out photos from Bonnaroo 2010.