I decided to check out the Dawg Daze of Summer Festival this year because of three reasons: it was a great birthday outing for my girlfriend and me, I wanted to see JJ Grey and Mofro and it sounded low-key. The list of reasons I'll be going back next year is much larger. For one, the area was beautiful – there were 4 small bodies of water that surrounded the camping and stage areas, which significantly cut down on the 100-degree blazing temperatures during the weekend. The grounds – Lake Paradise Resort in Lone Jack, MO – also had showers, flushable toilets, lots of trees and even an indoor stage! Overall, the Dawg Daze of Summer was a great time; I couldn't have asked for a more relaxing and fun experience.
Due to The Man (my day job), I wasn't able to make the festival on its first night and most of Friday. Because of this, I missed some great shows: Dirtfoot, Hearts of Darkness (I heard they were wonderful), the first set of Yo Mama's Big Fat Booty Band, The Stone Sugar Shakedown and Famous Seamus and the Travelbongs among others. Luckily, we drove onto the grounds Friday night just as the Booty Band was starting their final set of the weekend. Finding a camping spot was really easy, and I was ecstatic to be able to catch part of the Booty Band's set. They were fun, jazzy, psychedelic and very energetic. This was a great evening band and the many children at the festival were eating up the songs.
One of the nicest things about the weekend was that, during the bigger shows, only the main stage was active. This meant there were no decisions to be made. So, after the Booty Band, everyone stayed put and waited for JJ Grey and Mofro to start. I was very impressed by the show. The beginning started out sultry and a little bit slow (but not in a bad way). As the evening progressed, JJ Grey and Mofro picked up the pace and really started getting into their brassier, jazzier tunes. The show was a mixture of blues, southern rock and funk, with JJ Grey doing little else but crooning his gritty, soulful lyrics to the audience. The crowd was small, but it was obvious everyone there was down to get down. JJ Grey even had to be told it was time to leave the stage due to rules or something silly like that. The audience was enthralled during the entirety of the show, which featured some great tunes like 'On Fire,' 'Sweetest Thing' and 'Brighter Days.'
After the show ended around midnight, the main stage was closed and the crowd dispersed to various locations. I traveled to the indoor stage, which was really just a room with tile floors, bathrooms and a small bar. When I first walked into the building, ready to get my Ben Miller Band on, I was skeptical. But as it turns out, the air-conditioned building was a great place to have music. The acoustics were great, the floor was awesome for dancing and there were even chairs to sit in! I'd only seen Ben Miller Band in passing once at George's Majestic Lounge, but I'm glad I stayed for the whole show this time! They're a 3-man bluegrass band from Joplin, MO that features a washtub bass.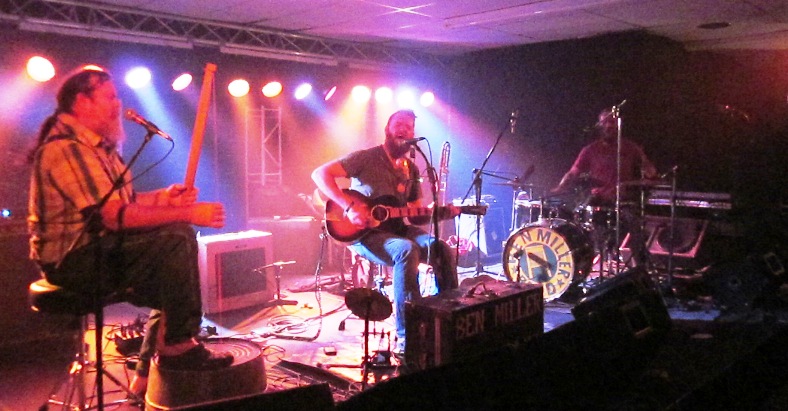 After the Ben Miller Band, we headed back to the campsite and attempted sleep. Fortunately and unfortunately, there were drum circles and acoustic jams all night long. While everything sounded pretty good, I'm not very good at staying up past 11 pm so the music was a bit incessant through the night.
The next morning, as the sun and temperature rose, I got up and wandered around the grounds for about an hour. It was a peaceful morning and I met a lot of cool people during my journey! Dawg Daze of Summer topped my list for the most awesomely low-key, family-friendly music weekend I've been to. I don't want to make it sound like there were no people there, because there were quite a few, but the camping was comfortably laid out and the area was never congested. 
The musical part of the day began with a jazz group called The Clementines. They were great as breakfast accompaniment. After that, one of my favorite Arkansas bands played a show. Don't Stop Please is a group of young, very talented musicians. They have a slew of instruments on stage at all times, from classic guitars to Latin percussion. Their sound-style travels from genre to genre, all the while holding onto their folky foundation. If there's anything that can be said about Don't Stop Please, it's that they are talented entertainers. From their breezy, sultry tune 'Luca' to their infectious dance track 'My Booty,' this band carries you through their set with tempo changes, genre mix-ups and smooth lyrics. In what seemed like 5 fabulous minutes, the group's set was over and their racy, awesome band shirts were flying off the shelves (or picnic table).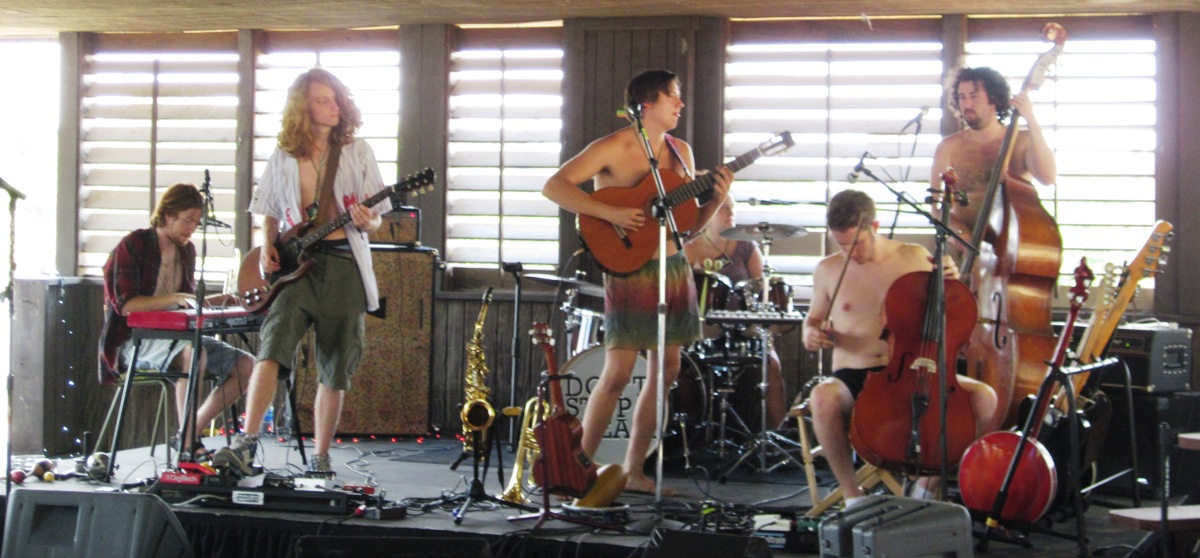 After swinging to Don't Stop Please, my girlfriend and I grabbed some food from the fajita vendor, recommended to us by Scott of Ben Miller Band – they were delicious! My truest love is tacos. After satisfying my stomach, I wandered around until I found the indoor stage. I was mostly looking for some shade and fresh water, but instead I found a great band by the name of Deep Fried Squirrel. I didn't get a chance to ask if they'd ever tried such a delicacy, but I'm going to assume they have eaten deep fried squirrel and thought it was so delicious they needed to start a band in honor of it! No matter why they formed, I'm glad they did – Deep Fried Squirrel's set was an almost-classic bluegrass set. They play off each other and wander around the stage, but their sound is fused with various genres slipping in and out of the lead singer's vocals. Occasionally there's a hint of Irish drinking music or maybe some classic rock melded with bluegrass. The show was wonderful, but far too short – I could have listened to them for hours.
Next up was Spoonfed Tribe is 'Weapons of Mass Percussion,' which was nothing short of tremendous. From the beginning, when the space visuals began, I knew I could just relax and settle down for the ride. After the band came onstage, there was a buildup, then drum line shouting followed by the four members saying in unison "Welcome to a new kind of listening experience." And it was. The drumming was dynamic and synchronized; the songs were psychedelic and heady. All of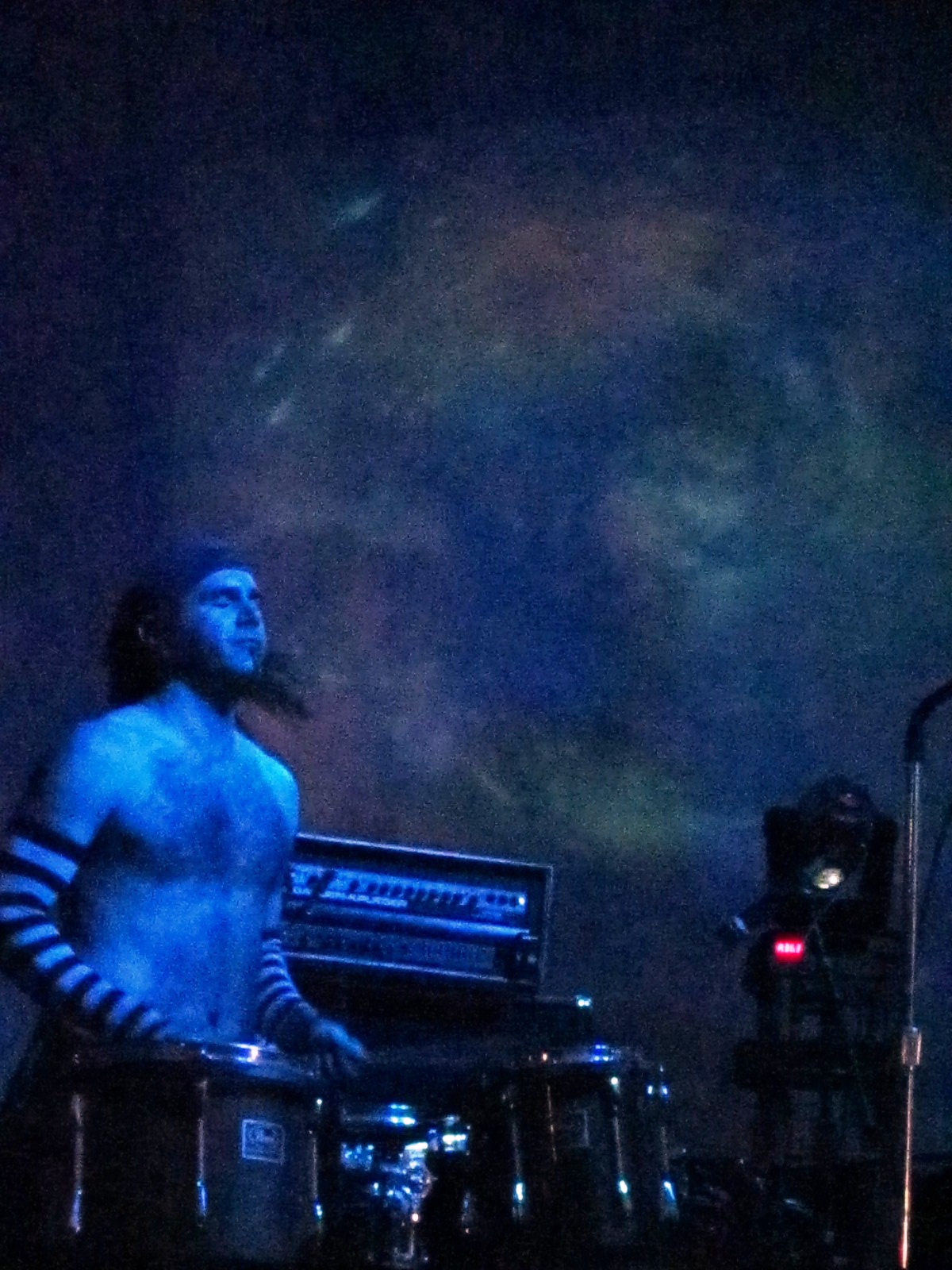 the members played hard and used multiple instruments. There was even a voice-manipulating microphone! At the end of the show Shonuff, seemingly the band's leader, lit a marching drum on fire, walked off the stage into the fire-burning area and played away. The aesthetic was perfect for the end of their show; it was loud, vibrant and visually appealing. I highly recommend going to see these guys if they're ever in your area.
The last show I saw that weekend was The Dirty Dawgz, comprised of Steve Mollitz, Brandon Draper, Michael Kang and Eric Gould. I was pretty excited about this show, because (to my knowledge) these guys have never played together and they are all great musicians. So I settled down on my blanket and got ready to hear some great jamming. Unfortunately, I was left a bit let down. While the guys on stage seemed to be having a pretty good time, the show was not exciting or even very interesting. Mostly, The Dirty Dawgz were just noodlin' up a storm. I didn't feel the songs had much variety of sound or technique. As the show progressed, it got a bit better and more upbeat. I understand it must be difficult to play a show that hasn't been practiced, but that's what these guys are supposed to be good at, right? In any case, I was happy to have seen these great musicians grace the stage together, but it was far too lackluster.
Overall, the Dawg Daze of Summer Festival was a bluegrass-jam smash! I highly recommend this festival to anybody, especially those looking for little to no electronic music and a super relaxed environment. This event was extremely family friendly and the campus wasn't too large to spend most of your day walking from stage to stage. Even though the sun was scorching, two of the four stages were shaded. One of the others was by a pool, and the main stage is just for the most hardcore (during the heat of the day). I heard the attendance this year was down from last year, so be sure to share this festival with anybody you think might enjoy attending it. That's the best way to advertise – word of mouth. I'd like to see this festival last for many years to come, because there aren't a lot of opportunities to see a bunch of bands at once in the Missouri/Kansas/Arkansas area. Support great music and good times – I sincerely hope to see some of you Grateful Web readers next year, and also at Harvest Music Festival!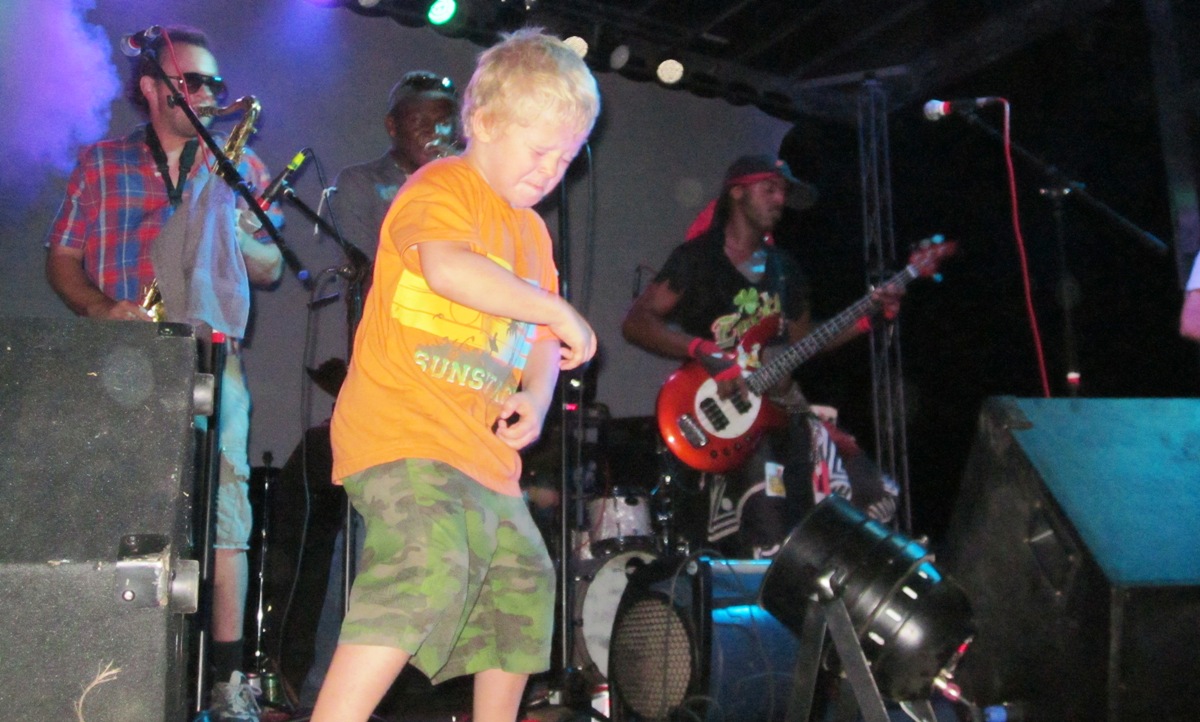 Two rad things I heard this weekend:
In reference to a guy playing saxophone in the crowd while waiting for a show to start: 'That guy must be a registered Sax Offender.'
In reference to titties: 'I don't care, man. Titties is titties!'